With a tip of her cap, UC doctoral student celebrates virtually
The Gross Research Lab looked for a way to congratulate in the midst of a pandemic
For Angela White the journey from science enthusiast to credentialed researcher took a few more curbs and bumps than expected, but she's finally crossed the finish line. And waiting there will be a special graduation cap made especially for her.
The North Carolina resident will graduate this weekend with a doctoral degree in molecular and developmental biology at the UC College of Medicine. She studied for seven years in laboratories at Cincinnati Children's Hospital Medical Center, first in the area of cancer biology before switching to her current research which focuses on autism spectrum disorder and epilepsy.

White works in the laboratory of Christina Gross, PhD, associate professor in the UC Department of Pediatrics and a neuroscientist in the Division of Neurology at Cincinnati Children's Hospital Medical Center. Initially, White studied cancer biology in the laboratory of Lionel Chow, PhD, before she switched to the Gross Research Lab when Chow left Cincinnati Children's. In both labs she has studied the effects of mutations in the gene PTEN has in disease development.
"I plan to watch and attend the virtual ceremony," says White. "There were definitely some times when I was pretty upset about how long it took, but in the past year things have really fallen into place and have ended up working out well. This is not a good time to be looking for a job in science and my current mentor has written a grant which got funded so I am staying in her laboratory for another year."
White is among the 2,348 students who will be receiving 2,457 degrees from the University of Cincinnati during the virtual 2020 fall commencement ceremonies set for Dec. 11 and 12. Some UC programs allow students to earn dual degrees. The College of Medicine is granting degrees to 38 students — 14 doctoral, 23 master's and one bachelor's. 
White's current research in the Gross Research Laboratory examines the benefits of a novel drug that may treat autism and epilepsy disorders associated with mutations in the gene PTEN. Her background in the Chow Laboratory, which also looked at PTEN but its role in cancer development, has been beneficial, says Gross.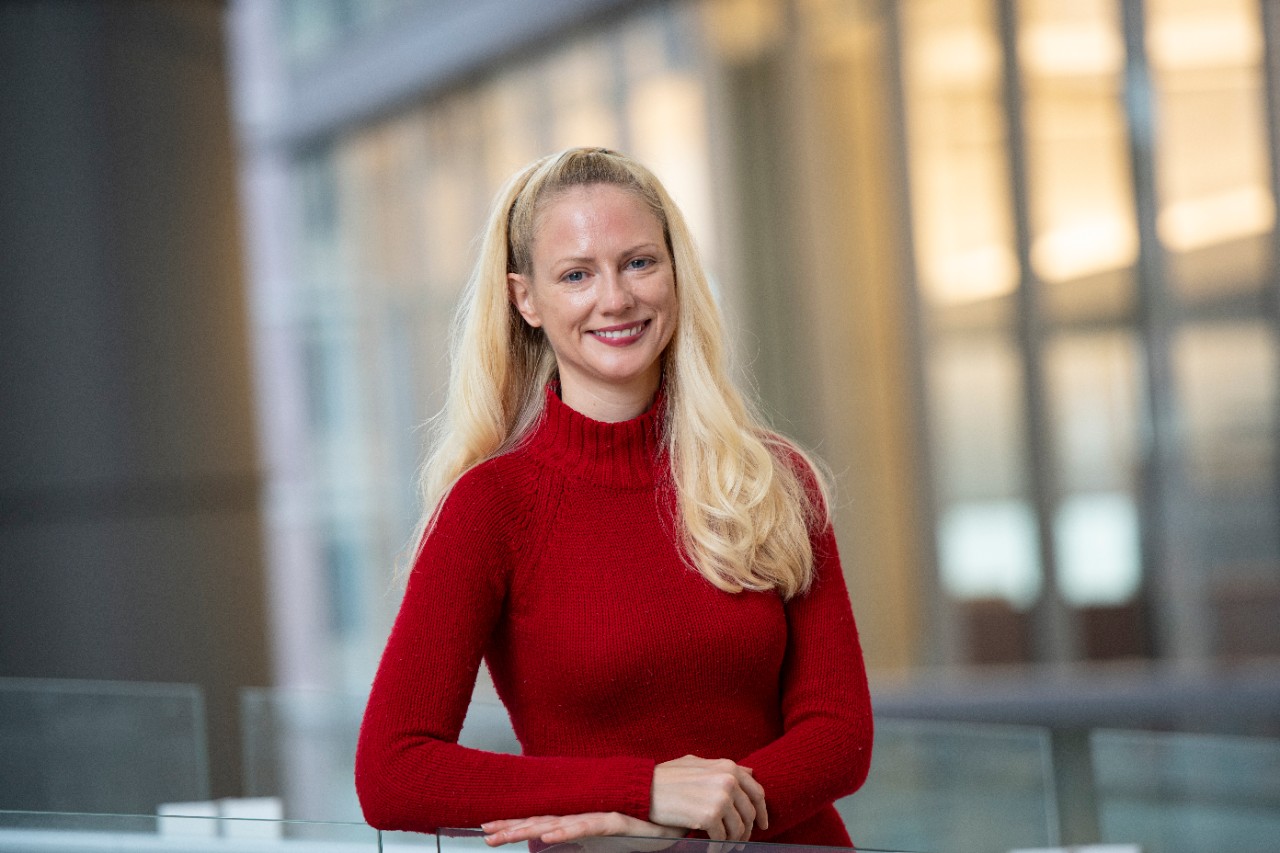 "Angela was an ideal person for this project because she had worked on the same protein and cellular signaling pathway during her time in a cancer biology lab," says Gross.  "She managed to quickly understand and apply her cancer and molecular biology background to the neuroscience field and methods, and succeeded in a very challenging project that included work with a difficult mouse model. Her results were published this summer and point toward a novel therapeutic strategy."
"Angela always impressed me with her creativity in applying what she had learned previously as a veterinarian technician and during her previous graduate career to her complex neuroscience project," says Gross. "She would not give up if there were any roadblocks. On a personal level, Angela is a great person to have in the lab, always joyful, her laughter is contagious and she is always ready to assist in anything we ask."
White will continue postdoctoral studies in the Gross Research Laboratory for at least a year after graduation.
A native of Roanoke Rapids, North Carolina, White received her bachelor of science degree from North Carolina Wesleyan College, worked part time as a veterinarian technician and for five years as a researcher at Charles River Laboratories before coming to UC. She's become comfortable in Cincinnati with her Labrador retriever, Jonah.
An avid runner, White enjoys the Bearcats Dash & Bash event, is a sports enthusiast and finds time to volunteer for the Make-A-Wish Foundation and to foster homeless dogs and cats through Louie's Legacy Animal Rescue. This past year she provided a temporary home for more than two dozen animals.
White says despite the pandemic's impact on her final year at UC, there has been some silver linings despite the disappointments.
"I will say the biggest bummer is we had this big research auditorium at Children's and that's where people would defend their research thesis," says White. "It has this huge screen and seats for so many people. It's something I long wanted to do. Instead I ended up defending the thesis in a small room alone at Children's."
However, White's family, still in North Carolina, were able to view her defense remotely in September. Her family would likely not been able to travel to Cincinnati. Friends in New York City and other locations across the country also got a chance to witness her defense.
"They wouldn't have seen it otherwise," says White.
Her colleagues in the Gross Laboratory also hadn't forgotten about what was supposed to be a special day. Professor Gross, a native German, followed a tradition from home and acquired a graduation cap and joined researchers in her laboratory in decorating the top. They presented the cap and a cake to White after a successful thesis defense.

"We do not have these nice ceremonies — no gowns, tassels and graduation hats in Germany," says Gross. "These personalized hats are how labs in Germany find a way to still present the new PhD with something like a graduation hat. I got one too, more than 15 years ago, and it's in the basement of my parents house in Germany. It was great fun for all of us decorating the cap for Angela's important day."
Featured image of Angela White by Colleen Kelley/UC Creative + Brand.
Impact Lives Here
The University of Cincinnati is leading public urban universities into a new era of innovation and impact. Our faculty, staff and students are saving lives, changing outcomes and bending the future in our city's direction. Next Lives Here.

Stay up on all UC's COVID-19 stories, read more #UCtheGood content, or take a UC virtual visit and begin picturing yourself at an institution that inspires incredible stories.