Grad student creates drones for disaster relief
Robotics student makes the most of UC experience through internships and campus groups
Ponaravind Muthaiah, an aerospace engineering master's student at the University of Cincinnati, wants to make it possible for a drone to deliver critical medical supplies to the site of a disaster. Muthaiah chose to attend UC because of the aerospace program and the option to specialize in robotics, an area of interest since his days working on a self-driving car prototype as an undergraduate mechanical engineering student in India. 
Muthaiah was named Graduate Student Engineer of the Month by UC's College of Engineering and Applied Science. Here, he shares the highlights of his UC experience, including his participation on many student teams and his research with drones. 
Describe your research work with drones/UAVs at UC.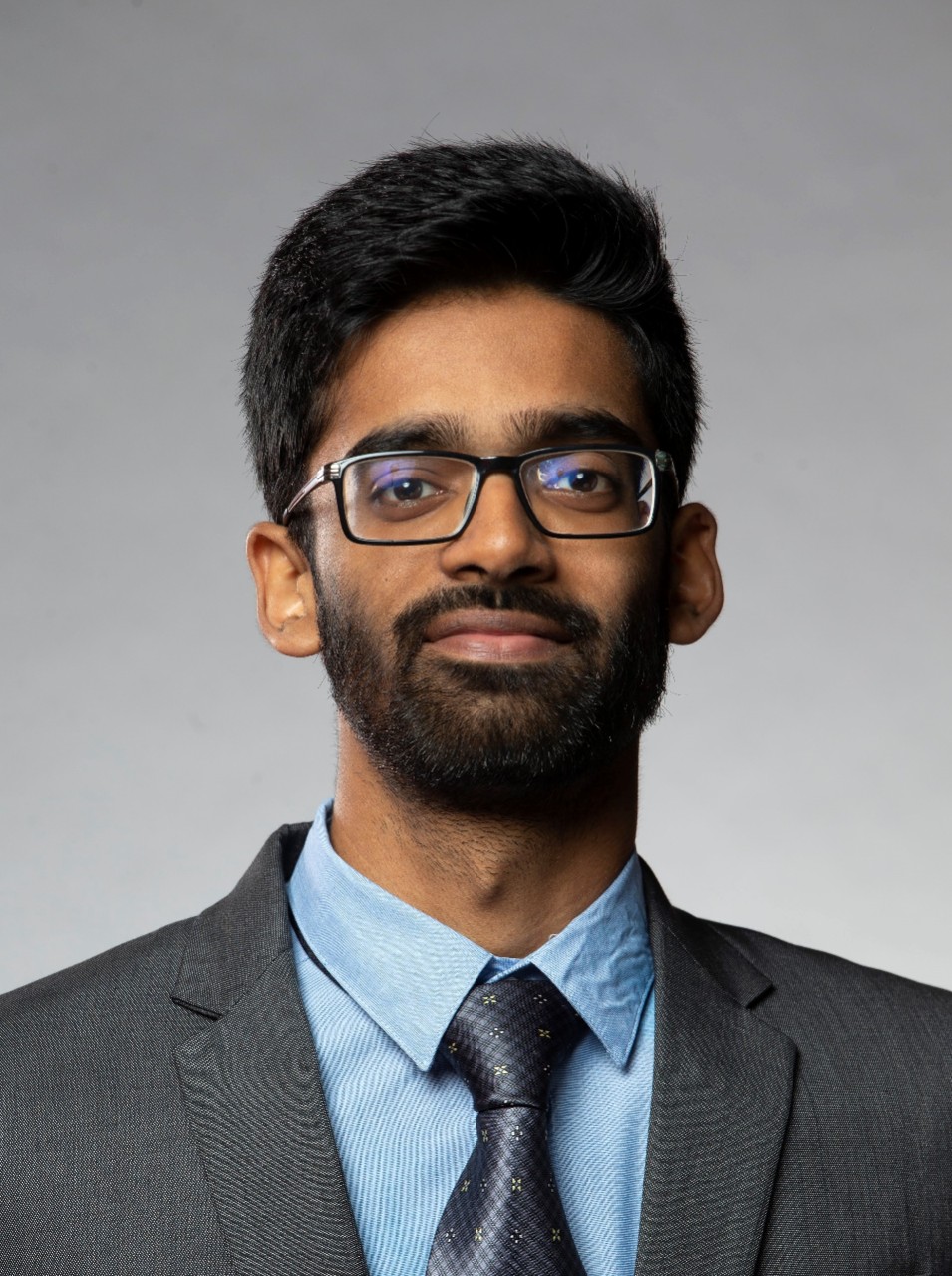 At the Autonomous Systems for S.P.A.C.E. R.O.B.O.T.I.C.S. Lab run by assistant professor Catharine McGhan, I am researching the "Safe Optimization of Time-Critical Medical Delivery Operations for UAV Teaming in a Dynamic Urban Airspace" for my thesis. In this research, I'm exploring two time-critical scenarios. In one situation, a UAV has to deliver a high volume of medical supplies from the hospital to a disaster relief zone. In another scenario, a lesser payload needs to be delivered from the hospital to a car crash site in urgent need of a blood type. To do this, we incorporate Resilient Spacecraft Executive (RSE) architecture to enable real-time onboard decision-making. I have presented my research at the Dayton-Cincinnati Aerospace Sciences Symposium in March 2019 and March 2020. 
How are you making the most of your time as a UC student?
As an active member of student organizations on campus, I enjoyed engaging myself with fellow UC students in the academic year 2019-2020 with three student teams: UC Robotics Club, Hyperloop UC and Fly UC. 
UC Robotics Club competes in the annual Intelligent Ground Vehicle Competition (IGVC), during which the objective was to design and construct an intelligent vehicle capable of lane detection and obstacle avoidance. I assisted the team in simulation testing and building models. 
Hyperloop UC competed in the SpaceX Hyperloop Pod Competition to develop a self-propelling pod capable of high speed and successful deceleration. Now they are focusing on competing in the Not-a-Boring Competition to design and build boring equipment to dig the tunnels for the Hyperloop transportation system. 
During my time with Fly UC, I was in charge of the UAV path planning stack for a project with a goal to design and build a safe, ultra-quiet and easy-to-fly personal flying vehicle.  
What was your experience like participating in 'hackathons'?
I have participated in two hackathons (events where teams quickly come up with solutions to a problem). At SkyHack, a weekend-long, aviation-focused design challenge at Kent State University, we used machine learning to monitor human behavior to improve travelers' experience and reduce congestion.
At RevolutionUC, a 24-hour hackathon at UC, our team won "most innovative hack" for our therapy hack designed to supplement mental health service by using sophisticated algorithms in computer vision and deep learning. It was a fun learning experience and I got to connect with people from diverse backgrounds. 
I have had so much fun collaborating with others at UC in academics, student competitions and volunteering. I've met plenty of talented people.
Ponaravind Muthaiah, aerospace engineering student
As an international student, you're very active in IPALS (International Partners and Leaders) at UC. Why did you get involved?
I am a member of IPALS which is a group of international and domestic student volunteers selected for the program by UC International staff. I organize off-campus retreats and on-campus gatherings and I am able to meet people from different countries, learn about different cultures and help students adapt to their life at UC. 
Where is your internship?
I am currently interning at Thordrive as an Autonomous Driving Engineer. I work on developing and testing algorithms for autonomous technologies. 
What are your future plans?
My future goal after graduation is to work in the industry for a few years to become experienced in my area of work, as well other related areas, because robotics is a multi-disciplinary field. I wish to be knowledgeable at least in a few other areas beyond my expertise and I am working toward that goal. 
Featured image at top: Ponaravind Muthaiah and teammates at RevolutionUC hackathon event (pre-pandemic). Photo/provided.
1
How one student found his home at UC
September 27, 2023
When Raj visited UC the summer before his freshman year, the university stepped up to help him meet the many challenges he faced as a first-generation college student.
2
Architecture co-ops give Josh Bennett a better idea of what...
September 26, 2023
Fourth-year architecture major Josh Bennett reflects on his undergraduate experiences with co-op. Bennett hails from Louisville, Kentucky, but came to UC after a visit during his high school years. Three co-ops later he says his architectural style leans more toward the modern world.
3
UC engineering student researching game controller behaviors
September 25, 2023
University of Cincinnati engineering student Brian Swanson wanted to stay close to home when he began pursuing his doctoral degree. With Bearcat alumni in his family and the university's renowned College of Engineering and Applied Science, UC was the right choice. Swanson is a member of the Intelligent Sensing and Controls Laboratory, a teaching assistant within the Department of Electrical and Computer Engineering and was recently named Graduate Student of the Month by the College.
Debug
Query for this