UC pharmacy students give vaccine effort shot in the arm
Pharmacists are leading the way in the vaccine effort, and pharmacy students were poised to assist
It's a bitterly cold Thursday morning in January, but fourth-year pharmacy student Kyle Schuchter is at the ready.
At 7:30 a.m. cars are already lined up at the University of Cincinnati Medical Center's (UCMC) drive-thru COVID-19 vaccine clinic. This would be only the second time the drive-thru clinic has been open to the general public, today for individuals age 80 or older.

Schuchter, wearing his white coat with UC Health student badge and personal protective gear, engages in conversation with an elderly patient in a waiting vehicle. Schuchter then loads a syringe from a vial containing the vaccine and delivers an injection.
He spends the next eight hours, in two shifts, doing the same: giving injections, answering questions about second-dose appointments, reassuring those who have questions about side effects and receiving enthusiastic thank-you's from seniors excited to be among the first vaccinated.
The vaccines from Pfizer and Moderna — also called mRNA vaccines — are the first COVID-19 vaccines authorized for use at this time in the United States and both require two doses.
During the clinic Schuchter will administer over 100 doses of the vaccine; that's in addition to the many he administered to UC Health's front line workers and staff prior to the drive-thru clinic.   

"People are really surprised that I'm a pharmacy student. It's an opportunity for me to truly educate patients on the role of a pharmacist and the advanced training that we undergo," says Schuchter, who is among over 250 pharmacy students from the University of Cincinnati James L. Winkle College of Pharmacy assisting with the immunization efforts at hospitals and long-term care facilities throughout the Greater Cincinnati area, a role that will continue as the vaccine effort extends to the community at large.
"Pharmacists not only have a key role in vaccinating patients, but pharmacists are key in all practice settings managing complex patients, managing new medications to treat COVID-19 and providing information to all patients and health care providers as our knowledge of COVID-19 increases," says Pam Heaton, professor of pharmacy practice and administrative sciences and interim dean of the College of Pharmacy.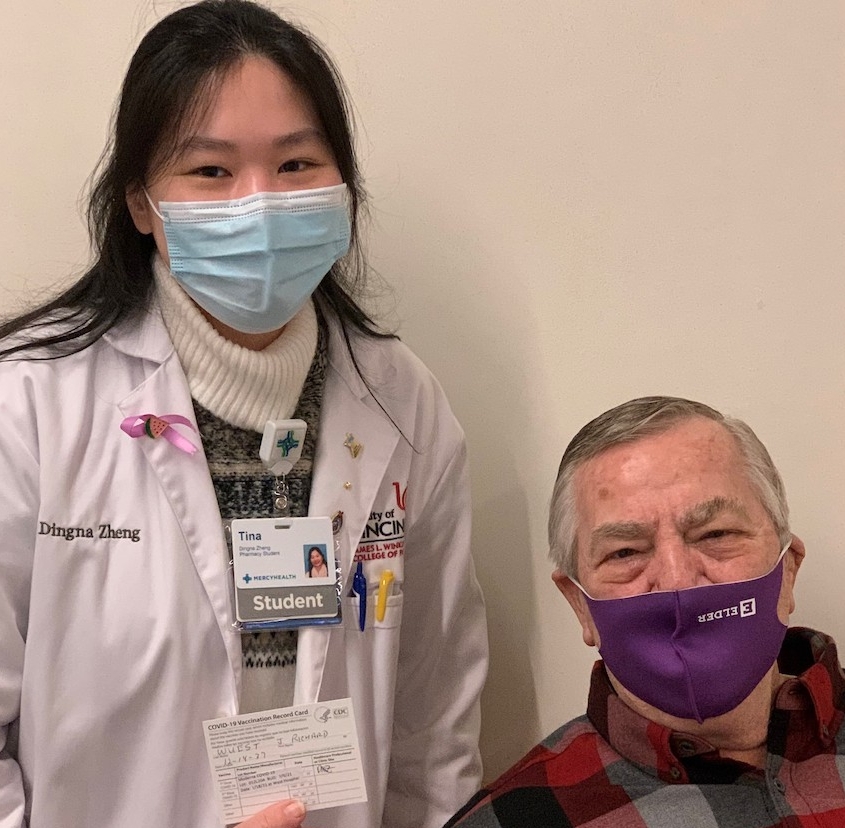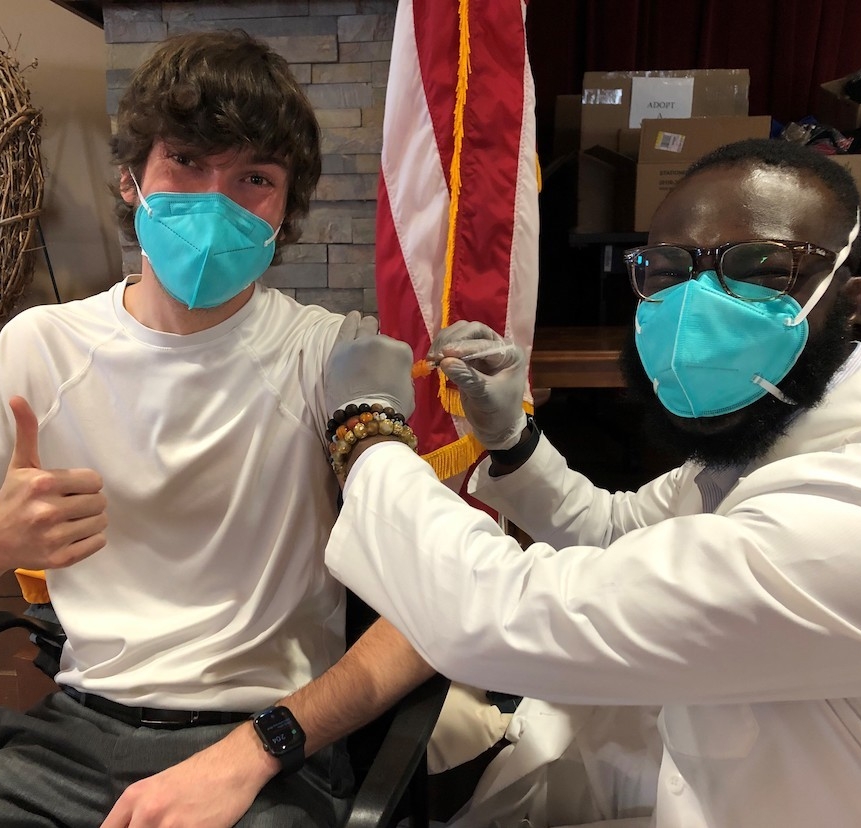 Fourth-year and second-year pharmacy students were engaged in required clinical rotations during the vaccine rollout. This means they were already spending two weeks to a month shadowing and providing patient care in several areas of hospital pharmacy, community (retail/independent) pharmacy and pharmacies serving in long-term care facilities. Many students also intern, meaning they hold part-time jobs in these health care settings as well, so tapping them to assist was a natural extension of their chosen career, as pharmacists across the country have been charged with leading the immunization effort.   

"Many community members don't even realize that pharmacists undergo extensive training to give immunizations," says Schuchter, who completed the American Pharmacists Association's Pharmacy-Based Immunization Delivery certification while a second-year student, pre-pandemic.
Immunization training has been part of pharmacy students' regular coursework at the college since 2002 and requires 20 hours in the college's clinical skills lab. The students first practice on a latex armband, called a skin-pad, and then on each other, using a saline solution. The certification qualifies students to administer all CDC recommended vaccines, including those for the flu, pneumonia, shingles, tetanus, hepatitis A, hepatitis B, HPV, chicken pox, meningitis and the measles, mumps and rubella vaccine and other less common vaccines required for international travel. 
People are beginning to see the value of the pharmacist.
Katie Greis Fourth-year pharmacy student at UC's James L. Winkle College of Pharmacy
"The purpose of this certificate training program is to prepare pharmacists and future pharmacists with comprehensive knowledge, skills and resources necessary to provide immunization services to patients," says Katelyn Johnson, PharmD, who teaches immunizations at the college. Johnson is a UC pharmacy alumna, an assistant professor of clinical pharmacy practice at the college and has a practice site with Kroger Health. Both pharmacists and pharmacy students, she says, require additional training to administer the two new vaccines. 

Furthermore, the college is currently training an additional 100 pharmacy students and pharmacists who will be able to assist with vaccination efforts in the coming weeks.  
First wave of vaccinations
Community pharmacists and pharmacy students in Ohio first began vaccinating the most vulnerable populations in long-term care and assisted living facilities in December 2020.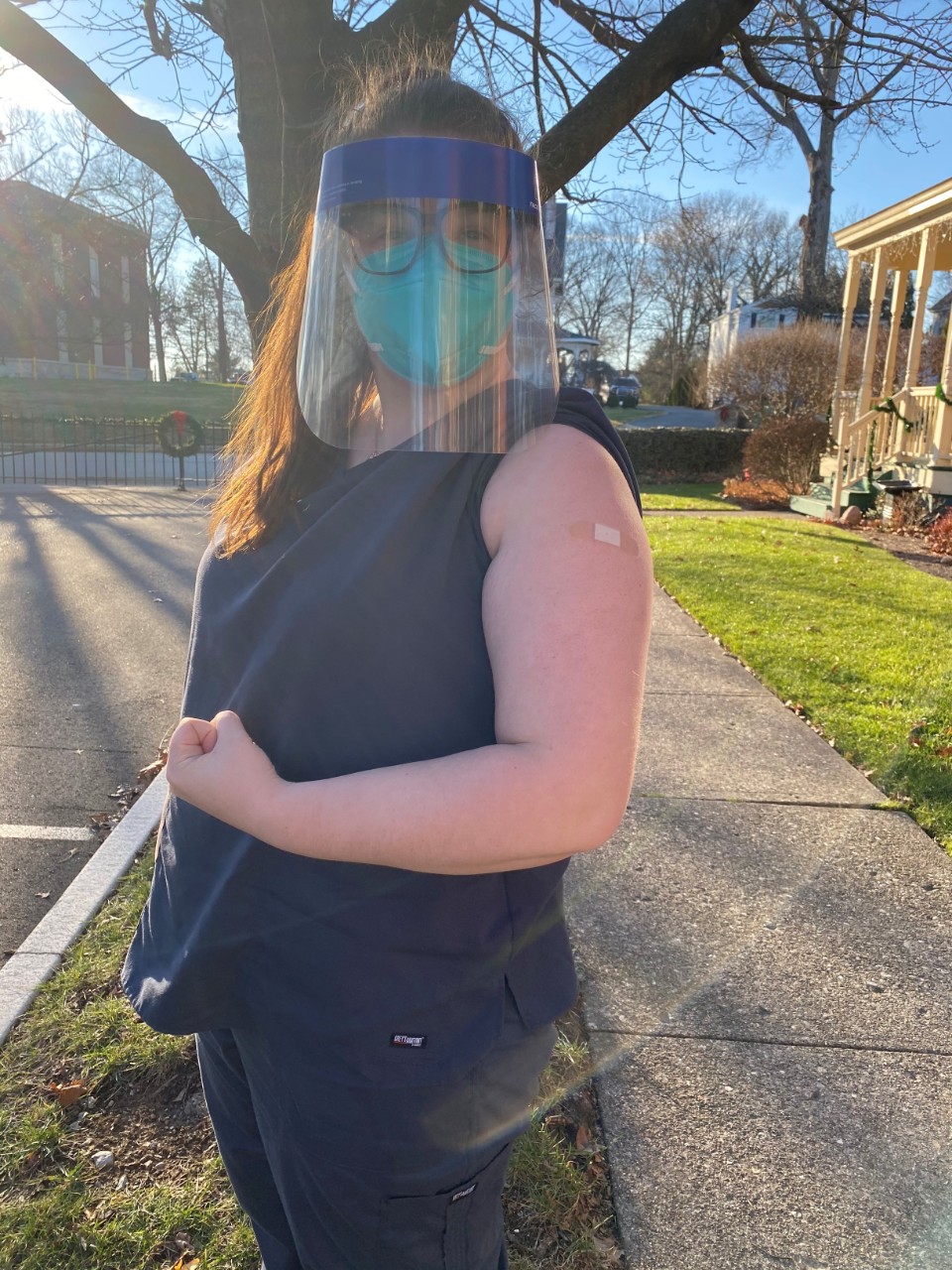 Fourth-year pharmacy student Katie Greis has worked as a pharmacy technician and as an intern with CVS pharmacy for five years. She estimates she has administered over 500 doses of the Pfizer vaccine at senior facilities. Her UC classmate, Henry Agyeman, who interns at CVS and Mercy Health, has a similar experience. While conducting a community pharmacy rotation and internship, Agyeman helped CVS pharmacists staff the vaccine clinic at the Ohio Veterans Home in Georgetown, Ohio.
"It was one of the very first clinics in the country, and I was very excited because I believe vaccination protects you and others who cannot be vaccinated," Agyeman says, adding, "I never thought there would be a pandemic where pharmacists would be giving vaccines across the country."
It's the pharmacy student's exposure to real world professional experience such as this that sets the foundation for a future pharmacist, says Michael Doherty, associate professor of clinical pharmacy practice and director of experiential learning. UC, the fourth oldest college of pharmacy in the U.S., provides students with the highest quality education and experiential learning opportunities, he says, because the college collaborates with over 100 pharmacy practice partners (with 190 individual practice sites). The majority of these sites are within 30 miles of UC's urban campus.
"Very few pharmacy colleges have this level of practice partner collaboration right in their backyard," says Doherty.
UC pharmacy students say it has been a humbling experience to help move the needle toward potential herd immunity from COVID-19.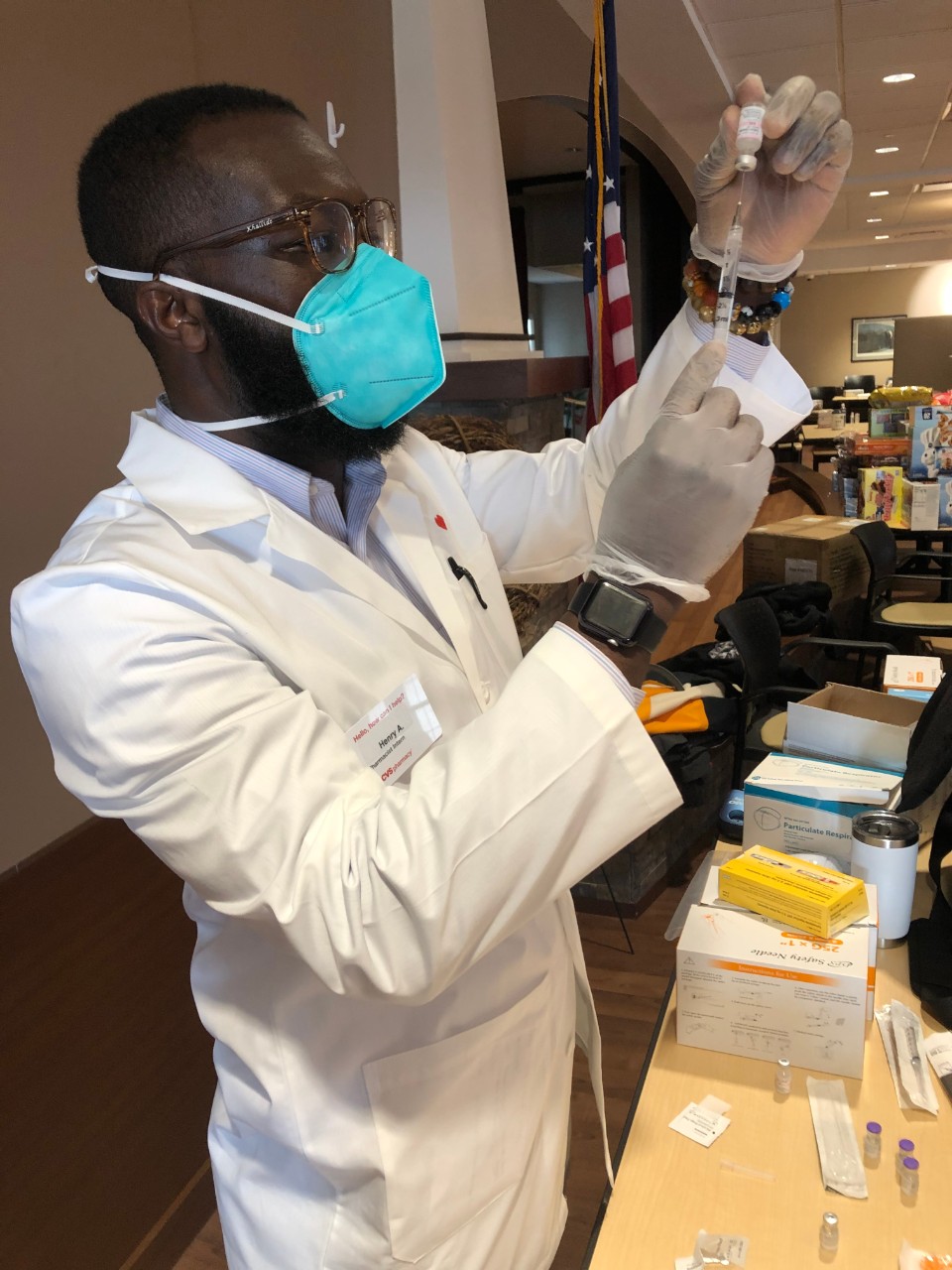 "A physician came up to me with tears of joy before getting vaccinated," says second-year pharmacy student Nicole Wess, who helped staff the UC Health vaccine clinic at the Hoxworth Blood Center, where she also interns. 

Wess and second-year classmate Michelle Leshchinsky have supported each other at the clinic, taking turns with registration, patient education and administering the Moderna vaccine.
"We had just finished our vaccine training when the pandemic started, so we didn't expect this in our second year. We knew we'd be occasionally giving immunizations, but we certainly had no idea of the important role we would be taking on as immunizers in the pandemic," says Leshchinsky, who has lost count of how many vaccines she's given.
Upon reflection, the students say they now have a common bond and emphasized that their interaction with patients getting the vaccine has expanded not only their professional skill set, but their view of public health in general.
Agyeman, a native of The Republic of Ghana in West Africia, says the past few months have helped to solidify his career goals: A position in global public health. Greis, who says she loved her experience working with patients, is now applying for a postgraduate residency program to broaden her knowledge base.
Prior to the pandemic, she says, the role of the pharmacist in public health was elevating, but now they are at the forefront: "People are beginning to see the value of the pharmacist."
Featured image at top of Kyle Schuchter, fourth-year pharmacy student, giving a vaccine injection at the UC Health drive-thru clinic. Photo/Colleen Kelley/UC Creative +Brand  
Impact Lives Here
The University of Cincinnati is leading public urban universities into a new era of innovation and impact. Our faculty, staff and students are saving lives, changing outcomes and bending the future in our city's direction. Next Lives Here.

Stay up on all UC's COVID-19 stories, or take a UC virtual visit and begin picturing yourself at an institution that inspires incredible stories.
1
CCM Dance presents 'An American in Paris + Other Works' on Nov....
November 28, 2023
CCM Dance proudly presents An American in Paris + Other Works, a lively program featuring repertoire ranging from classical ballet to modern dance. The centerpiece of the program is An American in Paris, a one-act ballet set to George Gershwin's iconic music, choreographed by guest artist Peter Davison.
2
Feast of Carols features holiday hits, local choirs in concert...
November 27, 2023
UC College-Conservatory of Music welcomes the holiday season on Dec. 2-3, 2023 with Feast of Carols, an annual concert featuring festive choral favorites performed by the CCM Chamber Choir, Chorale and Graduate Brass Quintet; UC Choruses, Cincinnati Youth Choir and outstanding guest choirs from local high schools.
3
UC's Center for Entrepreneurship tailors big solutions for small...
November 21, 2023
At the epicenter of the UC Entrepreneurial Ecosystem hub is the Small Business Institute (SBI) program, nestled within UC's Carl H. Lindner College of Business (LCoB). As a founding member of the SBI and the Small Business Institute Directors' Association, UC helps bridge the gap between aspiring entrepreneurs and businesses eager to boost their success.
Debug
Query for this