UC grad Victor Shtrom holds more than 50 patents. His latest product could help fight the pandemic.
Victor Shtrom (CEAS '90, PhD '96) is the first to admit that he was in the right place at the right time. "I got lucky," he says.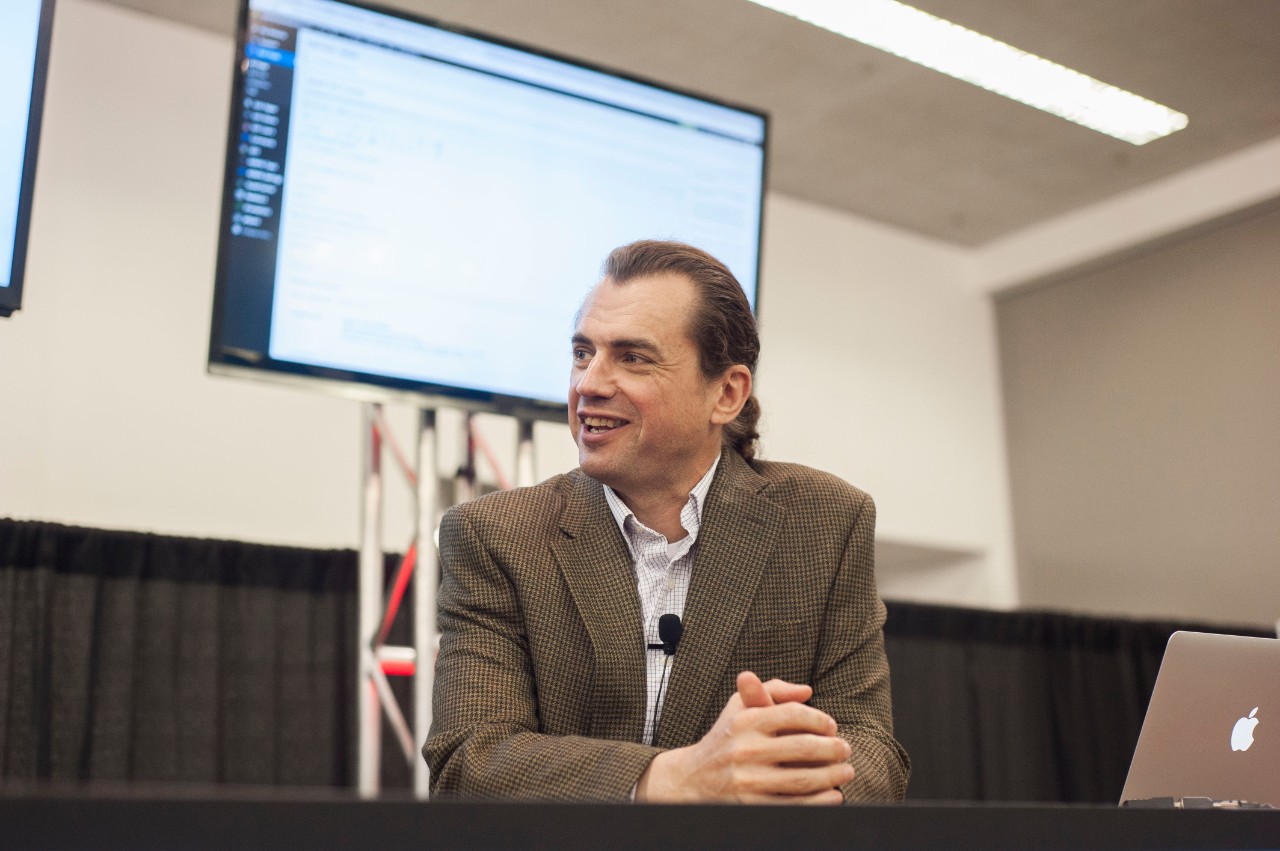 But luck is typically a mere complement to greater ingredients in a successful life such as Shtrom's. While the meteoric trajectory of his career intersected propitiously with the revolution in wireless communications technologies and the iPhone's arrival, Shtrom wouldn't be where he is today without talent, creativity and perseverance. Underpinning those qualities is a work ethic and intellectual discipline honed as a co-op undergraduate and then PhD student at UC. When opportunities arose, Shtrom was there, quality-in-waiting.

Shtrom, who lives in California, is a computer engineer and entrepreneur who authored more than 50 patents. He saw his first major company, Ruckus Wireless, included on the New York Stock Exchange and then sold for more than $1.5 billion. Today, his newest company, Augmented Radar Imaging, Inc., may be primed for a similar breakthrough with a product called WellnessDetector™, a device that screens a person's vital signs from one to two meters away. Imagine entering an office, dorm, hospital or government building and being screened not by a human-held thermometer pressed to your forehead but by a "socially distanced" device.
Shtrom was working in his labs on projects that "marry machine learning and radar" when COVID-19 struck. Seizing the moment, he thought, "Let's make a service that scans people as they come into a building."
The goal, he explains, is to use various vital signs and accurately measure a person's temperature. "Radar is very accurate; you can see minor chest movements, the heart, how a person is breathing. The goal is not to diagnose. But if you look at enough people, you can figure out what is normal. You're looking for a wave form, in biological systems, that doesn't look right."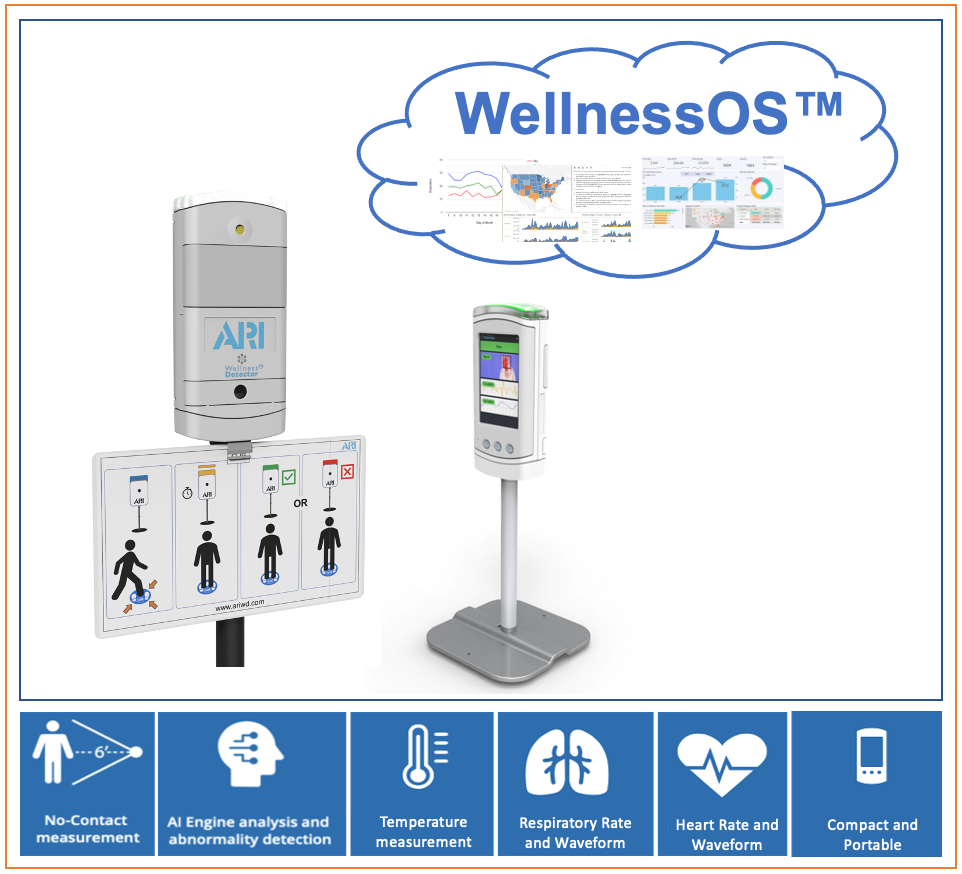 WellnessDetector™ promises a value that could extend well beyond the current crisis.
"COVID is widespread; it will mutate," Shtrom says. "I think it's going to be with us for a long time. And if not COVID, we'll see the next infectious thing. There's a new normal. And to help people along with the new normal, we believe anywhere you go you're going to have your temperature checked. We want that to be an automatic process. That's the service we're building — a screening service for wellness."
Shtrom was 12 years old when, in 1979, he immigrated with his parents and sister to the United States from Moscow. His father was a chemical engineer, his mother a physicist. "I got very lucky with my parents," he says. "I had the best parents in the world."
They landed in New York, where Shtrom's father, Moisey Shtrom, sent out "about 4,000 resumes by hand." He landed a position at a small company in Cincinnati, and the family moved to Fairfield, a northwest suburb. Shtrom graduated from Fairfield High School and then enrolled as an electrical engineering major — a "double-E" — in what became the Department of Electrical Engineering and Computer Science. 
"I got lucky," Shtrom says, repeating a theme that undergirds a tangible humility. "The general consensus was that double-E was one of the more difficult majors for an undergrad. It was definitely super-challenging, and it kind of teaches you that you can learn anything. There's not much they can throw at you that you can't figure out. That's what UC taught me." 
There's not much [the professors] can throw at you that you can't figure out. That's what UC taught me.
Under the guidance of H. Howard Fan, PhD, Shtrom was introduced to the area of wireless communications research and began building the foundation for his career. His focus was "blind equalization," an efficient process that involves using data that is being sent over a channel to remove distorting echoes created during the transmission of that data. This now-perfected technology eliminated a preliminary step called a "training process," in which the receiver had to learn what type of signal was coming so that it could adjust its receiver profile to eliminate distorting echoes. For those who remember the early modems, Shtrom says, this was the "shhhh" sound you heard when the modem connected but before transmission began. Eliminating this training process — "using the data itself to figure out what bits were sent" — was an early form of machine learning.
Shtrom's co-op experience at Xetron Corp. (later bought by Northrop Grumman Corp.) also proved invaluable by enabling him to see classroom theory in radiofrequency translated into real-world practice. "You got to see how things work and then go back to school and learn about what you were looking at. At work they don't give you all the theory behind what you're doing. You keep turning or changing these parameters till you get where you need to be. But why? The why came from the university. Co-op is a wonderful thing -- a very, very valuable experience."
In July 1990, the Shtrom family's life took a tragic turn. A Russian ballet company had come to Cincinnati to perform, and Shtrom's parents, Moisey and Eugenia, were leaving Music Hall following a reception when they were attacked by two men. Moisey was fatally beaten with a rock. "He was in the wrong place at the wrong time," Shtrom says. "I was 22 or 23 and he got taken away from me."
The perpetrators were charged with aggravated murder and robbery and remain imprisoned.
The tragedy brought the family to a crossroads. It was decided that Shtrom's sister would go ahead and pursue a "once-in-a-lifetime opportunity" to study at the University of California San Francisco with a Nobel Laureate and that Shtrom would remain in Cincinnati to be close to their mother. Professor Fan, Shtrom says, "took me under his wing. He said, 'Come work for me, be my graduate student.' He had some grants, and he paid me enough to eat, $1,200 a month."
Fan remembers Shtrom as a hard-working and innovative student who came up with the main idea for his PhD dissertation by himself. "We published some papers together, which got some interest from the research community at that time," he recalls.
Fan felt genuine sorrow for Shtrom's loss, but he does not believe that he did anything special. "I suppose my sympathy meant something to him then; it is good to know now," he says. "Caring for others even in small ways may have profound impact that we may not be able to imagine."
Armed with his PhD, Shtrom headed to Silicon Valley in 1996. He began working for Argo Systems, which was then bought by Boeing. Then he worked for a startup founded by a Stanford University professor, Arogyaswami Paulraj, PhD, a pioneer in a wireless technology called MIMO (multiple-input and multiple-output), which enables antennae to receive and transmit multiple data signals over a single radio channel. Shtrom saw MIMO's potential early on, before it took off.  "I was country before country was cool," he laughs. "Now everything is MIMO. I learned a lot about it and saw an opportunity with Wi-Fi."
That was the year — 2002 — that flat screens arrived. Shtrom foresaw that with flat screens affixed to walls everywhere, the resulting tangle of plug-in cords was a problem that wireless connections could solve. Other trends on the horizon also pointed to a wireless revolution. Netflix, though still shipping DVDs by mail, was gathering momentum, while ever-more-powerful laptop computers were primed to replace personal computers. In 2004, with an eye toward a future of swelling internet connections, Shtrom and William (Bill) Kish founded the company that became Ruckus Wireless.
"We were trying to solve the problem of wirelessly slogging data around the house to all these screens," Shtrom recalls. "We were originally called Video 54, a pun on Studio 54. In 2007 the iPhone came out. And at that point all the networks became overloaded."
Ruckus Wireless patented wireless voice, video and data technology, including adaptive antenna arrays that extend signal range, increase data rates and avoid interference. It provided Wi-Fi for public spaces, including the cities of San Francisco and New York and the Greater Cincinnati-Northern Kentucky Airport. At one point, Shtrom says, Ruckus was the third largest Wi-Fi corporation in America, behind Cisco and HP. "It was wonderful to see it go from two people to over a thousand at one time," he reflects. "It was interesting to be at a company where you need badges because there are people you don't know. We were very lucky. Wi-Fi was growing like crazy. We were just happy to be a part of it and doing some interesting antenna stuff that no one thought of before."
Ruckus went public in 2012. It was sold for $1.5 billion in 2016, was later acquired by Arris International, and today is known as Ruckus Networks.
Going public earned Shtrom the freedom to go boldly wherever he chose. "The beautiful thing about going public is it gives you a way, once you're not working there anymore, to be useful and not so much worry about having a job," he says. "You don't have a boss anymore. If you're fortunate enough, you can ask, 'What can I do for the world?' I'm nowhere near a Bill Gates. I didn't make that much money. But you still have time and need to do something for the world."
In order to win the lottery, you have to buy the ticket. And in this world, it's not the one-shot. Hold on to the ticket, and eventually your number will come up.
What's next? Fighting pandemics
In 2015 Shtrom and Kish decided to move on. Together they founded Cogniac, which uses machine vision to perform industrial inspections. And Shtrom by himself founded ARI, whose WellnessDetector™ is being piloted in a few hundred locations. The company, he says, is "on the cusp" of mass production.
Data from the device, including temperature, heart rate and respiratory rate, are delivered anonymously to a cloud-based, HIPAA-compliant dashboard. Companies will set their own policies for how the information is used, Shtrom says.
"We're looking for contagious vital signs," Shtrom says. "If you go to work and you get everyone else sick, that's not what you want. You can ignore it and everyone gets sick, or you can catch it. We're not the police; we're just the sensor … It could theoretically cause a company to say 'Go home.' A hotel may have a COVID wing. A restaurant may isolate or refuse service. The world needs this thing, and it will come down to who builds a better mousetrap."
Although Shtrom likes to say he's been lucky, he knows what it means to be ready to embrace good fortune when it arrives. It is the crux of his advice for aspiring engineering students, inventors and entrepreneurs.
"Keep your eyes open and see what opportunities come your way," Shtrom says. "Take every lead and learn, iterate, solve problems. Learn to put together teams. Figure out what you do best, what you don't do best. You don't have to be the best at math. You have to solve whatever problem comes your way in the most efficient way possible.
"The people who win tend to be the most resourceful ones. Learn what the world needs and how it will solve a problem for somebody. Make sure whatever you do has a job, a specific thing it's trying to solve. The vast majority of successful people were in the right place at the right time. The reason is they were there and the universe turned toward them. We were there in 2007 when the iPhone came out. It was unpredictable for our side, but we were there. In order to win the lottery, you have to buy the ticket. And in this world, it's not the one-shot. Hold on to the ticket, and eventually your number will come up."
Featured Image at top: Shtrom stands with Ruckus Wireless colleagues during its initial public offering on the New York Stock Exchange. The company later sold for more than $1.5 billion. Photo/provided
1
Some UC IT services will be down Dec. 16-17
November 28, 2022
Select IT services and systems will be unavailable from 10:30 p.m., Friday, Dec. 16, to 11 p.m., Saturday, Dec. 17, during a planned power outage in the university's primary data center. Many commonly used cloud-hosted services will remain available.
2
Could an energy audit save you money?
November 28, 2022
Architectural engineering students at the University of Cincinnati are helping community partners save on monthly utility bills through energy audits.
Debug
Query for this