Village Life partners with UC International to support Global Scholars
UC Global Scholars want to take lessons learned about giving back to their home country of Tanzania
February 2021 was the first time that first-year University of Cincinnati student Zedekia Samara had ever encountered real snow.
"It's refreshing to look at, but the feel of it on the other hand," Samara says with a hearty laugh on a Zoom call from his UC residence in Morgens Hall.

Samara is one of two students from Tanzania, East Africa, who are attending UC as Global Opportunity Scholars. He arrived on campus in January and the second student and roommate, Timoth Akama, arrived in mid-February. Although they both settled into UC housing at the height of a Cincinnati winter, and during a worldwide pandemic, they have managed to maintain sunny dispositions.
"This is our opportunity to experience a different kind of life and get a quality education," Akama says of receiving the scholarship.  
UC's first and second sets of Global Scholars came from India and Nepal.
While the Global Opportunity scholarship program, overseen by UC's International Admissions Office, is normally funded in full by tuition revenue generated by undergraduate international students, this time around there's a collaborator with a special connection to Tanzania: Village Life Outreach Project, a nonprofit organization based in Cincinnati, Ohio.
Village Life was founded in 2004 by Chris Lewis, UC's vice-provost for academic affairs and professor of family and community medicine. It partners with the villages of Roche, Nyambogo and Burere in the Rorya District of Tanzania, East Africa, to implement projects to fight poverty by increasing access to clean water and health care and improving educational outcomes. Over the years, the organization has taken over 700 UC students and faculty to work in collaboration with their partner villages in Tanzania. In 2019, UC Magazine featured a article titled "Lessons in Love" to showcase the relationship between Village Life and the UC community.   

While the first few trips focused on Lewis leading mobile field clinics, the organization has expanded by partnering with volunteers to empower the local communities to thrive beyond providing medical care. Village Life partners with UC Engineers without Borders to implement safe water projects for villagers; a lunch program in seven primary schools; and a primary health care facility for a population of 20,000 staffed by Tanzanian providers who treat malaria, schistosomiasis and other diseases while providing a safe place for pregnant mothers to deliver and receive care. 

"Collaborating with UC International was a natural extension of our global outreach efforts. We've taken hundreds of UC students to Tanzania so it seems fitting that we help bring students from Tanzania to UC," Lewis says of the funds raised by Village Life to specifically assist students Samara and Akama with the incidentals not covered by the Global Scholarship program.
"These students often come with one suitcase and there is a limit on what we can provide for incidentals," like bedsheets, towels, toiletries, kitchen tools and warm clothing, says Jon Weller, who heads UC's International Admissions Office. "When you add the cost of all those things up it is a pretty significant contribution from Village Life," says Weller, "and this effort is an attempt by our international admissions office and Village Life to deepen our relationship and make it sustainable." 
Like most of their first-year student contemporaries in this pandemic, both Samara and Akama started their first-year UC experience online in the fall of 2020. But unlike their peers who chose UC — UC chose them.
Samara worked as an interpreter for Village Life when they brought teams to Tanzania, and Akama was the nurse midwife at Roche Health Center, a primary health care facility built by Village Life, when they saw the scholarship posting.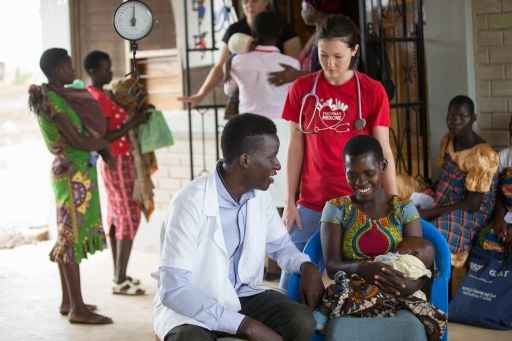 "It never occurred to me that an opportunity such as this would present itself the way that it did," says Akama who holds a diploma in nursing, but wants to expand his knowledge of the health professions. Samara, who holds a diploma in mining engineering, says at first he wanted to be a doctor — a dream that was thwarted in Tanzania because, he says, there are very few openings for even the brightest students. Now, however he is looking into a career in health infomatics.

"Helping people is my passion," says Samara, "and when I saw the announcement, I said to myself: I think this is my time."
And what a time it was.
Prior to the pandemic, Global Opportunity Scholars would have started their first year on campus, taking English as a Second Language courses and classes in their field of study, with the support of the international department and the experience of cultural immersion. Samara and Akama, however, who had both quit their jobs to study at UC, traveled daily by bus or van to the office of Village Life's partner in Africa, Shirati Health and Education Development Foundation, to complete their coursework online.
With travel restrictions ever changing, there was a limbo of sorts that hung over their arrival on campus.
I believed that when the time was right I would come here.
Zedekia Samara UC Global Opportunity Scholar
"I have always had a positive mindset. I kept that positive energy and believed that when the time was right I would come here," says Samara whose trip to the U.S. in January was unfettered, with the exception of having to quarantine for 14 days upon arrival. Akama's visa application took longer to process, but he eventually landed safely on Cincinnati soil and then quarantined as well.
With both their academic and housing needs being met, their only focus now is to study and acclimate to American culture, which includes the occasional winter storm.
"I watch a lot of Marvel movies and I knew a little about the culture from those, but I really didn't expect the drastic change in weather," Akama says jokingly, which is understandable coming from a region where the temperature hovers in the 80s year-round.  
Featured image at top of Timoth and Zedekia on UC's campus. Photo/Andrew Higley/UC Creative + Brand.
Impact Lives Here
The University of Cincinnati is leading public urban universities into a new era of innovation and impact. Our faculty, staff and students are saving lives, changing outcomes and bending the future in our city's direction. Next Lives Here.