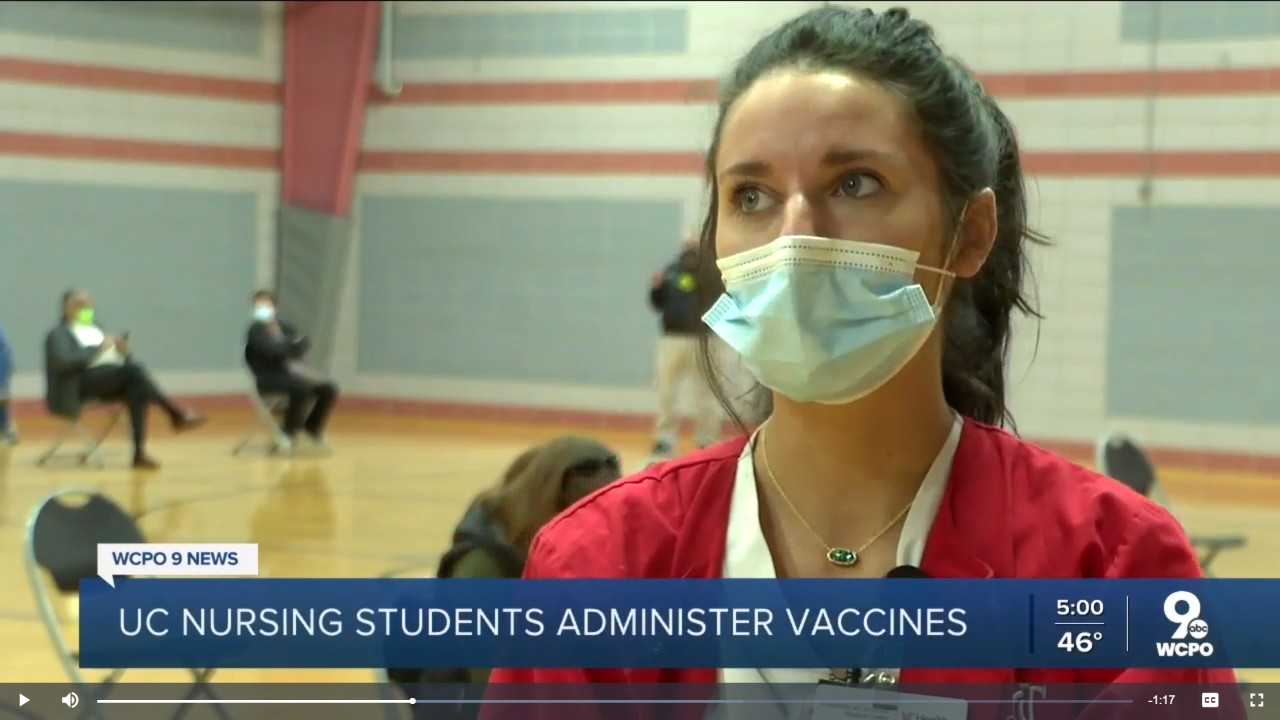 WCPO-TV: UC nursing students earn their degrees giving COVID-19 shots
Vaccine clinics become part of students community experience
Students from the UC College of Nursing are working at COVID-19 vaccination clinics around Cincinnati and Hamilton County as part of their community clinical experience. Four students were helping with vaccinations recently at the Evendale Community Center and WCPO-TV/Channel 9 covered the clinic.
Masters student Jillian Vittetoe told the TV station there simply aren't enough registered nurses to administer COVID-19 vaccines at the scale they're needed.
"I don't like COVID, I wish it had never happened, but it really has been a blessing to learn from this experience," Vittetoe said. "Finding the silver lining and being able to learn from a global pandemic has been a really interesting experience."
Olivia Dean, a nursing student in the same master's program at UC, said she believes student nurses will be in even higher demand as Ohio expands its vaccine eligibility throughout 2021.

"There's a lot of people that want their vaccines," she said. It might be an overwhelming task, but Dean said she's heartened to see so many people excited for their shot.
"People are really appreciative, and that's a really good feeling, to see how grateful people are and how willing they are to come get this vaccine," she said.
Read more about the work of College of Nursing students at COVID-19 vaccination clinics here.
Next Lives Here
The University of Cincinnati is classified as a Research 1 institution by the Carnegie Commission and is ranked in the National Science Foundation's Top-35 public research universities. UC's medical, graduate and undergraduate students and faculty investigate problems and innovate solutions with real-world impact. Next Lives Here.
1
WVXU: Tech CEOs talk AI with lawmakers
September 22, 2023
Professor Richard Harknett is a guest speaker on WVXU's Cincinnati Edition on the topic of AI and the need, or lack thereof, for government regulations. Professor Harknett is the head of UC's School of Public and International Affairs and is an often sought out media resource on technology, cybersecurity and governmental affairs.
3
UC celebrates Marian Spencer Scholars
September 22, 2023
The University of Cincinnati celebrated the legacy of UC alumna Marian Spencer by recognizing 20 students awarded her namesake scholarship during a Sept. 9 induction ceremony. The Marian Spencer Scholars are all high-achieving graduates of the Cincinnati Public School system.
Debug
Query for this