Lawrence Sapp hopes to make a splash at the 2021 Paralympics in Tokyo
UC student has the times, dedication and know-how to take home the gold
When first-year UC student Lawrence Sapp approaches the check-in desk at the campus recreation center he appears to be just another college student clad in a T-shirt, board shorts and tennis shoes.
"You know he's a world champion!" a student worker at the desk remarks to her co-worker, referring to Sapp as he swipes his Bearcat card, makes his way through the turnstile and jaunts quickly downstairs to the pool. 

Indeed, Sapp, who is expected to compete in the August 2021 Paralympics in Tokyo — having claimed a silver medal at the 2019 World Games in London and a gold medal in the 100-meter backstroke at the 2017 World Para Swimming Championships in Mexico City — is fast becoming a campus celebrity.
"I keep pushing through and do my best. If I don't make it, it's ok. I'll do my best the next time," Sapp says of the pressure leading up to the games and two swim trials in April and June that would secure his spot in Tokyo.  
It's certainly a long way from Sapp's hometown in Maryland, where he took his first steps, was diagnosed with a development delay at age 2 (later determined to be autism) and joined his first competitive swim team at age 4. Swim lessons, say his parents Carlton and Dee Sapp, were part and parcel of growing up in the Sapp household. Both Sapp and his two siblings were enrolled in swim classes early on, but "Lawrence has always been an exceptional swimmer. He learned how to navigate through the water, so to speak, by copying and mimicking, which has served him well," says his father.
While his elementary school years were spent on local swim teams, Sapp made the leap, as an adolescent, to competitive teams, securing placement on the prestigious Nation's Capital Swim Club, based in Bethesda, Maryland. In high school, as a freshman, he broke five school records and it was obvious to his parents and coaches that they needed to up the game, which meant the U.S. Paralympics and competing for Team USA.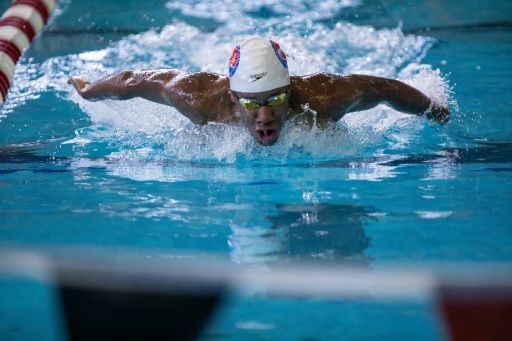 "The Paralympics are very competitive. His times are just seconds behind a neurotypical Olympic swimmer and he's still young in his sport," his mother says, noting that Sapp likely has about eight more years before he starts to peak as a swimmer. But in these coming years, both parents say their son has his mind set on other accomplishments as well: He wants a job; he wants a family. He wants a life. And those goals, they say, were very much a part of why Sapp decided that UC would be his academic destination.
"When Lawrence came across our radar early on, we were so glad he was looking at us," says Jan Goings, director of UC's Transition and Access Program (TAP) in which Sapp is enrolled.
The four-year program was established in 2012, in UC's College of Education, Criminal Justice, and Human Services, for students with mild to moderate intellectual or developmental disabilities with the desired outcome of employment, living independently and building strong social and community connections. TAP students have much of the same access to classes and campus activities as their peers, but have an added support system of academic, job and campus life coaches. 
It's incredible how he's able to balance all of this and still be able to get it done.
Jeffrey King Sapp's coach and head age group coach for Nation's Capital Swim Club
"When we were looking at other schools, we noticed that while the swimming piece was there, they didn't have the disability services," and the internships and work-study programs that are coordinated through TAP, mom says.
For example, Sapp, who wants to be an architectural engineer, can take courses of interest for either a grade or as an audit, to receive a TAP certificate of graduation. "It challenges us to think differently about what college means for those who might not meet the admissions criteria for a matriculating degree program," says Goings.
And Sapp likes it here. He says that some of his favorite places to hang out with newfound friends are at the dining hall and in the colorful hammocks on the campus green. "It's important for me to have free time to do fun things and hang out with my friends. UC has lots of things that I can do."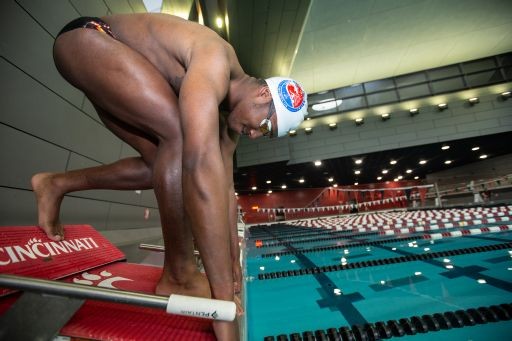 Still, he is laser focused on meshing academics, his sport and life away from home for the first time.

"None of us could do what he's doing. It's incredible how he's able to balance all of this and still be able to get it done," says Jeffrey King, Sapp's year-round swim coach with Nation's. Sapp trains with King when he's in Maryland and has a private coach at UC who relays King's instructions. 
Although King has coached both Olympians and Paralympians for over 30 years, he says that Sapp's positivity is unlike any he's seen before. "He steps up to the block and says, 'I'm going to do my best,' every single time."  
"Just think if everybody you knew walked into every situation saying that," remarks King, noting that the outcomes would likely be as remarkable as Sapp's speed: 49.3 seconds in the 100-yard butterfly in his Paralympic classification as an S14 swimmer. "That's the fastest that this country has ever had, EVER," in the Paralympics, King says, which makes Sapp the third fastest S14 swimmer in the world.
"I want to win the gold," Sapp says, thus for the next five months he'll be a regular at the rec center pool, going back and forth for 25 yards at a time, alternating a routine of freestyle, board kicks and butterfly strokes.
"He's super cool," the student worker adds to her earlier exclamation. 
Sapp says he's just doing what he does best — his best.
Featured image at top of Lawrence Sapp at the UC rec center pool. Photo/Andrew Higley/UC Creative + Brand.
Impact Lives Here
The University of Cincinnati is leading public urban universities into a new era of innovation and impact. Our faculty, staff and students are saving lives, changing outcomes and bending the future in our city's direction. Next Lives Here.
2
Touchdown for sustainability
October 2, 2023
In an ongoing pursuit to maintain an eco-friendlier campus and stadium, UC Sustainability is rallying as much fan support as possible to properly dispose of the mass of bottle and can recyclables too often left behind inside and around Nippert Stadium.
3
Ledger donates digital asset security to the University of...
October 2, 2023
A recent gift from Ledger, a global platform for digital assets, will benefit students and research at the University of Cincinnati. Ledger has donated the use of its Enterprise Platform, a cutting-edge digital asset security solution that will enhance the university's technological capabilities in the cryptoeconomics area. This generous donation supports student learning at the Kautz-Uible Cryptoeconomics Lab at the Digital Futures building.
Debug
Query for this