'Hope After Hate': A father's Holocaust ordeal evolves into a CCM play, multimedia experience
Cincinnati Business Courier features Prof. Hagit Limor's inspiring project on father's experience
Inspired by her father's story of struggle and survival during the Holocaust, UC College-Conservatory of Music Professor Hagit Limor set out to create an immersive multimedia project that shares his story with lessons to inspire action against acts of hatred and bigotry today. The Cincinnati Business Courier recently interviewed Limor about the "Hope After Hate" project, sharing how it was created as well as future plans for the project.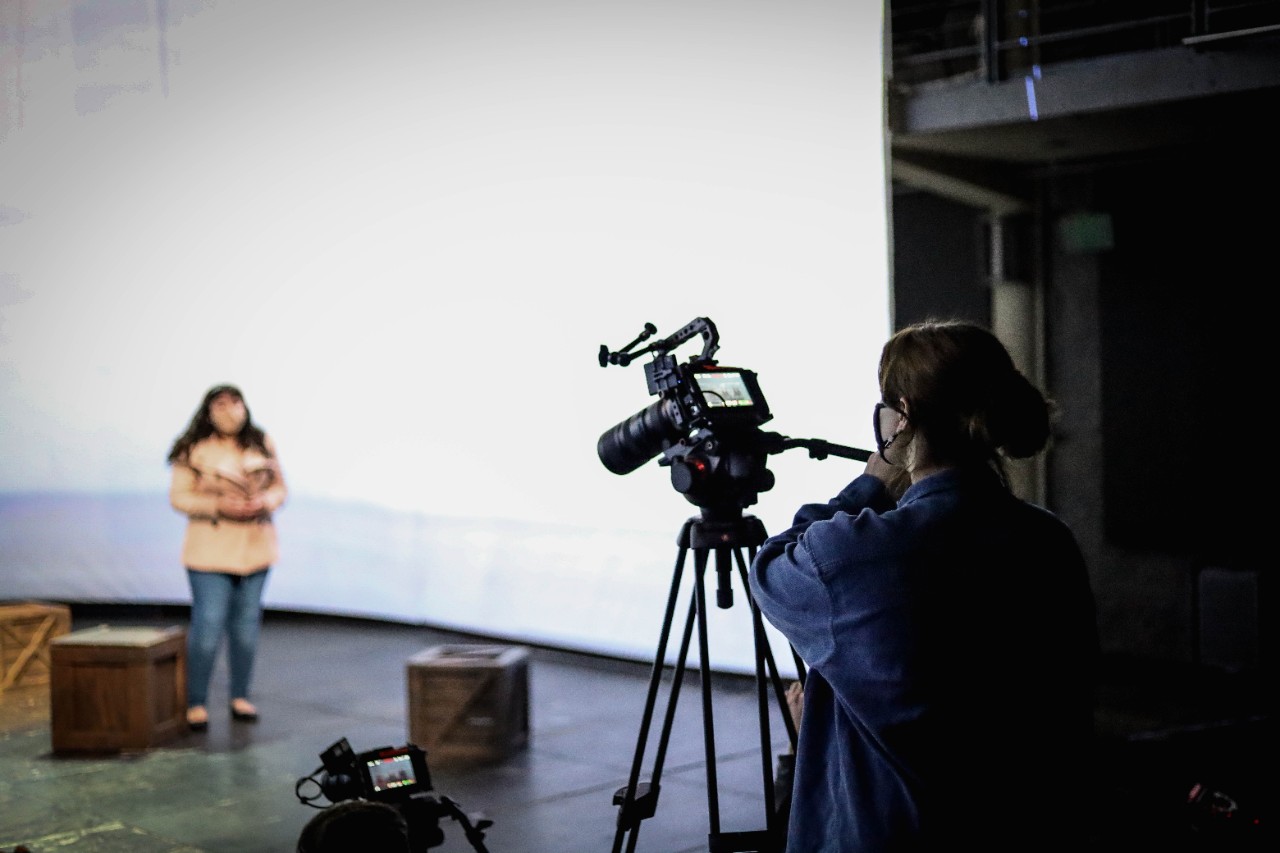 In October 2019, Limor's Media Topics class of 15 students traveled to Poland and Germany to retrace the journey of her father, Menachem "Moniek" Limor. The photos, videos and research collected during the trip are used in the immersive play and virtual reality experience for the "Hope After Hate" project.
"Hope After Hate" is an innovative, new kind of theatre — part play, part video and part virtual reality. Projections of historical settings, artwork, and photos/videos from the study abroad trip create the play's virtual set. CCM Acting 
Professor Susan Felder adapted a manuscript by Limor into the play, which was then workshopped and recorded in CCM's Cohen Family Studio Theater in fall 2020. 
The immersive play was staged without audiences during the fall workshop, with the small cast and creative team wearing face masks and following COVID safety measures. The cast featured CCM Acting students, the creative team featured CCM Theatre Design and Production students, and the play was recorded by Media Production faculty and students. CCM will broadcast the "Hope After Hate" play recording this spring. 
"Hopefully, when the world returns to theater and audiences are allowed back, we can stage it the way we want to stage it," Limor told the Cincinnati Business Courier. "It's a very different concept."
"Hope After Hate" unites students, faculty and staff from across UC, including undergraduate and graduate students majoring in Media Production, Acting, International Affairs, Political Science, Geography and History. Additionally, the "Hope After Hate" team collaborated with CCM Lighting Design and Technology Professor Sharon Huizinga to create projections for the play. UC's Center for Simulations and Virtual Environments Research (UCSIM) is building the VR experience with the 360-degree photos and videos that students captured while on the trip.
The play is only one part of the "Hope After Hate" project: Limor created an Emmy Award-winning documentary for WCPO in June 2019, CCM Media Production students created "Hope After Hate: Making of a Documentary" that is availabe on YouTube and several students who participated in the study abroad trip created a podcast series about the experience called "Creating Hope After Hate" that is available on Spotify. Additionally, the virtual reality experience will be adopted by the Nancy and David Wolf Holocaust and Humanity Center and will be available to schools and other organizations for educational purposes.
This collabrative project has been featured by the Cincinnati Business Courier, Fox 19, WLWT, WCPO and WVXU.
"Hope After Hate" is sponsored by the Holocaust and Humanity Center, and has received support from private donors, Cincinnati's Jewish Innovation Funds, the CCM Harmony Fund and UC Forward. 
1
Know Stroke Podcast: UC expert discusses past, present and...
September 21, 2023
The University of Cincinnati's Joseph Broderick, MD, recently joined the Know Stroke Podcast to discuss the current state of stroke research, including the FASTEST trial he is leading to test a potential treatment for strokes caused by ruptured blood vessels in the brain.
2
Bloomberg: Finding work-life balance
September 20, 2023
There's not just one right way to achieve work-life balance, rather, it's a matter of personal preference, a professor in the University of Cincinnati's Carl H. Lindner College of Business told Bloomberg.
3
Clifton Court Hall grand opening garners detailed media coverage
September 20, 2023
The University of Cincinnati celebrated the opening of Clifton Court Hall on Tuesday, Sept. 19, with a ribbon cutting, attended by approximately 200 administrators, faculty, staff and students. The event was covered by multiple media outlets.
Debug
Query for this