Civil engineering student grows through co-op
Lauded for leadership skills, Nichole Criner was awarded Engineer of the Month
Nichole Criner maximized her time as a civil engineering student at the University of Cincinnati. She held leadership roles in several student organizations and was honored with a prestigious award from the American Society of Civil Engineers.
Criner, who graduated in April, fulfilled her dream of interning for a structural engineering firm in Germany through UC's international cooperative education program. Criner was named Undergraduate Student Engineer of the Month by the UC College of Engineering and Applied Science.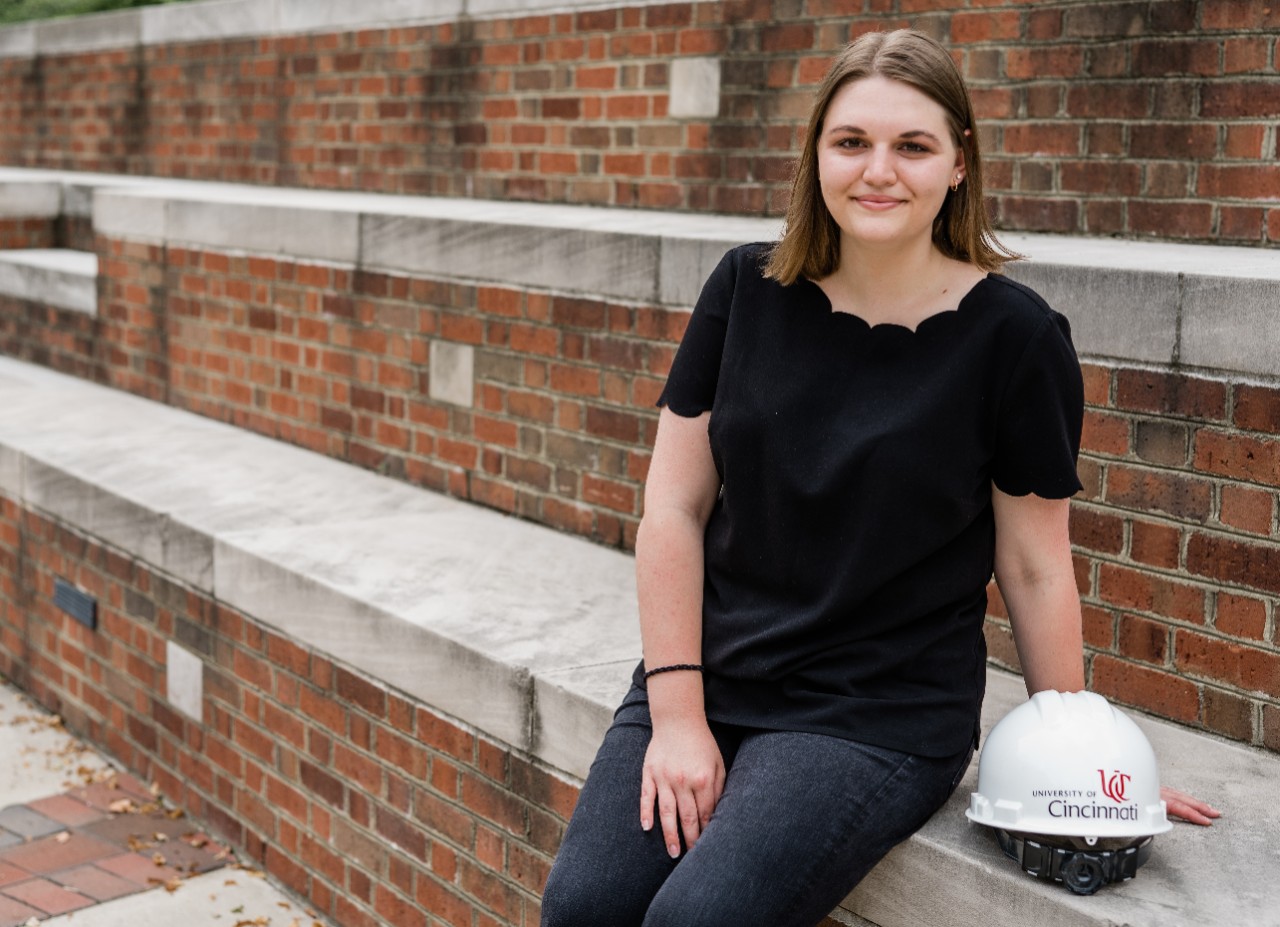 I chose UC because of the opportunities that other schools couldn't offer, including study abroad, the international co-op program and the regular engineering co-op program.
This was the first campus I toured and I fell in love almost immediately. My mom thought it was just because it was my first campus tour, but I loved the uniqueness of the architecture, layout, positioning (in the city but not in downtown), literally everything made me feel like I was home. 

What co-op jobs did you have and what were your responsibilities?
At Schaefer in Cincinnati, I was a modeler co-op for two co-op rotations and I worked primarily with Revit, 2D and 3D modeling buildings. I worked on industrial facilities, preparing the structural drawings for construction. I was also a structural engineering co-op at Schaefer for two additional rotations. I worked on structural design of buildings (steel, concrete, masonry) and was focused primarily on industrial and education buildings. 
I was able to almost fully design (with supervision, help, and professional engineers double checking) two buildings at Schaefer. This is just an amazing feeling that I was able to gain this experience while still being a student.
For Matrics Engineering in Munich, Germany, I was a structural engineering co-op. I worked on modeling of bridge rehabilitation projects, conducted data compilation and analysis and created graphics for use in presentations for in-house research projects. 
Even though COVID hit and I came home early from Germany, that was still a large personal goal of mine (to live and work in another country for a bit) and I did get to live that goal for a few months. It was amazing being fully immersed in another culture for more than a week or two. I was able to expand my horizons in ways I never could just from being in the U.S.
Why did you choose your major? What impact do you want to make?
I got interested in civil engineering in high school when my drafting (pre-engineering) class did a balsa wood bridge project. I loved the entire process from start to finish and once I found out that was civil engineering I ran with it from there. When I started looking for co-ops I realized that bridges were structural engineering (just a specialization of civil). My first few co-ops I worked at a firm that only did buildings and then absolutely fell in love with those too. I still like bridges and my master's research project has to do with bridges so it is funny to see things come full circle. 
I want to contribute to the betterment of the United States infrastructure and work towards designing and creating a more sustainable, resilient, and innovative built environment. 

What had the most impact on you and your UC experience?
I have had amazing mentors during my five years at UC — my mentors on co-op, faculty advisers for the student organizations that I was in, professors and older students. I learned so much from them all and felt so supported by everyone around me and that was honestly life changing. I was going to switch out of engineering freshman year because it's just so darn hard but I found a few good people to go to for advice and look up to and I decided to stay, which I am so glad I did. 
What accomplishment are you most proud of from your time at UC?
I am most proud of an award I received through the American Society of Civil Engineers. It was called the "student leadership award" and only six people win it each year from all of the applicants across the country. Not only to be recognized by a national organization like this, but the most rewarding part of it was that I wasn't in a typical "leadership" position in our student organization; I was the special events coordinator. After being nominated by our faculty advisor and receiving the award I really learned that you don't have to be in a stereotypical "leadership" position to be a leader and make a difference. 
How has UC helped prepare you for the future?
My time at UC has taught me a lot and I have had many different experiences. I have worked part time through all five years at an on-campus job, I have had domestic and international co-ops, I learned another language, I led student organizations, and I participated in a lot of volunteer efforts all around the community. 
I think that everything I have learned through these experiences, not only has helped shape my personal values and outlook on life but it has given me so many opportunities for personal growth and I have really enjoyed seeing myself evolve and develop into a better person over the years. 

What are your future plans?
I just graduated in April 2021 with my bachelor's degree in civil engineering from UC and I am going to Purdue University for my MS in civil engineering with a focus in structural engineering. 
After getting my master's degree, I plan to work in industry and get my PE (professional engineer licensure) eventually. I am interested in getting an MBA at some point as well. I'm very interested in the business side of things and I think that if I either open my own business or move into leadership at whatever company I am with that an MBA would be very beneficial. 

I also want to keep the idea of going back into academia, to get my Ph.D. and become a professor, in the back of my mind. It is something I have talked to a few of my professors about and something that I may be interested in doing eventually, but not right now. 

Featured image at top: Nichole Criner shows her Bearcats pride during her international co-op. Photo/provided.
Interested in becoming an engineering Bearcat?