WVXU: HEPA purifiers for indoor gatherings could prevent COVID-19 infections
UC ear, nose and throat specialist featured on 'Cincinnati Edition'
As COVID-19 restrictions ease nationwide and more people host indoor gatherings, investing in a high efficiency particulate air (HEPA) purifier might not be a bad idea, says a University of Cincinnati College of Medicine researcher.
Several published studies evaluating aerosols and submicron particles similar in size to the SARS-CoV-2 virion have shown that portable HEPA purifiers are able to significantly reduce airborne COVID-19 particles, says Ahmad Sedaghat, MD, PhD, director of the UC Division of Rhinology, Allergy and Anterior Skull Base Surgery.

Sedaghat identified the medical literature showing published studies on the effectiveness of HEPA purifiers. His review is available online in the scholarly journal of the American Academy of Otolaryngology-Head and Neck Surgery Foundation, and Sedaghat was interviewed by WVXU about his research. 
Air purifiers could benefit hospitals and physician offices where aerosol-generating procedures occur, but they are also useful for reducing COVID transmission anywhere that large groups of individuals congregate.
"One of the issues with COVID-19, is when physicians perform an aersol-generating medical procedure any asymptomatic COVID-19 positive patient may release SARS-CoV-2 laden aerosols into the air," explains Sedaghat. "Guidance from the Centers for Disease Control indicates that we can rely on our HVAC systems to slowly decontaminate the air during an hour time frame. Studies in the medical literature are showing us that we can use portable air purifiers to do a better and faster job of decontaminating these airborne particles to keep our patients and staff safe."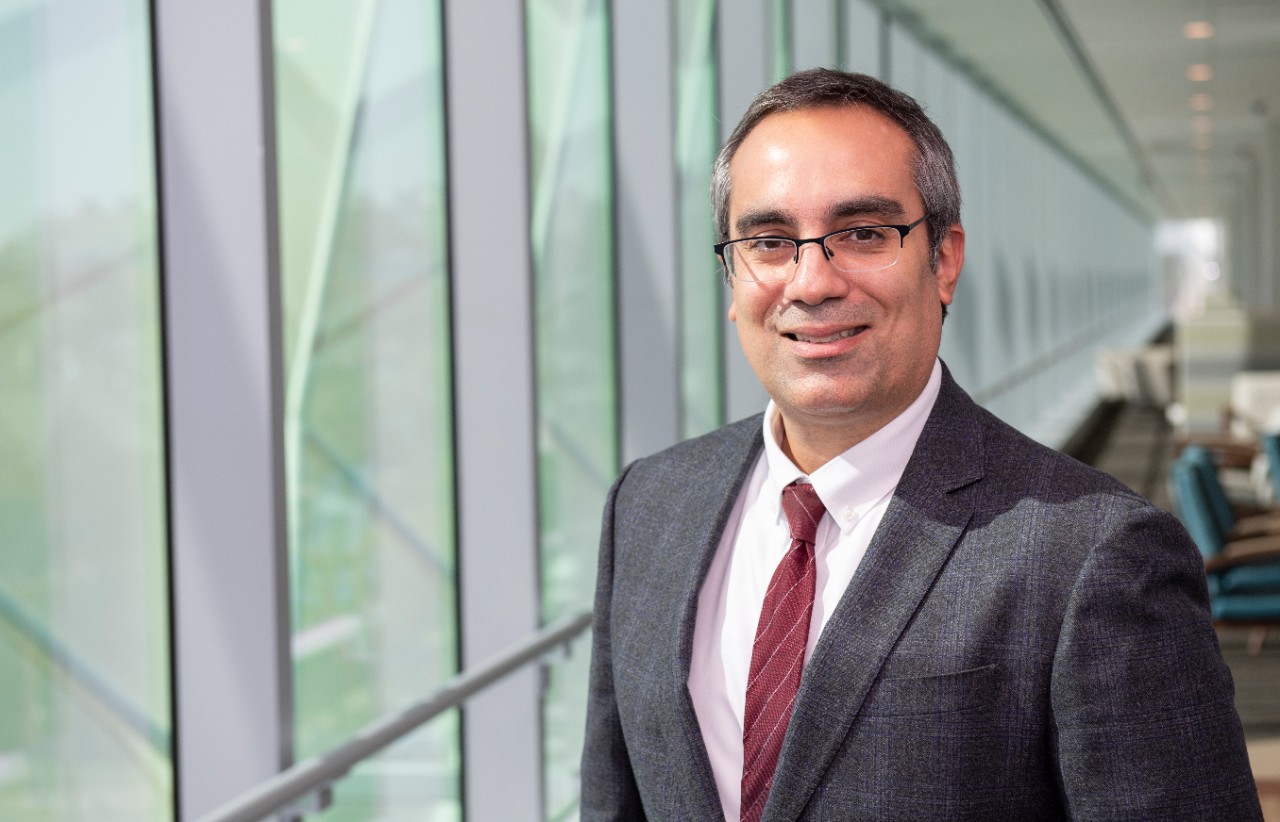 "Air purifiers with HEPA filters can be used as very effective means to decontaminate the air above and beyond what many HVAC systems may offer," says Sedaghat who also published studies documenting COVID-19 infection leading to reduced taste and smell in patients and possibly attacking the central nervous system.

"If people are walking around coughing or sneezing because it is allergy season and by chance they happen to be one of these asymptomatic carriers of COVID-19, there is a danger of transmission in individuals not vaccinated," says Sedaghat. "People are catching the disease from asymptomatic carriers."
"The results of this study can be applied to our daily lives outside of a physician's office," says Sedaghat. "If you want to host larger gatherings you should consider putting the air purifiers into your living room to help decontaminate anything that is released into the air. HEPA based air purifiers work the best. HEPA based air purifiers decontaminate these airborne particles much faster and more effectively than non HEPA filters."
"They aren't terribly expensive and you can buy these at any home improvement or department store to help decontaminate air borne coronavirus," says Sedaghat. "This may be more important for controlling the spread of COVID-19 for people who are still not vaccinated."
Featured image of an indoor gathering is courtesy of Unsplash.
Impact Lives Here
The University of Cincinnati is leading public urban universities into a new era of innovation and impact. Our faculty, staff and students are saving lives, changing outcomes and bending the future in our city's direction. Next Lives Here.

Stay up on all UC's COVID-19 stories, or take a UC virtual visit and begin picturing yourself at an institution that inspires incredible stories.
2
Everyday Health: Does chest pain always mean a heart attack?
November 28, 2022
The American Heart Association (AHA) says that chest pain accounts for more than 6.5 million emergency room visits each year in the United States, plus nearly 4 million outpatient visits. While not all episodes of chest discomfort turn out to be life-threatening, chest pain is the most common symptom of a heart attack in adults of all ages, so it needs to be taken seriously. In a story posted by Everyday Health, Richard Becker, MD, of the UC College of Medicine is one of the experts quoted.
3
Some UC IT services will be down Dec. 16-17
November 28, 2022
Select IT services and systems will be unavailable from 10:30 p.m., Friday, Dec. 16, to 11 p.m., Saturday, Dec. 17, during a planned power outage in the university's primary data center. Many commonly used cloud-hosted services will remain available.
Debug
Query for this