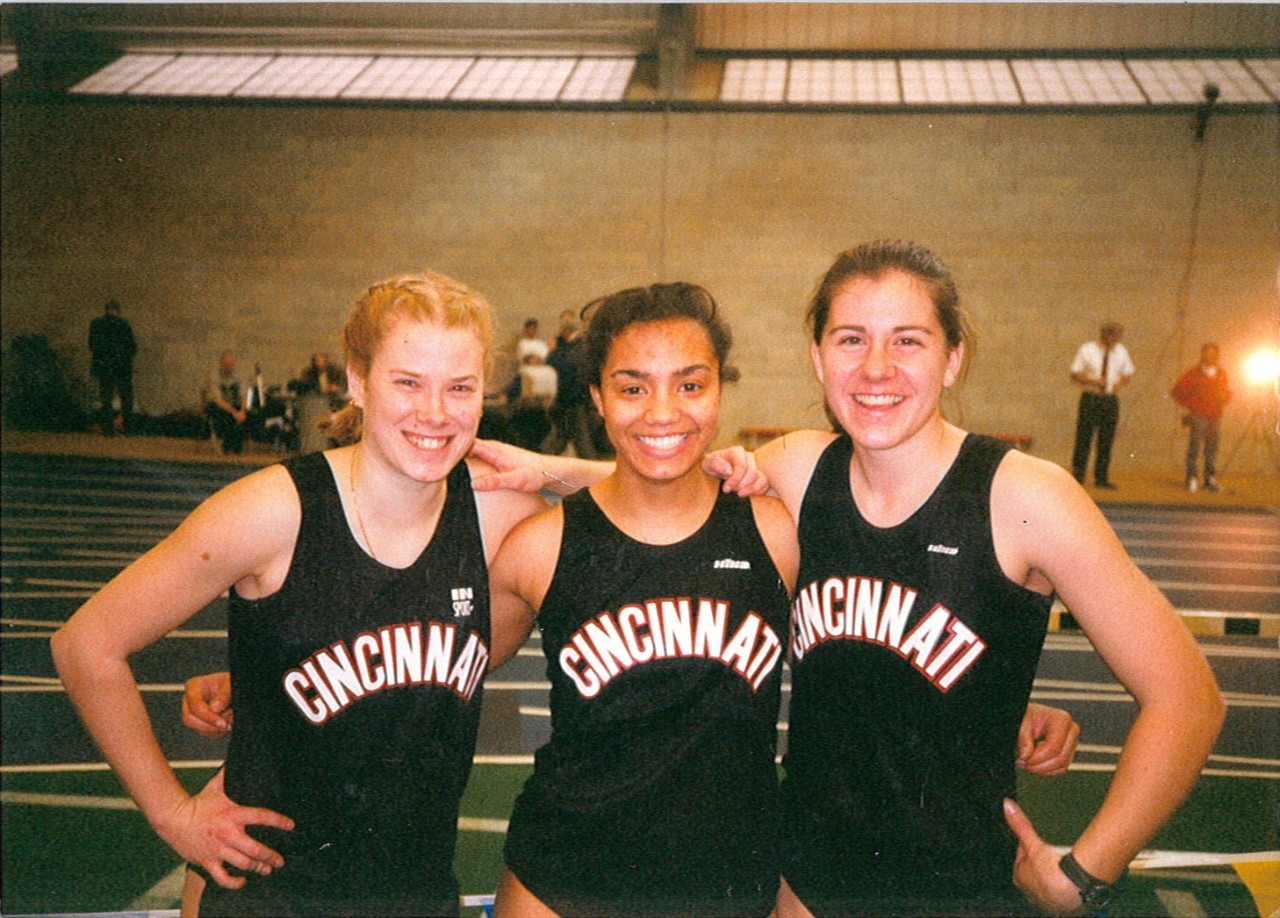 UC student athlete alum spends career paying it forward
Maggie McKinley-Maric ran track and field at UC. Now she fights for student athletes country-wide.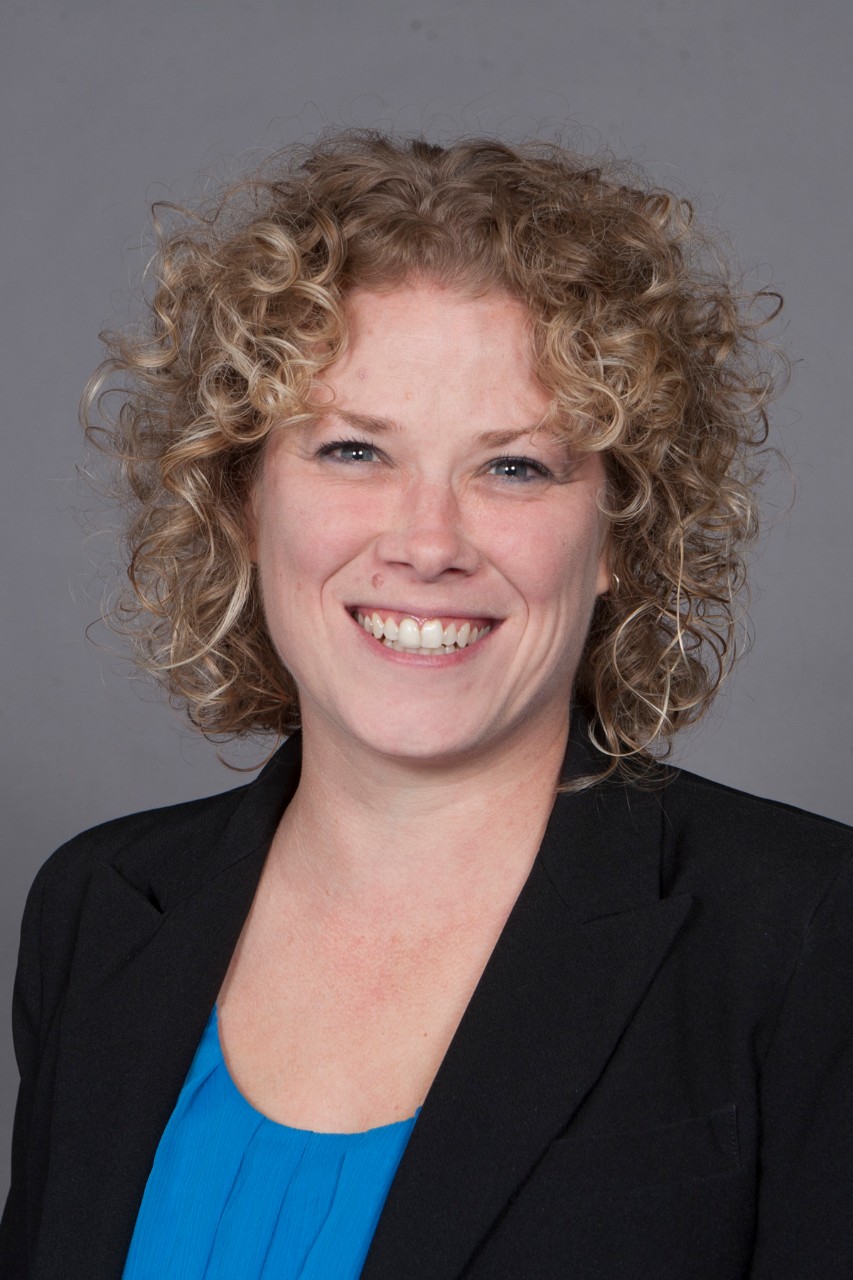 Maggie McKinley-Maric, A&S '00, was running hurdles for the University of Cincinnati track and field team when life placed different types of hurdles in her path. She was a rising sophomore when her mother was diagnosed with breast cancer. And she was a gay woman striving to find her way in a pre-enlightened world while sometimes feeling that she and her gay friends were "part of a secret society."
Those hurdles, however challenging, helped point the way toward a stellar career as an advocate for student-athletes and a policy expert focused on their overall well-being. "I had a passion," McKinley says. "I wanted to make an impact and help student-athletes after my athletic career was over."
McKinley, UC's Deputy Director of Athletics/Senior Woman Administrator, has accomplished that and more. At UC she provides strategic direction on initiatives ranging from policy development to student-athlete welfare to equity and inclusion. On the national stage, she represents the American Athletic Conference on the NCAA's 40-person Division I Council and chairs the NCAA's Legislative Committee. Women Leaders in College Sports named her the 2018 Division I FBS (Football Bowl Subdivision) Administrator of the Year.
On the NCAA Council, McKinley is primed to complete a five-year term and hopes to see "some history-making legislation" enacted by July 1. That legislation involves "name, image and likeness," which would remove long-held restrictions and enable student-athletes to profit from the use of their name and image.
"I'll call it a game-changer for our student-athletes in the landscape of college athletics," she says. "In five years we're going to talk about this and say, 'Can you imagine that we did not let them do this?' It's a good change. I'm very supportive of it, and our institution is very supportive of it. It's a great opportunity for these student-athletes."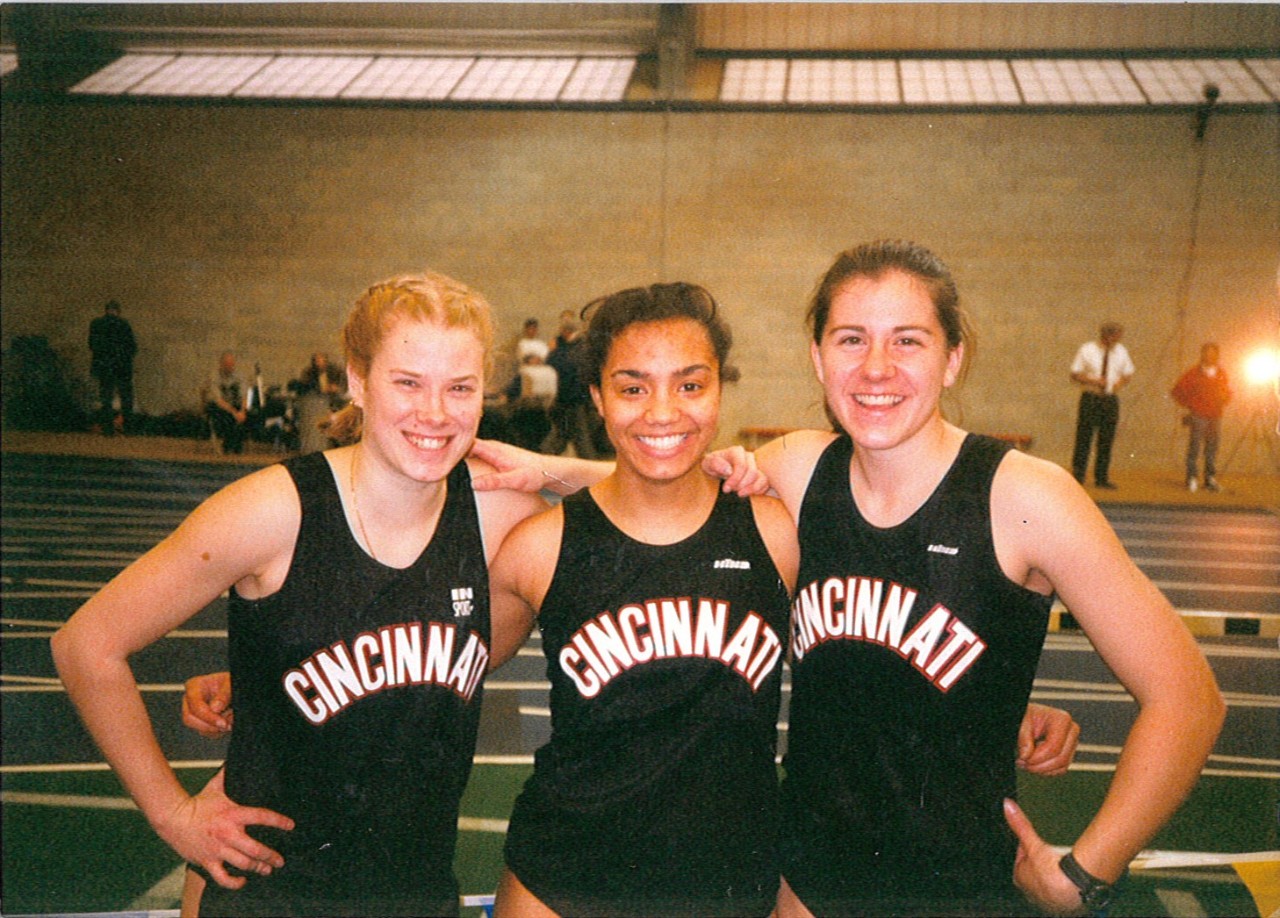 As a UC student, McKinley majored in psychology and planned to become a sports psychologist. She knew that while UC offered tutoring and medical care to student-athletes, there was a complex world beyond shin splints and split times that also required attention. Following her mother's diagnosis, she says, her coaches and teammates were supportive. "But there was probably something more that would have really helped me go through those peaks and valleys."
When McKinley learned that only a small percentage of a psychology practice was likely to involve student-athletes, she re-evaluated her plans. She didn't think she would be able to make the kind of "big, big impact" that she aspired to as a psychologist. Bob Goin, her former athletic director, offered pivotal guidance. "If you want to have an impact on student-athletes, you should go into administration," he advised. "You can have a huge impact, and we need more people like you with your passion in this industry."
Switching gears, McKinley earned a master's in sports administration from Xavier University. She returned to UC in 2001 for an unpaid internship, landed a paid internship two months later, and has been rising in local and national stature ever since.
A customer approach to compliance
McKinley landed the prestigious NCAA Division I Council appointment after playing a key role in building UC's NCAA rules compliance program. The program not only evaluates, develops and interprets policies and rules, it also serves as a customer service center for coaches, staff, athletes and fans. When those customers ask whether an action is within the rules, McKinley doesn't want the answer to be an outright "no." If the action is indeed outside the rules, she wants the program's staff to help provide the customer with a solution that works within the rules. "We wanted to create relationships that enable people to come back and ask questions so that we're not having inadvertent rules violations or we're driving people away and they're going to do things in secrecy, behind closed doors, and cause harm to the institution."

Also on the near horizon: the hiring of the first full-time mental-health professional to be embedded with UC's Department of Athletics. The job opportunity has just been posted. "Our student-athletes go through so many things, and we're seeing that more and more upon entry," McKinley says. "It's not all about sports performance. The things that are impacting them outside of sports are impacting them in sports, in the classroom, in life."
If I'm not living authentically, then I'm conveying the wrong message…It's not about me; I'm here to help the student athletes.
A model of grace for the LGBTQ community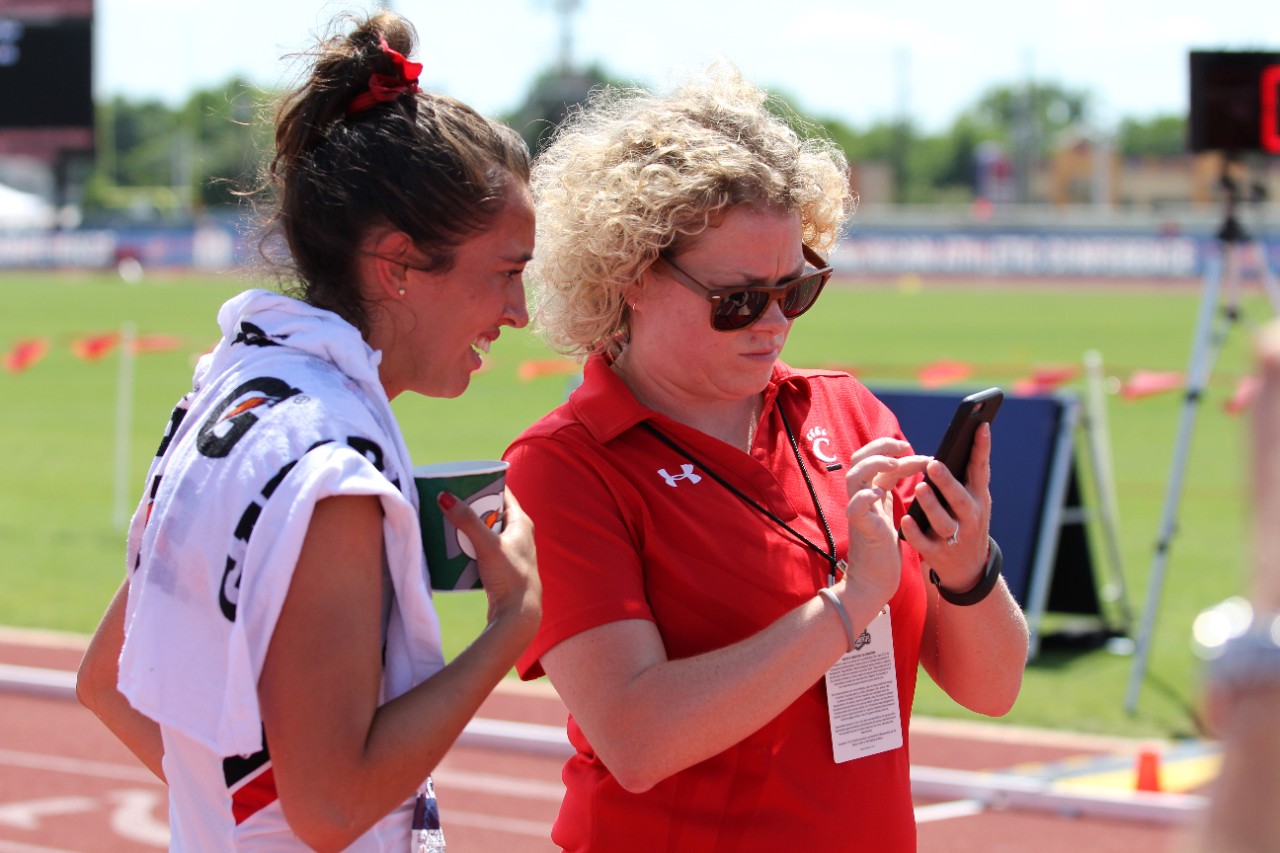 Growing up in Cuyahoga Falls, Ohio, McKinley began her athletic life as a gymnast at age 2 and continued until injuries forced her to abandon the sport in high school. She switched to track and field, where her natural flexibility, speed and power made her a star. Bill Schnier, UC's former track and field coach, recruited her to UC, which was just reinstating its women's track and field team to comply with Title IX participation guidelines. As part of a foundational 1995-96 recruiting class, McKinley competed in the 400-meter and 100-meter hurdles.
During her undergraduate years, McKinley says, she wasn't aware that a true LGBTQ community existed. "When I found other student-athletes who were part of that, it was almost like we had this secret society where we would get together and go out to this place or that place," she recalls.
Once on UC's athletic staff, McKinley willed herself out of her comfort zone. Adopting a new clarity, she stopped "playing the pronoun game." Instead of referring to a date as "them," she referred to her date as "her."    
"Here are my student-athletes looking at me, and if I'm not living authentically, then I'm conveying the wrong message," she says. "They might be going through things, struggling with their own identity, and if they see someone in leadership whose actions are suggesting it's shameful or wrong, they could be adversely impacted. I realized earlier in my career this was important. It's not about me; I'm here to help the student-athletes. It's not that I put a big banner on my door, but it's being my true authentic self in conversations."
The opportunity to continue to serve my alma mater is one of my greatest joys.
In September, McKinley will celebrate her fourth wedding anniversary with Dubravka McKinley-Maric. "My wife is known by a lot of student-athletes, because she accompanies me to events, and she's very visible at games," McKinley says. "They see her, know her. I've had several student-athletes, after they finished, say to me, 'Thank you, because I was going through a lot of things, and you didn't say or do anything, but being able to see that made me feel more at ease.'"
As she approaches her 20th anniversary as a UC employee this August, McKinley has done what she set out to do: She has made a big, big impact. UC today offers greater support for student-athletes than ever before. And McKinley could not be happier in her role as a teacher who helps prepare students for the next phase of their lives.
"The opportunity to continue to serve my alma mater is one of my greatest joys," McKinley says. "I had such a great experience as a student here at this institution. To get to continue to be on this campus every day is a joy I don't take for granted." 
2
Ongoing quest for justice a life-changer for all parties
December 7, 2023
The Ohio Innocence Project and its student fellows, past and present, recently marked 20 years working to exonerate the wrongfully convicted. OIP co-founder and director Mark Godsey, as well as past OIP fellows and Cincinnati Law alumni, Eric Eckes, Law '08, and Simar Khera, Law '15, spoke about their shared experience and its life-changing impact.
3
Lindner student named to Schwarzman Scholars class of 2024-25
December 7, 2023
Carl H. Lindner College of Business student Lance Entsuah, BA '24, recently earned admission to the prestigious Schwarzman Scholars program that offers a one-year, fully funded master's degree program in global affairs from Tsinghua University's Schwarzman College in Beijing, China.
Debug
Query for this