CCM Commercial Music Production alum releases new album
Jazz artist Bryard Huggins celebrates 10 years since the release of his debut album, Artistic Touch
University of Cincinnati College-Conservatory of Music graduate and Nashville-based composer, producer and smooth jazz recording artist Bryard Huggins released a new album to celebrate his decade-long career in the recording industry. Listen online.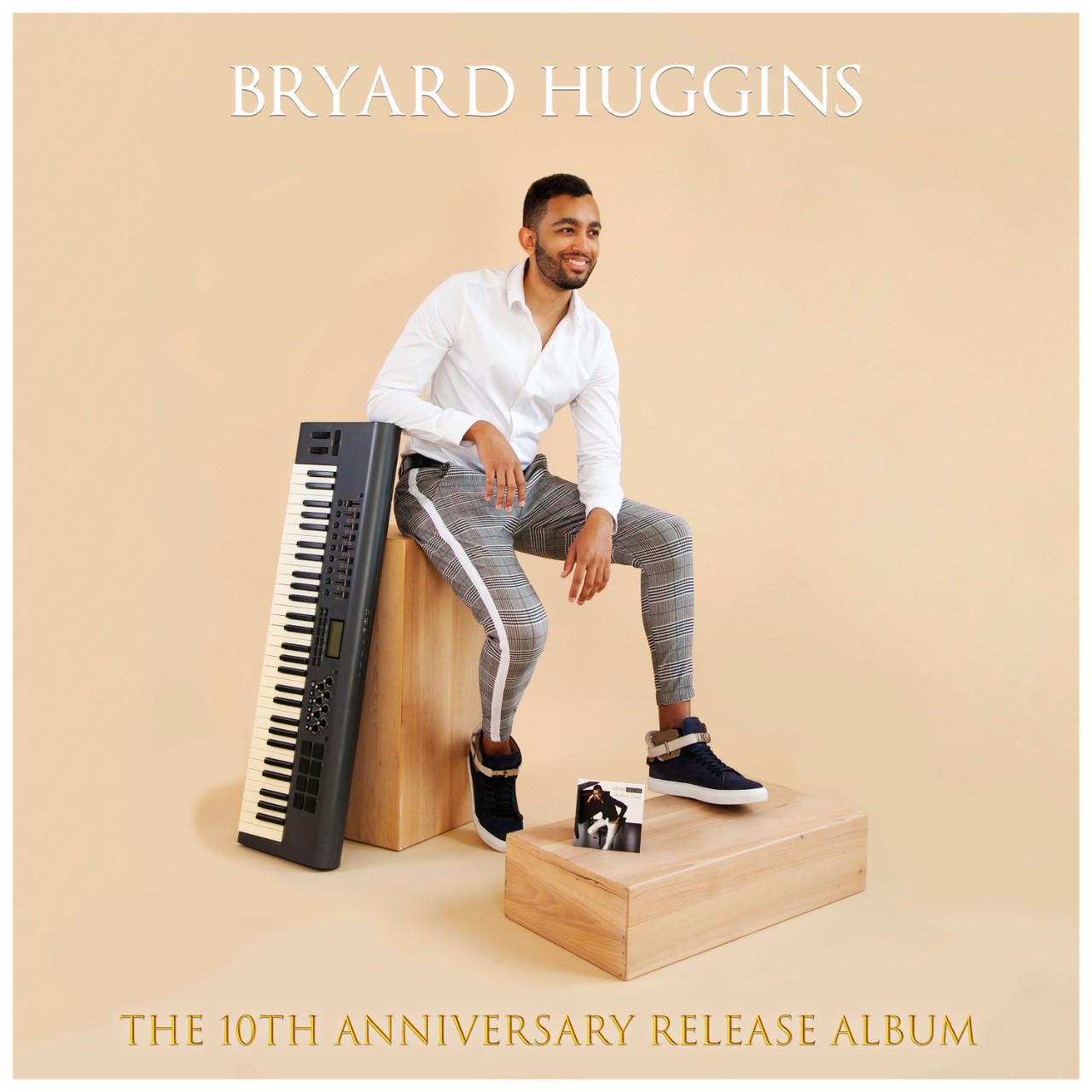 Bryard Huggins - The 10th Anniversary Release Album shares nine new songs and a cover of Selena's hit, "I Could Fall In Love." It's his sixth studio album and his fifth contemporary jazz album and features standard contemporary jazz, smooth jazz and jazz fusion — and it's also Huggins' first all-electronic album. The album is available for purchase online.
Huggins (Commercial Music Production, '17) produced and engineered the recording in January 2021. In addition to Huggins, it features jazz artists Jackien Joyner, B. Thompson and Ryan Casey; it was mastered by award-winning mastering engineer Steve Hall.
We spoke with Huggins about his latest release, his time at CCM and his life outside of his recording career.
What inspired your latest album?
My biggest inspiration behind this album was knowing that 2021 would mark 10 years since I released my debut album (Artistic Touch). This project had to represent my growth and maturity as a contemporary jazz artist and producer, but also had to stay close to home and the signature style people know and love from me. Since Artistic Touch, I have developed my own style of contemporary jazz. If you go and listen to artists in that genre, each of them carry their own sound and playing style, no matter the instrument. I feel that this album really has solidified not only my playing style, but my writing style in the genre as well.
For the album artwork, I wanted to keep in line with the growth aspect but wanted a much more simplified and sleek cover picture — something that said "it's been 10 frickin' years and what a blessing that is!" and "it's still classic Bryard — playing music that makes you feel good since 1998." 
Can you tell us about your time at CCM?
I am still so grateful I chose to attend CCM and particularly commercial music production, which was brand new at the time. I come from a tight-knit family so leaving Nashville and attending college out of state was a huge adjustment (even being just four hours away). Coming to CCM was terrifying because, though at that time I had just released my second album, Visual (2013), I questioned whether I'd be good enough for the major, whether I'd know enough, whether I would fit in. But fortunately my major was small — only accepting 10 people at the time — so they became like my family quickly.
What drove me to CCM and the CMP major specifically was how diverse you would be upon graduation. CMP gave me all the musical tools in my tool chest — writing, producing, music business, sound engineering, theory, and more — to be able to go out and make a career in the industry. In addition, it made me a well-rounded artist, something that to this day I am extremely thankful for. 
The director of our program, Kim Pensyl, became a musical mentor to me, more than just an instructor. I immediately connected with him as he also has a jazz piano background and I was a fan of some of his music I'd heard on Sirius XM Watercolors. So to be able to learn under him and get his phenomenal expertise was a true blessing.
Looking back, I probably was one of the more annoying students because I always had questions and thoughts and valued his input. His email inbox is probably full of emails from me! He still continues to act as my musical guide as I grow in this business and I'm grateful to him. I can't pick one class that impacted me the most, but I will say definitely the classes where I got to write and compose and receive real-time feedback were something I truly treasured. 
What other projects are you working on?
Because of the knowledge I gained at CCM and the Frost School of Music at the University of Miami, where I graduated with my master's in music business last year, I have built and established an independent music production company and record label here in Nashville called Muse Entertainment.
Outside of my jazz recording career, I formed Muse Entertainment shortly after graduation from CCM in late 2017 to be a launching pad for aspiring artists to gain knowledge, build their portfolio, and get experience in the music business before vying for a spot in mainstream music or at a major record label. Nashville has helped with this — being "Music City" and having several up-and-coming artists moving here all the time. My goal of Muse Entertainment was to become a connection for these artists as my first producer was to me — someone to say, "You've got something kid, let's make some music together and get you started." I was blessed to have that at age 13; I want to be that for others who are passionate about starting a career in this industry.
In addition, Muse Entertainment produces music for various clients across the nation in any genre, most recently film/TV, children's music, music for theatre and more. Music we have produced has been recognized by The Tennessee Tribune and Main Street Nashville and has been featured at Ryan Seacrest Studios, Macy's, Nike, Bissell, various podcasts, Harvard University, WKRN Today in Nashville, and the Nashville Sign to name a few. 
Outside of Muse Entertainment and my recording career, I am a member of the new National Museum of African American Music's Emerging Artists series. 
Bryard Huggins is a composer, producer, smooth jazz recording artist from Nashville, TN, and founder/CEO of Muse Entertainment LLC – local indie record and entertainment company. Huggins stumbled upon his God-given gift of music at the age of four on the piano and quickly developed into a child prodigy. He nurtured his musical gift with nearly 10 years of classical training and four years of jazz piano instruction. His debut studio album Artistic Touch (2011) thrust him into the music scene, followed by his EP Visual (2013), The Way Home (2014), and his step into the gospel genre with The Gospel Sessions (2015). He graduated in 2017 cum laude from College-Conservatory of Music at the University of Cincinnati with a degree in Commercial Music Production and a minor in Entrepreneurship. Upon graduation, he released his fifth album Calhoun Street (2017). In 2020, he graduated with his Master's degree in Music Business at Frost School of Music, University of Miami. On May 28, 2021 he released his sixth studio album – Bryard Huggins – celebrating his decade long career in the recording industry.
Outside of his recording career, his gift of writing music continues to shine with his endeavors in film scoring, music for theatre, children's music, and arranging. His record company and label boasts various artists and clients in genres like pop, soul, R&B, gospel, and more. He has attracted the attention of greats like Gladys Knight, David Foster, Take 6, CeCe Winans, Taylor Swift, Kirk Whalum, Richard Smallwood, and many more. Bryard currently resides in Nashville, Tennessee but plans to move to the Los Angeles area in 2022.
His music is available on all digital outlets (iTunes, Spotify, Amazon Music, Pandora). Check out his website for more information.
1
National media highlight newest U.S. World Heritage site
November 28, 2023
For nearly two decades, professor emeritus John Hancock helped lead a team of archaeologists, historians and Native American scholars, including staff at the National Park Service and Ohio History Connection, to have the Hopewell earthworks recognized on par with other World Heritage sites such as the Great Wall of China and Stonehenge.
Debug
Query for this