Engineering student makes sense of waves
PhD student improves computational techniques for solving real-world engineering problems
When Parikshit Boregowda is watching ocean waves crash into the shore on vacation, he's thinking about the problems he can solve through better modelling methods to study the motion of fluid. 
In his research as a mechanical engineering doctoral student at the University of Cincinnati, Boregowda is working with the computational method Smooth Particle Hydrodynamics to simulate and analyze oil and water pipeline breaks — with the hope of preventing future disasters.  

Boregowda, who served as president of UC's Graduate Student Government last year, was named Graduate Student Engineer of the Month by UC's College of Engineering and Applied Science (CEAS). Here, he shares his UC experience.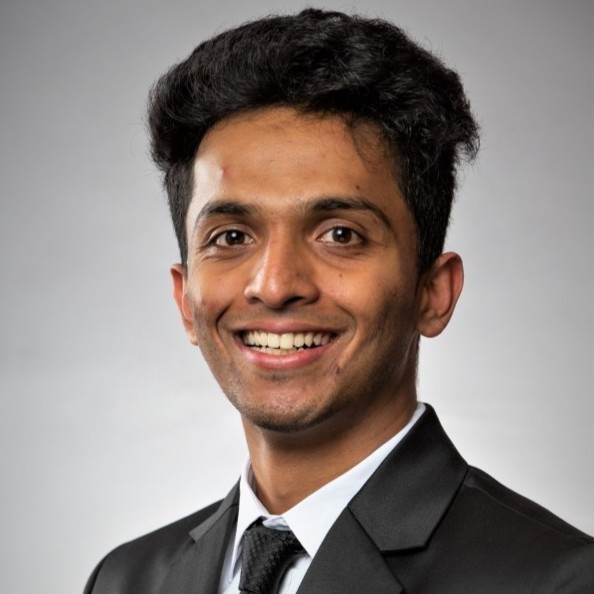 Of all the universities that I applied to for my master's program, UC gave me the best scholarship. I didn't want to incur a huge student loan debt, but at the same time I wanted to pursue graduate studies in a reputable research university. UC was the perfect pick for me.
After I completed my master of science in mechanical engineering at UC, I continued towards a Ph.D. as I wanted to solve the problems that I had identified in my master's research. My advisor, Dr. Guirong Liu from the UC Department of Aerospace Engineering and Engineering Mechanics, is one of the leading researchers in numerical methods — and this played an important factor for me to pursue my Ph.D. at UC. 

Why did you choose your field of study?
During my undergraduate research endeavors at PES Institute of Technology in Bangalore, India, I was intrigued by the capabilities of numerical methods (like Finite Element Method) to solve complex engineering problems. The desire to learn more about numerical methods and to contribute to the advancement of numerical methods led me to research in this field.  
Describe your research work. Why does it interest you?
Imagine ocean waves, or water coming out of a sprinkler hose, or even lava flow from volcanic eruptions. They all have a complex flow surface in common. It is computationally expensive and sometimes even difficult to model these phenomena/processes accurately using a conventional numerical method which has some sort of an underlying mesh. A promising alternative approach to solve such problems uses a numerical method called Smooth Particle Hydrodynamics which contains no underlying mesh. I work to improve some of the current shortcomings of Smooth Particle Hydrodynamics, so that the numerical method can be confidently used by other researchers and in the industry to understand and simulate various real-life problems.
I have always enjoyed vacations on the beach, where I spend hours watching the waves. Now I work on a numerical method that can help model (and solve) engineering problems involving waves — and that's exciting. Also, it is interesting to note that SPH is used to solve astrophysics problems like formation of galaxies and stars!

What is your role working as a graduate assistant at UC's Siemens Simulation Technology Center?
At the Siemens Simulation Technology Center, we use Siemens software suite to solve both research and academic problems. Our team works to incorporate the advanced simulation technology offered by Siemens in various engineering courses at CEAS and solve some interesting multi-physics problems. As a part of this center, I have also had the opportunity to give crash courses on Siemens NX software to engineering majors who do not get a formal training to use CAD.
What are some of the most impactful experiences during your time at UC?
Over the last few years, I have been an active student leader on campus and represented graduate students at various levels. Just before the onset of the COVID pandemic, I was elected by the graduate student body to serve as the president of the Graduate Student Government representing 11,000 graduate students on campus. Throughout the pandemic, we continued providing services to students, including conference awards and research fellowship awards worth thousands of dollars.
I am happy to have played my role in helping the student community through providing regular feedback to university administration, tackling the impact of COVID on the student community, raising the importance of increasing professional development programming for graduate students and finding emergency funds for graduate students. It has by far been the most impactful and rewarding experience at UC.
What are your future plans after completing your degree?
I hope to work in industry solving some of the next technological challenges of our century. At the same time, grad school has shown me that it is rewarding to be open to all opportunities and experiences — so who knows what I'll end up doing after graduation.
Learn more about engineering graduate programs at UC
Discover the advantages of a graduate degree from the UC College of Engineering and Applied Science.
1
UC Learning Lab inspires College of Medicine to SIT
November 29, 2023
In a convergence of academic integration, the University of Cincinnati's renowned colleges — Design, Architecture, Art, and Planning, Lindner College of Business, College of Engineering and Applied Sciences and College of Medicine — recently joined forces at the 1819 Innovation Hub for an ideation session that exemplifies the institution's commitment to interdisciplinary collaboration.
2
CCM Dance presents 'An American in Paris + Other Works' on Nov....
November 28, 2023
CCM Dance proudly presents An American in Paris + Other Works, a lively program featuring repertoire ranging from classical ballet to modern dance. The centerpiece of the program is An American in Paris, a one-act ballet set to George Gershwin's iconic music, choreographed by guest artist Peter Davison.
3
Feast of Carols features holiday hits, local choirs in concert...
November 27, 2023
UC College-Conservatory of Music welcomes the holiday season on Dec. 2-3, 2023 with Feast of Carols, an annual concert featuring festive choral favorites performed by the CCM Chamber Choir, Chorale and Graduate Brass Quintet; UC Choruses, Cincinnati Youth Choir and outstanding guest choirs from local high schools.
Debug
Query for this