College of Medicine alumnus missing in Florida condo collapse
UC emergency physician now on scene in Florida with rescue crews
Update: Miami-Dade Police announced July 16 that Brad Cohen, MD, had been identified as a victim of the Champlain Towers South building collapse. His body had been recovered July 7. The body of his brother, Gary Cohen, DO, who also was in the building that night, was recovered July 7 and identified by police July 8.  
The world has watched closely since June 24 as hundreds of emergency crews have searched for victims of the collapsed condominium in Surfside, Florida. One of those in the building that night was Brad Cohen, MD, a 1997 graduate of the University of Cincinnati College of Medicine.

Cohen was in an 11th-floor condominium in the Champlain Towers South building when the building suddenly collapsed about 1:25 a.m. An orthopaedic surgeon and sports medicine specialist, Cohen founded Aventura Orthopaedics and Sports Medicine with offices in North Miami and Miami Beach. His wife and daughter were at the couple's nearby house that night while Cohen and his brother, Gary Cohen, DO, a physician at the Tuscaloosa Veterans Affairs Medical Center in Alabama, were staying at the condo.
"I feel like it's a surreal nightmare and I'm going to wake up and it's over," Cohen's wife, Soraya, told People Magazine last week. "Especially when I sit there watching the rescue, people just digging in and smelling the dust. It seems like something out of 'The Twilight Zone.' It doesn't seem real."
"Brad was extremely tough, and that's why I thought at the beginning he did survive. I knew that if anybody could survive, it's him," she said.
Miriam Hakim, MD, Class of 1998, has remained friends with Cohen, 51, since meeting him in medical school. She recalls Cohen as "just a great all-around guy."
"We were really good friends; the kind who shared similar values and respected each other in our parallel pathways and cheered each other on. Brad was very kind and down to earth, very bright, but not at all ostentatious. He didn't draw a lot of attention even though he could have given all of his talent. He was well rounded: athletic, cultured, intelligent and a marked part of the Jewish community," says Hakim, now a dermatologist in Montreal.
She added that Cohen's "parents truly loved their son and were so proud, it was so evident. It makes me so sad for his parents to have this tragedy, also for his children, for Brad to have not gotten to enjoy these years as he just started a solo practice."
Cohen's daughter, Elisheva, 12, met with President Joseph Biden on Thursday, July 1, when he visited Surfside. Her meeting with the President was reported by news media around the world and pictures of her and Biden spread quickly on social media. Cohen also has a son.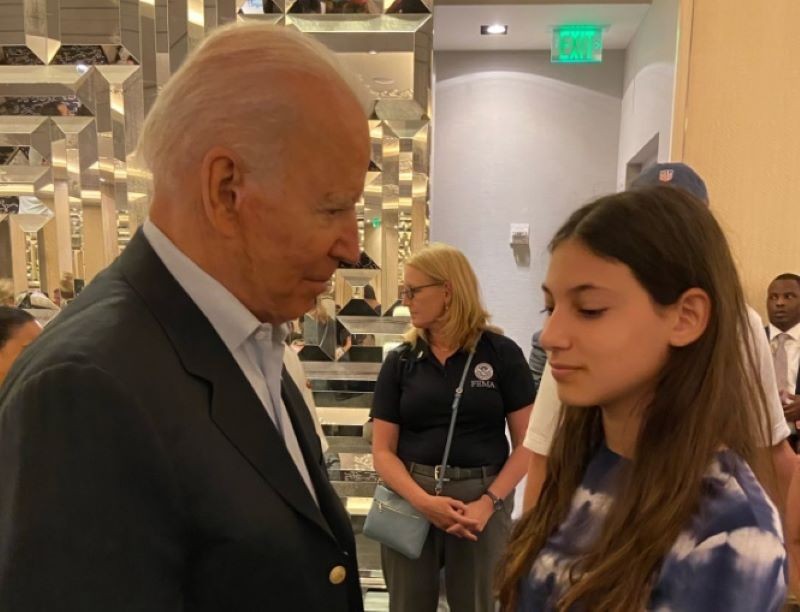 Cohen's brother, Gary, had recently flown in for a few days so that they could both visit their father, who has been ill.
As the search for victims of the building collapse continues, Woods Curry, MD, assistant professor in the Department of Emergency Medicine, joined in the efforts beginning July 3. Curry is one of 82 members of the Ohio Task Force 1 (OH-TF1) urban search and rescue team which was requested by the Federal Emergency Management Agency (FEMA) last week to assist in the rescue operations.
Curry is part of a medical team included with OH-TF1, which traveled to Florida July 1. OH-TF1 is based in Dayton and is one of 28 official FEMA urban search and rescue teams across the nation. The team was one of four groups most recently deployed by FEMA.
"Dr. Curry is one of two physician medical team managers who deploy with an 82-person task force. The two physicians and four paramedic medical specialists are responsible for the health and safety of the team, the dogs, and any ill or injured victims encountered. The team is self-sufficient, and member roles include structural engineers, logistics, planning and hazardous materials experts, in addition to search specialists and technical rescuers," says Jason McMullan, MD, associate professor in the Department of Emergency Medicine, who also is a member of OH-TF1.
Curry and McMullan are among six physicians in the state on the team.
Phil Sinewe, public information officer for OH-TF1, says "our goal as a team is to not be a burden on the incident. Our teams come fully self-sufficient for a minimum of 14 days. That's the reason there's a medical component. We want to be able to take care of our own people without taking any resources away from the incident."
Sinewe added that medical care sometimes also is provided to the search dogs by the medical team. Should search dogs become injured, often by receiving cuts or injuries to their feet while working in building rubble, and if veterinarians are not immediately available, the medical staff jump in to treat the animals. Search dogs seldom wear foot protection while working as they need their feet to feel where they are walking, he explains.
OH-TF1 typically responds to three or four incidents a year, most often to help with the aftermath of hurricanes. During the last several years they have assisted with the response to hurricanes Laura in August 2020, Dorian in September 2019 , and Florence and Michael in September and October 2018. McMullan was deployed most recently during Hurricane Dorian and the Dayton tornados in May 2019. He and Mel Otten, MD, professor of emergency medicine, also responded to the Killen Generating Station collapse in Adams County, in December 2020 as part of the Hamilton County Urban Search and Rescue team.
McMullen, who has been with OH-TF1 since 2008, says that this is Curry's first deployment since he began training with the task force about two years ago.
"When Dr. Curry texted me and let me know that he and the other incredibly brave members of OH-TF1 were being mobilized to help in Florida, I just thanked him for his selfless service and asked him to please be careful. That team, like so many of our first responders and specialized rescue personnel, are truly modern day heroes," says Arthur Pancioli, MD, Richard C. Levy Professor and Chair, Department of Emergency Medicine. "The Greater Cincinnati community is fortunate to have many highly skilled and incredibly dedicated individuals who regularly take on personal risk in an effort to assist others. Drs. McMullan and Curry are clear examples of the kind of self-sacrificing people that we all should be thankful for every day."
Currey also serves an assistant medical director for the City of Reading and Village of Evendale.
"I became an assistant medical director for a lot of different reasons and it was through that work that I realized this was really rewarding," Curry said last year. "In the emergency department, I can touch the lives of 30 or 40 patients a day and over the course of a career that's a lot of people, but it's still a limited number. As a medical director, if I write an EMS protocol, or change the way all my paramedics practice in a certain way, that can help thousands of lives a year."
Sinewe noted that the Cincinnati community benefits from Curry's and McMullan's participation in OHTH1 because they receive specialized training that they may not normally get and are able to bring that back to UC.
"Supporting one of these teams is a big deal, a big commitment and it says a lot about any organization that allows its employees to participate because it's a burden when someone like an ER doc is activated and someone has to cover for them. That's a big commitment for UC to step up and say 'we will support his participation in the organization,'" he says.
Everyone who is a part of the OHTH1 team volunteer their time to train and to be ready for deployment by FEMA. When deployed to an incident, they become sworn employees of FEMA during their deployment and FEMA reimburses their wages to their employers so there is no financial burden.
"It's a very, very talented group of people," Sinewe says of the task force members. "They really are the tops in their field. They're a team ready to do whatever is needed to be done."