Passion for infrastructure drives student's return to finish degree
Civil engineering student hopes to design better public and environmental health
Vernisha Walker knew she didn't want to have any "what ifs?" in life.
Born and raised in Dayton, Ohio, Walker first enrolled at the University of Cincinnati (UC) in 2009. She knew she enjoyed engineering but hadn't found a comfortable fit during her initial years of study or first co-op. So, she took a break.
After nearly six years working in the health insurance industry, Walker's experiences there had honed and brightly highlighted the skills she wanted to be using...in another field.
After careful consideration, Walker returned to the UC College of Engineering and Applied Science in fall 2020 to finish her bachelor's degree.  Here, she shares insights on her journey back to civil engineering.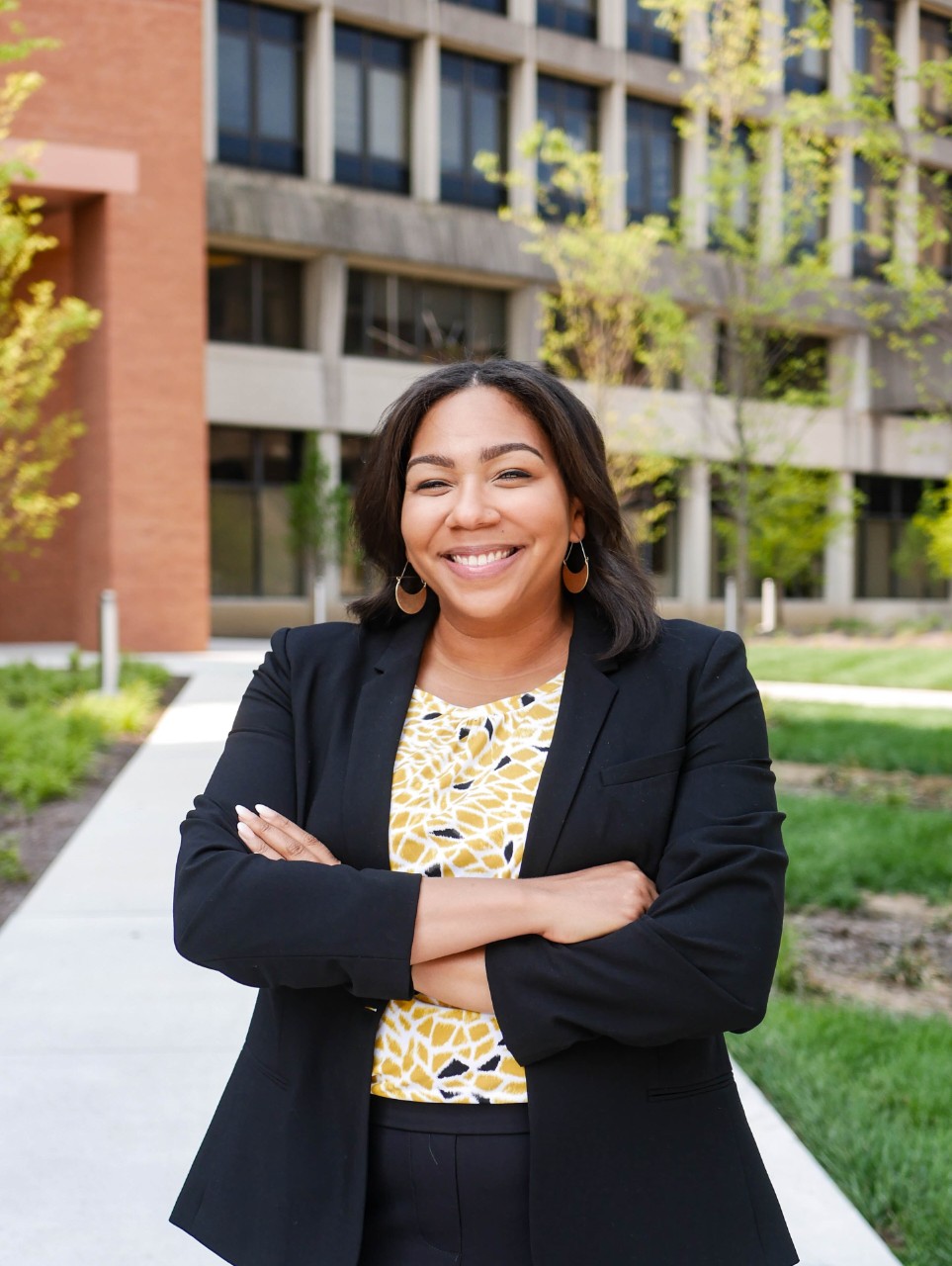 Civil engineering impacts the community so much on a day-to-day basis: how we're able to accomplish the basic tasks of life - how we get our water, where to walk or drive from one place to another, where we live and work. I've always been interested in our infrastructure and the different innovative ways that we can design to protect the public and environmental health. 
What were some of the biggest obstacles to your success the first time you attended UC?
When I attended UC the first time, I tried to do everything on my own. I tried to create professional goals on my own with my limited perspective on what a career in engineering truly entailed. 
I landed my first co-op and it was a good learning experience. However, it was a bit of a culture shock. I enjoyed the work, but it was difficult for me to navigate a new space. After that, I started to question, "is this really what I want to do?"
It would have helped if I'd had some type of mentor who could offer some guidance navigating the industry. 
How did your career after leaving UC lead you back to studying civil engineering?
I started working with a health insurance organization. I started off in their service center and worked my way up. I had good rapport with management, and stood out as someone who was very thorough, analytical with research and problem solving. The company was expanding to other states, and I was tasked with travelling to assist with training and implementation.
I soon transitioned to a more analytical role where I worked with process improvements, overseeing automated systems, and data analysis. Eventually I got to a point where I was using a lot of problem-solving skills, doing a lot of analytical thinking, and came to realize that I missed applying those skills to something tangible.
What helped you confirm your decision to return to college?
I knew that I wanted to be in a more technical field, but I hadn't fully decided if I wanted to pursue engineering again. I started doing research. I subscribed to civil engineering newsletters and listened to a few civil engineering podcasts.
I also job shadowed an engineer who works in waste recycling. I was able to ask questions about how she navigates her day-to-day tasks, and what strategies and skill sets she utilizes. 
After shadowing her, I was extremely excited. I felt like I was heading in the right direction, and that I was making the best decision by going back to complete my engineering degree.
There have been multiple confirmations since. I've thoroughly enjoyed my classes and my current co-op. It's still early in my journey back to school, but so far, I feel like I made the best decision for myself. I know I will look back on this moment with gratitude that I changed the trajectory of my life by deciding to become an engineer.
What has made the difference for you this time, now that you are back at UC?
This time around, I have been intentional about mentorship, creating a network, learning from others, and seeking professional advice.
A lot of university events, either through the college or through student organizations like the Society of Women Engineers and the Association for Women of Color in Engineering, have connected me to some great industry professionals and have helped me get familiar with the industry again. 
The Evening with Industry was a phenomenal event. I gained a mentor from that event as well. She's been a wealth of knowledge and experience for me during my current co-op rotation.
What has been a highlight of your experiences as a UC student?
My current co-op is with the Montgomery County Engineer's Office working in the design department. I'm so grateful to have the opportunity to work with the county due to all the facets of civil engineering I'm exposed to – structural, construction, transportation, hydraulics, and surveying. I enjoy being able to work out a problem and implement solutions into the community. That helps me to maintain a passion for what I do: I'm able to see the impact. 
My main priority on co-op right now is designing ADA-compliant access ramps. Managing this project has been a great first step into roadway design, finding innovative solutions and ways to design using the existing conditions.
It was affirming for me to see some of these ramps being utilized by the community. Being able to design ramps is my first footprint into the industry, my first impact on the community. 
How did becoming a mother influence your decision to return to engineering?
Having a (now three-year-old) daughter has changed my life. She was a prime motivator for me to go after what I want. I strive to teach my daughter to create the life she wants and to make the most of every opportunity. My goal is to be an example of someone who is ambitious, who audaciously chases their dreams, and finishes what they start.
Finding your place in STEM
Image featured at top: Mong Kok city sidewalk. Photo/Rikki Chan/Unsplash.