New year begins as Cincinnati Law welcomes Class of 2024
The University of Cincinnati College of Law welcomed 125 first year JD students and 20 LLM attorney students to the college at its annual fall orientation this week. Now officially members of the Bearcat family, these students will spend the next one-to-three years learning the nuances of the law and the importance of professionalism while training to become attorneys.
"You picked a great time to go to law school," said Verna Williams, Dean and Nippert Professor of Law, as she welcomed the new class of first year law students and LLM students to the college. "Your professional journey has begun."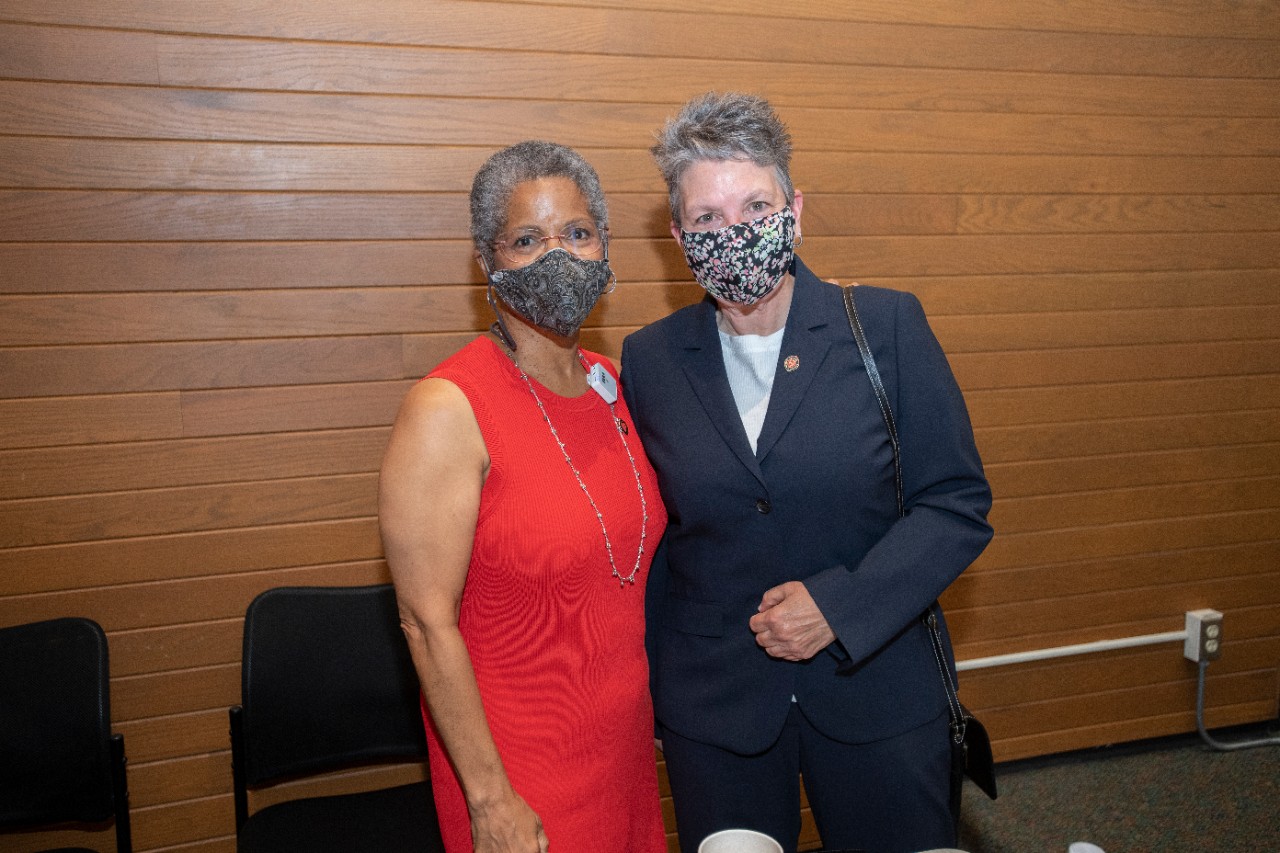 Alongside Dean Williams, the incoming students were welcomed at orientation by Louis Bilionis, Dean Emeritus and Droege Professor of Law, who spoke about the importance of creating a professional identity starting now.
In addition, Elizabeth Sherwood '87, vice president and community development relationship manager at Huntington Bank, discussed ethics and professionalism.
"The level of professionalism you exhibit is in your hands," she said.
The day also included a pledge of professionalism and pinning ceremony, led by Dean Williams, reinforcing the responsibilities of a law student and a lawyer, as well as the high standards of the legal profession.
"By choosing the law you have elected a life of learning," said Dean Williams. 
A snapshot of the Class of 2024
This year's incoming class is highly accomplished. For the fourth year in a row, women outpace men in terms of representation; the class is comprised of 52% women and 48% men. They range in age from 20-52, with an average age of 24. Fourteen percent identify as minority and 11% identify as members of the LGBTQIA community.
There are 69 undergraduate institutions represented in the 1L class, including the University of Kentucky, the Ohio State University, Xavier University, Eastern Kentucky University, and the University of Louisville, with the largest contingent coming from the University of Cincinnati. Twenty-one states are represented, including California, Colorado, Florida, Georgia, Illinois, Indiana, Kentucky, Massachusetts, New York, Oregon, South Dakota, Texas, and West Virginia.
The class has a median LSAT of 158 and GPA of 3.7.  Forty-one students speak a foreign language: Arabic, Armenian, Chinese (Mandarin), French, German. Hebrew, Hindi, Italian, Japanese, Korean, Portuguese, Romanian, Russian, Spanish, and Urdu.
Many class members are the recipients of post-graduate degrees. These include an International master's degree in asia-pacific studies from the National Chengchi University (Taipei, Taiwan); a  master of arts degree in human rights from the University College London; a master of information and telecommunication systems degree from Ohio University; a master's degree in higher education administration from the University of Missouri-Kansas City; a master's of business administration degree from Clemson University; and a master's of education and special education degree from Lesley University.
A large number of class members worked in other fields prior to attending law school. Professional roles include a paralegal, an elementary school teacher, a merchandise planner for Abercrombie & Fitch, a student conduct administrator, a computer programmer, a police officer, an ER registration specialist, an investigator for the California State Dept. of Social Services (investigating elder abuse complaints), a consultant investigator for a boutique London investigations firm, a performing artist, an insurance agent, a marketing manager, a house flipper, and a political organizer.
They have worked for AmeriCorps, conducted field work for archeological sites in Mexico, taught English in northwest Africa, worked at an international commercial insurance brokerage firm, volunteered with a street ministry/homeless shelter, and worked as a certified tourism ambassador for the city.  
For those students who have solidified their post-law school plans, their areas of interest are varied. They plan to fight human trafficking, conduct advocacy work for torture survivors and asylum seekers, and work for the ACLU, Legal Aid, the Ohio Attorney Generals Office or as a Judge Advocates General Corp with the military. Others plan to work as a foreign service officer, a criminal defense attorney, or a prosecutor. Most of all, they are driven to serve their communities.
In addition to JD students, the College of Law welcomed 20 foreign trained attorneys to its LLM program. Students hail from Saudi Arabia, Israel, Colombia, Brazil, Italy, North Macedonia, Austria, Nigeria, India, and Russia. This year's class includes two Fulbright Scholars and several students from partner universities, a testament to the strength of those growing relationship. Cincinnati Law's LLM program was recently recognized in International Jurist magazine's Best LLM Program edition as an honor roll school for value and experience.
All photos taken by Joseph Fuqua.
2
Fox19: UC hosts international aerospace conference on AI
June 2, 2023
UC College of Engineering and Applied Science Professor Kelly Cohen talks to Fox19 about how artificial intelligence is becoming more ubiquitous as it becomes more trustworthy. UC is hosting an international conference on artificial intelligence.
3
WVXU: Companies are losing ground on DEI efforts
June 2, 2023
Littisha Bates is a featured guest on WVXU's Cincinnati Edition to discuss the topic of diversity, equity and inclusion (DEI) in the workplace. Bates is UC's associate dean for inclusive excellence and community partnerships.
Debug
Query for this