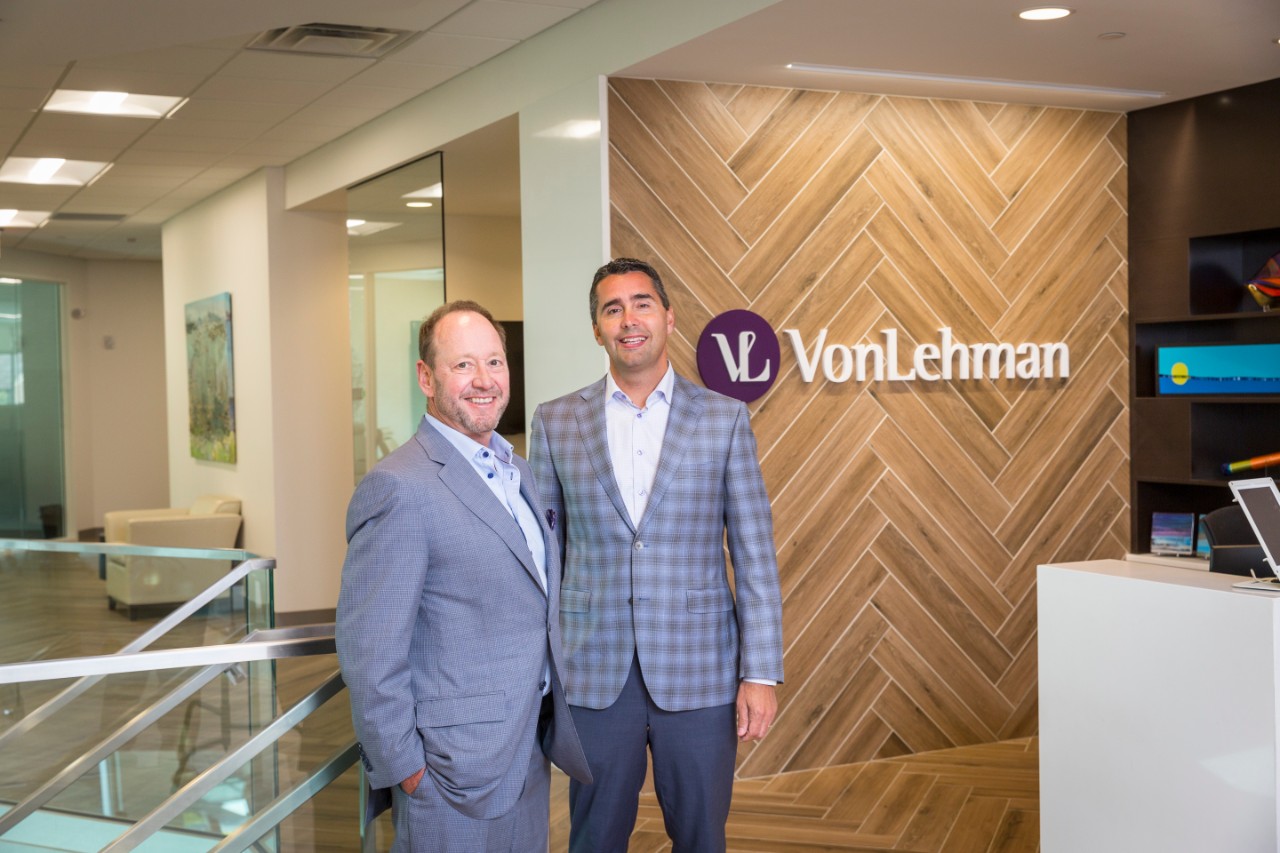 Attention to detail, adaptability, and commitment to follow-through stand VonLehman in good stead
By Nicole Menkhaus, Marketing Director, Goering Center for Family and Private Business
When quarantine was mandated in March of 2020, VonLehman's number one concern was the safety of its employees and clients. All employees were sent home immediately, and the office was closed. Once the safety of the employees was established, VonLehman developed committees to ensure all steps going forward were taken with caution. A "Rapid Response Team" was formed to communicate to employees on a weekly, and sometimes daily, basis with updates on how COVID was impacting the firm. Transparency has always been a strong suit for VonLehman and that became more important than ever.
With remote working in full force, the next challenge was to ensure VonLehman's culture remained intact. The firm used technology, collaboration, and teamwork to maintain the employee-connection: Microsoft Teams channels enabled people to have lighthearted conversations throughout the day. In essence, the firm's culture became "remote" too, giving employees the "at-work feel," while working from home, and reminding them how important they are to the success of the firm. In fact, Brian Malthouse, VonLehman's CEO, called each employee to ask how they and their family were doing.
While focusing on employees and their families, VonLehman did not forget why they do what they do. They created an online "COVID-19 Resource Center" to share updates on various COVID-related topics, such as Employee Retention Credits, PPP, and the CARES Act. They also sent monthly communications to their database informing them of COVID updates, as well as providing status updates on the firm and how they were approaching their own business needs. They guided contacts to the appropriate referral partners, and proactively reached out to their trade associations to see how they could help their members, ultimately partnering with them on various informational events.
VonLehman is passionate about giving back to the community. In partnership with the state of Kentucky's "Go Green" campaign for solidarity during the pandemic, VonLehman had their building lit up green with "We are in this together" spotlighted. They also created their first ever "VL Cares Walk Day," which raised over $4,000 for various local nonprofits in the Greater Cincinnati and Indianapolis markets. Recognizing the tireless efforts of frontline and essential workers, as well as the challenges faced by local restaurants, VonLehman delivered local carry-out food to those who were fighting the COVID fight during the worst of the pandemic.
The virtual world exposed VonLehman to a whole new way of doing business: from events to internal communications, client meetings, and work/life flexibility, they can provide the same or better level of quality and service to their clients, while increasing the overall wellbeing of their employees and positively impacting their bottom line. "Quarantine taught us that 'in-person' not only isn't the only way, but sometimes isn't even the best way," says Brian Malthouse. "We now have a greater understanding of the needs of the clients we serve, the partners we work with, and the employees we train and nurture."
Featured image from left: Brian Malthouse (CEO) and Adam Davey (Shareholder) of VonLehman CPA & Advisory Firm
VonLehman CPA & Advisory Firm is a Goering Center Associate Member. The Goering Center is sharing this content as part of its 2021 Family and Private Business Awards celebration.
About VonLehman CPA & Advisory Firm
VonLehman is a CPA & business advisory firm that guides closely held businesses, nonprofits and governmental entities through the rough terrain of an ever-changing landscape. VonLehman goes beyond accounting, tax and auditing services to offer strategic business advice that is in high demand among small and mid-sized organizations.
About the Goering Center for Family & Private Business
Established in 1989, the Goering Center serves more than 400 member companies, making it North America's largest university-based educational non-profit center for family and private businesses. The Center's mission is to nurture and educate family and private businesses to drive a vibrant economy. Affiliation with the Carl H. Lindner College of Business at the University of Cincinnati provides access to a vast resource of business programing and expertise. Goering Center members receive real-world insights that enlighten, strengthen and prolong family and private business success. For more information on the Center, participation and membership visit goering.uc.edu.