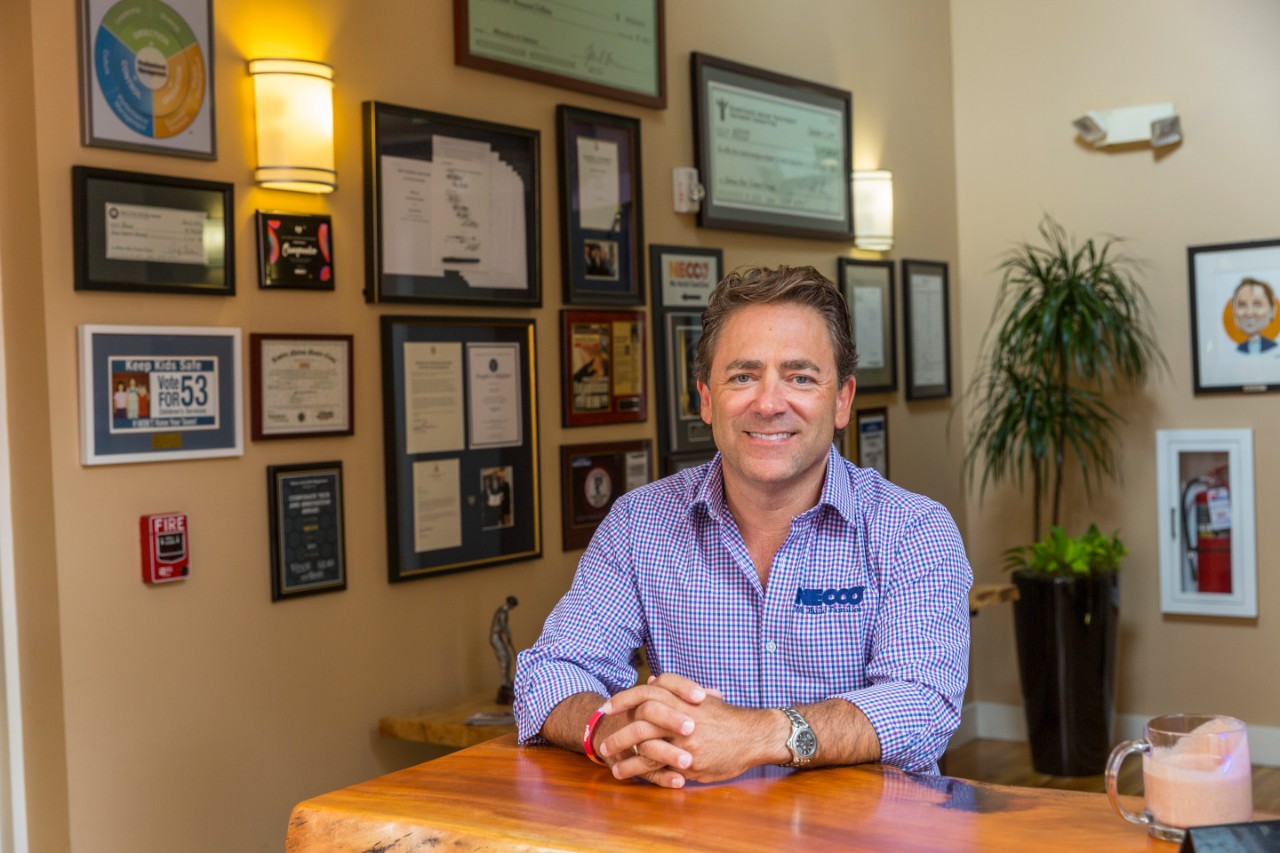 Necco's superheroes donned their capes and made magic for foster kids during COVID
By Nicole Menkhaus, Marketing Director, Goering Center for Family and Private Business
11,200 children and families depended on Necco to receive support during the height of the pandemic. Foster care and mental health counseling are essential services. The physical safety and well-being of Necco's clients and staff had to be weighed alongside their clients' critical needs. Even in a pandemic, children need foster families, family crises happen, and mental health support needs staff to be face-to-face in the home. This was all non-negotiable. Necco quickly stepped up, leveraging technology to ensure that all staff, clients, and foster parents had the right tools to access needed educational, behavioral, and physical healthcare from their kitchen table.
"The best time to prepare for a crisis is before it happens," states Beau Necco, CEO. Years of strategic planning and investing in technology infrastructure allowed Necco to adapt to the pandemic's restrictions much more easily. The staff rose to the occasion, rapidly seizing on virtual opportunities to express appreciation for the heroes that kept kids and families safe, supported, and loved. Birthdays, graduations, and adoptions were honored, and care packages containing necessary supplies were dropped off to the foster families (even precious toilet paper). They taught cooking classes, held drive-bys dressed up in costumes, and set up household scavenger hunts – all to remind the youth that they were there for them and with them. Most importantly, Necco understood the seriousness of the task at hand: keeping everyone physically and mentally safe.
As the world entered the holiday season, Necco's rally cry became "Christmas isn't cancelled." For kids who have experienced so many let-downs in their lives, Necco staff refused to add one more to the list. Virtual holiday parties ensued, and Santa delivered gifts. Communication among staff and with clients was rejuvenated.
Necco continued to work with governors' offices, state child-welfare, and Medicaid leadership to implement new rules allowing kids and families access to teletherapy and virtual home visits, as well as allowing the virtual training of staff and foster parents for the first time. Perhaps most importantly rural and poverty-stricken families, that many times did not have the same access to quality of healthcare or mental healthcare, were now able to access specialists from hundreds of miles away, in the convenience of their own homes. Necco's service providers spent less time in their cars driving and more time helping families.
"The silver lining of the pandemic is it actually increased our social impact," explains Beau Necco. "The freedom from outdated regulations that was achieved as a result of the pandemic allowed us to capitalize on proven technologies to benefit those we serve: we saved time, money, and most importantly reduced trauma to vulnerable children."
Over the past 25 years, Necco facilitated over 10,000 adoptions and built more than 35,000 families through foster care, counseling, and residential treatment services. In Cincinnati, Necco is the largest provider of hard-to-place children. Because Necco believes every child needs a family.
Featured image: Beau Necco (CEO) of Necco
Necco is a Goering Center Core Member. The Goering Center is sharing this content as part of its 2021 Family and Private Business Awards celebration.
About Necco
Necco provides foster care, adoption, independent living, counseling, and residential services to children, who are thrust into the child welfare system by no fault of their own. They apply data-driven processes and proven business practices to maximize social impact.
About the Goering Center for Family & Private Business
Established in 1989, the Goering Center serves more than 400 member companies, making it North America's largest university-based educational non-profit center for family and private businesses. The Center's mission is to nurture and educate family and private businesses to drive a vibrant economy. Affiliation with the Carl H. Lindner College of Business at the University of Cincinnati provides access to a vast resource of business programing and expertise. Goering Center members receive real-world insights that enlighten, strengthen and prolong family and private business success. For more information on the Center, participation and membership visit goering.uc.edu.