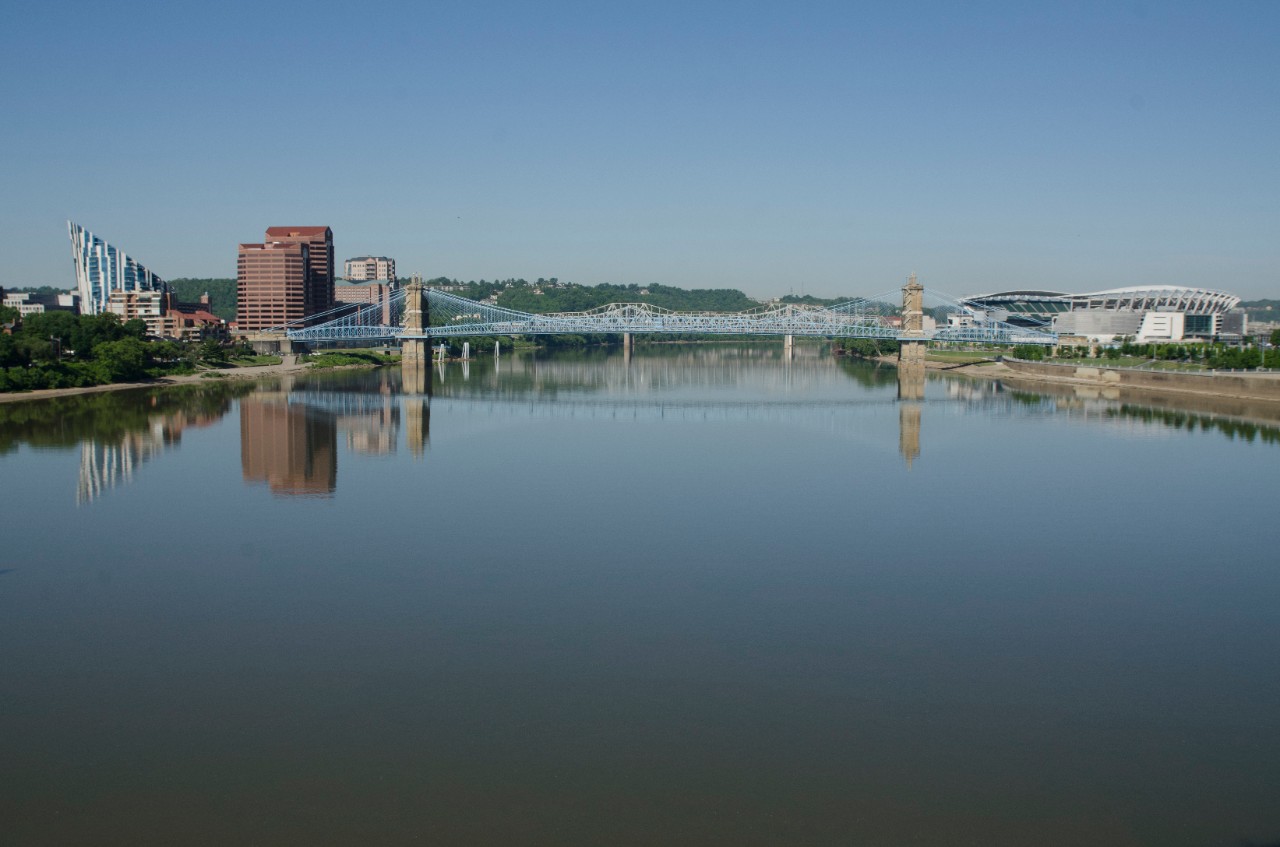 Flashpoint Series to open with 'State of the Ohio River'
Digital Futures' forums all about solving problems that matter
The Digital Futures Flashpoint Series, a series of "conversations of consequence," will kick off Oct. 28 with a discussion about "The State of the Ohio River."
And the University of Cincinnati is planning a new space for these conversations in the future. Six stories tall and 180,000-square-feet, UC's new Digital Futures building will be the first facility for interdisciplinary research in UC's 200-plus year history.
"When our doors open Aug. 11, 2022, Digital Futures will house some of UC's top talent working at the intersection of imagination and innovation," said Jennifer Krivickas, UC's associate vice president for research. "Not bound to any one college or discipline, the Digital Futures research program is intentionally inclusive, intellectually diverse and will allow UC researchers to partner and more directly act on its impetus to both serve the public good locally and have an impact globally."
"Digital Futures is all about solving problems that matter, and these are conversations about those problems and how researchers and others are working right now to solve them," said Jai Chabria, former senior adviser to Ohio Gov. John Kasich and current managing director at Mercury, a global strategy firm.
Chabria will moderate the forums, which are free and open to the public. Along with the discussion about the Ohio River, forums during the 2021-22 academic year also will include discussions about sustainability in "fast fashion," cryptocurrency and more.
The second annual Flashpoint Series will begin with "The State of the Ohio River: Water Quality, Infrastructure & Economic Development."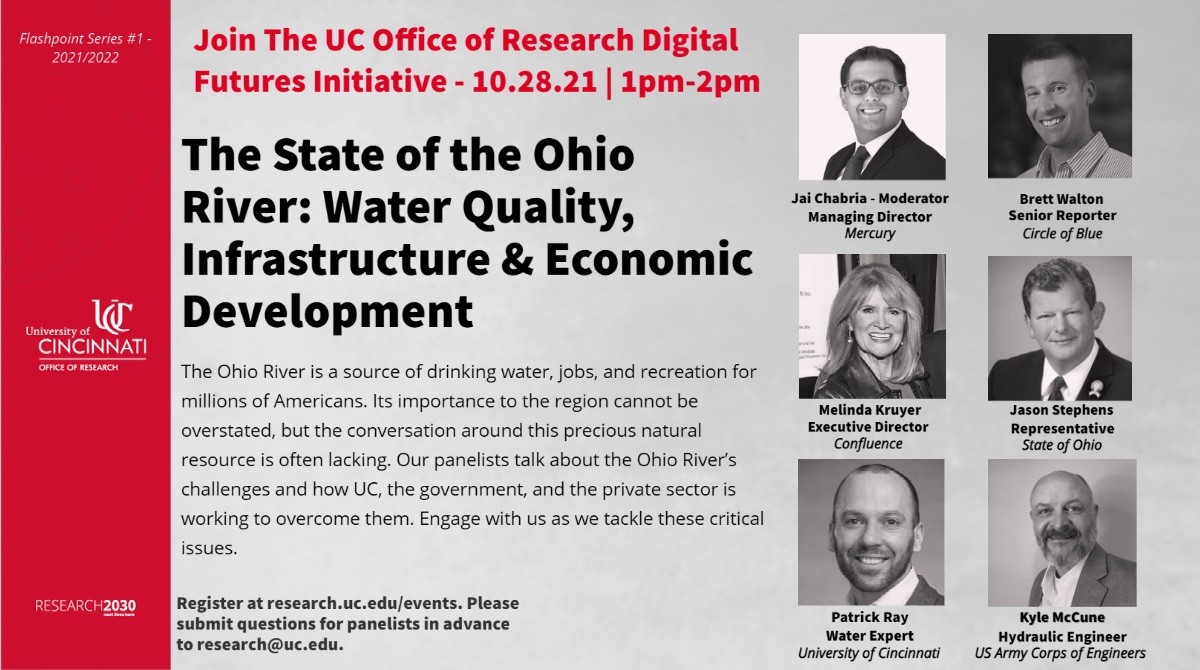 The Ohio River is a source of drinking water, jobs and recreation for millions of Americans. Its importance to the region cannot be overstated, but the conversation about this natural resource is often lacking.
"The idea here is to shine a light on this resource that is so important to southwest Ohio but also the region," Chabria said.
Panelists will talk about the Ohio River's challenges including environmental aspects, needs of people in the region and how the river contributes to jobs and the economy. They will discuss how UC, the government and the private sector are working to overcome the challenges.
Panelists will include:
Patrick Ray, a UC assistant professor and water expert

State Rep. Jason Stephens, representative for Ohio's 93rd District, which includes counties along the Ohio River

Melinda Kruyer, executive director for Confluence Water Technology Innovation Cluster, a collection of interconnected organizations that work together to promote economic growth and technological innovation

Brett Walton, a reporter for Circle of Blue, a nonprofit news agency that reports on fresh water and its connection to food, energy, politics and business

Kyle McCune, a hydraulic engineer for the Army Corps of Engineers
The one-hour forum will be hosted virtually beginning at 1 p.m., making it accessible to all.
To register to attend the Oct. 28 forum, visit research.uc.edu/events. Community members can submit questions for the panelists in advance by emailing: research@uc.edu.
Featured image of the Ohio River with the John A. Roebling Suspension Bridge. Photo/Joseph Fuqua/UC.
Next Lives Here
The University of Cincinnati is classified as a Research 1 institution by the Carnegie Commission and is ranked in the National Science Foundation's Top-35 public research universities. UC's undergraduate, graduate and medical students and faculty investigate problems and innovate solutions with real-world impact. Next Lives Here.
1
WVXU: Tech CEOs talk AI with lawmakers
September 22, 2023
Professor Richard Harknett is a guest speaker on WVXU's Cincinnati Edition on the topic of AI and the need, or lack thereof, for government regulations. Professor Harknett is the head of UC's School of Public and International Affairs and is an often sought out media resource on technology, cybersecurity and governmental affairs.
3
Drugs.com: Lowering blood pressure after clot removal may not be...
September 22, 2023
Drugs.com and HealthDay highlighted University of Cincinnati research recently published in JAMA that found using blood pressure medications to lower the top number of blood pressure readings (systolic blood pressure) may not be safe or effective among people who have an acute ischemic stroke and undergo a successful mechanical clot removal.
Debug
Query for this