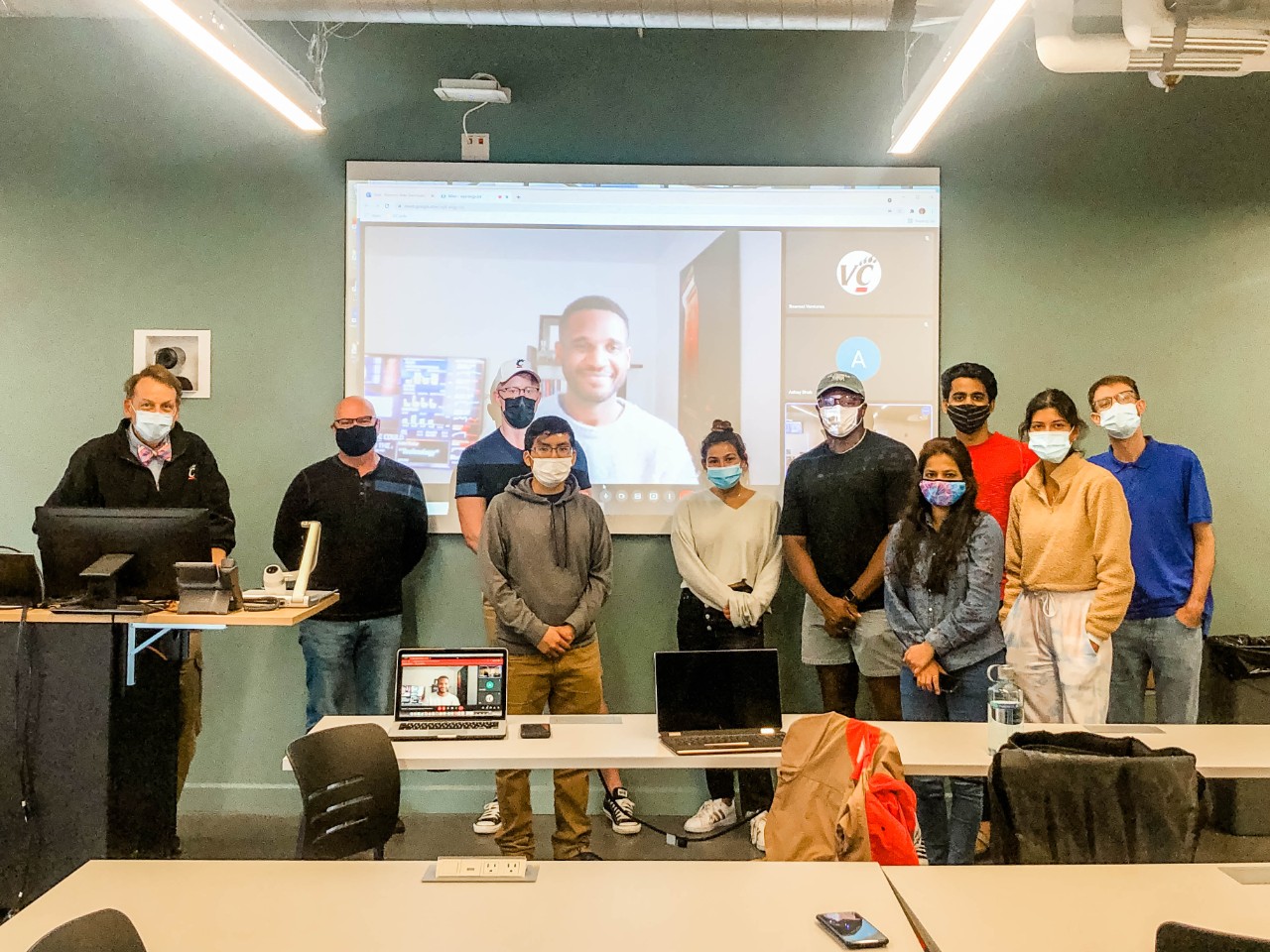 UC grad supplies venture capital guidance to student organization
Lindner alum Van Jones lends advice to Bearcat Ventures, an ambitious new VC group
Van Jones' academic pursuits and business interests have taken him across the country (Chicago, Los Angeles and Columbus, Ohio) and the globe (Asia, Africa and Europe). Jones, BBA '08, recently detailed his scholastic and business background with start-up and venture capital in a recent meeting with the University of Cincinnati's student venture capital (VC) organization, Bearcat Ventures.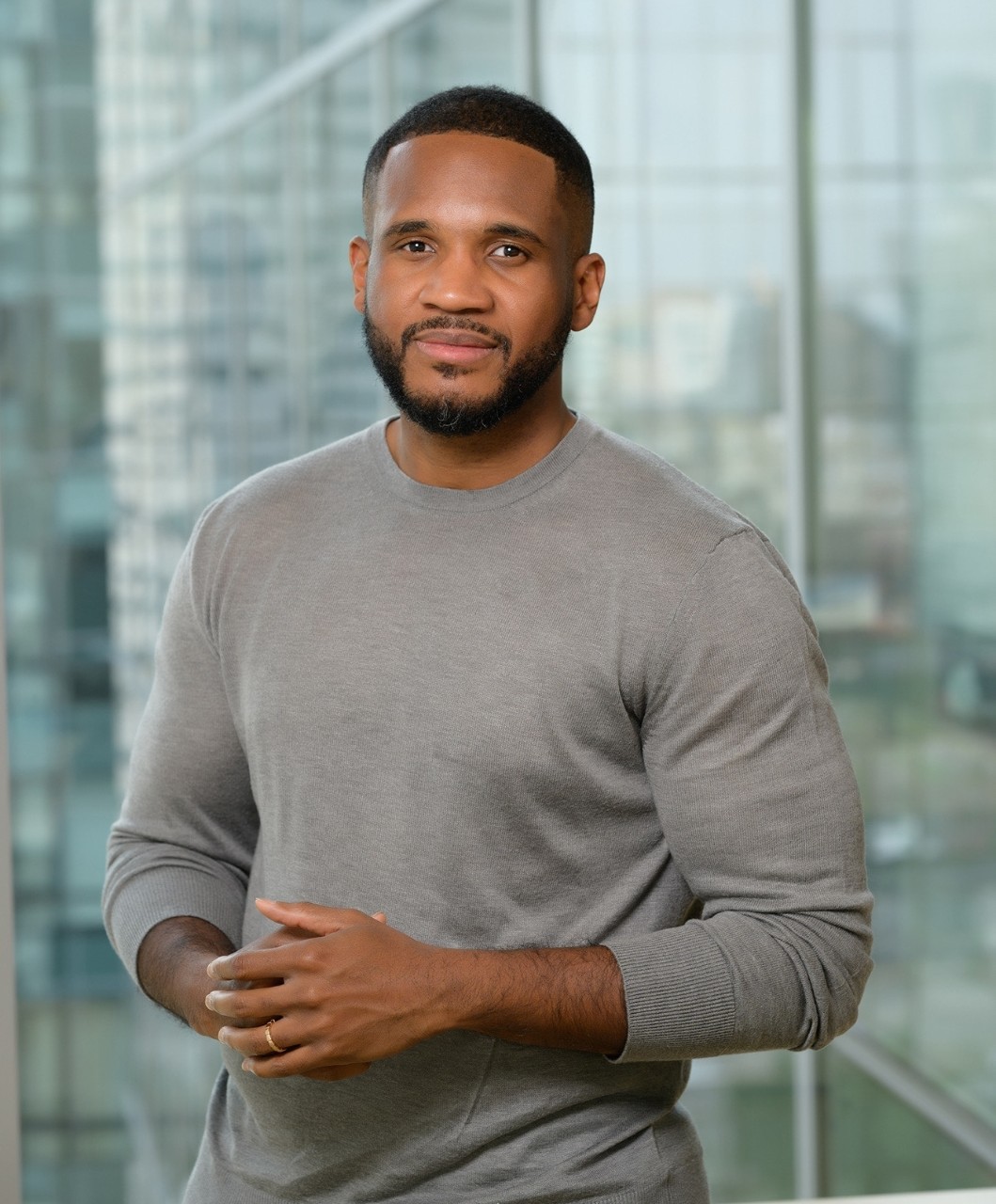 Students at the Carl H. Lindner College of Business and the College of Engineering and Applied Sciences (CEAS) comprise Bearcat Ventures' membership. According to Bearcat Ventures President Rob Manz, BBA '22, the group sought out Jones because of his unique resume.
"We felt that him sharing the story of his career path would provide further insight to our members who are interested in pursuing a career in VC," Manz said. "Hearing (about) his path from the perspective of a founder was a unique story our group had yet to hear." 
Jones transitioned into venture capital in 2019 while working at Drive Capital out of Columbus. In January, he relocated to Los Angeles upon starting with Wellington Management as deal lead, diverse founders investing. Wellington, a private investment firm, manages $1.4 trillion in assets worldwide, Jones said.
"A large part of the reason why I came to (Wellington) is the fund strategy that we're leading is dedicated on historically excluded populations. So, I'm able to deploy capital to what we believe is a highly inefficient market," he told Bearcat Ventures. "And, as you guys know, where you can spot inefficiencies, you can make outsized returns." 

At UC, Jones graduated from the Lindner Honors-PLUS program, majoring in finance and marketing and minoring in real estate and emerging markets. During and after his time in Clifton, Jones worked for Nielsen, both in the U.S. and in China. In China, Jones focused on client consulting. He picked up an MBA from the University of Chicago Booth School of Business in 2014. Shortly thereafter, Jones co-founded Hello Tractor, a company that connects farmers to tractors, and worked out of the startup's office in Nigeria.
Jones' international work, particularly with Hello Tractor, resonated with Lance Entsuah, BA '24, vice president of Bearcat Ventures.
"I was born in Ghana, and I have plans to do work internationally with a heavy focus on West Africa," Entsuah said. "So asking Van about that and learning that there is a growing market for VC in Africa excited me!"
Jones made his aforementioned move back to the U.S. and into venture capital in 2019, and directed his audience that if they're serious about VC, learning how to package and tell stories is "incredibly important," adding, "We invest in narratives at the early stage." Jones also encouraged Bearcat Ventures members to start their own company if they had the wherewithal to do so.
"You learn so much when you have to go about figuring out how to finance, how to hire, how to set strategy, how to develop a product, how to do all of those things," he said. "That is directly tied to work you do as a venture capitalist when you sit on the board of company, or when a founder is freaking out at 2 o'clock in the morning because they're about to lose a big deal — you can help them out and coach them through it because you can lean upon your prior experience. Being able to be empathetic is incredibly important to the work that you do anytime you work with any founder. It's not just running numbers on a spreadsheet."
During his studies at UC, Jones enjoyed the collaborative work he did with engineers and designers — people who thought differently than a business student. Jones also encouraged Bearcat Ventures to take advantage of their professors' knowledge, robust networks and domain experience. Jones specifically mentioned Charles Matthews, PhD, distinguished teaching professor of entrepreneurship and strategy, who was in the audience.
"The best trait you can have in VC is building relationships with people who have more experience and are smarter than you," Jones said. "And then you start building this really cool mosaic — you've got a little bit of this here, a little bit of this there, and you can therefore develop your own point of view."
'The most rigorous and intense VC experience possible'
Bearcat Ventures was founded at the start of the 2021-22 academic year to offer UC students, regardless of field of study, the opportunity to learn about venture capital while creating a pipeline to, as Manz put it, the "local VC and startup ecosystem," and to aid members with networking and accruing professional experience. 
The organization's end goal is to create a student-led venture fund. Per Manz, members working on the fund have the opportunity to execute the VC process from deal sourcing, due diligence, valuation, term sheet and portfolio support by investing in alumni and locally founded startups.
"This is the end goal for the organization — a professional student organization that gives a select group of the most driven and dedicated students at UC the opportunity to make real-world investment decision and be 100% prepared to enter the VC industry the day they graduate," he said.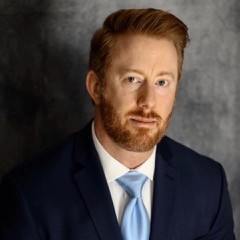 Another focus of Bearcat Ventures is the organization's first-time entry into the Venture Capital Investment Competition (VCIC), an annual contest that attracts more than 130 schools from around the world, including 80 from the United States.
Bearcat Ventures already has selected its VCIC team and is actively training for the regional undergraduate event slated for Saturday, Feb. 5, 2022. The Wednesday prior to the contest, competing teams receive confidential information on three startups and have until 8 a.m. Saturday to "dig into and tear apart all three companies," Manz said. When the teams arrive on Saturday morning, they participate in a timed, closed-door meeting with each company to address as many questions as possible that were unanswered from the original pitch decks and financials.
Next, the team has two hours to select one of the three companies as their investment and complete a valuation and term sheet. They then pitch their conclusion to a group of professional venture capitalists, who double as judges and crown the three winners. After the winners are announced, there is an evening networking event.
"The main reason schools compete at VCIC is to give students the most rigorous and intense VC experience possible," Manz said. "The takeaway skills from this experience are incredibly valuable, not to mention the opportunity to network and receive constructive feedback from the VCs who judged your efforts."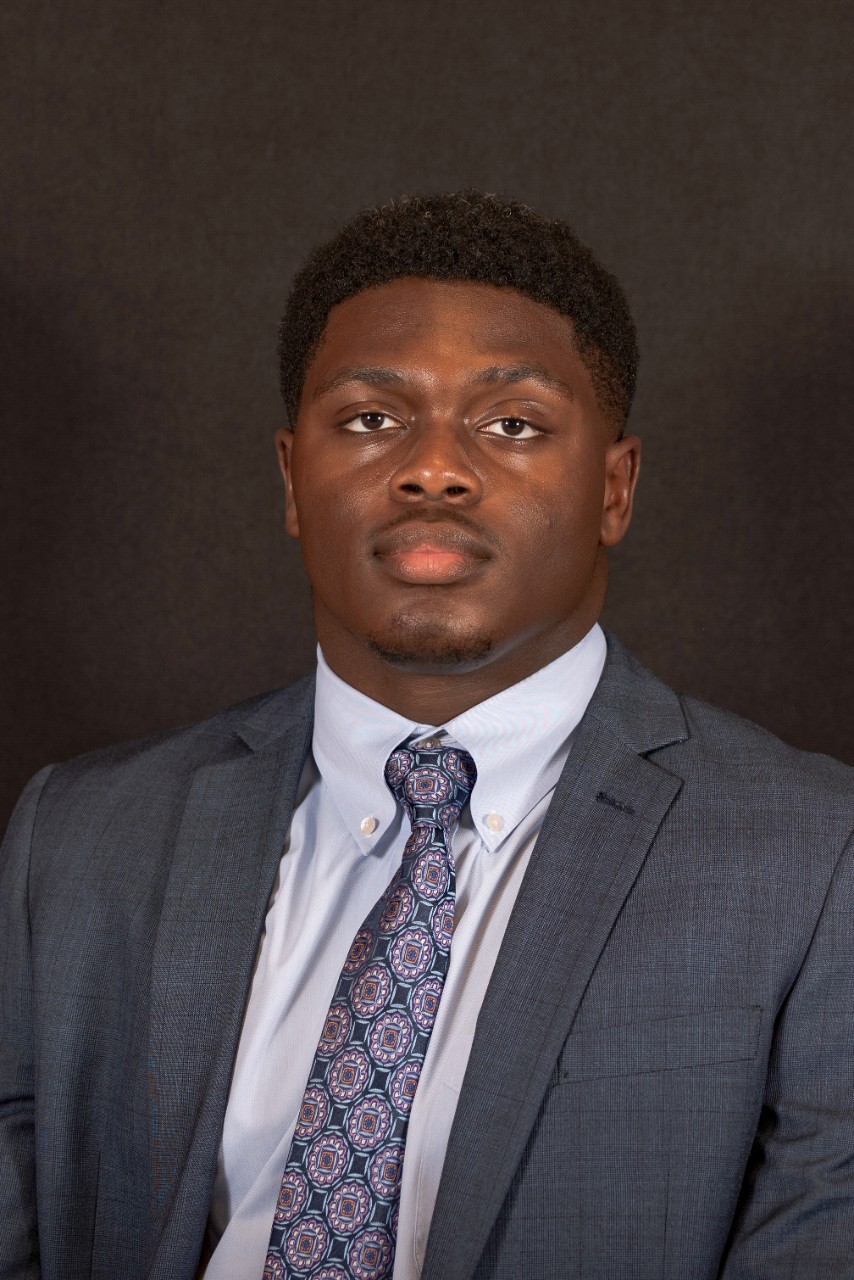 Manz, a finance and entrepreneurship double major, was quick to point out a number of people who have assisted with getting Bearcat Ventures off the ground, noting Associate Management Professor and serial startup founder Ron Meyers and Center for Entrepreneurship Executive Director and El and Elaine Bourgraf Director of Entrepreneurship Kate Harmon. Manz also credited Entsuah and CEAS coordinator Ashay Shah, who has driven involvement from engineering students.
During Jones' virtual conversation with the student organization, he informed them that there are "a lot of high-quality ideas floating around the UC campus."
"There are a lot of alums coming up with great ideas," he said. "I would try to be a part of that mix, because if you can be a part of that mix now, then when you guys are looking to transition your venture or launch your own fund or create your own fund, you'll be so much further along, which gives you a better edge in the market."

Entsuah said venture capital — which Jones noted is a "relatively small industry with an outsized impact" — holds high interest for him because "you get to be a part of cutting-edge innovation and new ideas, and you get to support those ideas and help bring them to reality."
Jones highlighted three popular entry points into VC: investment banking experience; product engineering experience at "big tech" companies like Netflix, Facebook or Amazon; and those with direct startup experience as founders or early employees.
The best trait you can have in VC is building relationships with people who have more experience and are smarter than you. And then you start building this really cool mosaic – you've got a little bit of this here, a little bit of this there, and you can therefore develop your own point of view.
Van Jones
"There are a lot of different pathways. It's about having conversations with yourself about what you can and want to do," he said. "If you have an insight into something better than anyone else, and you have super-specific domain expertise, then exploit that to the best of your ability. If you don't, go and learn with the mindset of, 'I'm really interested in in this space. Where is it broken? What's missing?'"
In his closing remarks, Jones encouraged the students to use him as a resource for talking through potential deals, approaching firms, thinking through investing and more.
"There's a world of possibilities out there," Jones said, "How do you want to strike?"
Featured image: Van Jones, BBA '08, poses with the members of Bearcat Ventures. Photo/Suzanne Buzek.
Empowering business problem solvers to tackle the world's challenges
For 115 years, our students and graduates have achieved great success in business and service, our academic programs have earned national acclaim, and our faculty and subject matter experts have sparked innovation and insights through cutting-edge research. What's next starts now.
1
Bloomberg: Finding work-life balance
September 20, 2023
There's not just one right way to achieve work-life balance, rather, it's a matter of personal preference, a professor in the University of Cincinnati's Carl H. Lindner College of Business told Bloomberg.
3
Newsday: Lindner professor weighs in on state-level affordable...
September 19, 2023
As New York Gov. Kathy Hochul announced a new initiative to explore state-level policies for combating the affordable housing crisis, Carl H. Lindner College of Business real estate professor Gary Painter, PhD, offered insight to Newsday on the impact of such programs.
Debug
Query for this