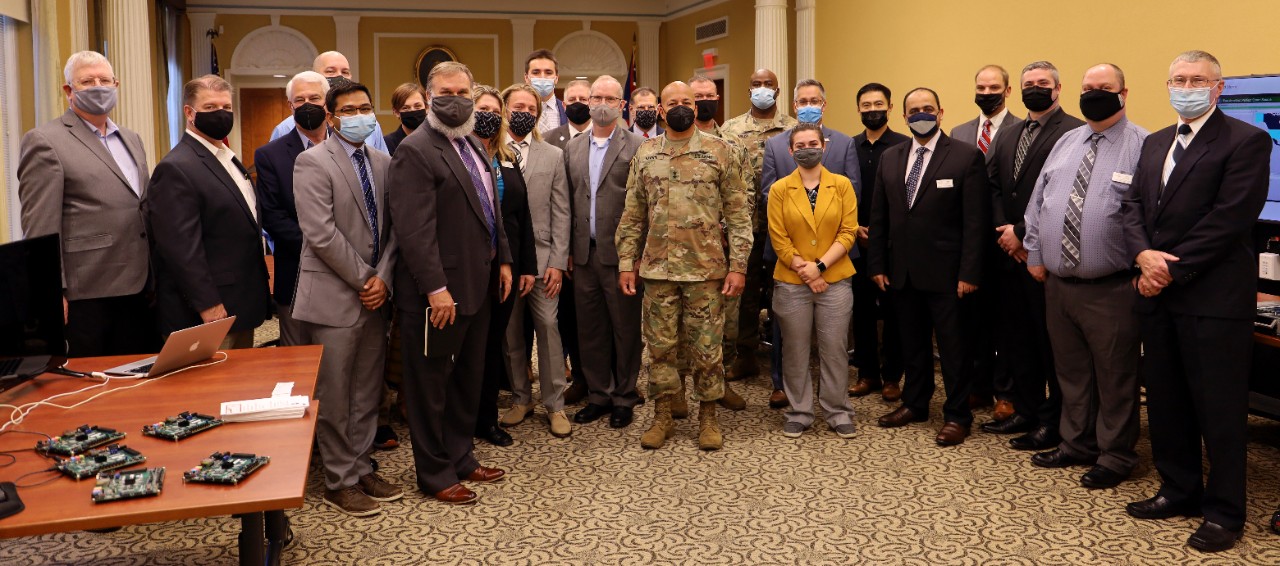 Maj. Gen. Harris visits the Ohio Cyber Range Institute at UC
OCRI provides updates on cybersecurity education, workforce and economic impacts
Maj. Gen. John C. Harris, Jr., the Ohio adjutant general, visited the Ohio Cyber Range Institute at the University of Cincinnati on Oct. 1.
The OCRI provided an update on the cybersecurity education, workforce and economic impacts from the entire OCRI ecosystem including 15 regional programming centers.
"In just a few short years, the Ohio Cyber Range has gone from a concept, to a test project, to full operations serving the cyber education needs for K-12, career tech and higher education throughout Ohio," Harris said. " This training will help prepare the cyber workforce of the future and allow Ohio to fill critically important cyber jobs."
Faculty, partners and students demonstrated activities in the areas of cyber exercises, cyber physical systems, talent development and the Ohio Cyber Range.
"Cybersecurity is a critical threat facing Ohioans today and into the future," Harris said. " To meet that threat we must have a multi-disciplinary approach to this problem.  Our partnership with UC, the Ohio Department of Higher Education and our other state agency partners, as well as industry and academia, allows us to use the best minds in Ohio to develop programs and approaches to help keep Ohioans safe."
Representatives from the Ohio Cyber Reserves also attended to discuss the partnership between the reserves and the OCRI. Ohio National Guard members accompanied Harris.
The Ohio Cyber Range Institute will host its third annual Cybersecurity Education Symposium in a virtual setting on Oct. 13, which will include Harris as a featured speaker.
Featured image at top: Maj. Gen. John C. Harris, Jr., the Ohio adjutant general, visited the Ohio Cyber Range Institute at the University of Cincinnati. Jay Macke/University of Cincinnati.
Impact Lives Here
The University of Cincinnati is leading public urban universities into a new era of innovation and impact. Our faculty, staff and students are saving lives, changing outcomes and bending the future in our city's direction. Next Lives Here.
1
UC invites students, faculty and staff to present at AI Symposium
December 5, 2023
University of Cincinnati Vice President and Chief Digital Officer Bharath Prabhakaran invites students, faculty and staff to share their knowledge and perspectives as part of the Digital Technology Solutions AI Symposium, Wednesday, Feb. 21, 2024, at Tangeman University Center.
3
CNN Business: Best Buy's simple strategy for beating shoplifting
November 30, 2023
The Best Buy approach to thwart shoplifting is to increase staffing. It's a move that UC criminologist John Eck says, in a CNN Business article, that makes perfect sense. It's also a different approach at a time when most retailers are reducing staff.
Debug
Query for this