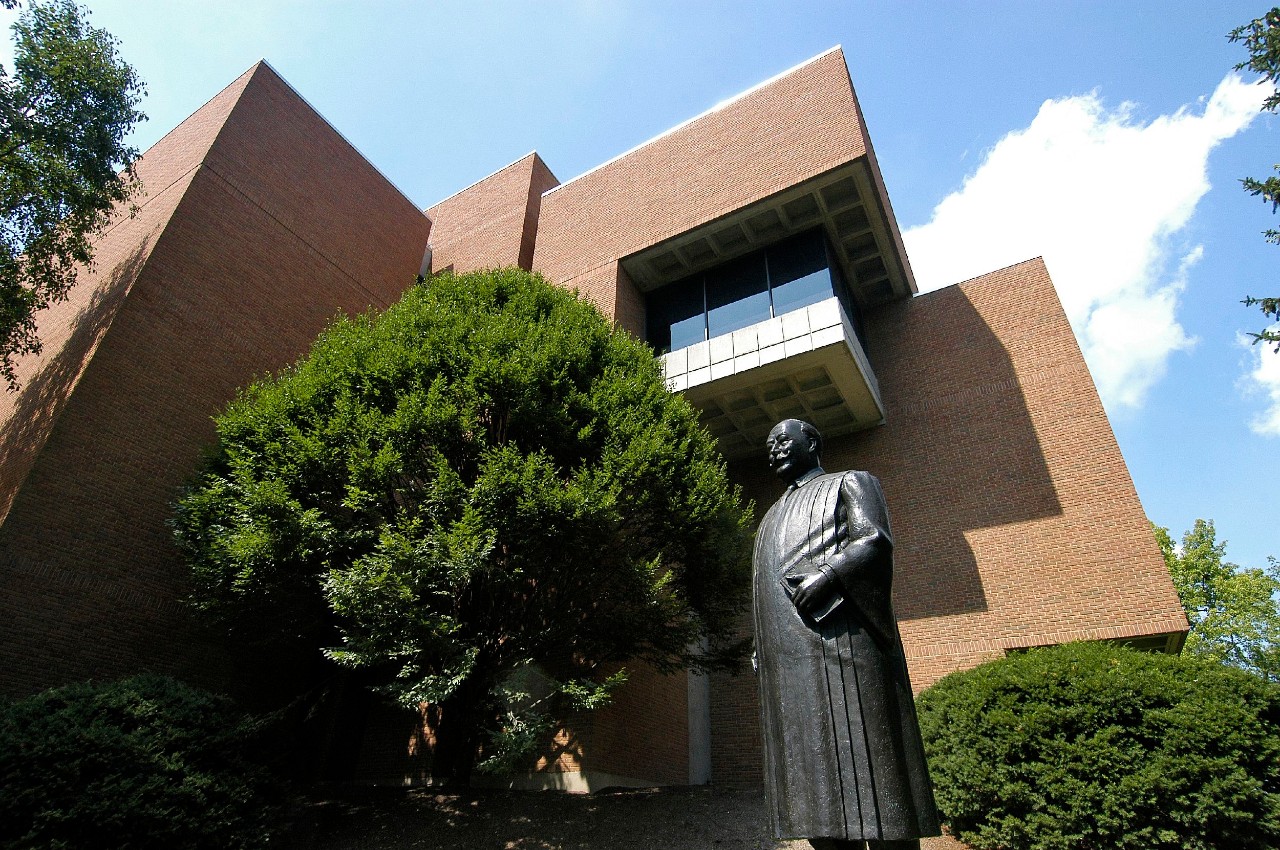 Taft legacy lives on at UC
Classics Department walking tour pays tribute to generations of philanthropy
The Taft name is best known for the late president and Supreme Court chief justice,  William Howard Taft.
But the Taft legacy lives on today at the University of Cincinnati, where UC Classics and humanities continue to benefit from the family's gifts more than 90 years ago.
UC Classics library specialist Shannan Stewart this month led a walking tour of Spring Grove Cemetery to shed light on the family's storied history and long connections to UC.
"I created this event because I wanted to acknowledge and honor the individuals whose generosity continues to benefit UC generations after the initial bequests," Stewart said. "To me, these are some of the most fascinating characters in the history of Cincinnati."
Classics Department Head Jack Davis also participated in the tour.
"We are indeed fortunate for the foresight of William and Louise Taft Semple, who made a financial commitment to continuing excellence in our program, and to the several generations of Taft board members who have managed our endowment so skillfully," he said. "Their stewardship is all the more important as we enter the second century of our department's existence at a time of reduced resources being invested in the Humanities globally and nationally."
William Howard Taft was a federal judge who served as dean of what is now UC's College of Law before moving on to politics and later the Supreme Court.

The president's brother, Charles Phelps, and Phelps' wife, Annie Sinton Taft, were hugely influential philanthropists in Cincinnati. After Charles Phelps' death in 1929, his wife donated $2 million to UC.
"They were incredible people. They enjoyed immense wealth, but they spent much of it to improve the lives of their fellow Cincinnatians," Stewart said.
Their daughter Anna Louise Taft married UC's William Semple, head of UC's Department of Classics from 1920 to 1959. She shared her husband's interest in ancient history and archaeology. Together, they worked toward the ambitious goal of creating the nation's finest Classics programs.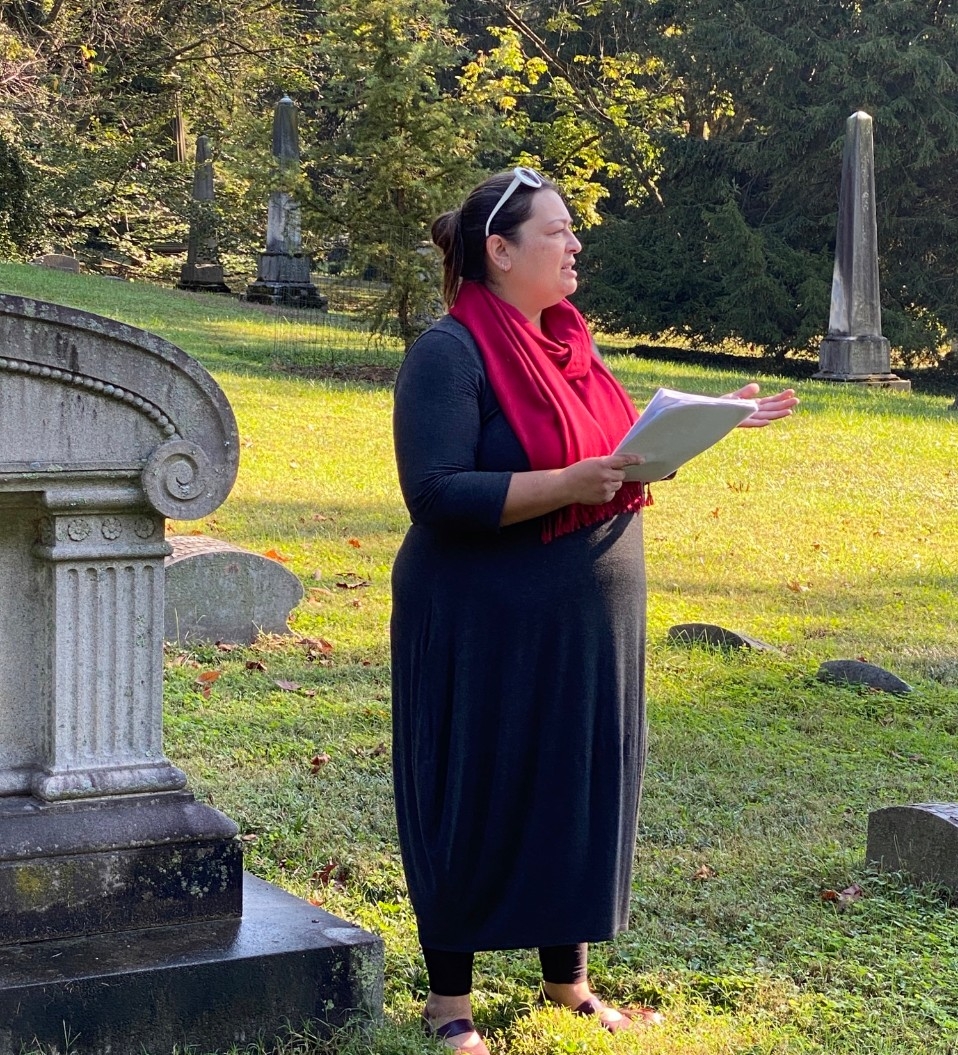 The couple personally financed research projects, including the late Carl Blegen's groundbreaking work at Troy in Turkey and Pylos in Greece. They helped establish an extensive Classics library dedicated to diverse topics such as Greek scholarship and palaeogeography that draws visiting scholars from around the world.

The couple's only child died of a heart defect at 8.
"I think about him a lot and how, had he survived, he certainly would have inherited millions from his parents," Stewart said. "Instead, Louise and William Semple invested that money in their community, in UC and especially in its Classics Department. Their impact continues to reverberate for so many."
Their gifts from the Tafts, Semples and Sintons continue to fund UC Classics research, among other work across the university. Stewart said even her research as a graduate student at UC was partially funded by the Semples' gift to UC.
UC Classics professor Kathleen Lynch, who took part in the walking tour of the cemetery, said it opened her eyes to the legacy of philanthropy left behind by the family.
"The Classics Department owes everything to the generosity of the family and their particular dedication to arts and humanities," Lynch said. "It's a great reminder to appreciate the opportunities we have because of their generosity and commitment to humanities research.
Featured image at top: A statue of former law dean William Howard Taft stands outside the UC College of Law. Photo/Andrew Higley/UC Creative + Brand
Come explore history with UC Classics
For nearly 80 years, the Department of Classics of the University of Cincinnati McMicken College of Arts and Sciences has organized and supported archaeological research projects in the Mediterranean. This commitment to sustained archaeological research is paralleled by few other academic institutions in the United States. A consistent program of excavations and surveys has built the department's reputation as one of the world's preeminent centers of graduate education in pre-Classical and Classical archaeology. Learn more about becoming a UC Classics student.
3
Engineering student aims to develop a more sustainable world
November 20, 2023
As an aspiring power engineer, University of Cincinnati student Matt Smeal hopes to contribute to a more sustainable world by working towards better energy solutions. Smeal is a fifth-year electrical engineering student at the College of Engineering and Applied Sciences (CEAS) specializing in electric energy systems with a minor in environmental studies. Currently, he serves as vice president for Clean Up Cincy, a volunteer litter clean-up organization, and is a member of Beta Theta Pi fraternity and Theta Tau engineering fraternity. He is also one of the first students to enroll in CEAS's new Master of Engineering in Sustainable Energy, through the ACCEND program. ACCEND enables undergraduate students to earn bachelor's and master's degrees concurrently.
Debug
Query for this