UC doctoral student experiments with sound
Saxophonist shares experiences from China to Cincinnati
Wenbo Yin applied to the University of Cincinnati to branch out as a musician, opening himself up to new genres and cultural exploration.
Yin, a student in UC College-Conservatory of Music's Doctoral of Musical Arts program, specializes in saxophone performance.  
One of the highlights of his studies to date has been working with the Bearcat Bands program, offering advice on woodwind techniques while learning more about the unique art of marching bands. While Yin performed in a parading band as an elementary student in China, he is inspired by the choreography and pageantry of American marching bands. 
After graduation, Yin hopes to perform in various ensembles, noting that he never saw himself as the teaching type. "I'm not always a student who listens to the professor," he says, with a laugh. "I just have the type of personality where I want to experiment myself first and see if [a technique] really works. If I ever teach students, I will try to accommodate to their needs – to their struggles, or to their goals – because I think everyone is different." 
Yin talks more about his journey from Yantai, China – a coastal city in the country's Shandong province – to hone his sound in the United States. 
What led to your interest in music?
Back in the day, my great-grandfather was a musician who played for a royal family in [China]. I don't know what instrument he played, but I guess part of his genes passed down to me! 
I first saw the saxophone watching a TV show when I was little. At the time, I didn't know what the instrument was called, but I was amazed by the sound and how beautiful it looked. Not long after that, our school's band director came to introduce us to all the instruments, and I immediately saw the saxophone there.
Why did you come to the United States for university?
When I was a sophomore in high school, my private lessons teacher suggested I pursue a career in music and get professional training in a college abroad. He said something to me that echoes in my head still from time to time. He told me, "Doing music as a career is a pretty rare thing. You can for the most part enjoy what you're doing while you're working, and that is precious." 
I ended up going to Ithica [College in Ithica, N.Y.] for my undergrad. It was a beautiful town, and I learned a lot!
Why did you choose CCM for your doctorate?
Cincinnati has actually been in my head for years. I remember watching a TV show when I was young about movie soundtracks and the Cincinnati Symphony Orchestra was playing.
Then, one day in my last year at Ithica this poster was on my professor's bulletin board that said, "CCM looking for saxophone assistantship." At the time I wasn't planning to audition for CCM, but I ended up taking the last audition that winter.
I still remember after my audition, [CCM Associate Professor of Saxophone] Dr. Bunte came up to me and said, "I really like your intuition and I liked your performance; you're accepted," and I just hugged him.
How did you get involved with the Bearcat Bands?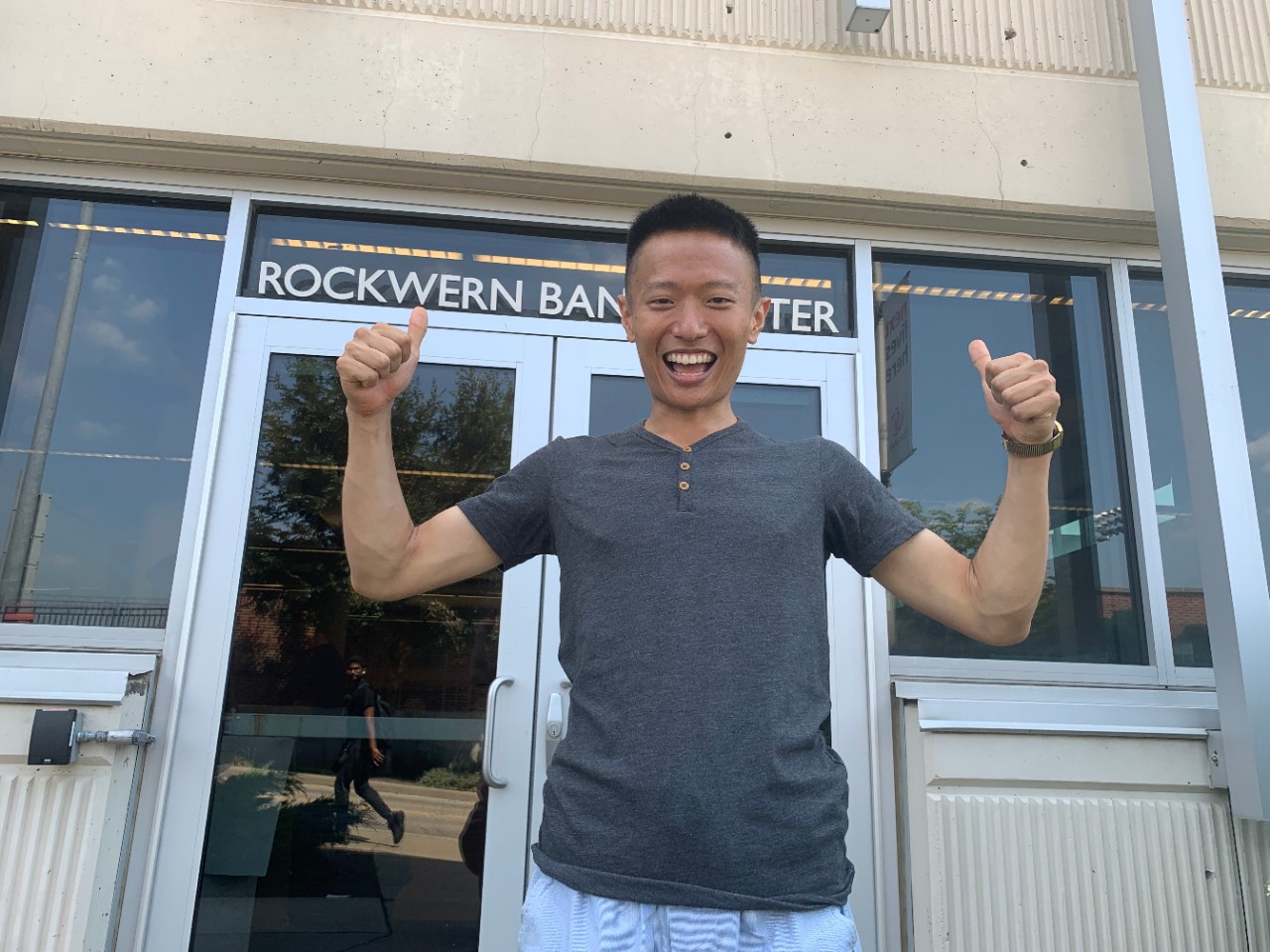 My private teacher in China encouraged me to study American marching band. In his opinion, it is one of the highest forms of musical expression. It involves musical training and then combines it with drill design, drumline, and color guard. 
I asked Dr. Bunte if I could help the woodwinds, especially the saxophone section in some way, and then I messaged Chris Nichter [Director, Bearcat Bands], who said I should contact Nick Angelis [Associate Director, Bearcat Bands]. [Mr. Angelis] was super nice and said I could help with the woodwind section as much as I can. I don't have much marching band experience, so I'm there mostly to observe and learn from everyone.
What do you like most about studying at UC?
College is a mini society on many levels. You see similar types of people and problems in and outside of school. It's a playground for us really, in a more protected environment with professors and other staff working hard to make sure we learn in a safe and healthy environment.
Because UC is in an urban environment, there are opportunities to really explore the city. Personally, cities like New York or Chicago are too much for me! If you want a mixed type of environment, I think UC is a great choice.
Transcription and editing for this article provided by UC International student worker Sarah Dieterich.
Featured image: Wenbo Yin shows off Mary Emery Hall on UC's campus. Photo/Natalie Ochmann.
Discover what's Next
The University of Cincinnati is leading public urban universities into a new era of innovation and impact. Our faculty, staff and students are saving lives, changing outcomes and bending the future in our city's direction. Next Lives Here.
2
Hoffman Honors Scholars honor University of Cincinnati alumnus
December 4, 2023
The estate of Hugh Hoffman, MBA '63, has established a new scholarship program at three University of Cincinnati colleges. A $56 million gift will create the Hoffman Honors Scholars Program and support student-athletes with an extraordinary endowment.
3
CCM Dance presents 'An American in Paris + Other Works' on Nov....
November 28, 2023
CCM Dance proudly presents An American in Paris + Other Works, a lively program featuring repertoire ranging from classical ballet to modern dance. The centerpiece of the program is An American in Paris, a one-act ballet set to George Gershwin's iconic music, choreographed by guest artist Peter Davison.
Debug
Query for this