From the pharmacy to the pageant stage
UC pharmacy student set to compete in Miss USA advocates for volunteerism
As University of Cincinnati students hit the home stretch of the fall semester, preparation for final projects, papers and exams are in full swing. But on top of coursework and three part-time jobs, pharmacy student Nicole Wess is also preparing for a different assignment.
Wess, a third-year student in the James L. Winkle College of Pharmacy, is the reigning Miss Ohio USA winner and will compete in the Miss USA pageant next week.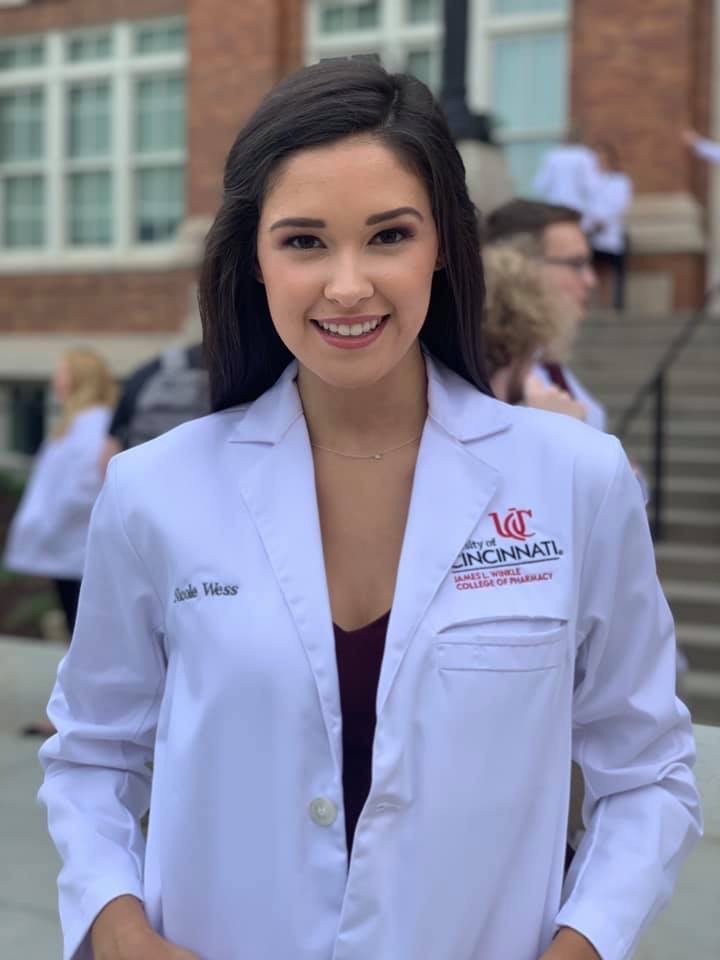 Wess grew up in West Chester, Ohio, and said she chose UC so she could stay close to home and continue modeling jobs in the area. Growing up, Wess always felt drawn to serving others and describes herself as a "giant chemistry nerd," leading to her decision to pursue pharmacy.
"I grew up always helping the less fortunate," including at St. Francis Seraph Soup Kitchen in downtown Cincinnati; Hands Against Hunger, part of A Child's Hope International based near Cincinnati; and Matthew 25: Ministries, an international humanitarian aid and disaster relief organization headquartered in Cincinnati. "At the end of the day I knew my calling was always to help other people," Wess said. "I knew I wanted to be in a field where I could help people and use something I'm really interested in to pursue as a career."

Wess said going through pharmacy school during the COVID-19 pandemic has been challenging, but being trained while the field adapts and changes in real time will be better preparation for her career. She currently works at St. Vincent de Paul Charitable Pharmacy in downtown Cincinnati and in the  UC Medical Center vaccine clinic.
"At the charitable pharmacy, we've learned how to adapt and manage patient care through the phone and in the brief moments we get to see them when we give them their medications," she said. "We're having to change how we interact with people. But at the end of the day, we still have the same goals of patient care and how to deliver that care."
Kelly Epplen, a doctor of pharmacy and associate dean of student affairs and admissions in the College of Pharmacy, said Wess has an energetic and effervescent personality and has become a leader in the program. Wess's decision to work at St. Vincent de Paul speaks to how she has prioritized service to the community in her studies, Epplen said.
"It's patients that need help and are underserved," Epplen said. "I think it's a great opportunity for her to give back to the community, learn about pharmacy practice and really be a role model for what we want our students to be, which is to provide service to patients." 
Epplen said Wess is involved in the college's student government tribunal and is also part of the Kappa Psi pharmacy leadership fraternity.
"She is poised, she is articulate, she is intelligent, she's outgoing, she's energetic," Epplen said. "Nicole is an excellent example of our students."
Wess has been modeling in the area for about 10 years, but this year's Miss Ohio USA competition was the first pageant she has ever entered. She was encouraged to enter after meeting past competitors who told her about the lifelong friendships and unique experiences that resulted from competing.
"I just felt like it was the perfect time to do it," Wess said. "I recommend it for anyone who's wanting to boost confidence. I didn't really go in with too many expectations. I came in wanting to meet people, have fun with the experience and learn something from it at the end of the day."
Wess quickly learned a lot about the pageant system, including the fact that there is much more to the competition than how someone looks. 
"It's not just about beauty, it's so much more than that," she said. "It's all about strong and empowered women, and when I was there for that first day of competition is when I realized these are amazing women all trying to represent the state of Ohio and in the end represent the United States of America."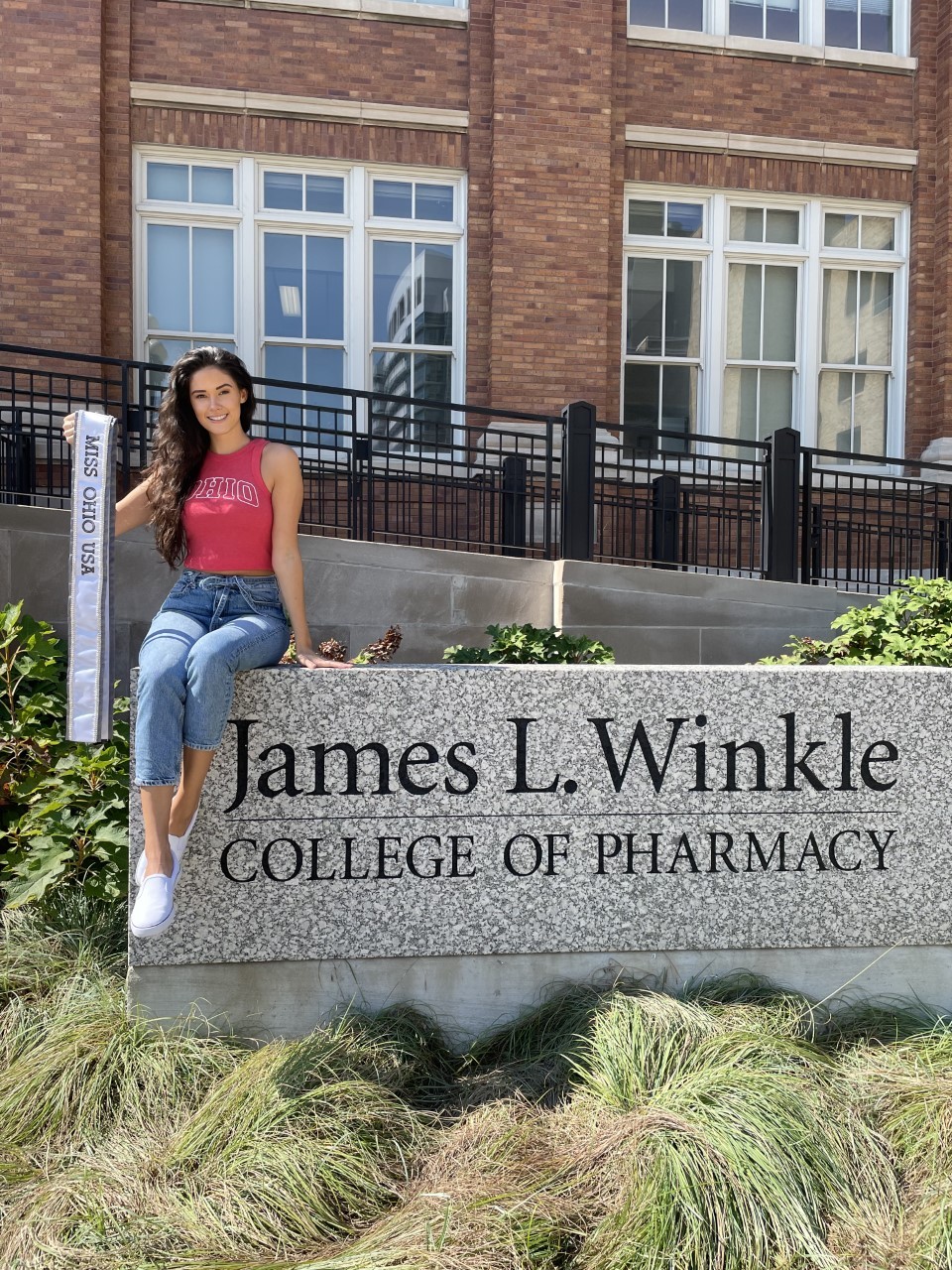 When Wess woke up July 10, the morning of the Miss Ohio USA pageant, she said she didn't even consider that she would end up being crowned. The next thing she knew, she was in the top 15, then answering a question as part of the top five.
Wess recalled the question was about voting regulations, and she wasn't satisfied with her response. But when it came time to announce the winner, Wess was the last competitor left standing.
"When they said first runner-up, and they called the other girl's name, I was like, 'Wait. That's the first runner-up. That means I won,'" Wess said. "And it's so funny because my family and my friends in the audience were the first ones that realized it before I did. It was like a dream."
A platform of volunteerism
While it might not seem like the skills would overlap, Wess said her pharmacy and pageant experiences have taught her lessons that can be applied in both pursuits. She noted she has learned through pharmacy training how to communicate effectively with people in any setting. 
"In a pharmacy, random people come up to you all the time asking questions. And you don't want to sound underprepared answering a question even though you didn't expect it," Wess said. "So it kind of is the same thing with being interviewed or getting an on-stage question in the competition. So you take a second to think about it, and then answering the question has to be delivered very strongly."
As the reigning Miss Ohio USA and inspired by her personal experiences, Wess has chosen a platform of volunteerism. Even after the Miss USA pageant is concluded, Wess will continue to advocate for the importance of service and represent Ohio while she retains her crown until next summer.
"I think as more people are informed about the opportunities that volunteering and giving service does, it can better our communities," Wess said. "Who knows, it may change some career paths."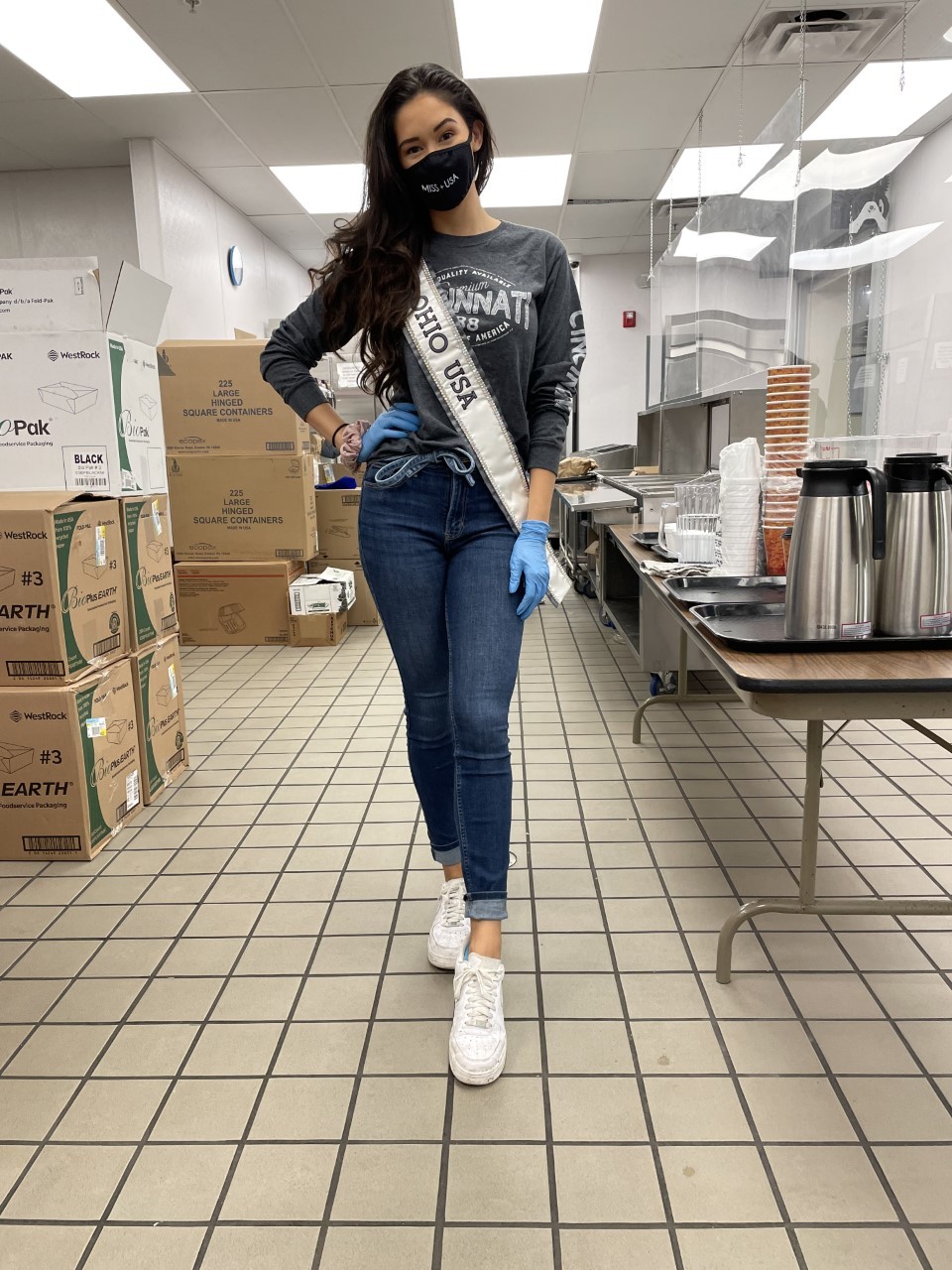 Dean Epplen said she is excited for the opportunity Wess has to serve as a role model showing that there are great opportunities and career pathways for women in science fields, including pharmacy.
"I think that it's a really big opportunity to showcase what women are able to do in STEM fields and the importance of pharmacy, particularly during a global pandemic," Epplen said. "I think demonstrating our role as women scientists in the health care field is so important to combat this global pandemic."
When Wess takes the stage to compete at Miss USA, Epplen said she will have a cheering section back home with her fellow students and professors. The college held a send-off celebration last Friday as Wess prepared for competition.
"We're trying to be as supportive as we can, and we'll be pulling out our pompoms and trying to cheer her on to success," Epplen said.
Featured photo at top of Nicole Wess with volunteers at A Child's Hope International. Photo provided.
Where to watch
The 70th annual Miss USA pageant takes place Monday, Nov. 29, at the Paradise Cove Theater in Tulsa, Oklahoma. The competition will be broadcast at 8 p.m. EST on the FYI Network and livestreamed on Hulu. The winner will represent the United States in the Miss Universe competition.
1
Know Stroke Podcast: UC expert discusses past, present and...
September 21, 2023
The University of Cincinnati's Joseph Broderick, MD, recently joined the Know Stroke Podcast to discuss the current state of stroke research, including the FASTEST trial he is leading to test a potential treatment for strokes caused by ruptured blood vessels in the brain.
3
UC Blue Ash to host fall open houses
Event: October 18, 2023 5:00 PM
The University of Cincinnati Blue Ash College will host two open house events this fall that are free and open to prospective students and their guests.
Debug
Query for this