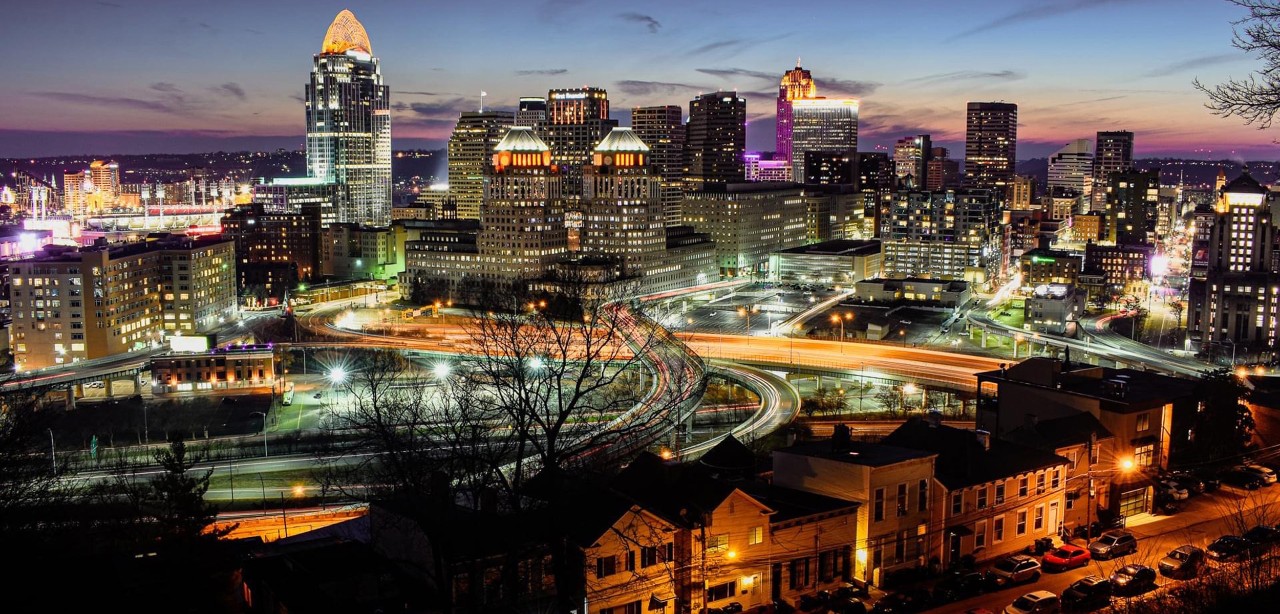 UC/PNC Economic Outlook Conference 2022
Examining the economic prospects for the U.S. and regional economy
UC Real Estate Center's February Roundtable Series presents the 28th annual UC/PNC Economic Outlook Conference. The program will be held live, on Friday, Feb. 18, 2022, at the Hyatt Regency in downtown Cincinnati. Check-in and networking will begin at 7:30 a.m. followed by breakfast and program from 8–9:30 a.m.
Registration is required for all attendees at least three days in advance of the event as seating is limited.
The annual event, co-hosted by PNC and the University of Cincinnati Real Estate Center, has historically drawn capacity crowds to various downtown Cincinnati venues since 1993. Financial and economic experts provide views on the Cincinnati and U.S. economy, major real estate sectors, as well as market forecasts and economic projections for the current year and beyond.
The program welcomes the return of PNC Bank's senior economic adviser, Stuart Hoffman. Hoffman, a long-standing speaker for the event, will deliver key points from PNC's 2022 economic forecast, with insights on economic variables such as real GDP, interest rates, inflation, housing, the labor market, and industrial production.
Joining Hoffman as a featured speaker will be Greg Valliere, chief policy strategist for AGF Investments. Valliere will build upon Hoffman's economic commentary and deliver his perspective on trends and policies that may shape future markets.
"Both Stu and Greg always deliver very focused, insightful and thought-provoking dialogue," said Carl Goertemoeller, executive director of the UC Real Estate Center. "We are very privileged to have Stu and Greg join us, as always."
Stuart G. Hoffman
Senior Economic Adviser 
PNC Financial Services Group
Stuart Hoffman works with PNC clients to provide expert analysis and forecasts for national, regional and global economic and financial trends. Prior to being named to his current role in April 2017, he served as PNC's chief economist and was principal spokesperson on all economic issues. Hoffman has been recognized as one of the most accurate economic and interest rate forecasters in the prestigious Wall Street Journal economic survey covering the 1988 to 2016 period.
Hoffman joined PNC in 1980 after a six-year tenure with the Federal Reserve Bank of Atlanta. He became vice president and senior economist for PNC in 1987 and was elected senior vice president and chief economist in 1991.
He has been frequently quoted in The Wall Street Journal, The New York Times, Financial Times and Barron's. He was a regular guest on CNBC and Bloomberg TV. In addition, he was regularly interviewed by the Associated Press, Reuters news wire services and NPR.
Hoffman is past president and lifetime member of the American Bankers Economic Advisory Committee, which meets regularly with the Federal Reserve Board of Governors chaired by Jay Powell. He also serves on the board of directors of The Economic Club of Pittsburgh, the local chapter of National Association for Business Economics (NABE), and VisitPITTSBURGH. Hoffman is a member of the University of Cincinnati Foundation board of trustees.
Hoffman is a 1971 graduate of Pennsylvania State University. He received a master's degree in 1973 and a doctorate degree in economics in 1975, both from the University of Cincinnati, where he was a Charles Phelps Taft Memorial Fellow. In 2004, the University of Cincinnati honored him as a Distinguished Alumnus and in 2011 presented him with The Carl Lindner Award for Outstanding Business Achievement.
Greg Valliere
Chief U.S. Policy Strategist
AGF Investments
Greg Valliere joined AGF Investments (AGF) in February 2019 as chief U.S. policy strategist. In this role, he is responsible for providing insight into how U.S. politics are shaping global markets.
He brings a unique perspective to AGF with over three decades of experience analyzing policy and politics, providing regular commentary and insight into Washington for financial services and investment management clients globally, including specialized coverage of the Federal Reserve, economic policy and politics.
Greg began partnering with AGF in 2017, advising investment management teams on policy and the impact on global markets, providing daily market commentary for financial advisers and participating in numerous client events and roadshows.
Most recently, Greg was the chief global strategist at North Carolina-based Horizon Investments, LLC, and has nearly 40 years of experience following Washington issues for institutional and retail investors. He is widely quoted in U.S. media and specializes in coverage of the Federal Reserve, tax and spending issues, and politics. Greg is based in Washington, D.C.
The UC Real Estate Center, in conjunction with our Premier Partner, PNC Bank, is proud to present our 38th season of networking, national and international speakers, and access to industry leaders.
In 1983, the UC Real Estate Roundtable Series was created to establish and maintain links between the university and the business and real estate communities. The Roundtable Series features guest speakers who present their ideas, thoughts and perspectives on topics that impact the real estate industry. The Roundtable Series strives to:
•   Encourage interaction between real estate professionals and UC students and faculty.
•   Address issues and topics relevant to the real estate industry and leading professionals.
•   Expose real estate professionals to industry research conducted at UC and elsewhere.
Our Roundtable Series membership is comprised of an average of more than 200 industry leaders each year. As our numbers continue to grow, the Roundtable promises to be a rich opportunity for high-quality programming and networking.
1
Newsday: Lindner professor weighs in on state-level affordable...
September 19, 2023
As New York Gov. Kathy Hochul announced a new initiative to explore state-level policies for combating the affordable housing crisis, Carl H. Lindner College of Business real estate professor Gary Painter, PhD, offered insight to Newsday on the impact of such programs.
2
Housing unaffordability leads to cascading effects for renters
September 5, 2023
Los Angeles residents who pay more than 30% of their income toward rent are forced to make trade-offs in other areas of their lives that can last for years and contribute to many social ills, a University of Cincinnati professor and his colleagues found.
3
Lindner real estate professor weighs in on affordable housing
August 8, 2023
A recent opinion piece in the Los Angeles Times examined differing viewpoints and data around affordable housing in the publication's namesake city. The author tapped Gary Painter, PhD, professor of real estate, and an expert and longtime researcher in social innovation, housing, urban economics and education policy, to offer insight.
Debug
Query for this