President Pinto: Looking ahead to 2022
UC President Neville G. Pinto shared the below message with the campus community
Dear UC Community,
A heartfelt thanks to the entire UC community for facing what continues to be unprecedented times with courage, focus and resilience. Our university community has found countless ways to rise above the challenges presented by the pandemic. Never was that more evident than during our fall semester.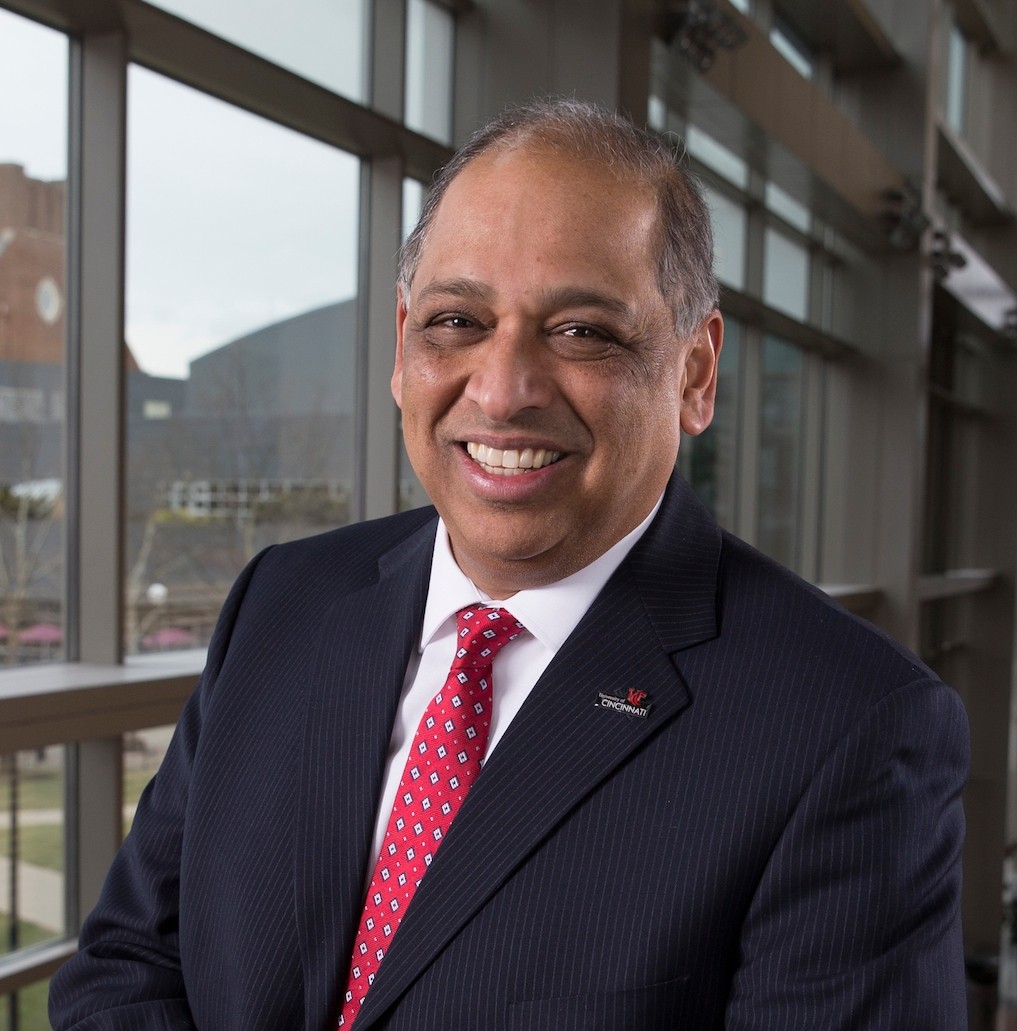 Our return to in-person learning last semester saw many wonderful accomplishments. Among the encouraging moments, UC College of Medicine doctors helped break ground on what will be a world-class emergency department at the UC Medical Center. Francis Cullen, emeritus professor in the School of Criminal Justice, won the Stockholm Prize, the world's most prestigious award in the field of criminology. The College of Law celebrated a final-beam ceremony in advance of moving into their new building in the months ahead.
As I shared with you in my year-in-review, there were many reasons to count 2021 as a historic year, including signature investments in diversity, equity and inclusion and welcoming our first cohort of NEXT Innovation Scholars.

As we begin the new year, the pandemic has once again forced us to respond to fresh challenges with resilience. I'm appreciative that students, faculty and staff have successfully adjusted to begin the spring semester online in response to the Omicron variant. To learn more about these details, please review the January 4 announcement. I especially want to thank Provost Valerio Ferme and Dr. Dustin Calhoun for their steadfast leadership of our Covid Response Team.
We have so much to look forward to in 2022, including our return to in-person learning on Monday, January 24. There is a palpable energy that accompanies our busy campus and classrooms enlivened by the exchange of ideas.
Work on important construction projects will continue, including the Center for Identity and Inclusion. The new center in the heart of campus in the Joseph A. Steger Student Life Building will provide enhanced space and offerings for identity-based groups. By year's end, we will cut the ribbon on the new Digital Futures Complex in the Cincinnati Innovation District. This complex will host a community of experts who partner with government, industry and the community to deliver solutions to the real problems impacting people's lives. 
On the student front, I'm encouraged by news that our admissions team had received a near record number of applications already by mid-December. Among all those future Bearcats, we will also welcome our first class of Marian Spencer Scholars in the fall.
As we prepare to celebrate Martin Luther King Jr. Day Monday, I find it appropriate to mention human rights activist Desmond Tutu, who died on December 26 at age 90. The 1984 Nobel Peace Prize winner was called the Martin Luther King of South Africa. He referred to himself as "a prisoner of hope."
Despite countless challenges, he never lost hope that his country would eventually overcome apartheid. May we follow in Tutu's example as a community full of hope and kindness — each of us there for one another even during difficult times.
I hope your semester is off to a wonderful start.
Neville G. Pinto
President
Impact Lives Here
The University of Cincinnati is leading public urban universities into a new era of innovation and impact. Our faculty, staff and students are saving lives, changing outcomes and bending the future in our city's direction. Next Lives Here.
1
Cincinnati Edition: U.S. joins a growing number of governments...
March 24, 2023
TikTok has 1.5 million users in the United States, and is currently under review by the U.S. congress. The Chinese company has been accused of aggregating data for nefarious purposes, as it is ultimately controlled by the Chinese Communist Party. Cyber security expert Richard Harknett was a guest speaker on "Cincinnati Edition" to discuss measures that might be, or should be, taken to protect Americans privacy and national security
2
What is Mathematical Sciences?
March 24, 2023
Misconceptions can arise when it comes to pursuing a mathematics degree. It is commonly assumed that undergraduates studying mathematics are on the path to becoming math teachers or professors, but this is not always the case. The mathematics department at the University of Cincinnati's College of Arts and Sciences, for instance, equips students with the skills and knowledge needed for a diverse array of careers, such as biomathematical researcher and cryptographer.
3
Narrowing the digital divide for health care
March 24, 2023
Many parts of rural America with less access to health care also have limited broadband internet that could help them take advantage of increasingly popular online health services.
Debug
Query for this