'College Tour' spotlight: Grace Hertlein
Amazon Prime series features University of Cincinnati in upcoming season
Grace Hertlein is Cincinnati through and through.
It is not only where she was born and raised, but where she went to college in UC's College of Design, Architecture, Art, and Planning (DAAP), and started her career in design at Cincinnati-based consumer goods giant Procter & Gamble.
The 2020 grad is one of 10 alumni and students featured in UC's episode of "The College Tour," an Amazon Prime series that features universities from across the country. 
She shares her experience shooting "The College Tour" episode and what being a Bearcat means to her.
Describe being part of "The College Tour."
It was a very fun experience to be included in "The College Tour" on behalf of UC. My enthusiasm for UC has only grown since I graduated in 2020, so I was thrilled to be able to share that with the film crew and, eventually, with everyone who watches the show.
What do you want people to know about UC?
There is something for everyone at UC. No matter what career path you're interested in or what extracurriculars you might want to be a part of, you can find your niche here and thrive.
Is there a special moment at UC that stands out to you?
My favorite UC memory is the Homecoming parade of 2017. It was my first year in UC's Student Alumni Council, the student organization that helps plan Homecoming, and I was invited to be at the front of the parade carrying the banner. I had also designed the Homecoming T-shirts that year, so I remember getting teary-eyed as I walked down Clifton Avenue — seeing everyone so proud of the school that I love, wearing shirts that I'd made!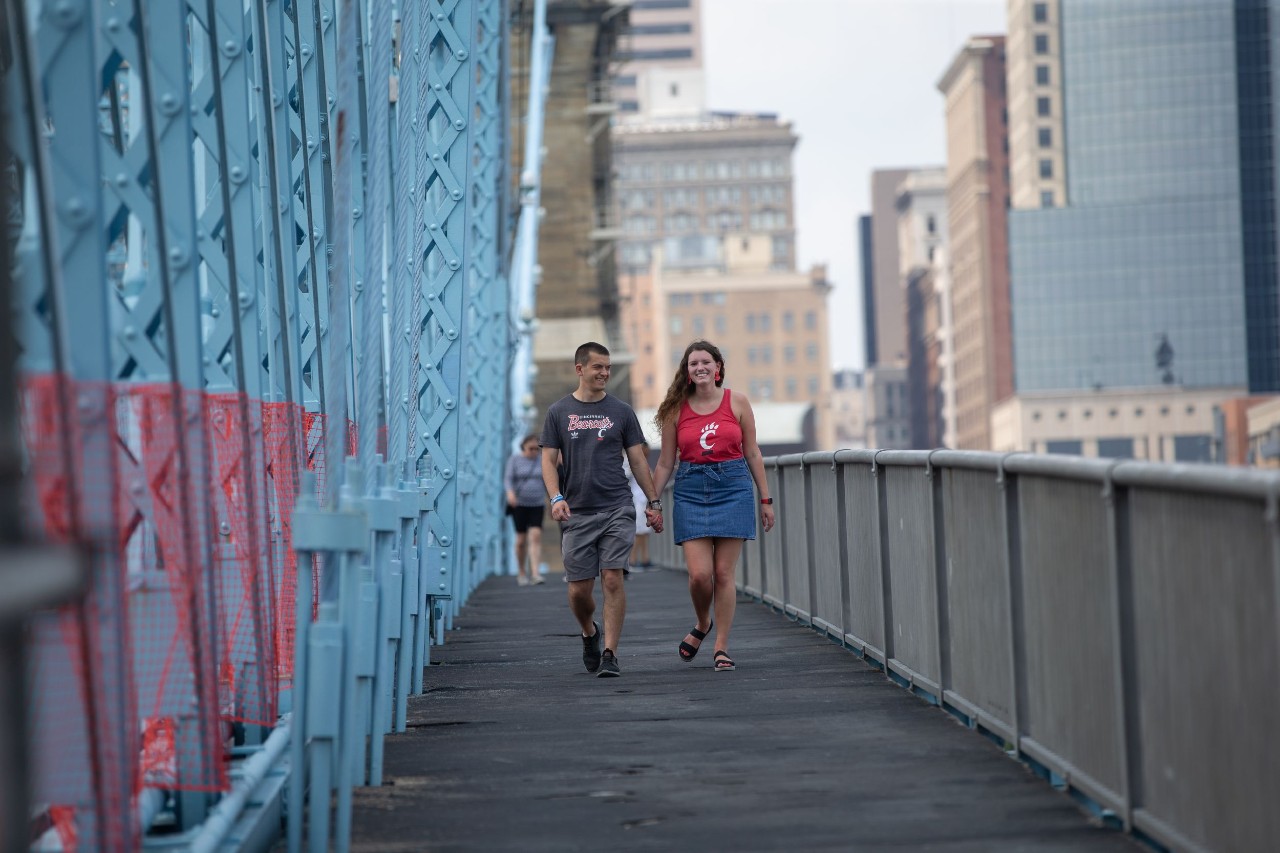 What kinds of hands-on learning opportunities did you experience at UC?
During my five years at UC, I absolutely loved participating in the co-op program. I worked at several different design firms before I was offered a job in Cincinnati at Procter & Gamble — where I've worked for the last year and a half.
Did you encounter any challenges on your road to becoming a Bearcat? How did you overcome them?
My biggest obstacle to being a Bearcat was not knowing exactly what I wanted to pursue as a career. I thought about politics, nursing, teaching, etc., before I finally settled on design. The beautiful thing about UC, though, is that lots of students change their major — and the professors and advisers are so supportive of helping you find exactly what you love doing.
Life after UC is amazing! I'm loving my career with P&G as a design manager for Downy [fabric softener]. I work with lots of UC grads and the Bearcat spirit is strong in our office! Another major life update: I got engaged to a fellow Bearcat in November 2020. We met in DAAP and dated all throughout school, and we'll be getting married in May 2022. A Bearcat love story!
Is there anything else you'd like to share about your experience?
The cast and crew of "The College Tour" worked so hard to bring you beautiful views of campus and other beautiful places around Cincinnati. It's so worth watching, even if you're already a Bearcat. 
Featured image at top of Grace Hertlein/Andrew Higley/UC Creative + Brand