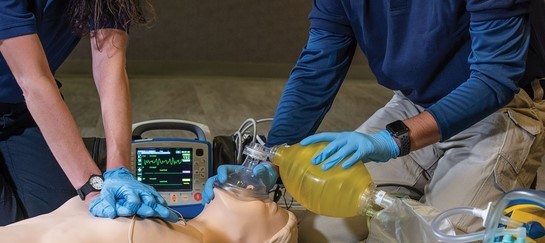 UC Nursing joins first cohort of innovative, competency-based CPR training
National League for Nursing's program prepares students to improve cardiac arrest outcomes
University of Cincinnati (UC) College of Nursing has been accepted in the first cohort of the National League for Nursing (NLN) Change Agent for the Resuscitation Quality Improvement (RQI) program, an innovative competency-based training for high-quality cardiopulmonary resuscitation (CPR) and improved patient outcomes developed by the American Heart Association (AHA).
Nurses play an instrumental role in the management of in-hospital cardiac arrest and are often the first on the scene to identify the need for and to initiate CPR, the single biggest determinant of and the last chance for survival in a cardiac arrest emergency. Despite this knowledge, research illustrates that not all nurses are competent in CPR skills, as they decline within three to six months following conventional training.
To prepare the next generation of nurses to maximize lifesaving resuscitation competence and improve cardiac arrest outcomes, the NLN has partnered with the AHA and Laerdal Medical to offer the RQI program at no cost to nursing schools. This innovative, digital model uses realistic eSimulation patient cases and a mobile Simulation Station for quarterly psychomotor skills activities that help healthcare providers retain life-saving CPR skills.
"As an early adopter of technology and innovation in nursing education, we are glad to be one of the first colleges in the country to offer this opportunity for hands-on practice to our students, so they can graduate ready to provide safe, quality care to all," says Denise Gormley, PhD, RN, FAANP, interim dean of the UC College of Nursing.
In the United States, only 25% of patients survive an in-hospital cardiac arrest; just 10% survive out-of-hospital emergencies. High-quality CPR is the single highest determinant of survival from cardiac arrest.