'College Tour' spotlight: April Gable
Amazon Prime series features University of Cincinnati in upcoming season
April Gable likes to joke that she lives a double life.
On a class day, she looks like any other ordinary college student. Come game time, though, she dons a completely different costume and persona. April, the busy undergraduate student body president majoring in communications and interdisciplinary studies, is a feature twirler in the UC Bearcat Bands.
April is one of 10 students and alumni featured in UC's episode of "The College Tour," an Amazon Prime series that features universities from across the country.
April shares her experience shooting "The College Tour" episode and what being a Bearcat means to her.
​​Describe your experience being part of "The College Tour."
It was such an incredible experience! I honestly felt like a UC celebrity getting to work with such a talented crew and friendly student extras. Each member involved with "The College Tour" was supportive and always willing to lend a hand to me with my scene.
What do you want prospective students to know about UC?
UC is the place to be. It is time that UC is seen for all it offers to students, from nationally recognized academic programs and undefeated sports teams to inclusive community and an overall one-of-a-kind charm. There is no other place on Earth like the University of Cincinnati, and I am so glad to be a part of its history.
Is there a special moment at UC that stands out to you?
My favorite memory at UC had to be the 2021 AAC Championship Game. After the sold-out crowd of alumni, students, staff and so many others stormed the field, I stood in the stands with the UC Bearcat Bands smiling ear to ear as we played the alma mater and fight songs. I have never felt such humbling and overwhelming excitement in my life — I was frozen in time watching a scene from a movie. I couldn't help but feel overcome with emotion and pure pride that I attend the greatest university there ever is or was. 
When we sing "stand first and last for old UC" in the alma mater, we mean it. This community is stronger than ever before and seeing so many rejoice together that night reminded me how thankful I am. It is so very bittersweet that my time at UC is coming to a close in just over a year, but I would never trade my experiences.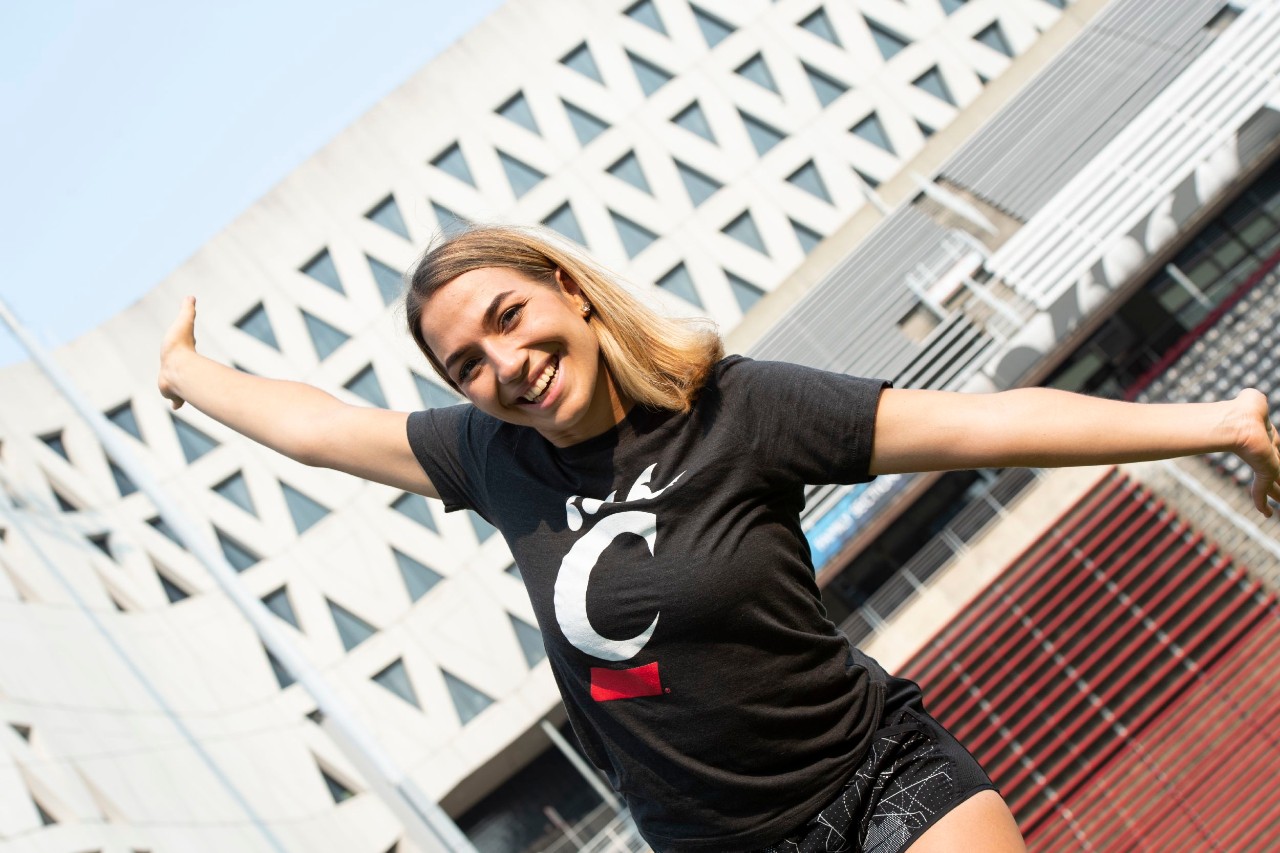 Did you encounter any challenges on your road to becoming a Bearcat? How did you overcome them?
Before my first year and during my time here, my family worried about having the financial standing for me to continue my education here. Throughout my first three years, I worked approximately three jobs during the school year and five over breaks to make ends meet. These jobs range from being a resident adviser and a baton coach to working at the undergraduate admissions office, as well as at a restaurant, a department store and so on. I did not want my parents to have to stretch themselves even thinner for me, especially as I have two other sisters, so I made it my responsibility to get myself through, and I am so glad I did. 
I have applied for several scholarships and earned a handful which have been such a blessing and enabled me additional time to pursue passions like student body president and becoming a national baton twirling champion.
I see myself pursuing a career in higher education with the end-goal of becoming a university president, and maybe returning to UC for that role.
I have learned immensely through my experiences in varying offices here at UC, which has fostered a deep appreciation and care for a university's community. I want to continue to enrich the path I lead by staying in this career field and hopefully support others the way I have been. 

I would not be here without my mentors and role models. I want to ensure that future students have someone in their corner taking a chance on them like so many did for me.

Is there anything else you'd like to share about your experience at UC?
One of my favorite quotes this year has been, "The best things live on the opposite side of fear." Why I included this is to give you the sign to take that leap of faith you've been kicking around, take time to invest in yourself and give everything you can to your goals. 
UC has opened my eyes to what I am capable of — which in turn has opened doors for me to succeed and flourish.
1
UC students plan documentary in Eastern Europe during the war 
December 2, 2022
As global media descends on Eastern Europe to cover Russia's war in Ukraine, two University of Cincinnati students are planning to cover the region from a different angle. Hunter Shallcross and Tanmay Srivastava, both digital media collaborative majors in the College of Arts and Sciences, have planned a trip to multiple European countries to film their own documentary, titled "The Edge of Chaos." The trip is scheduled for May of 2023.  The pair became friends through their passion for film, and soon started partnering on projects. Last February, Shallcross and Srivastava became interested in the way culture and art are changing in countries on the edge of Europe due to the war, and decided to develop the idea into a documentary. "Everybody is flocking to Eastern Europe to document what is going on. We want it to show the artistic side," says Shallcross. "The shots, the camera angles, and the narrative we want to tell about relationships and personal issues that go beyond war."  They began pitching their documentary idea to various professors and making any connections they could to bring their idea to life. Last May, they even attended the Cannes Film Festival, to get some first-hand film experience, while networking with people there. 
2
UC recognized as a 2022 ALL IN most engaged campus for college...
December 2, 2022
In 2022, the University of Cincinnati's UC Votes team worked with student groups and community partners to register students to vote, educate students on voting, ensure ballot access, and turn out the student vote. The University of Cincinnati has been recognized by the ALL IN Campus Democracy Challenge (ALL IN) as a 2022 ALL IN Most Engaged Campus for College Student Voting.
3
CCM Dance Works presents classical ballet and modern dance Dec....
Event: December 1, 2022 8:00 PM
UC College-Conservatory of Music presents Dance Works, featuring a variety of styles to showcase the school's many talented ballet majors, on Dec. 1-4 in Patricia Corbett Theater. More than 43 students come together to perform four different pieces excerpts from Gazunov's Raymonda, Tchaikovsky's "Waltz of the Flowers" from The Nutcracker, and two premieres choreographed by CCM faculty artists — Who We Are and Mozart Mix.
Debug
Query for this