Undergraduate researchers inspired by family health
Early research experience builds scholars' confidence
University of Cincinnati students Maricela Manzanares and Nina Greene are getting an early start in the world of research, propelled by the mentorship of UC faculty and staff and supported by scholarship programs that promote inclusion and diversity in science, technology, engineering, and math.   
Manzanares, a third-year biomedical engineering student, and Greene, a sophomore biological sciences student on the pre-med track, are both scholars in the Louis Stokes Alliances for Minority Participation (LSAMP) program at UC.
This fall, both students presented research at the 2021 Louis Stokes Midwest Regional Center of Excellence conference, "Empowering Diverse STEM Innovators."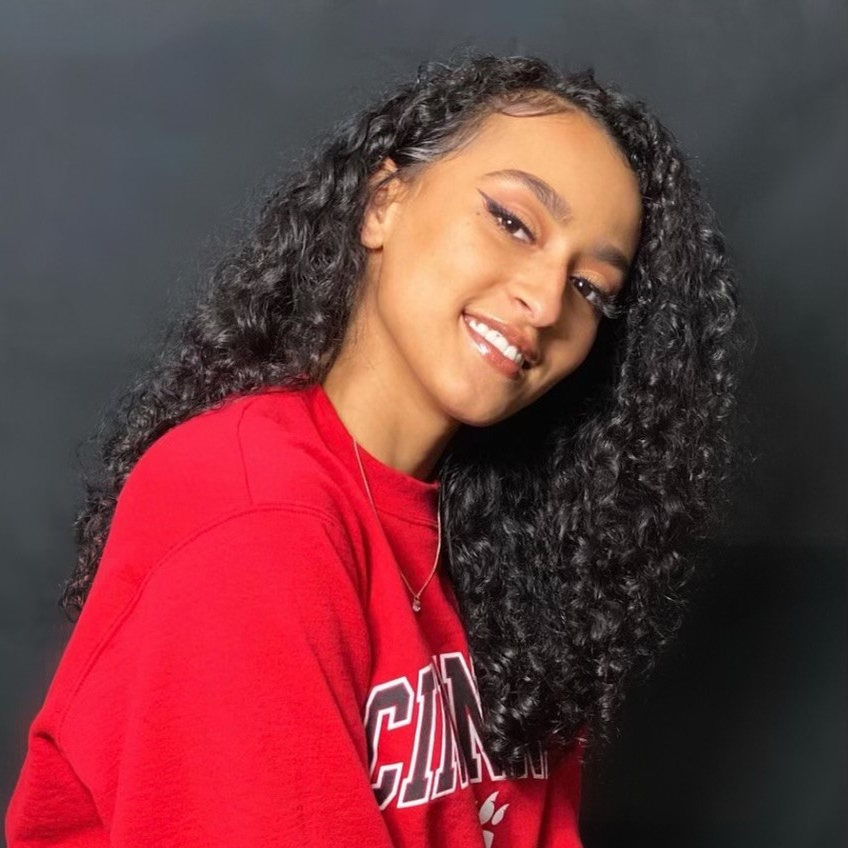 What did you present at the conference?
Manzanares: I presented a study that aimed to understand the campus climate for women engineering students of color at the University of Cincinnati and determine what action steps should be taken so that women of color can feel more included in the engineering community and have a better undergraduate experience. 
Greene: Our research sought to understand the various factors contributing to individual adherence to HPV vaccination, regular Pap screening, and timely follow-up after an abnormal Pap screening in at-risk women and to determine factors influential to cervical cancer prevention among low-income non-adherent women. By examining root causes of poor adherence in at-risk women, our research data will be used to help determine relevant future intervention components and strategies to improve adherence to cervical cancer prevention among at-risk women. 
How did you get involved in undergraduate research?
Manzanares: Spring 2020 was technically my first co-op semester, but with COVID and everything, unfortunately I couldn't find a job, so I was doing the Experiential Explorations Program. At the time, I was just really doing a bunch of like LinkedIn learning courses and things like that to build skills, but it was all work at your own pace. Whitney Gaskins, PhD, my program coach for the Choose Ohio First scholarship program, knew that I was interested in doing research, and she just asked me if I'd be interested in doing research with her. 
Greene: I applied and was accepted to the Women in Science and Engineering (WISE) summer research program, which has since been renamed the Undergraduates Pursuing Research in Science and Engineering program. Every year, the program posts research opportunities from faculty who want to mentor undergraduate researchers. Over the summer, I worked with Anjanette Wells, PhD, associate professor of social work at UC. 
If you could share one insight from your experience with other undergraduate students, what would it be?
Greene: "You belong here." They included a session at the conference where professionals talked about impostor syndrome. I thought it was great because, going into the conference, knowing that hundreds of people were attending and presenting, I did feel a bit of impostor syndrome. I felt like I wasn't meant to be there.  
They emphasized that we were there for a reason—and that seems really simple to understand — but they encouraged you to really remind yourself that you did the work to get to where you are.  
I followed their advice during my oral presentation, reminding myself again, before I even started speaking, that I did belong here. That calmed my nerves and enabled me to speak clearly with confidence and hit the points I wanted to make. I was really proud of myself for that.    
What personal connections do you find in your research interests?
Manzanares: My great aunt, my Tia Teresa, unfortunately passed a couple years ago from breast cancer. Cancer research is an area I definitely want to explore in the future. I want my research to help another family down the line. 
I have a pretty big family and they're all super supportive. They sometimes get pretty sentimental about that kind of stuff. So, just having my name out there, with the conference and the article and the research papers, the journal, I think that'll be exciting to share with them. I want to do that work for them. It's always a factor in the back of my head. 
Greene: Before I knew that I wanted to go into medicine, I was first interested specifically in women's health. I got interested in that from a young age, witnessing my mom's experiences as a woman of color seeking medical treatment for a long-term illness. 
There are many harmful stereotypes in the medical field that hurt women of color, such as the long-disproven myth that Black women don't feel pain or have a higher pain tolerance. 
When my mom was trying to get the treatment that she needed, it took a long time to access the right resources, and those delays negatively affected her health. She could have been treated earlier and improved her quality of life sooner. Experiencing that with my mom got me more interested in health care itself, so being able to find research that focused on women's health and addressing health care disparities was a great experience for me.