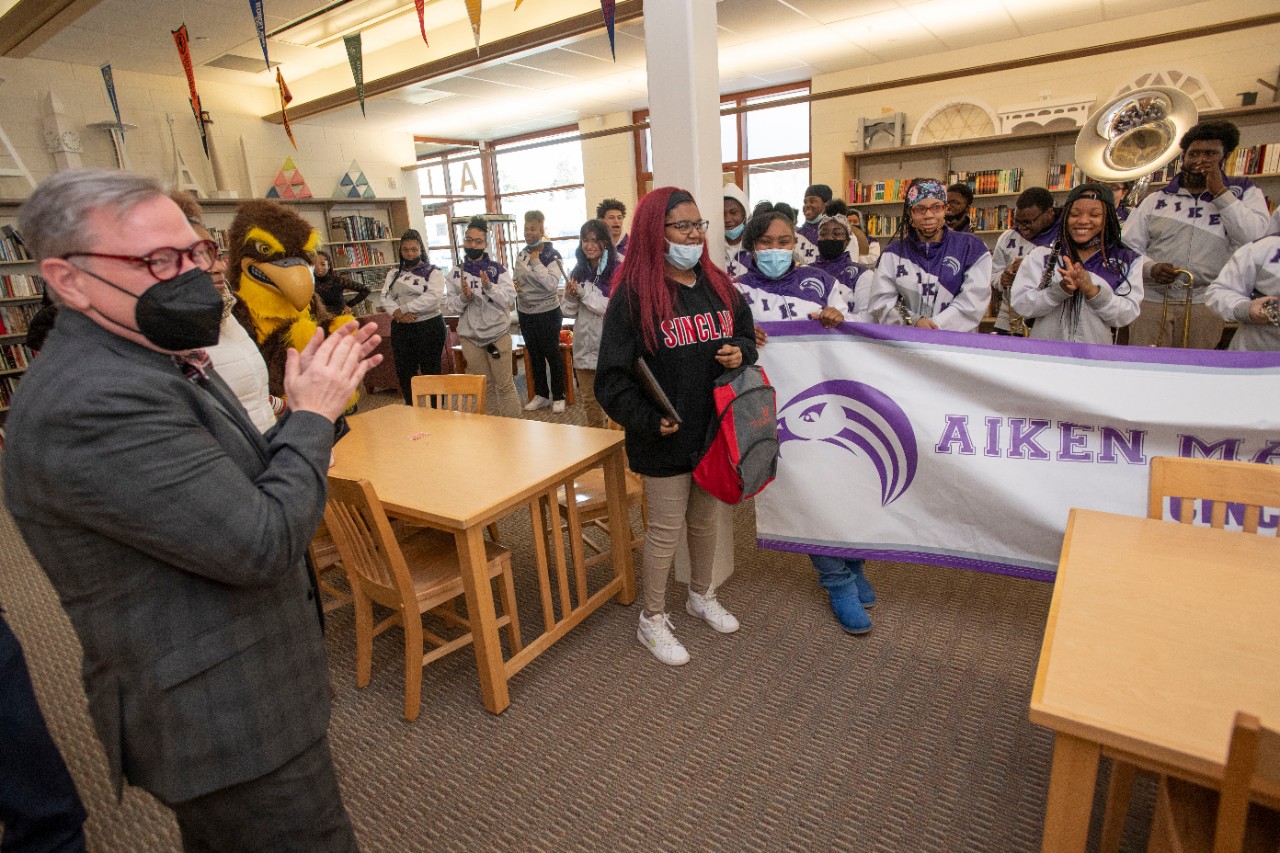 Spectrum News: Cincinnati high school student surprised with full-ride scholarship honoring former council member
Ten high school students from Cincinnati Public Schools were the first to be honored with the University of Cincinnati's new Marian Spencer Scholarship, which includes full tuition, room and board in Marian Spencer Hall, a service trip to Tanzania and many more opportunities.
Spectrum News followed along as university officials surprised recipient Ke'Ayra Rogers at Aiken High School.
Rogers said she was shocked, but is very excited to begin her collegiate career at the UC in the fall.
"School is definitely one of those things that I hold near and dear to my heart," said Rogers. "So being able to get the opportunity to go to school with a full ride, at that, it means a lot to me and it helps me to know that if I can do it, then anybody can." 
Read the full story from Spectrum News.
Learn more about the Marian Spencer Scholars.
Featured image at top: Ke'Ayra Rogers' surprise included the school's marching band. Photo/Joseph Fuqua II
1
Cincinnati Edition: U.S. joins a growing number of governments...
March 24, 2023
TikTok has 1.5 million users in the United States, and is currently under review by the U.S. congress. The Chinese company has been accused of aggregating data for nefarious purposes, as it is ultimately controlled by the Chinese Communist Party. Cyber security expert Richard Harknett was a guest speaker on "Cincinnati Edition" to discuss measures that might be, or should be, taken to protect Americans privacy and national security
2
Inspiring others as a UC NEXT Innovation Scholar
March 23, 2023
A Latina student at University of Cincinnati is paving the way for future generations by breaking cycles. Being the first in her family to attend college came with a myriad of challenging experiences for Yulia Gimena Martinez, a student at the College of Engineering and Applied Sciences (CEAS).
3
WVXU: Federal approval for psychedelics is on horizon
March 23, 2023
UC postdoctoral researcher Neşe Devenot tells WVXU's Cincinnati Edition that psychedelics are gaining increasing attention in scientific and medical circles because of the potential they have for treating mental health issues.
Debug
Query for this