Mary Roe shares fashion design savvy with DAAP grads
DAAP alumna has had a fashion career that may seem like a dream
DAAP alumna Mary Roe ('91) has had a fashion career that may seem like a dream. Does anyone really get to work with such iconic brands as Ralph Lauren, Chico's, Abercrombie & Fitch, White House Black Market, Lane Bryant, Justice and Banana Republic in one lifetime?
She now serves as senior director of design and product development for Chico's, a brand and parent company to White House Black Market, Soma and TellTale, an on-line underwear brand.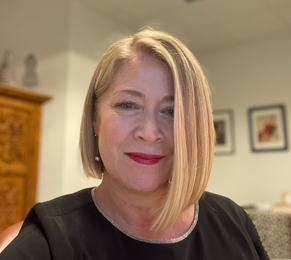 Mary hails for the westside of Cincinnati and began reading Vogue when she was still stylizing Barbie dolls. While her friends were viewing the movie Flash Dance, she sought ways to design sweatshirts with various slits like the one Jennifer Beals wore in the famous film.

"My parents, especially my dad, were not enamored with my plan to study fashion design," she recalls. "They wanted me to get a liberal arts education and then perhaps attend law school. I think they thought I'd get this fashion design notion out of my head."
College, co-ops and career
The dutiful daughter earned a Bachelor of Fine Arts degree from St. Mary's College at Notre Dame then immediately entered the College of Design, Architecture, Art, and Planning (DAAP) fashion design program.

"I was a little older than many of my peers and it helped me thrive, especially in my co-ops," she believes. "I had co-op positions in New York, Los Angeles and then Minneapolis as Wilson's Leather moved there from L.A. These experiences gave me the skill and confidence needed for my first position: Ralph Lauren in New York City.
"It was so surreal. I remember my seminal moment. It was when I walked up the steps into the Ralph Lauren offices on the Upper East Side for the first time. He was the quintessential designer. The office walls were covered with black watch wool fabric that I couldn't resist touching. The design rooms were all white with light wood. Ralph would talk to you in the elevator or stroll into a meeting to chat. It made me think, 'this is why I went to design school and why I wanted to move to New York.'"
Two years later Mary realized she was not sketching. A decision had to be made. There were two tracks at Ralph Lauren: "lifers" and those who longed to be their own person and exert personal creativity. She assumed a position at Banana Republic (part of Gap Inc.) where she assisted an acclaimed sweater designer. For eight years Mary moved up the design ladder, become known as a sweater expert. Twice a year she visited a yarn show in Florence, Italy. Mary realized she had to be in front of the latest trends.
Then 9-11 happened.
"People were leaving New York City in droves. My mother begged me to leave. That's when a DAAP colleague told me about Abercrombie & Fitch in Columbus, Ohio. Few knew that Columbus was such a retail hub. I enjoyed my seven years there and then took a positions with Lane Bryant followed by Justice. When another recession hit I knew I had to be proactive. Chico's called."
Home-based in Fort Myers, Florida, Chico's demonstrated how to adapt to change. While big department stores as well as stand-alone stores began to falter, so did brands that could not keep up with consumers' changes. "Fast fashion" like Zara and Forever 21 started delivering trend-right designs faster and cheaper than the more established brands which could not compete with the cheaper, faster supply chains that these companies had. Companies like Chico's are still trying to adapt to changing consumer needs and expectations, especially in a post-Covid world.
Mary explains, "We are no longer competing with the store across the street. It's really about where people choose to spend their money.
"During the pandemic our Soma brand soared because of PJs and the desire for comfortable clothes. Chico's casual wear tops were what you saw on Zoom calls.
"I've been in this business 25 years. It's tough. You have to have tough skin. You need resiliency. I've seen a lot of change and the metamorphosis of a lot of companies—some that no longer exist, some that have ebbed and flowed."
Now in her fourth position with Chico's, Mary credits her DAAP education and co-ops for her success. She hasn't had to work too hard to pay it forward.
"I have three DAAP designers who report to me. They started as assistants two years ago. All three have been promoted to associates. I am so proud of them. They are focused and have a great work ethic — all because of the DAAP co-op program. They are talented and smart; right brain AND left brain. They can sell their ideas to a merchant while speaking clearly and with focus. They have to be smart. Product has to have a retail price with a margin attached to it. So you have to be bright and know how to cost-engineer your product. Because of DAAP, these young people know how to build their products with CAD and tech people, working well with cross functional partners. They come out of DAAP with amazing flexibility.
"I have interviewed grads from other prestigious institutions. I am so impressed with these talented and smart DAAP graduates!"
While Mary mentors young DAAP fashion design graduates, many of her peers and confidants are DAAP alums.
"We make quite a community. We are still invested in each other's lives. It's one of those communities where you find your people and you stick with them. Sometimes you are at a crossroads in your career and you can pick up the phone and talk it out. When we have openings, my first instinct is to always call UC for applicants."
Mary predicts that the upcoming fashion design trend is sustainability. How can we use orange peels, pulp, and mushrooms to make fabric? How can we use materials that don't pollute the earth?"
In addition to her futuristic thoughts, support of DAAP and commitment to mentoring, what's next for the fashion design icon?
"Well, I got my parents down here to Florida and my husband continues to work from home like he's done since we met in New York. One daughter, 23, is an Ohio University graduate in journalism with a minor in fashion. Our 21 year old is a senior at Florida State and thinking about law school. So I can finally make my dad happy with someone in the family going to law school while I continue the passion that has consumed me since childhood."
Featured image at top from left to right: Sara Masminster, Marisa Phelps, Mary Roe, Hannah Braden. Photo provided by Mary Roe.
By Laura Kroeger
For more information email: DAAPCommunications@ucmail.uc.edu
Impact lives here
The University of Cincinnati is leading public urban universities into a new era of innovation and impact. Our faculty, staff and students are saving lives, changing outcomes and bending the future in our city's direction. Next Lives Here.