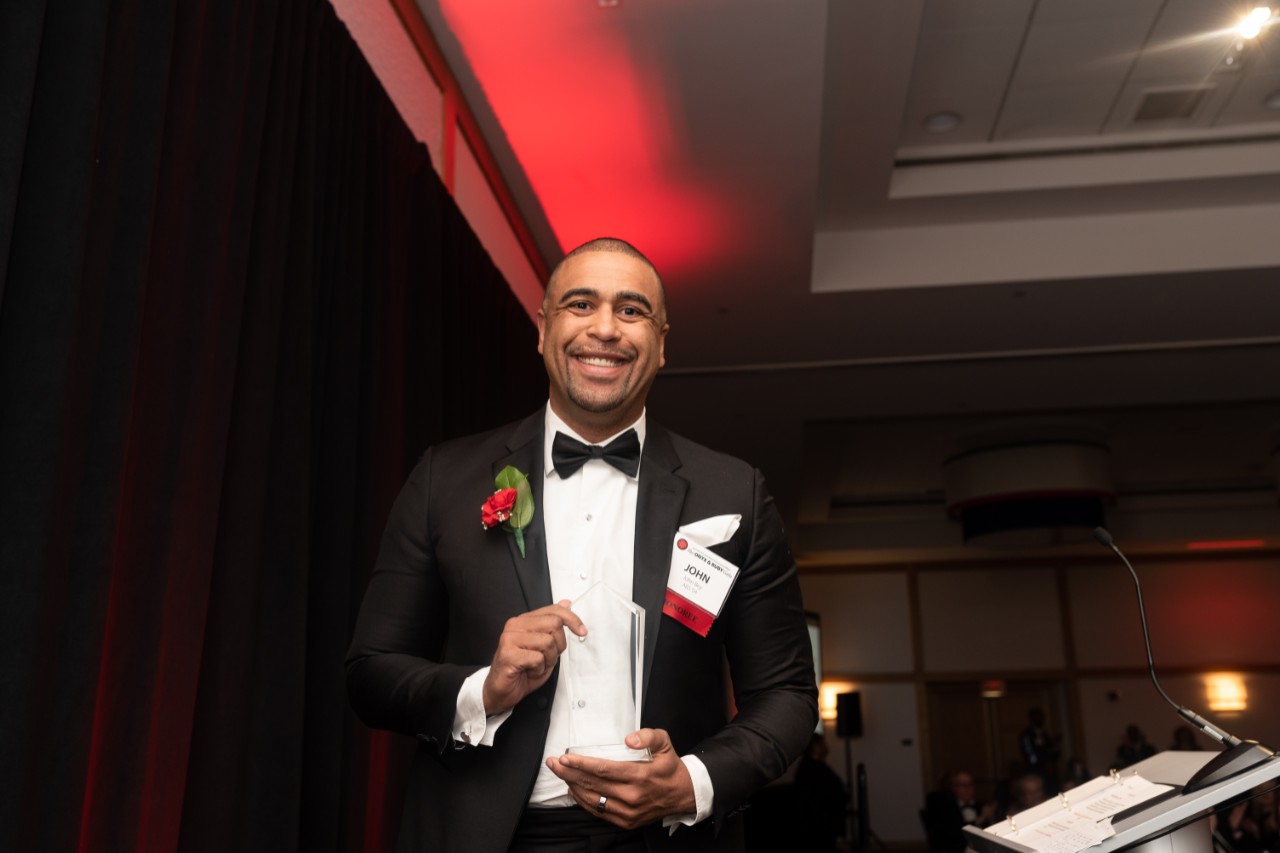 A 'Bearcat for life' leads an ongoing quest for fairness in the justice system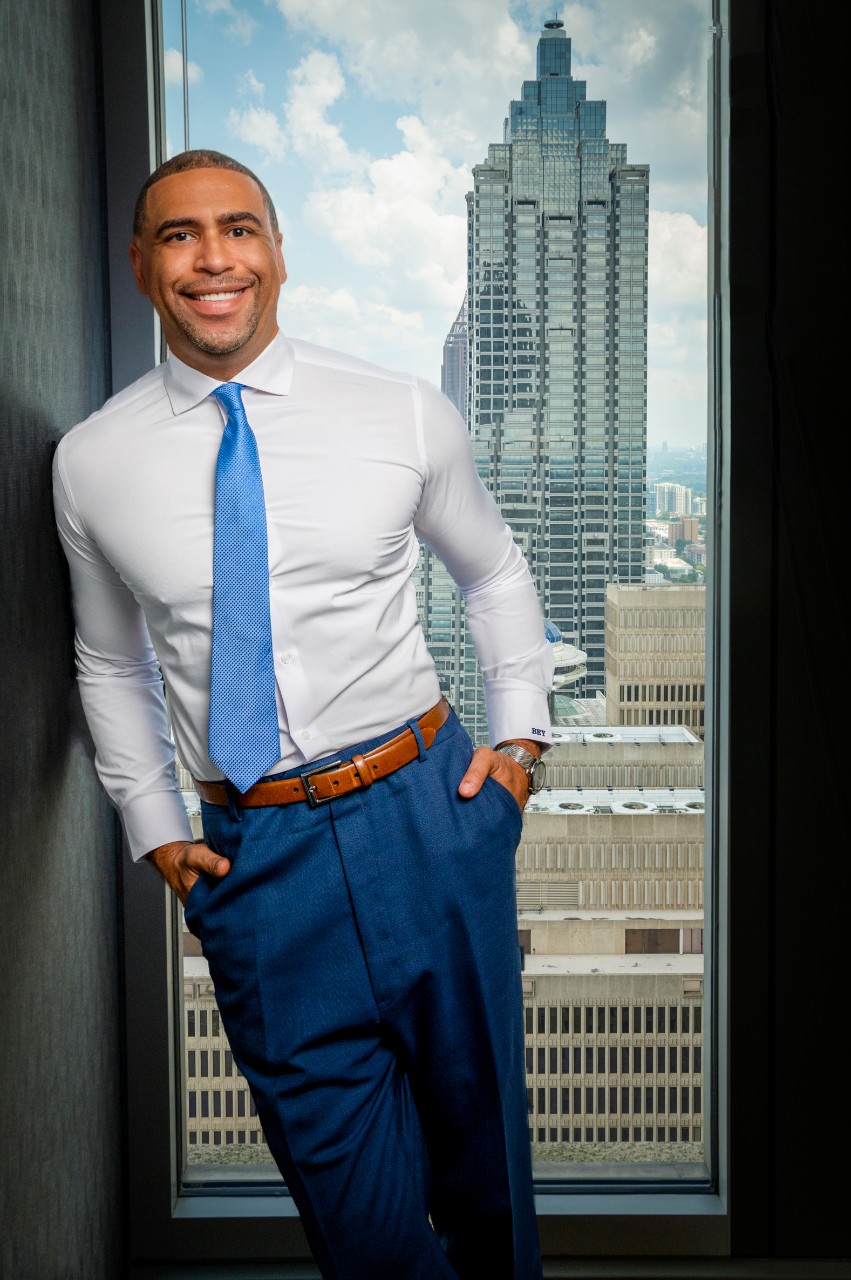 During his teenage years, N. John Bey (A&S '02) thought he wanted to become a professional football player. He was the starting quarterback at Colonel White High School in Dayton, Ohio, and he played for Urbana (Ohio) University. While still a college freshman, he transferred to the University of Cincinnati, where he hoped to get a chance to continue playing the sport he loved.
That opportunity never arose. Instead — as so often happens in life — a different path appeared. That path led to law school, private practice, his own law firm and a leadership role in his field. Today, Bey heads up Bey & Associates, a 13-attorney catastrophic injury practice with offices in Atlanta and Cincinnati. He is also parliamentarian at the American Association for Justice, the world's largest trial bar, which seeks to promote a fair and effective civil justice system. He is on track to become the organization's third African American president since its founding in 1946. In recognition of his professional accomplishments and his active role in developing others, Bey also received the Linda Bates Parker Legend Award from the University of Cincinnati Alumni Association's African American Alumni Affiliate at the organization's 2022 Onyx & Ruby Gala in February.
His experience in football — as a quarterback who led the team — remains deeply ingrained.
"Football taught me about getting knocked down and getting back up," Bey said. "It taught me about working in a team environment. In football and most team sports, you have to motivate people to do their job. You're judged on whether or not the whole group does well. We all rise and fall together. I think that helps in business, with family, and in life." 
Football taught me about getting knocked down and getting back up, it taught me about working in a team environment.
N. John Bey A&S '02
Bey and his fellow lawyers represent clients who have been harmed through no fault of their own. They include people injured as a result of vehicle crashes, workplace accidents, medical malpractice, nursing home abuse, dog bites, or dangerous or defective products. In one of Bey's most dramatic cases, he won a $52 million verdict for a client whose father was killed on the doorstep of a convenience mart that had stopped providing security despite persistent adverse events and its location in a high-crime area.
But Bey is quick to say that, for him, the verdict is not just about money. "This is about a legacy that was stolen," he said. "You have a father who was an integral part of these children's lives, and you're never going to get that back. So for me, the human part is what really moves me in these cases. I'm trying to maximize financially what the client will recover. But I'm really more focused on how we help this person and the larger community so this doesn't happen again. To me, the best case is one that never makes it to my desk. If we create an environment that is safer, someone gets to go home to their family."
A "life lesson" from Mom and Dad 
Bey's mother worked in production at a publishing house; his father worked in the circulation department at the Dayton Daily News and taught martial arts. It was a household where education was prized. The Beys drove home that message during their son's sophomore year in high school following the arrival of a report card that failed to meet their standards. Bey's parents — not the school — bounced him from the team, pending academic improvement. "It was a life lesson that I think got me going on the right track," Bey said with a laugh.
Academic rigor continued at UC, where Bey found a new world that nevertheless felt "like home." He selected African American Studies and political science as his majors, and he found friendship and support at the African American Cultural & Resource Center (AACRC), which recently marked its 30th anniversary on campus.
"The AACRC provides a welcoming environment where students are able to meet and be able to really feel welcome," Bey said. "It's a very important place. If you talk to African American alumni who came through UC, many of them will have a place or a story within that AACRC. I stopped by a few times a week to recharge. There can be lot of things going on in your life in college, but when you walk into that room, the staff and the other students are always there, always helpful."
The AACRC provides a welcoming environment where students are able to meet and be able to really feel welcome, it's a very important place.
N. John Bey A&S '02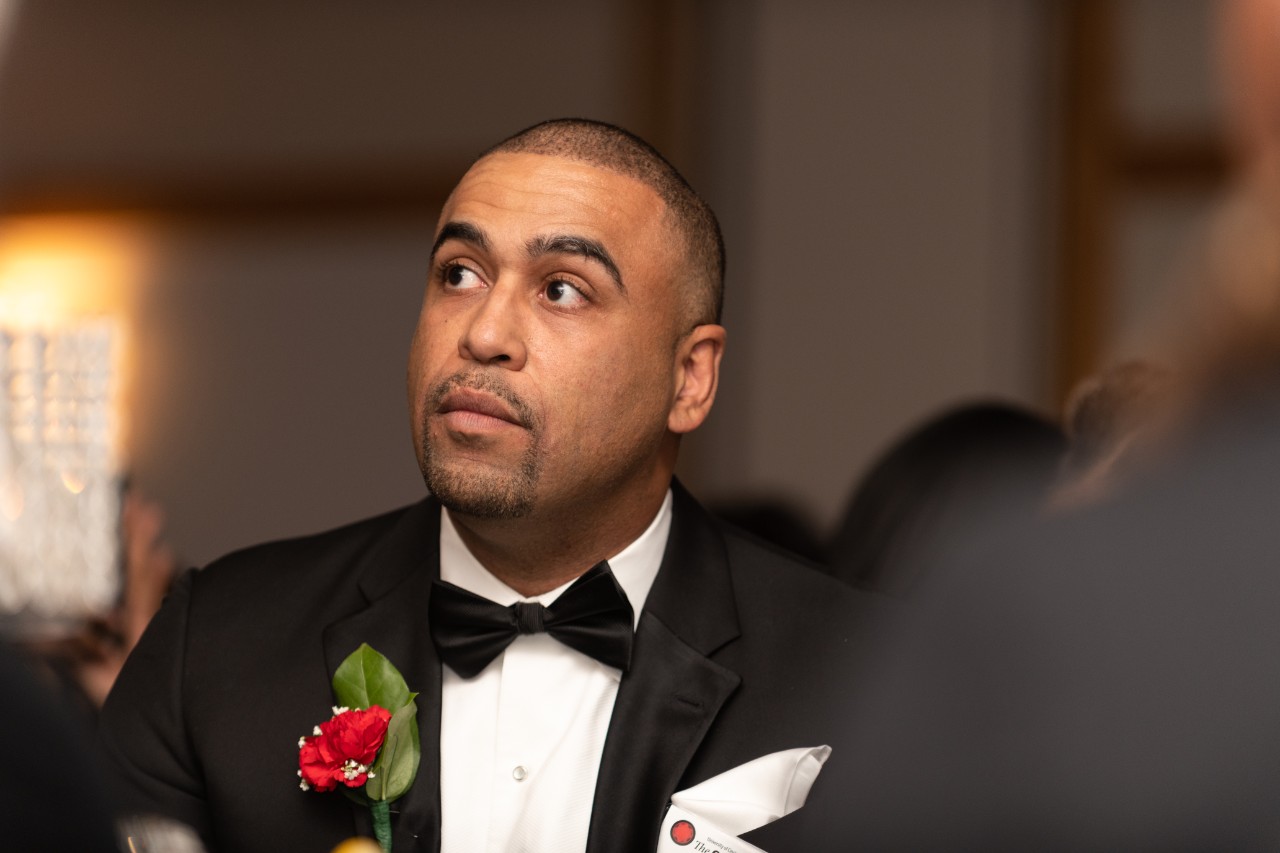 Bey also joined several UC organizations. As a member of UC's Student Advisory Committee, he was part of a successful effort to secure a significant boost in funding for the AACRC.  He served as president of the Black Student Union, joined the Alpha Phi Alpha fraternity for African American men, and was a member of the service organization Sigma Sigma. UC, he said, "was a good place to come of age."
Another key element of Bey's education was Summer Work Experience in Law (SWEL), an Ohio organization that helps prepare minority students for law school while matching them with internships. Bey said that although he had previously expressed an interest in law, he had "no game plan for how to make that happen" until SWEL provided it. "I had great work opportunities in the SWEL program," he said. "I was able to work in the summer, and they prepared me for law school."
After graduating from UC, Bey attended the University of Alabama School of Law on a scholarship. He graduated in 2007 and, after passing the bar, married a fellow lawyer and promptly launched his own firm — a big step, but one that launched his career as a trial attorney immediately. His first hire was his wife, Ardra Bey, who went on to become a municipal court judge in Atlanta.
Bey likens the ability to advocate for individuals, often against large corporations, to the story of David and Goliath. And of course, David can win. "It's fun. I enjoy it," Bey said. "I get to pick my clients. I pick folks I believe in and give them my all."
When Bey isn't representing clients in the courtroom, he is teaching other lawyers as a faculty member of the American Association for Justice, which defends Americans' right to trial by jury. In that capacity, he spends time in Washington, D.C., lobbying members of Congress against efforts known as "tort reform" that seek to restrict individuals' right to sue.
Asked if he might run for office one day, Bey's first thought turns to his three children, the youngest of whom is two years old. When not working or traveling, he's a hands-on dad, a room parent who savors time at home. "I think maybe one day, that would be great," he said. "But right now I'm enjoying where I am in the journey, helping people now. I have to get my children situated.
"I love children," he added. "I'd have a hundred if my wife would let me."
As for football, that interest remains. Bey jokingly said he roots for the University of Alabama School of Law, not the football team. When it comes to football, he is a UC Bearcat for life.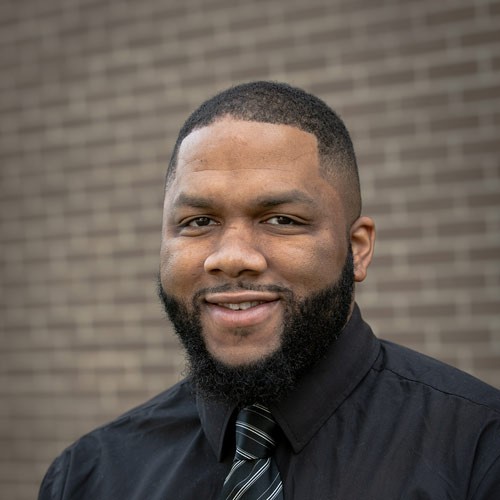 Maurice Stewart, A&S '16
Director of Alumni & Donor Experience, Diversity Outreach and Engagement
The UC Alumni Association exists to serve the University of Cincinnati and its 327,000+ alumni across the United States and throughout the world. Learn more about how to stay connected with your alma mater and get involved in more than 50 college-, interest- and location-based alumni networks.
1
WVXU: Tech CEOs talk AI with lawmakers
September 22, 2023
Professor Richard Harknett is a guest speaker on WVXU's Cincinnati Edition on the topic of AI and the need, or lack thereof, for government regulations. Professor Harknett is the head of UC's School of Public and International Affairs and is an often sought out media resource on technology, cybersecurity and governmental affairs.
3
Clifton Court Hall grand opening garners detailed media coverage
September 20, 2023
The University of Cincinnati celebrated the opening of Clifton Court Hall on Tuesday, Sept. 19, with a ribbon cutting, attended by approximately 200 administrators, faculty, staff and students. The event was covered by multiple media outlets.
Debug
Query for this