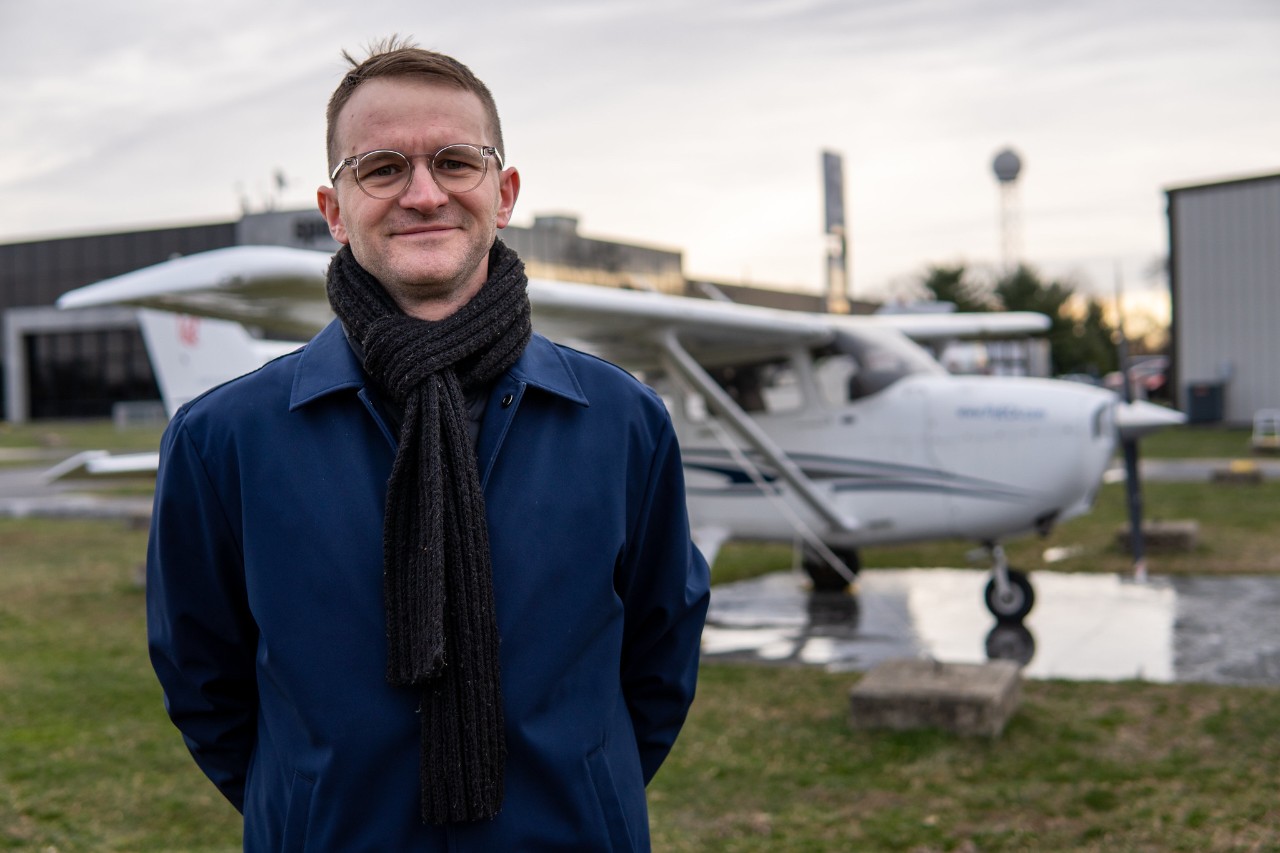 UC Clermont aviation student charts new course
Would-be pilot finds path back to childhood dream — and toward his future
Born in Dayton, Ohio, Seth Cooper's dream of becoming a pilot started literally in the shadow of aviation pioneers — as a child playing under the Wright brothers' statue in Carillon Park.
Cooper's family later moved to Wilmington, Ohio, home of the largest privately owned airfield in North America (now county-owned Wilmington Air Park), where Cooper worked sorting freight and boxes in high school. Being surrounded by aviation only solidified his passion for flying.
"I wanted to be a pilot, but I didn't know how people became pilots," Cooper said. He graduated from Wilmington High School in 2007 and took classes at Southern State Community College, UC's Uptown campus and Cincinnati State, lacking direction for his future.
Cooper took a break from school, traveled internationally and started working in real estate and fine dining. He enjoyed learning about culture and the hospitality industry. Then in 2015, a knee injury led to five surgeries that left Cooper out of work and deflated.
"I had lost a sense of purpose and was looking for things that were inspiring," Cooper said. His childhood dream of becoming a pilot came creeping back into the picture. He took an entry flight at Cincinnati's Lunken Airport and loved it. "I looked into becoming a professional pilot — and found UC Clermont."
Cooper learned that most professional pilot positions require a four-year degree. As a non-traditional student, he already had accumulated 60-some credit hours.
"My transcript was ugly. I thought, 'How can I make this work?'" Cooper said. "UC Clermont made it happen."
Ric Stackpole, senior assistant dean of academic affairs, applied Cooper's previous college credit to award him a technical associate degree after just two semesters. That allowed Cooper to begin UC Clermont's aviation technology program at the same time as UC Online's Bachelor of Technical and Applied Studies (BTAS) program. He also was able to utilize scholarship grants and financial aid to subsidize the cost of flying; Cooper received two scholarships for the aviation program totaling $10,000.

My transcript was ugly. I thought, 'How can I make this work?' UC Clermont made it happen."
Seth Cooper UC Clermont aviation, BTAS student
"The aviation program is incredible for me because it's so immersive," said Cooper, adding that he knew nothing about aviation before enrolling and has learned all the ins and outs of the field, including aviation weather and meteorology.
UC Clermont's aviation program partners with Sporty's Academy at the Clermont County Airport in Batavia, just minutes from the college campus. "For someone who has struggled with academics in the past, it's nice to look forward to going to class and get a tangible reward — you get to go fly now while also developing tools to help you later as a professional."
Since the BTAS program is completely online, the flexible format fit Cooper's busy life as an older non-traditional student. "I have a family, and I work," Cooper said. "It's nice to be able to dedicate time to school when I have it available, on my own schedule."
Cooper, now 32, graduated with his bachelor's degree in December. He is working toward earning his commercial pilot's license this spring and certification as a flight instructor this summer. Longer term, Cooper's goal is to become a commercial airline pilot and work for a corporate flight department, charter company or private plane. And he couldn't be happier with his new direction.
"My advice — make the leap. It feels hard and overwhelming at first, but time moves fast," Cooper said. "There are a lot of resources at your fingertips as part of the UC catalog. And your growth through the degree program will transfer to the professional realm."
Learn more about UC Clermont's Aviation Technology program or the BTAS program.

Featured photo: UC Clermont alumnus Seth Cooper at Sporty's Academy in the Clermont County Airport in Batavia, Ohio, home of the UC Clermont aviation program. The airport is minutes from the college's campus. Photo/Danny Kidd.
1
Engineering student aims to develop a more sustainable world
November 20, 2023
As an aspiring power engineer, University of Cincinnati student Matt Smeal hopes to contribute to a more sustainable world by working towards better energy solutions. Smeal is a fifth-year electrical engineering student at the College of Engineering and Applied Sciences (CEAS) specializing in electric energy systems with a minor in environmental studies. Currently, he serves as vice president for Clean Up Cincy, a volunteer litter clean-up organization, and is a member of Beta Theta Pi fraternity and Theta Tau engineering fraternity. He is also one of the first students to enroll in CEAS's new Master of Engineering in Sustainable Energy, through the ACCEND program. ACCEND enables undergraduate students to earn bachelor's and master's degrees concurrently.
2
Lindner first-year students pilot co-op requirement
November 20, 2023
The onset of the 2023-24 academic year at the Carl H. Lindner College of Business ushered in the first phase of the college's universal co-op program rollout. Beginning with the current fall semester, universal co-op became a voluntary, opt-in requirement for traditional, first-year students.
3
Global students thriving at the University of Cincinnati
November 13, 2023
With a new class of 1,543 for fall 2023—just 4 students short of last fall's record-smashing intake—the University of Cincinnati's international enrollment has reached 4,899 students, or 9.6% of the student population. It's the highest number in UC's history, up 15% from last year, due in part to UC's strong support for international student success.
Debug
Query for this