What my schedule is like as a UC nursing student
As a third-year student, I have lecture and clinical days, but still have time for extracurriculars
By: Katherine Zhong, Bachelor of Science in Nursing, '23; Nursing Student Ambassador; iLead Mentor; Secretary for UC's American Association for Men in Nursing (AAMN) Chapter

UC College of Nursing makes two different lecture schedules, based on the clinical section you choose. Typically, you have two days of lectures, a day of clinical and two days with no classes.
Lecture Days are Packed with Classes
My lecture days start early. I wake up, get ready, eat breakfast, walk to class and try to get there about 10 – 15 minutes early. I have back-to-back lectures and a quick lunch break before ending the day with one or two more classes. Many professors upload their presentations onto Canvas (UC's online learning platform), so I type in unfilled blanks, add in any additional notes and place emphasis on anything that is said in class.
During my lunch break, I typically go to Campus View Café in University Hall, which is the building across from UC College of Nursing. It's a nice time to relax, grab a bite to eat, hang out with friends, study before an exam, or take a quick nap.
After classes are done, I head to The 86 to do homework. The 86 is a small coffee shop located across from the University Avenue parking garage and behind Marian Spencer Hall. I typically stay here until 6 or 7 p.m. before heading to campus to grab dinner and back to my dorm to do more homework before going to bed.
Clinical Days Provide Hands-On Learning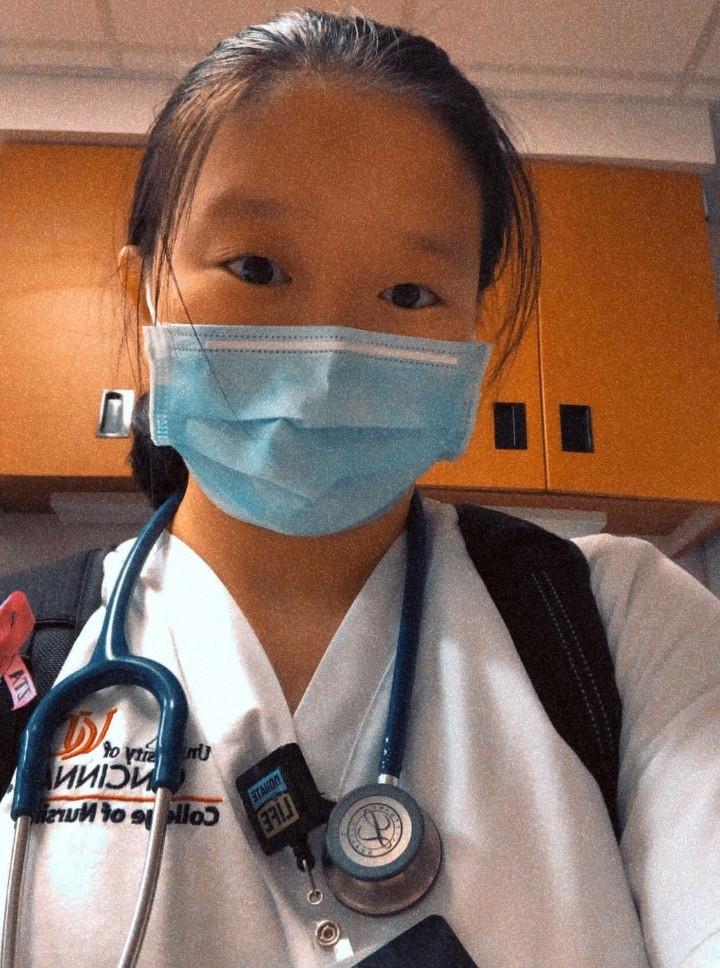 Clinical days start even earlier at 7 a.m. I prepare the night before so that everything is ready to go. To get to clinical, I carpool with my friends. Clinical is a lot of hands-on learning and application, which I love. I start off the day by getting my assignment, searching up my patient, receiving a report from the nurse and going into my patient's room. I get the patient's vitals and start my head-to-toe assessment.
Throughout the course of the day, I continue to help the patient by doing medication passes or turning them, for example, while collaborating with the patient care assistant and nurse. If the patient goes off the unit, I go with them. Clinical ends at 4 p.m. After that, I go home, shower, eat dinner and do homework until I go to bed.
Clinical is a lot of hands-on learning and application, which I love.
Katherine Zhong
Off Days are Spent Studying and Seeing Friends
My biggest focus on days off is studying and getting work done. I typically have organization meetings or I hang out with friends.
I'm a UC College of Nursing Student Ambassador, I serve as an iLEAD mentor and as the secretary for UC's American Association for Men in Nursing (AAMN) chapter. I truly enjoy having these roles and am so thankful that they have shaped me into the person I am today. I also attend weekly bible studies on Thursdays and services on Sundays through H2O Church.