Arnoff-Schloss Lecture & OBAIS Awards Dinner celebrates 30th anniversary
Acclaimed professor Regina Liu delivers keynote lecture
The 30th annual Arnoff-Schloss Memorial Lecture and Operations, Business Analytics and Information Systems (OBAIS) Awards Dinner was held last week in Nippert Stadium's West Pavilion.
The evening, sponsored through the generosity of the late E. Leonard Arnoff and Milton J. Schloss, included a networking hour, a celebration dinner and an awards program honoring faculty, staff and students who received recognition this academic year. The Arnoff-Schloss Memorial Lecturer was Regina Liu, PhD, distinguished professor, department of statistics at Rutgers University. Jude Schramm, Bus '97, executive vice president and chief information officer, Fifth Third Bank, was presented with the Distinguished Alum Award.
According to Michael Fry, PhD, professor and interim department head of OBAIS at the Carl H. Lindner College of Business, the lecture portion of the event began more than 30 years ago, with the dinner and awards sections added in 2016 to honor staff, faculty, students and alumni.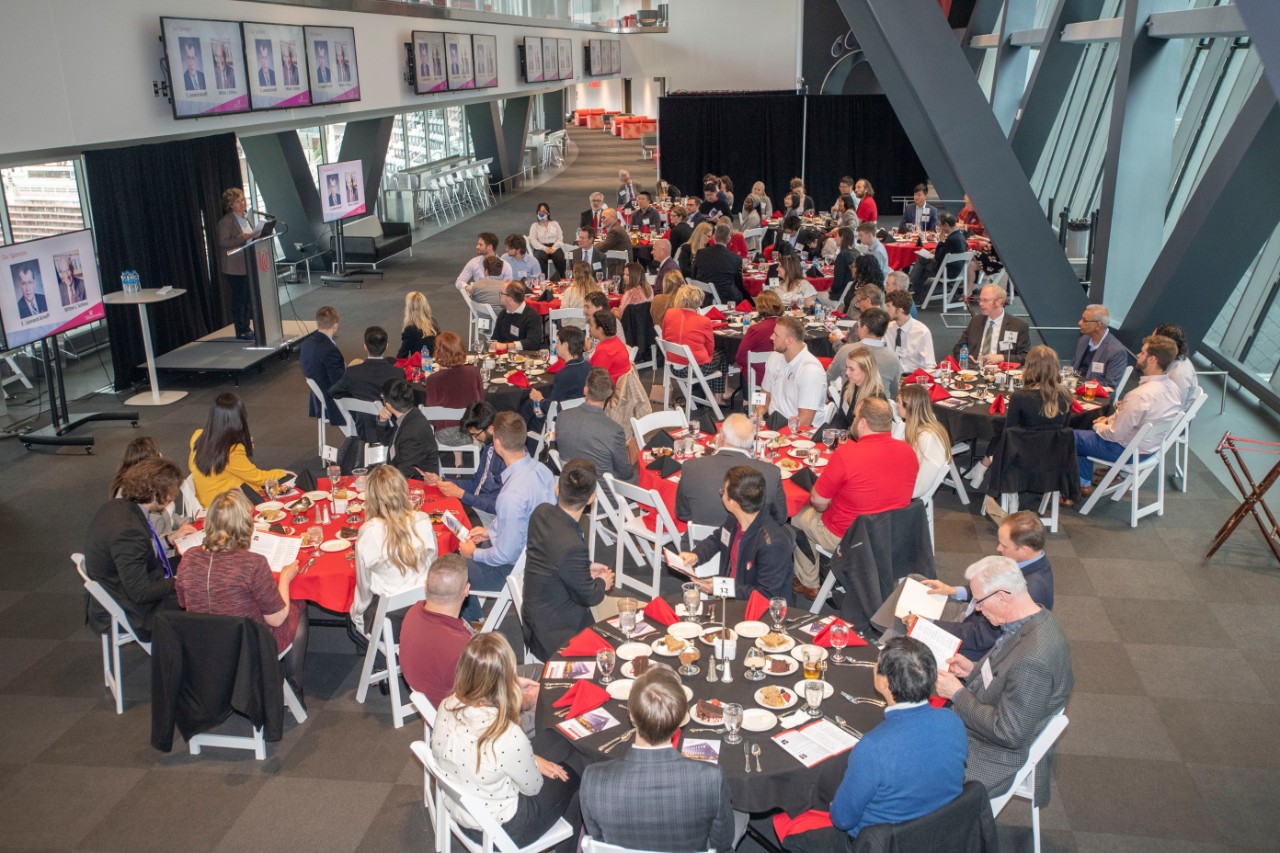 "The lecture allows us to highlight the importance of analytics-related research to those in Cincinnati by bringing some of the best researchers in this field to UC," Fry said. "And it allows us to highlight the amazing analytics community we have here at UC and in Cincinnati to those same world-class researchers."
Arnoff, a former College of Business dean and faculty member, was considered a forerunner in operations research/management science. Schloss, a longstanding supporter of the OBAIS department, Lindner and UC, was an adjunct professor of management and member of the Business Advisory Council, as well as a successful executive at multiple companies.
"Both the Arnoff and Schloss families have continued to support our department and UC through this event and other philanthropic efforts," Fry said. "This event allows us to recognize the contributions and legacy of both Len Arnoff and Milt Schloss while also highlighting the university that both held in such high esteem."
As for Regina Liu, the evening's memorial lecturer, her research areas include resampling, data depth, confidence distribution and fusion learning. Liu has collaborated with the Federal Aviation Administration on aviation safety research projects on statistical process control, text mining and risk management. Fry said Liu is "a world-renowned expert in analytics and statistics" and "one of the most respected professors in her areas of research."

"She was a perfect candidate for our 30th annual Arnoff-Schloss Lecture. Someone who is at the top of her research field but also has applied that work to problems of practical importance and communicated that to a wide audience," Fry said. "We are very fortunate and thankful that Regina was able to give the lecture this year."
Before she began her lecture titled "Data, Statistics and the Stories They Tell," Liu expressed gratitude at being selected as the night's speaker.
"I'm deeply honored and grateful for being invited to give this distinguished talk in honor of the Arnoff and Schloss families," she said.
In her lecture, Liu described how advanced computing and data collection have ushered in the big data era and facilitated statistical analysis of massive and complex data. While displaying results from her own research, Liu used data sets like e-commerce, aircraft landings and adverse effects of a prescription drug to show how statistics can discover and tell the stories from and for data. Lessons on how to avoid misusing data and statistics — such as lumping together data from different hospitals, airports and regions, and analyzing it without acknowledging the heterogeneity — were shared, as well as the critical role statistics play in prediction and fusion learning.
Daniel Posmik, BBA, BS '22, and Lindner's Outstanding Non-Traditional Undergraduate Student of the Year, said Liu's work focuses on the "main concept of modern statistics: How can we use sample data to infer information on larger populations?"
"Moreover, how can we recognize regularities and rules from this sample data?" said Posmik, a double major in business economics and business analytics. "The conventional approach makes a bunch of important — but sometimes unprovable — assumptions."
During his introduction of Regina Liu, Dungang Liu, PhD, OBAIS interim assistant department head and associate professor, referred to Regina Liu as a "pioneer" in her field, and noted post-event that two undergraduate students expressed their desire to pursue a PhD in analytics after hearing her speak.
Following Liu's lecture and dinner, Marianne Lewis, PhD, Lindner dean and professor of management, introduced Schramm. For several years, the COVID-19 pandemic interrupted OBAIS's plans to honor Schramm, an information systems major during his UC days. Schramm, who was GE Aviation's chief information officer before joining Fifth Third Bank, is a longtime supporter of the Center for Business Analytics.
In his acceptance speech, Schramm said data will "forever be a cornerstone in terms of making decisions," and that UC's co-op program "is the single most important thing, other than the faculty and the curriculum, to have a career in this industry." He also encouraged the students in attendance to remain involved with Lindner and UC after graduation.
"You want to stay connected, not just through this program, but also through the university itself because of the community it brings. It's a chance to create connections," Schramm said. "The possibilities are truly endless."
Fry explained that though analytics is considered a new field, Lindner has had departments and degree programs in this area of study for decades. UC's College of Business started a quantitative analysis department more than 50 years ago that focused on the study of "statistics, data, and management science — all things that we now consider parts of the field of "analytics," per Fry.
"The integration with the information systems area allows our OBAIS department to cover the full spectrum of analytics tools, methods and applications," Fry said. "So, I think the fact that this is the 30th anniversary of this event just emphasizes the fact that our college has a very long and very proud history of excellence in this area."
Join us in congratulating this year's OBAIS honorees:
2022 Outstanding Undergraduate Student of the Year

Business Analytics: Aayaan Mehta
Industrial Management: Lorenz Metz
Information Systems: Katie Hooper
Operations Management: Lyubov "Luba" Krasna
2022 Outstanding Co-op Student of the Year
Business Analytics: Chau Pham (co-ops with Bluburry Podcasting)
Industrial Management: Julianne Lazor (co-ops with Bosch Automotive Steering and GE Aviation)
Information Systems: Amara Dadosky (co-ops with Great American Insurance Group, Martin and Associates, and RSM)
Operations Management: Cameron Schilling (co-ops with Fifth Third Bank, Great American, and Benchmark Digital Partners)
Outstanding Undergraduate Student of the Year: My Dinh
Outstanding Non-Traditional Undergraduate Student of the Year: Daniel Posmik
Marianne W. Lewis Kolodzik Business Scholar of Excellence: Naomi Dias
Beer Family Scholarship Recipients
Abigail Elmore
Aditi Rajgopal
Amanda Rapien
Deborah Tekle
2022 Outstanding Graduate Student of the Year
MS-Business Analytics: Max Chenoweth
MS-Information Systems: Abhishek Pawar
Excellence in Teaching Award for Graduate Assistants: Tianhai Zu
Outstanding Graduate Research Award: Tianhai Zu (co-winner)
Drew and Wendy Boyd Breakthrough in Innovative Teaching Excellence Award: Craig Froehle
Daniel J. Westerbeck Junior Faculty Graduate Teaching Award: Leo Lozano
Lindner Research Excellence Emerging Scholar Award: Liwei Chen
OBAIS Outstanding Adjunct Teaching Award: Beth Scheid
Mrs. A.B. "Dolly" Cohen Award for Excellence in Teaching: David Rapien
UC Forward's Transformation by Design Program Faculty Award for Collaborative Experiential Learning: Steven Jones
2022 Making Black History Honoree, Cincinnati USA Regional Chamber of Commerce: Chanda Monroe-Williams
Interested in studying within OBAIS?