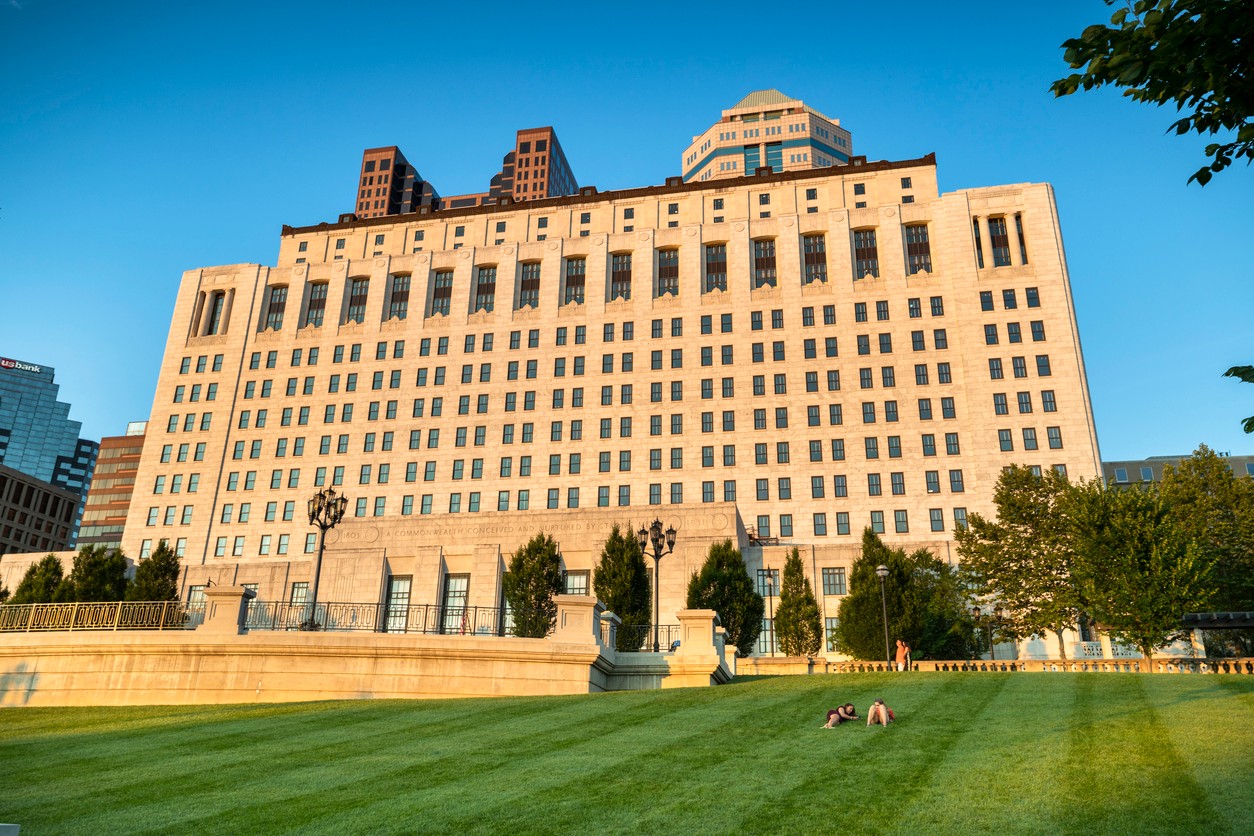 College of Law announces Grand Opening keynote speaker
Chief Justice Maureen O'Connor will provide the address at the Grand Opening celebration.
The University of Cincinnati College of Law announces that Maureen O'Connor, Chief Justice of the Ohio Supreme Court, will be the keynote speaker at its Grand Opening celebration, September 13, 2022 at the new College of Law building home at 2925 Campus Green Drive, University of Cincinnati.
Chief Justice O'Connor, the first woman to lead the Ohio Judicial branch, is the court's 148th justice. She has made justice reform the centerpiece of her tenure, championing numerous initiatives in Ohio and nationally. These include racial justice, challenges to "debtor's prisons," attorney representation for the poor, sentencing fairness, cameras in the courtroom, grand jury reform, and bail, fine and fee reform.  She was instrumental in the creation and development of the Hamilton County Municipal Court Help Center, a College of Law partnership whose mission is to increase access to justice for self-represented individuals in Hamilton County courts.
O'Connor's legal career spans over four decades. She began her career as an attorney in private practice, before being appointed a magistrate for the Summit County Probate Court. She was then elected judge, Summit County Court of Common Pleas and elected by her peers to serve as administrative judge. She left the bench to serve as prosecuting attorney for Summit County, aggressively prosecuting repeat offenders, violent criminals, and public officials who committed ethical violations or improprieties. She also advocated for tougher laws on rape and gang-related offenses, receiving accolades from victims' rights groups and educational institutions.
In 1998, O'Connor was elected Lieutenant Governor, the second-highest executive office in the state, advising then-Governor Bob Taft on criminal justice issues. During her work for the state, she also served as director of the Ohio Department of Public Safety and as chair of Ohio's Security Task Force and the State Building Security Review Committee.
Four years later, she was elected to the Supreme Court of Ohio as a justice, becoming the sixth woman to join the court. In addition, her election gave the court its female majority, a historic moment.
O'Connor is the recipient of numerous awards, include the Ohio Bar Medal—the highest honor of the Ohio State Bar Association, the Thomas J. Moyer Award for Judicial Excellence from the Ohio State Bar Association, the Dr. Bennett J. Cooper Award from the Ohio Justice Alliance for Community Corrections, the Founders' Award from the Ohio Women's Bar Association, among many others.
She received her bachelor of arts degree from Seton Hill College and juris doctor degree from Cleveland-Marshall College of Law.
Head photo: Istockphoto.com; Portrait: provided
3
Patents 101: What inventors need to know
September 25, 2023
In the world of academia, innovation is often celebrated for its potential to reshape industries and improve lives. At the University of Cincinnati, this spirit of invention is acknowledged and actively nurtured through the Office of Technology Transfer. Jill Uhl, JD, senior licensing associate, works behind the scenes on groundbreaking inventions emerging from UC faculty and staff.
Debug
Query for this