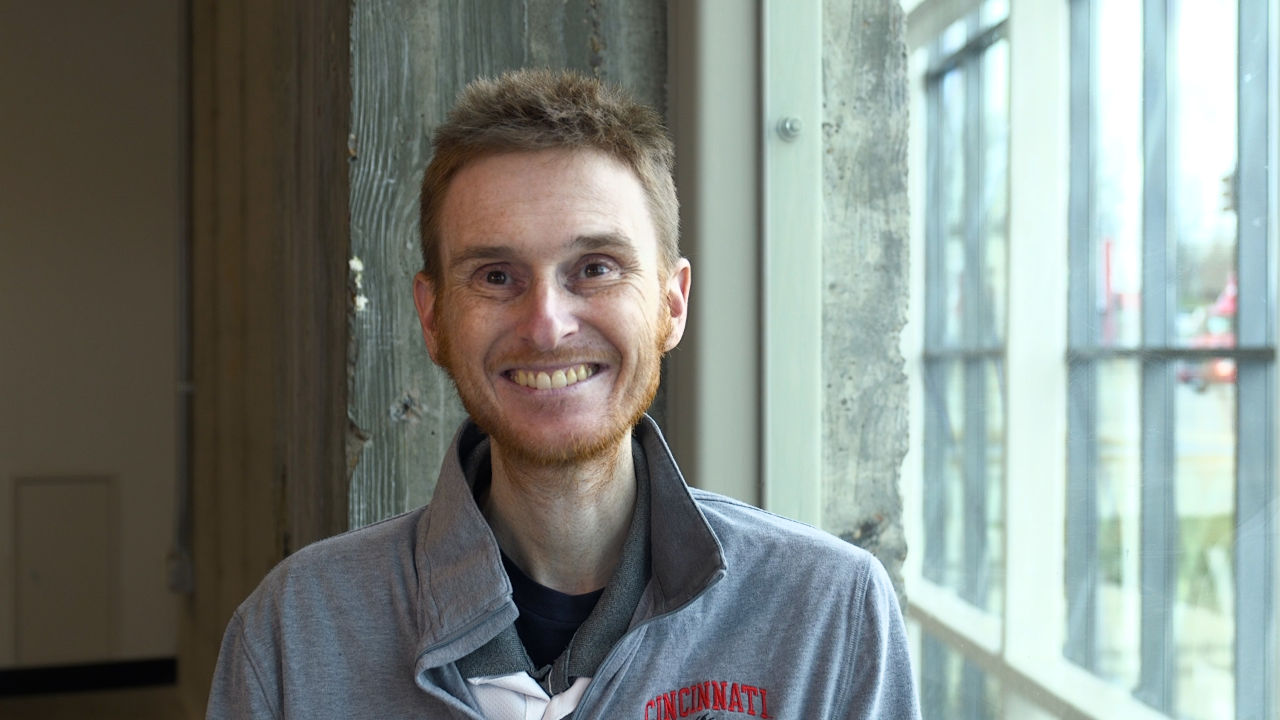 What is cybersecurity engineering?
From protecting health care records to national defense, possibilities are endless in cybersecurity
Computer science and cybersecurity engineering professor Will Hawkins is passionate about the possibilities you have with a cybersecurity engineering degree. From health care to banking, Hawkins says you can do anything! Every industry needs cybersecurity defense, and the University of Cincinnati will arm you with the tools you need for a career in cybersecurity in the new, B.S. in cybersecurity engineering program.
What's the difference between cybersecurity and cybersecurity engineering at UC? 
Both are excellent, just different. In the cybersecurity engineering program, it's focused on the engineering. The way an engineer would think about problems. It's going to give you the ability to be an adaptable engineer and an adaptable professional, so that when you go into the real world, you're not just able to use a tool. You understand what the tool does and when the next tool comes along, you're able to adapt and use it effectively. And if you had to, you could write your own tool to do the same thing.
We hear about cyber defense in the news often, what exactly is it?
Cybersecurity is really a game of cat and mouse. You come up with a defense, cyber attackers are going to come up with a way around it. The cyber attack that was prevented doesn't make the front page. You don't go and brag about the things that don't happen. But, the the things that don't happen are what you take pride in. 
The cyber attack that was prevented doesn't make the front page. You don't go and brag about the things that don't happen. But, the the things that don't happen are what you take pride in.
Will Hawkins, Cybersecurity engineering professor
What can you do with a cybersecurity engineering degree?
Anything you want! If you want to do it, we can make it happen. You can go really deep into one field. For example: I really care about health care records because people's medical information is very important to them. You can take that, and you can do a whole career based on medical record security. I think our national defense is really important. You can pursue an entire career around cybsersecurity defense.
Where can I co-op as a cybersecurity engineering student?
'If you're interested in working with government contractors or organizations, you could work with Northrop Grumman. If you're interested in the health care field, you could co-op with Cardinal Health. If you're interested in banking or finance, you could work with Fifth Third. These are all different areas that have different needs for their cybersecurity, but they give you a way to choose the domain you're interested in.
What makes a good cybersecurity engineer?
More than anything else, you just need to have curiosity. That curiosity, to want to know: Why did that work like that? How did they get around that? How can I protect this? How does this technology work?
1
Electrical engineering student encourages young women in STEM
March 21, 2023
For four years, University of Cincinnati doctoral student Brooke Campbell has been a graduate assistant in the UC Undergraduates Pursuing Research in Science and Engineering (UPRISE) program. After working for five years in the tech industry, she returned to school to pursue a graduate degree. Her research work focuses on using a process called electrospinning to create nanofibers loaded with medicine for targeted drug delivery. She was named Graduate Student Engineer of the Month by UC's College of Engineering and Applied Science.
2
UC student and twin brother model for Gucci – again!
February 27, 2023
UC engineering student Jake Bartel has his sights set on earning a computer science degree and becoming a fashion model, along with his twin brother Nate. In 2022, the twins were first selected to walk the runway in the Gucci fashion show in Milan, Italy and then asked back to model for the fashion house's 2023 advertising campaign. The brothers were discovered by talent scouts at the annual Twins reunion in Twinsburg, Ohio, which is also their hometown.
Debug
Query for this