Lachelle Dixon eager to begin her time at UC
From the moment she was surprised on Decision Day with admittance to the University of Cincinnati, Lachelle Dixon was ready to move on from high school and start the next chapter of her life at UC.
"People ask, 'Oh, you're graduating high school this year. Where are you graduating from?' And she says, 'I'm a Bearcat,'" Dixon's mother, Michelle Dixon, said. "She just wants everyone to know she's a Bearcat."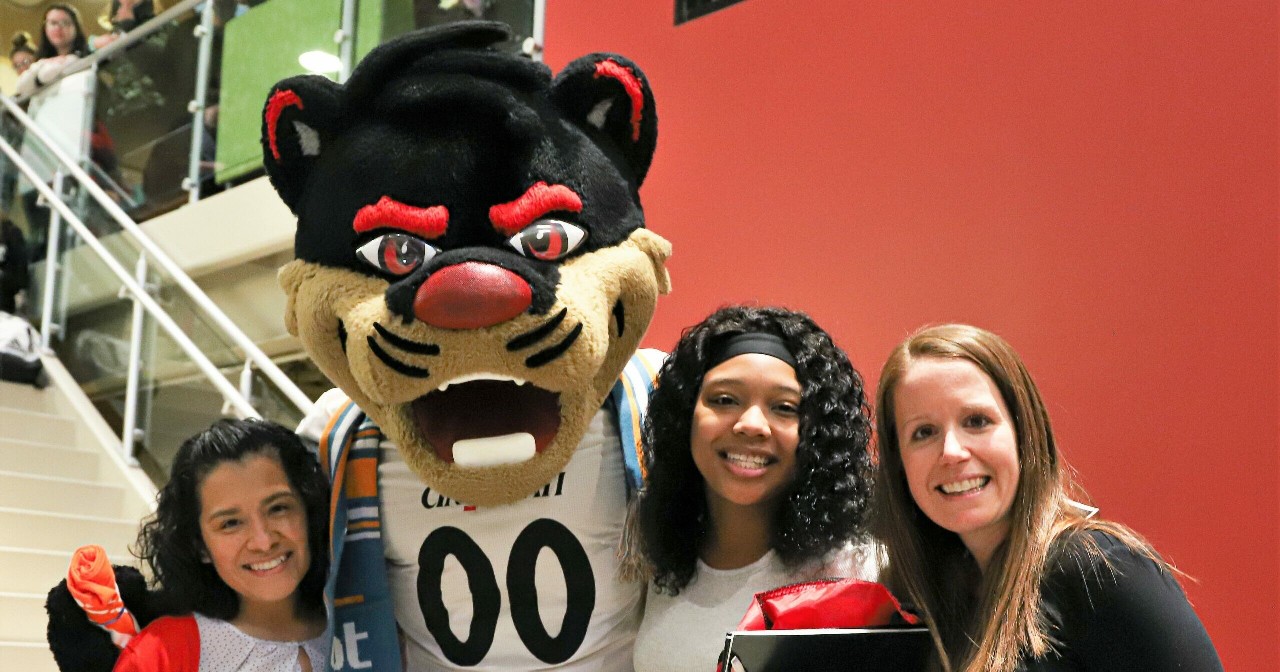 Dixon is ready for the college experience, both in and out of the classroom. She's excited to be finished with high school classes and begin college courses that will prepare her for a career in occupational therapy. She's a big UC football fan and eagerly awaits watching games in Nippert Stadium.

"She has purchased herself so many UC sweatshirts and T-shirts and lanyards and UC everything," her mother said.
Dixon, who has spent the past two years at Butler Tech Bioscience Center in West Chester, Ohio, will begin her collegiate years at UC Blue Ash, one of the university's two regional campuses. She wanted to begin her studies in pre-health sciences at UC Blue Ash to save money and for its smaller class sizes.
"Being able to have that smaller classroom and get that one-on-one [time] I feel will be better for me," Dixon said.
She's the recipient of a $2,000 grant from UC, which along with other scholarship money she's received will reduce the cost of her education.
"I was so excited," she said of receiving the grant. "It's a relief to know that some of the money is already handled."
After a year or two at UC Blue Ash, Dixon plans to transfer to UC's main campus in Cincinnati.
When she visited UC, she liked the people she encountered and how nice everyone was. That confirmed what she had heard about the university from people who have attended UC and made it her No. 1 choice.

"A bunch of people I knew who went there have always said they loved it, and that it just felt like home to them," she said. "And as soon as I got there, I got that home feeling they were telling me about."
And she's excited to remain close to her family.
As a self-described military brat, Dixon often lived far from her extended family during her childhood, spending much of it in Savannah, Georgia, and Germany. She's cherished being close to family since moving to Cincinnati in 2015 and loves that she'll still be near them while she's in college.
"I can still see my niece and nephew and little cousins," she said.
Dixon's strong ties to her family also have been a big influence on her career goals.
"People ask, 'Oh, you're graduating high school this year. Where are you graduating from?' And she says, 'I'm a Bearcat.' She just wants everyone to know she's a Bearcat."
Michelle Dixon Lachelle Dixon's mother
Mom Michelle works in occupational therapy, and Dixon has watched as her mom helped children who couldn't perform tasks themselves such as walking or writing.
"It really made me want to do that field," Dixon said.
Her mother is proud that her daughter will be the first traditional college student in their family. Michelle Dixon became a certified occupational therapy assistant when she was 32 years old and is working toward a master's degree in occupational therapy at UC.
"I want her to be able to go and experience campus life," said her mom, whose parents, brother and sister also were nontraditional college students.
When she learned her daughter was accepted into UC and would be surprised at her school on Decision Day, she was thrilled. She's glad she only had to keep the secret for a few days because normally she's not very good at holding in her excitement.
"It was definitely hard for me because I don't keep secrets. I'm not allowed to purchase Christmas gifts and know where they're hidden," she said. "I get so excited. I just want to share the excitement that I have."
When Dixon learned UC was visiting her school, she didn't expect to be singled out with admittance to the university. But she was beyond excited when she discovered she had been admitted to her No. 1 college choice.
"I was flabbergasted. I was confused," Dixon said. "I was just overwhelmed and so excited."
Featured image: Lachelle Dixon | Photo/Andrew Higley/UC Creative + Brand
Become a Bearcat
Whether you're a first-generation student or from a family of Bearcats, UC is proud to support you at every step along your journey. We want to make sure you succeed — and feel right at home.