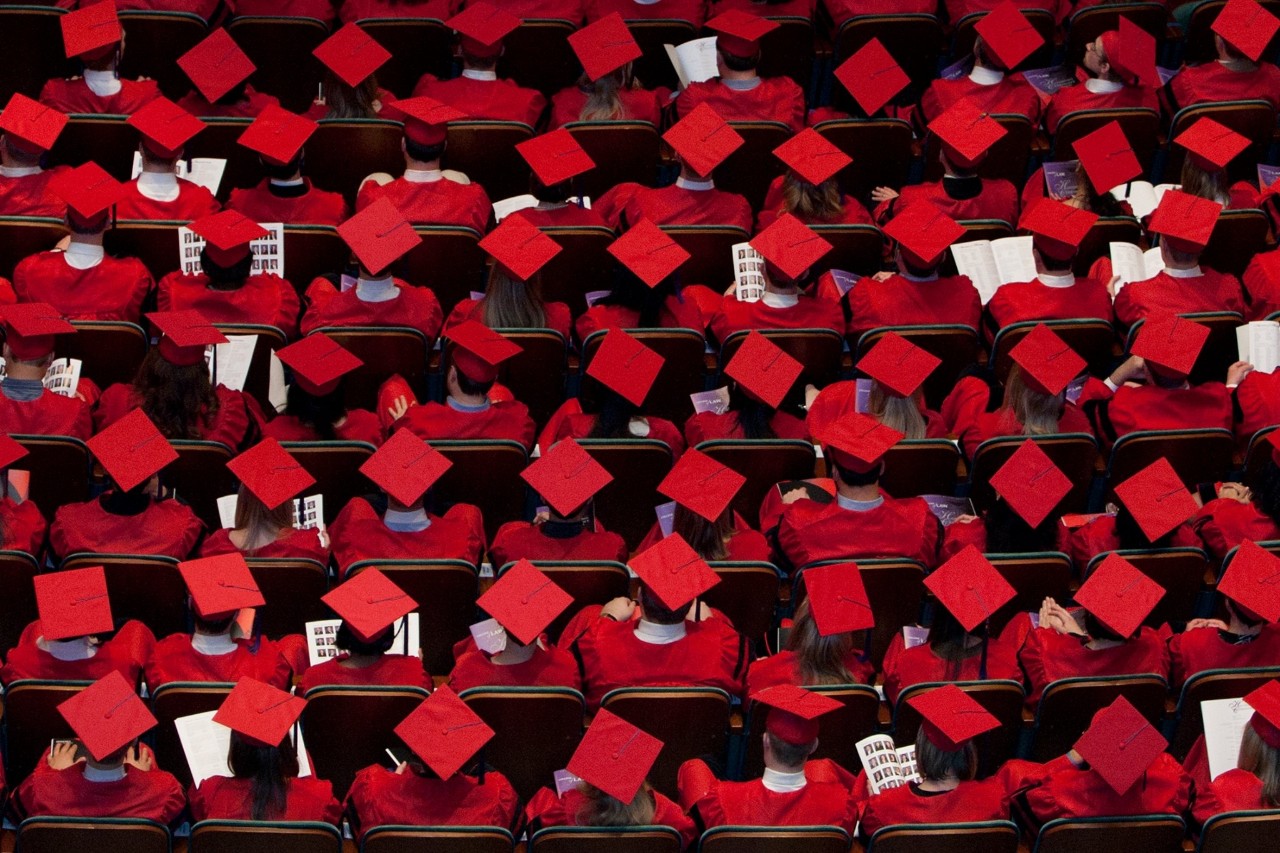 UC College of Law celebrates 189th Hooding Ceremony
Ceremony will be first fully in-person since 2019
The University of Cincinnati College of Law will celebrate the accomplishments of its graduates at its 189th Hooding Ceremony at 1 p.m., Saturday, May 14, at Fifth Third Arena on the University of Cincinnati Campus. Verna L. Williams, Dean and Nippert Professor of Law, will lead the ceremony, where 146 degrees will be conferred. This number includes 128 juris doctor degrees and 18 LLM (master's) degrees.   
Event Details
When: Saturday, May 14 1 p.m.
Where: Fifth-Third Arena, University of Cincinnati Campus
The Hooding keynote speaker will be Andrew Savage, Vice President, Deputy General Counsel of Digital Media at Adobe, Inc. Savage has been practicing law since graduating from the College of Law in 1988, and is admitted to practice in five states (Ohio, Hawaii, Illinois, New York, and California). Savage has been a legal executive in Silicon Valley for over 16 years. Savage currently leads a large team that has global legal responsibility for Adobe Digital Media (Creative Cloud, Document Cloud, Stock, Behance), Sensei, AI/ML, Adobe IO and partner ecosystems, Adobe Research, and Adobe Design. 
Prior to joining Adobe, Savage was a Senior Vice President/Deputy General Counsel at Yahoo for over 16 years and led a large team with global responsibility for product compliance, law enforcement, cybersecurity, trust and safety, litigation, privacy, advertising, marketing, and promotions, ad policy, and data policy. Prior to joining Yahoo, Savage held a number of senior positions in large and small law firms as well as being in-house counsel for Studios USA, which produced the Jerry Springer, Sally Jessy Raphael, and Maury Povich shows. Savage handled all legal aspects for all three shows.
Savage currently resides in San Jose, California, with his wife Stephanie and their two daughters, MacKenzie and Skyleur. MacKenzie just finished her second year at Pepperdine Law School and Skyleur just graduated from Amherst College and will attend law school in the fall (both were collegiate athletes). Fun fact—Savage was one of sixteen castaways on CBS' SURVIVOR: Pearl Islands filmed on location in the Pearl Islands, Panama during the summer of 2003 as well as one of twenty castaways on SURVIVOR: Cambodia Second Chance, which filmed in Cambodia in the summer of 2016 and was an all-star Survivor season.
This year's recipient of the 2022 Nicholas J. Longworth, III Alumni Achievement Award, which recognizes graduates for their outstanding contributions to society, is Scott E. Knox. A 1985 graduate of the College of Law, Knox began his legal career in labor law and asbestos litigation, until the AIDS epidemic highlighted a lack resource and representation for members of the LGBTQ community.
Knox then began doing estate planning and discrimination cases for LGBTQ clients. In the early 1990s, Knox fought against City of Cincinnati ordinances that discriminated against people based on their sexual orientation. Later in the early 2000s, Scott tirelessly led efforts to repeal Article XII, which prevented the Cincinnati City Council from passing any law that would protect LGBTQ people from discrimination. Knox maintains his legal practice as a solo practitioner and continues to serve mainly in the areas of HIV/gay/lesbian/transgender issues. Knox serves on a number boards and committees, including Strategies to End Homelessness, Equality Cincinnati, and the Ohio State Bar Association Pro Bono Taskforce Committee.  
The recipients of the 2022 Goldman Prize for Teaching Excellence are: Felix Chang, Associate Dean for Faculty & Research, Professor of Law, and Co-Director, Corporate Law Center; Emily M.S. Houh, Gustavus Henry Wald Professor of the Law and Contracts and Co-founder, Nathaniel R. Jones Center for Race, Gender, and Social Justice; and Sandra Sperino, Judge Joseph P. Kinneary Professor of Law.
About the University of Cincinnati College of Law
Founded in 1833, the University of Cincinnati College of Law has the distinction of being the first law school west of the Alleghenies. From humble beginnings 175 years ago in a room above Timothy Walker's law offices to its home today, Cincinnati Law has been on the leading edge of legal education. Thousands of lawyers have graduated from the law school, and about one-third practice in the Greater Cincinnati community, working in all areas of the law. For more information about the College of Law, visit www.law.uc.edu.
Featured Image: Overhead view of UC College of Law graduates / UC Marketing + Communications
1
Patents 101: What inventors need to know
September 25, 2023
In the world of academia, innovation is often celebrated for its potential to reshape industries and improve lives. At the University of Cincinnati, this spirit of invention is acknowledged and actively nurtured through the Office of Technology Transfer. Jill Uhl, JD, senior licensing associate, works behind the scenes on groundbreaking inventions emerging from UC faculty and staff.
2
Achieving a lifelong goal: One student's shift to law school
September 24, 2023
Andrea Wujek Beck, '25, was well established in her life and career when the COVID-19 pandemic hit., which shifted her outlook. Law school was something she always wanted to do and was drawn to UC by the Ohio Innocence Project.
Debug
Query for this