UC ShareIT program gives local students glimpse into their future
Hughes High School students tour 1819 Innovation Hub
The program is led by Josette Riep, director of information technology at UC who is also the mentoring chair of the UC ShareIT program. Riep was motivated to develop this specialized program six years ago to provide opportunities and pathways for students to overcome obstacles such as not having access to resources like a computer or funds to experiment and learn.
Through the UC ShareIT program, which is supported by the Office of Equity, Inclusion and Community impact and IT@UC, students understand what their capabilities and possibilities are for their futures. The program is designed to immerse students and develop their skills in the highly sought-after, competitive fields of digital information technologies.
Kroger, a CID partner with an innovation space at the 1819 Innovation Hub, set the wheels in motion by reaching out to the UC Share IT program, which invited the STEM students from Hughes High School to tour the facility. Kroger's partnership with the CID allows them access to students and faculty with the talent, skillsets, and expertise to create innovative solutions for their business needs.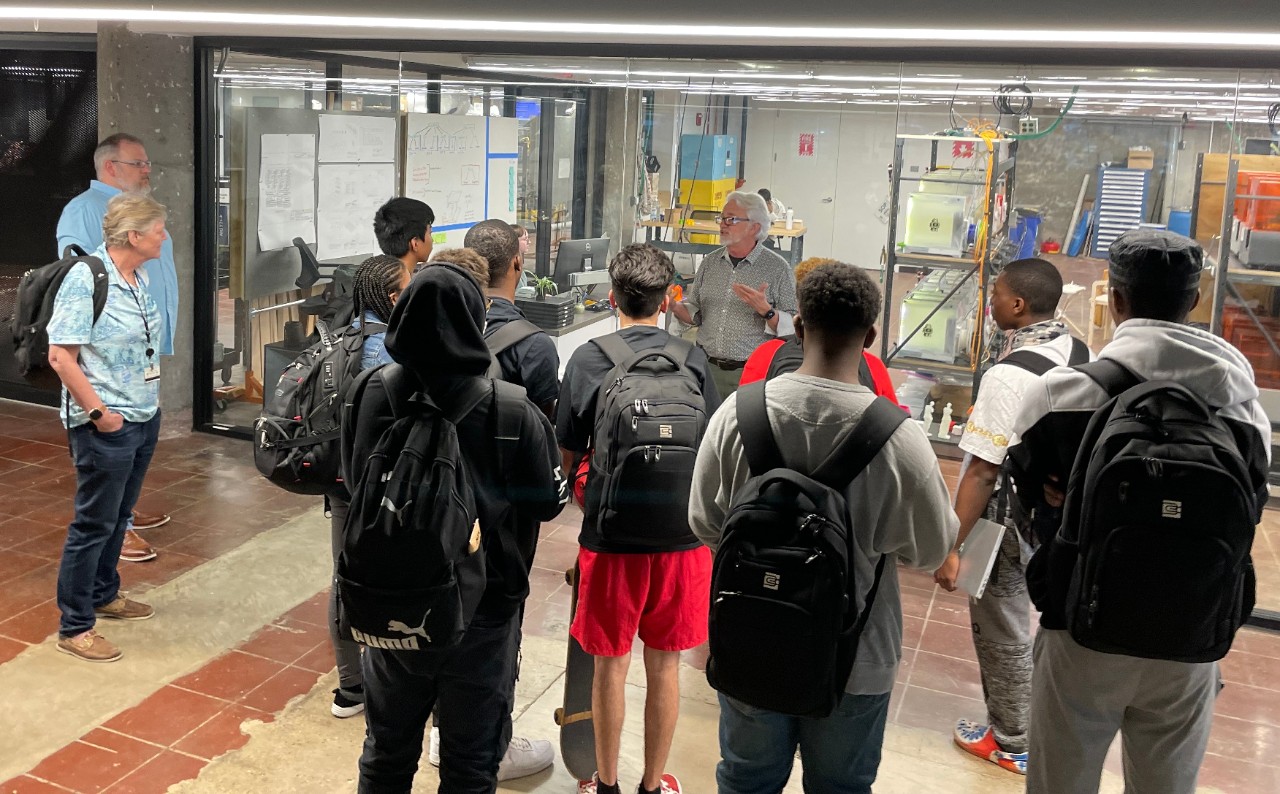 Dan Whitacre, senior director of Kroger Labs and Technology, acknowledged the value of Kroger's partnership with CID, which provides access to talent with highly specialized technical skills. Whitacre shared one of his experiences as a CID partner, which connected him with three electronics media students who worked on his team. Utilizing the insights and talent of these students, Kroger changed the way they communicate within the organization. They used to distribute paper reports and newsletters, but now they put out three-minute videos on what they're doing with better results.
Whitacre added this is one example of the different kinds of ideas that having access to these brilliant students provides to Kroger. Through the CID, Kroger collaborates with Fusion Alliance, which brings new ideas to complement processes that foster the mission of Kroger.
Mark Johnson is the vice president of the southwest Ohio regional market and leads strategic data management and analytics for Fusion Alliance. Johnson has firsthand knowledge of the impact exposure to opportunities like this can have on students. He credits an early experience of touring IBM for leading him to a lifelong career in technology and feels a sense of duty to pay it forward.
The UC ShareIT program is available to Hughes High School students enrolled in the "Kids to career opportunities" in the IT field. However, the goal is to expand it to other schools in the near future.
The students toured the Groundspace Makerspace and Kroger Lab as well as the Esports Innovation Lab, an exciting new space for gaming technology within the 1819 Innovation Hub. May 11 marked the last day of the UC ShareIT program for this school year. As part of the program, the students were required to present their year-end project. They worked in teams to create a mobile application.
The students impressed the panel of judges as they spoke about the apps they designed along with the pathways to achieve their goals and what it takes to succeed in their chosen IT fields: game design, robotics, cyber security, web development, multimedia, etc. Several graduate students of the UC Share IT program are enrolled in STEM programs at UC, with several others expressing their desire to be accepted to UC when they graduate high school.
The day concluded as mentors of the program handed out certificates of completion to the students along with a Cincinnati Innovation District T-shirt.
Featured photo at top: Dan Whitacre, senior director of Kroger Labs and Technology, has the attention of interested Hughes High School students. Photo by Gregory Glevicky, UC Office of Innovation
About the Cincinnati Innovation District
The Cincinnati Innovation District® is a unique and thriving ecosystem that attracts, produces, retains and develops talent by co-locating and collaborating with organizations. Unveiled in 2020 by Ohio Governor Mike DeWine and Lt. Governor Jon Husted along with JobsOhio and innovation district leadership, the district envelops myriad innovation assets and access to some of the world's leading academic and research centers, organizations and talent pools. Powered by the University of Cincinnati, the CID includes the world-renowned Cincinnati Children's Hospital Medical Center and other national research centers. The district's mission is to become a globally recognized talent hub and lead a transformational movement. The combination of industry engagement, unique experiential platforms and accessible research expertise — working at the pace of change — will become a model nationwide. For more information on the Cincinnati Innovation District, visit www.cincyid.com.