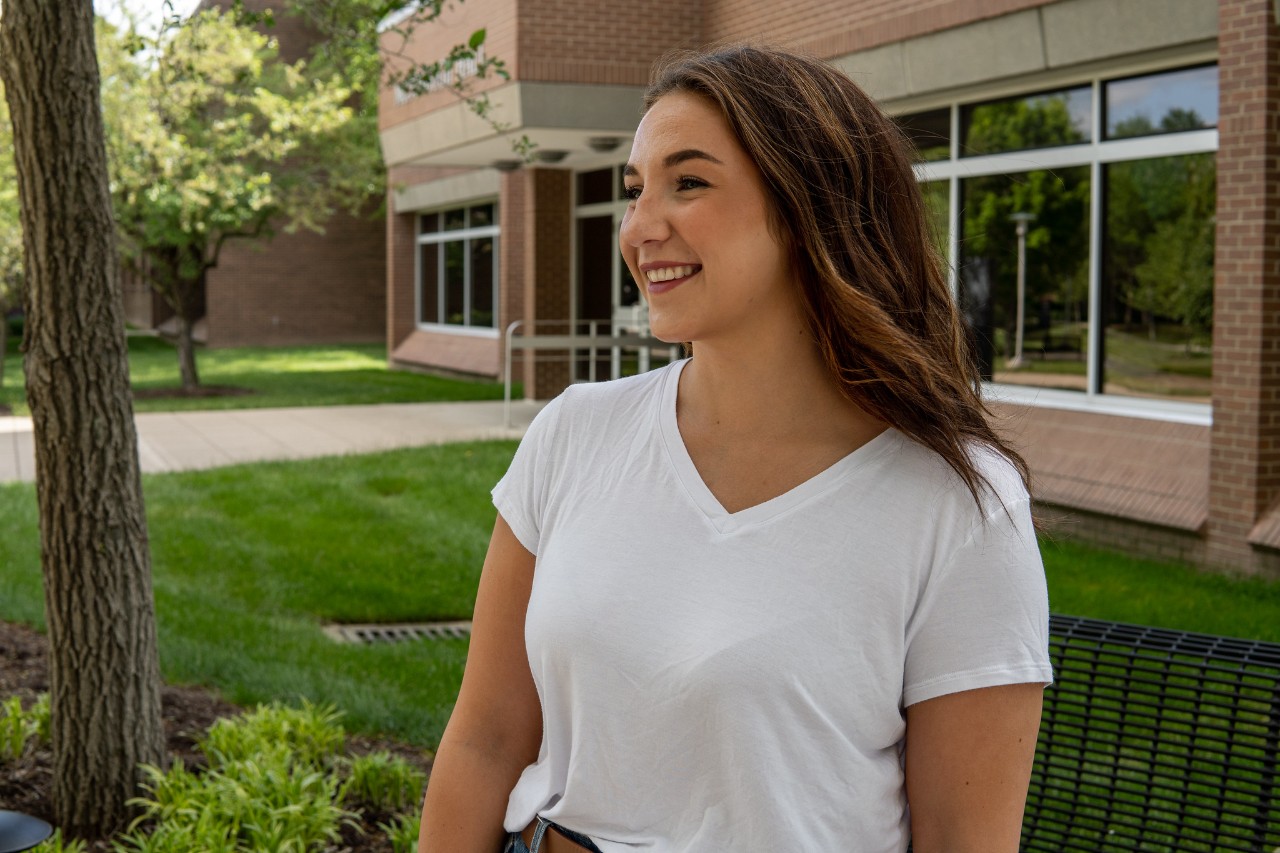 Life-changing diagnosis sparks new calling for UC Clermont cancer survivor
Student's battle fueled her resolve to help others fighting disease
Sarah Hoderlein expected to spend her 21st birthday the way most college kids do, celebrating the highly-anticipated milestone with family and friends. Instead, she spent it in the hospital, having fluid removed from her lungs, where she received a life-changing diagnosis — stage II Hodgkin's lymphoma.
In the moment, Hoderlein was too exhausted to process the shock she felt; with a 7.5-inch mass in her chest, and 15 smaller masses above her diaphragm, simply breathing had become difficult.
"Just sitting up in bed, my heart rate would shoot up above 200 because it was working so hard to pump through all the fluid in my lungs," Hoderlein said.
Her exhaustion only increased once she began outpatient chemotherapy. Still, doctors encouraged her to stay active, both to maintain muscle strength and for her mental health.
"There were times I didn't feel like doing anything, but I forced myself to walk laps around the house," she said. "The muscle wasting and how much functionality you lose throughout chemo is remarkable, and I was one of the lucky ones because I didn't need to be hospitalized."
Hoderlein, a Loveland High School graduate who majored in athletic training at Northern Kentucky University before her diagnosis, took a year off school during treatment. While she found chemo to be a physically and emotionally draining regimen, it was during that time that she felt pulled in a different career direction.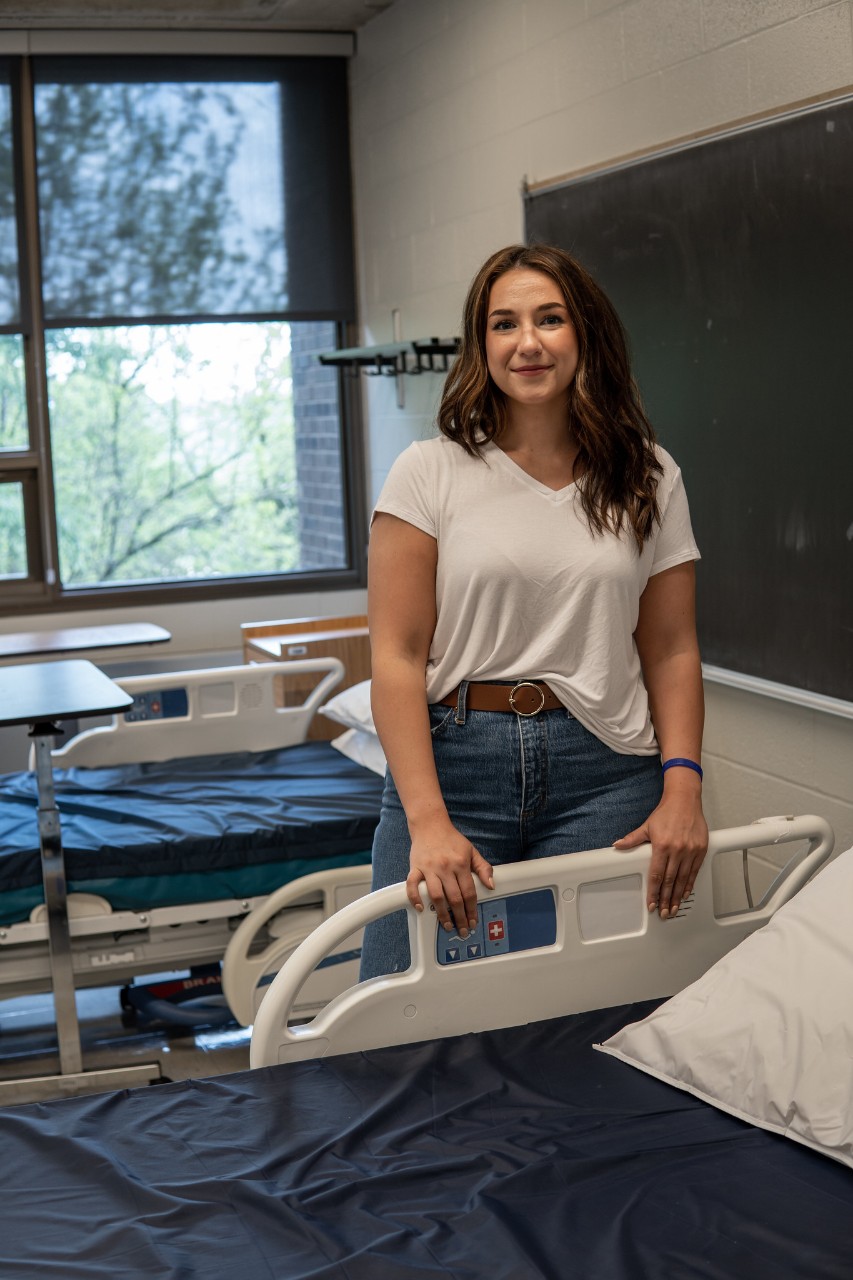 "Going through chemo and meeting other patients — you're not really aware of their challenges until you're in it," said Hoderlein. "I realized through my journey that there was a much sicker population I wanted to work with. I felt pulled toward helping people who needed assistance with the essentials of being a human being — just to get up in the morning and function."
Hoderlein was declared cancer-free in August 2018 and decided to finish her bachelor's degree while she figured out her next step. Her last clinical rotation placed her with a physical therapist assistant certified in athletic training, where she learned about the role of physical therapy in hospital/acute care settings. She shared her ideas with her NKU adviser, who told her about UC Clermont's physical therapist assistant program.
After attending an online information session, Hoderlein was hooked. She began the two-year program in the summer of 2020.
She arrived on a quiet campus at the height of the COVID-19 pandemic, with a schedule consisting of in-person labs and online lectures. She said the unique situation made the selective program, which takes only 23 students per year, feel even more intimate.
Going through chemo and meeting other patients — you're not really aware of their challenges until you're in it. I realized through my journey that there was a much sicker population I wanted to work with.
Sarah Hoderlein UC Clermont '22, physical therapist assistant
"The faculty cater to your needs to help you and your class succeed," Hoderlein said. "The small class sizes allow faculty to personalize the experience, and they were always open to student feedback. Carolyn (Shisler, PTA program director) got us a Keurig because we were on campus all day. We would order pizza and hang out, play ping-pong while quizzing for tests. Your professors are always there for you."
The fun, customized classroom experience and strong relationships helped students navigate what Hoderlein calls a "rigorous" program with a large payoff.
"You learn a lot in a short amount of time, and your instructors know what they're doing. They really prepare you," she said. "Going into my last rotation, I felt confident that I could do the work."
Associate Professor Shisler said that outcome is common among UC Clermont PTA graduates — the program boasts a 95% employment rate within one year of graduation, with an average starting salary of $45,000. The program maintains strong clinical partnerships with organizations such as Mercy Health, The Christ Hospital, OrthoCincy, UC Health, Encompass Rehab and Carespring. In total, the program has contracts with more than 50 local and national clinical sites.
"We have an excellent reputation in the community, and employers in the Tri-State area want to hire physical therapist assistants who are graduates of the UC PTA program," Shisler said. "We help students succeed by providing them the resources and scaffolding that they need to succeed. Our graduates know they are treating more than just a diagnosis; they are treating people, and each person needs individualized care."
Hoderlein graduated in April and recently accepted a full-time PTA position at Encore Rehabilitation. She also works part time at Beacon Orthopedics and The Christ Hospital, and eventually hopes to return to UC Clermont as a PTA instructor. She believes the work she's doing — and what she's learned from her own lived experience — will help her reach her goal of serving chemotherapy patients, changing their lives for the better.  
"As a PTA, you get to treat and see patients' progress day-by-day, which I love. I feel set up for success because of the program and know my education will help me do everything I want to do," said Hoderlein. "I feel very hopeful about the future."
To learn more about UC Clermont's PTA program and attend an upcoming information session, visit ucclermont.edu/pta or contact Carolyn Shisler at carolyn.shisler@uc.edu.
Featured image at top: Sarah Hoderlein. photos/Danny Kidd

1
What is a pre-accelerator?
March 30, 2023
The University of Cincinnati's Venture Lab is a mentor-based entrepreneurial support ecosystem designed to provide guidance, support and structure to help early-stage startups move from idea to prototype stage. The goal of a pre-accelerator is to provide intensive guidance, mentorship and resources for budding entrepreneurs so they can establish a strong foundation for growth and attract customers and investors.
2
Five types of people you need to start a business
March 30, 2023
Having a team is a must to run any business successfully. This is especially true when it comes to getting a new venture off the ground. In a recent CB Insights report on why startups fail, not having the right team is near the top of the list. Startups need to build a team that is vision and mission supportive from adding external freelance talent or contractors, to advisory board members, to bringing partners and talent on board.
Debug
Query for this