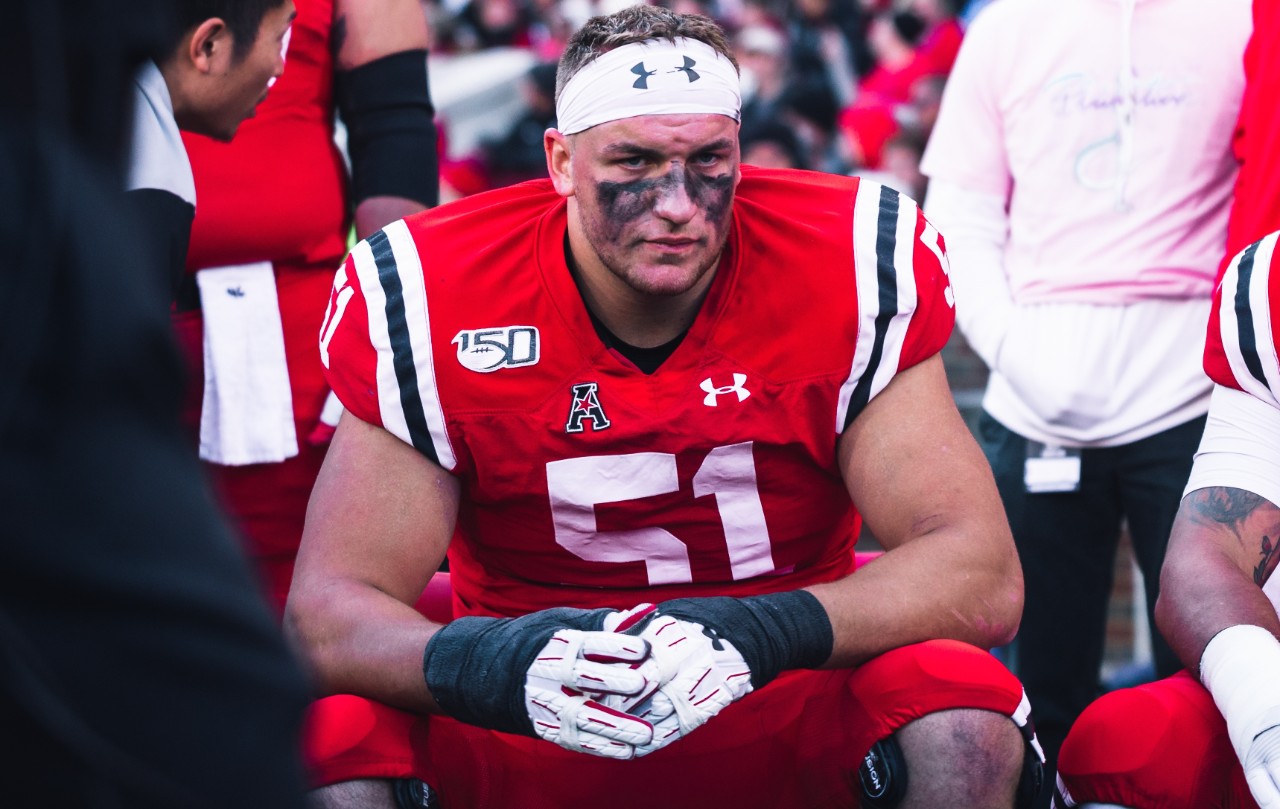 Lorenz Metz dominates his Lindner studies and defensive linemen
UC football player from Germany was an academic All-American in 2021
As a starting offensive lineman for the University of Cincinnati's football team, Lorenz Metz uses his considerable strength to overwhelm defenders. But what many Bearcat fans may not realize is Metz's intellect might surpass his physical prowess.
Sure, Metz was a first-team American Athletic Conference selection on the gridiron last fall. But, the College Sports Information Directors of America also named him an academic All-American, too.
Since enrolling at the Carl H. Lindner College of Business, Metz — a certified chemical technician before stepping foot on American soil — has earned a bachelor's of science degree in industrial management and been named Outstanding Undergraduate Industrial Management Student of the Year by Lindner's Department of Operations, Business Analytics and Information Systems. As he approaches his fourth year of eligibility on the football field, Metz is pursuing a master's of science in business analytics (MS BANA) at Lindner — the top-ranked MS data science school in the country — with an aim to finish in 2023, though the National Football League may interrupt his latest academic endeavor.
Not bad for an international student who arrived in the United States less than five years ago with just two years of organized football under his belt.
"We've never had to worry about Lorenz in the classroom," UC football head coach Luke Fickell said. "He was an academic All-American this past year, and it feels like every other month somebody is coming in and telling me Lorenz won another academic award, or he's been accepted into the toughest graduate program in the school."
Metz was raised in the town of Neuötting in Bavaria, Germany, located about an hour east of Munich near the Germany-Austria border. Growing up, he yearned to finish his homework quickly enough to play with his friends in the nearby woods. After graduating high school, Metz began a three-year chemical technician apprenticeship at Clariant, a multinational specialty chemicals company.
"I would produce aircraft deicers, brake fluids, stuff like that," he said. "I always wanted to do something technical, and I had an interest in chemistry."
Metz's life changed when he was 18. A friend invited him to attend a football practice, and Metz was hooked. For two seasons, Metz suited up as a defensive lineman for the Kirchdorf Wildcats of the German Football League. During his second season, he was spotted by Brandon Collier, a former NFL player and the founder/CEO of PPI Recruits, a recruiting placement program for football players based outside the United States looking to play collegiately in America.
After participating in a PPI camp, Metz — now 6 feet 9 inches tall — received his first athletic scholarship offer from the University of Massachusetts. More offers followed, and Metz eventually visited five universities: Central Michigan, Connecticut, Georgia Tech, Massachusetts and UC. Metz's mother accompanied him on his visit to Clifton.
"She loved it here," Metz recalled. "She could see where I was going to end up."
Though the football team was emerging from a 4-8 record during Fickell's initial season in Clifton, Metz felt at home in the program's family environment and could sense that "something was building." Metz was proven right — the Bearcats are 44-7 over the past four years, notably finishing 13-1 with a College Football Playoff appearance last fall.
Academically, Metz wanted to be educated in engineering and business, which is why industrial management was a natural fit.
"It had chemistry and physics classes, and also the business side. I also liked data mining and business analytics," Metz said. "UC's engineering and business schools were top-notch, so I really liked that."
Metz finished his industrial management degree in fall 2021, and this past spring, his department at Lindner selected him as its Outstanding Undergraduate Industrial Management Student of the Year.
"That was a huge honor. I was surprised when I got the email. I asked my wife, 'Is that spam?'" Metz said with a laugh. 
An appetite for business analytics
Long before he enrolled in Lindner's prestigious MS BANA program, Metz possessed a passion for business analytics. As an undergraduate, Metz took BANA 2081 (Business Analytics I) and BANA 2082 (Business Analytics II) taught by Ed Winkofsky, PhD, adjunct professor and MS BANA director. When Metz took BANA 2081, the course was held in Lindner Hall's first floor auditorium.
"I'm teaching 200-some students. I got to know him because he sat toward the front of the class. There are plenty of students I don't get to know because they're 30, 40 feet away from me. He sat in the same position every class," Winkofsky said. "Typically, I will talk to students in the first couple of rows before class because I'm usually a few minutes early. I don't get a large number of football players in my classes, especially in the fall. We talked about football, coming to Ohio from Germany. He's an excellent student and participated in class. I got to know him that way. He's a great guy."
Metz, who also cited Denise White, PhD, Lindner assistant professor-educator, and assistant academic director Julie Glassmeyer, as Lindner faculty/staff that he developed a close connection with, recalled the "fun environment" in Winkofsky's class.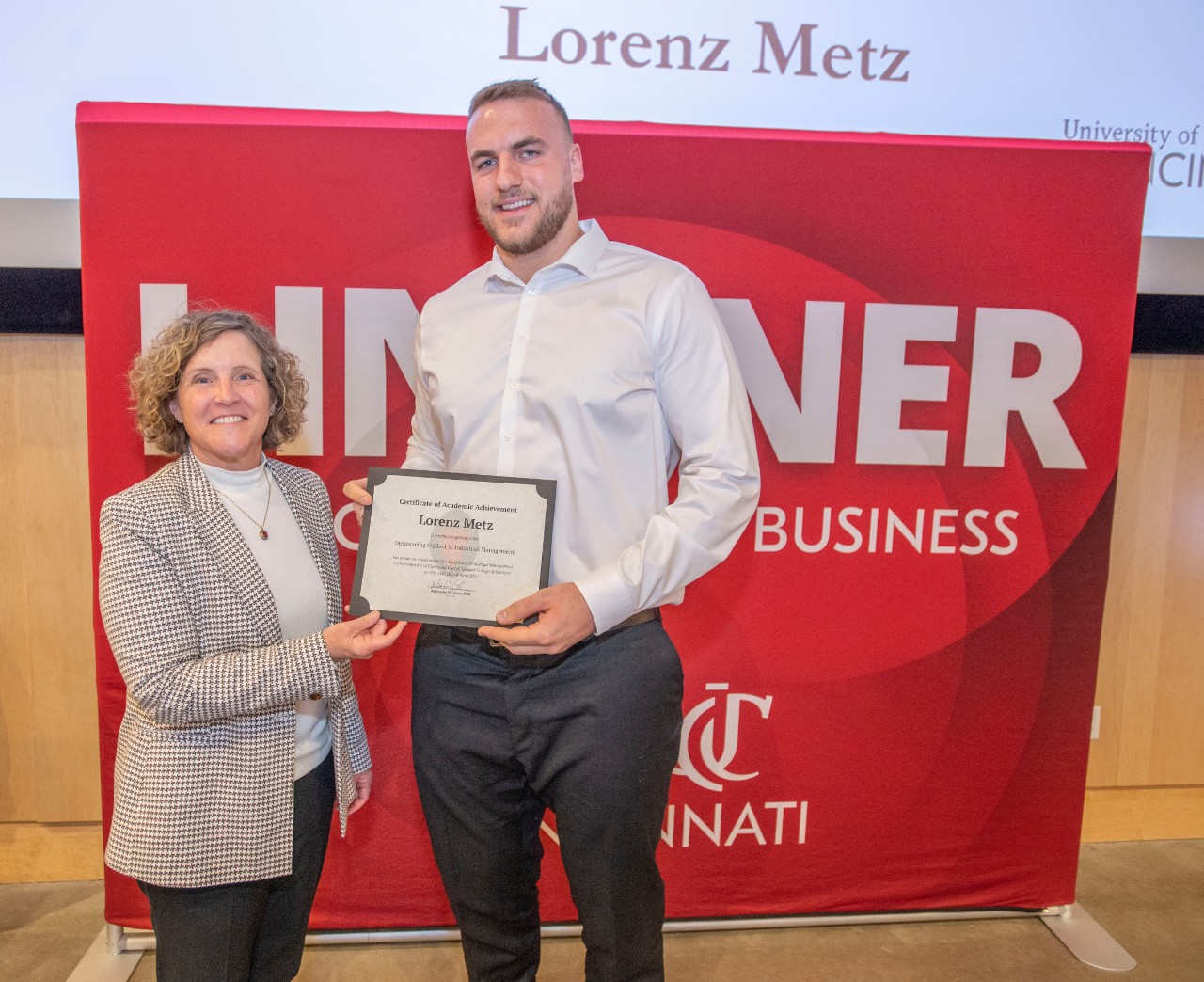 "He got my fire going for business analytics," Metz said of Winkofsky.
Metz's affinity for data visualization, data mining and business analytics as a whole fueled his desire to join the program, which combines technical training in descriptive, predictive and prescriptive analytics with experiential education opportunities and an average starting salary of over $91,000 for graduates.
"The program is No. 1 in the nation, so it was an easy pick,"
Winkofsky accepted Metz's request to write him a letter of recommendation for entry into the MS BANA program, calling Metz the "kind of student most professors wish every student was exactly like." 
"What I believe makes the difference for an undergraduate to be a successful graduate student is being willing to put in the time and effort to master your studies," Winkofsky said. "You think about playing football, you have to put in the time and effort to master your position, so in some ways it requires the same kinds of skills."
A bright future on and off the field
With a chemical technician apprenticeship and an undergraduate degree already in his bag — and a master's degree not far behind — Metz won't be hurting for job opportunities. Oh, and there's the very real possibility of a future in professional football.
"Hopefully, he gets to play football for as long as he wants, but it's fulfilling to know as a coach that he is going to be successful in whatever career he chooses," Fickell said.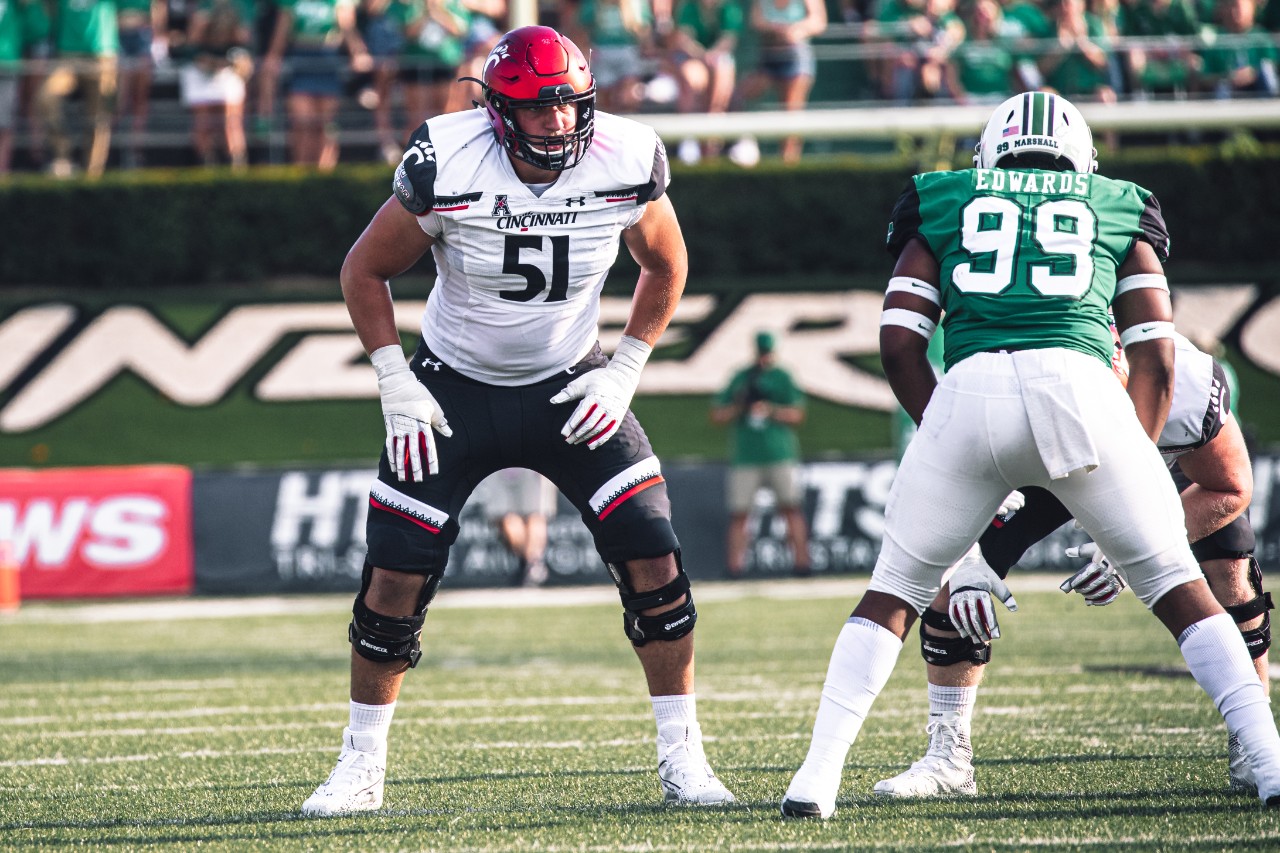 With over 30 career starts, Metz enters the fall seeking to retain his starting position at right guard, all the while balancing his usual rigorous academic load.

"You transfer what you learn on the field to off the field. If you want to be successful on the field, you have to be successful off the field as well," he said. "You can't cut corners in one part of your life and expect it not to transfer for other parts of your life."
Featured image: Lorenz Metz rests in between offensive drives during a UC football game. All photos courtesy of UC Athletics unless otherwise noted. 
The Lindner Advantage
The Carl H. Lindner College of Business empowers its future business problem solvers to tackle the world's business challenges with a distinctive combination of academic and hands-on experience that fuels professional growth. View our academic programs to select an education that matches your ambition.
1
Everything you need to know about UC alum Travis Kelce
September 29, 2023
Cincinnati went wild for Taylor Swift when she brought her Eras Tour to the Queen City this summer. Now her ties to Cincinnati grow as she's been linked to University of Cincinnati alum and NFL star Travis Kelce. Swifties everywhere are asking: Who is Travis Kelce? Here's everything you need to know about Taylor's latest rumored romance.
3
Lindner First-Year Experience spotlights project-based learning
September 28, 2023
The Carl H. Lindner College of Business' First-Year Experience (FYE), which prepares students to become business problem solvers from day one, has been revamped to center on project strategy. This concentration challenges students to perform a strategic analysis of a business' operations.
Debug
Query for this