Mayor Aftab Pureval to present Hoxworth Blood Center World Blood Donor Day Proclamation at Fountain Square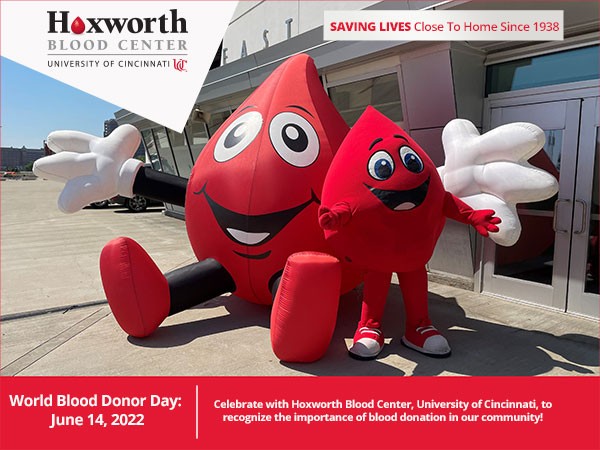 Hoxworth Blood Center, University of Cincinnati, will celebrate World Blood Donor Day on Fountain Square to raise awareness on the importance of blood donation in our community.
Cincinnati Mayor Aftab Pureval will present Hoxworth Blood Center with a proclamation on June 14 at 11:40 a.m. on Fountain Square (corner of Fifth and Vine streets) to pay tribute to Hoxworth as the steward of the region's blood supply that supports and saves lives of patients at more than 30 local hospitals.

Following the Mayor's proclamation, Tom Michel from Adsposure (which oversees advertising on Metro) will present Hoxworth with a framed photo of the bus advertisement that was nominated for the Transit Advertising Award. The Metro bus that displays the Hoxworth wrap will be parked along Fountain Square and serve as a backdrop for the event.

Hoxworth will also have a booth where visitors can pick up educational materials on blood donation. Information provided serves to bring greater awareness to the ongoing need for blood and platelet donors, as well as the need for diversity in the local blood supply. Busken Bakery cookies will also be provided as a special treat.

World Blood Donor Day, recognized annually on June 14, serves to raise awareness of the need for safe blood products and to thank voluntary, unpaid blood donors for their lifesaving donations.

Additionally, Hoxworth Blood Center is hosting a blood drive at RKPT (Robbins, Kelly, Patterson & Tucker), 312 Plum Street, 9-11:45 a.m., and 1-3 p.m., June 14, and encourages those interested in donating blood downtown to schedule a donation. Walk-ins are welcome as the schedule permits. Visit the Hoxworth website for  a list of all downtown blood drives. 

About Hoxworth:
Hoxworth Blood Center, University of Cincinnati, was founded in 1938, and serves more than 30 hospitals in 18 counties in Southwestern Ohio, Northern Kentucky and Southeastern Indiana. Annually, Hoxworth collects more than 100,000 units of blood from local donors to help save the lives of patients in area hospitals. Hoxworth Blood Center: Saving Lives Close to Home. 
1
Know Stroke Podcast: UC expert discusses past, present and...
September 21, 2023
The University of Cincinnati's Joseph Broderick, MD, recently joined the Know Stroke Podcast to discuss the current state of stroke research, including the FASTEST trial he is leading to test a potential treatment for strokes caused by ruptured blood vessels in the brain.
3
Bloomberg: Finding work-life balance
September 20, 2023
There's not just one right way to achieve work-life balance, rather, it's a matter of personal preference, a professor in the University of Cincinnati's Carl H. Lindner College of Business told Bloomberg.
Debug
Query for this