First-generation student awarded Cincinnatus Presidential Scholarship
Found a home in the UC College of Nursing
Her parents are from Somalia, but Fardus Faqi hasn't ventured far from Canal Winchester, just southeast of Columbus, Ohio, her entire life. Her first trip to Cincinnati came when she went to the University of Cincinnati College of Nursing orientation in June 2022 as an incoming Cincinnatus Presidential Scholarship student.
Being about two hours away from home and family was one of the factors that led her to choosing UC.
"It's pretty close to home, and the effort the College of Nursing put in to make me feel like they would be a good school to choose was really comforting to me," Faqi says. "Also, I have spoken to a lot of people who have gone to schools like UC, OSU and other schools in the area. Everyone I talked to said that they've never regretted deciding to go to UC. That was a big plus."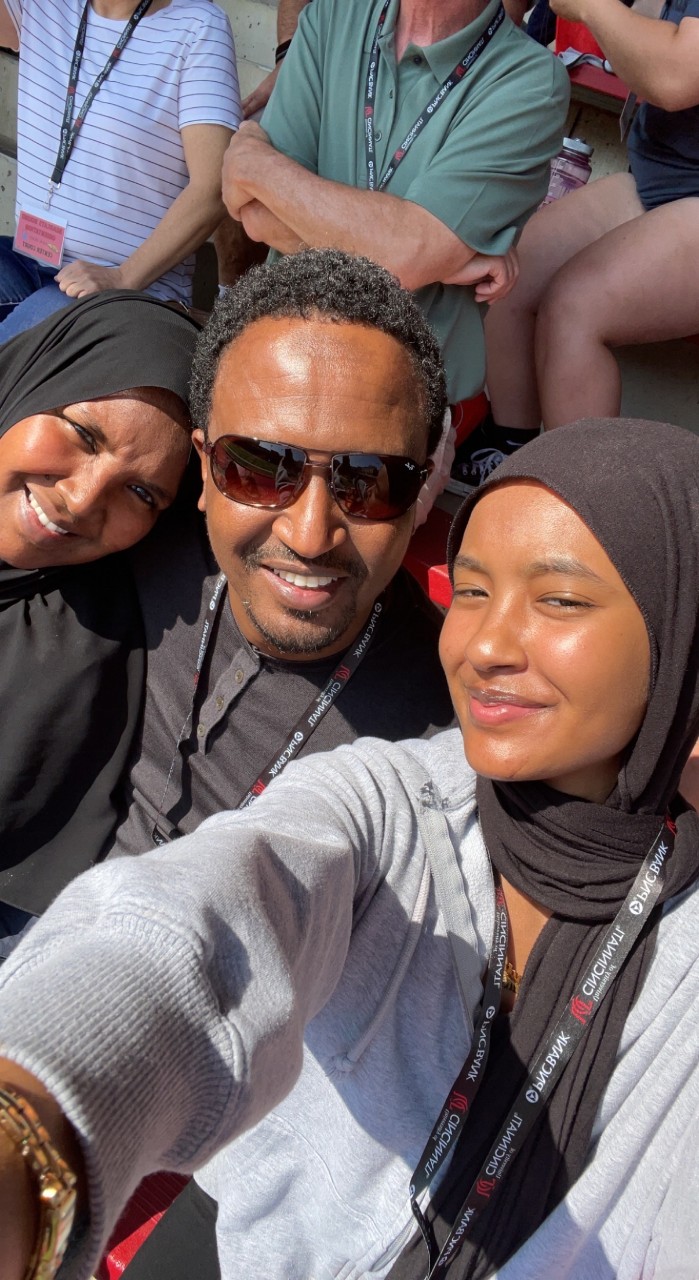 Her father came to the United States from Somalia in the mid-1990s and her mother emigrated in 2001. As the oldest of four siblings, Faqi is the first in her family to attend college.
"I'm excited. I am a little nervous because you're leveling up in an academic field and it's going to be more rigorous than high school," Faqi says. "That's one of the biggest factors for my nerves because I don't want to disappoint anybody, especially not myself.
Faqi first started thinking about getting into the medical field while she was in high school and discovering a passion for biology and chemistry. It didn't take long for her to focus on becoming a pediatrics nurse.
"When I'm older and have my career established, I want to be able to help people every day so it doesn't always feel like I'm working," she says. "I want to have a job where I feel good about myself every time I go to work."
"Fardus is exactly the type of student we are seeking to grow and nurture into a nurse leader," says Krista Maddox, senior assistant dean for student affairs at the College of Nursing. "She has demonstrated resilience in overcoming unique obstacles and making the best of her situations. She values difference and has a good worldview that will help her to navigate the ever-changing landscape of health care as a nurse leader." 
Faqi says the nurturing nature of the faculty, staff and students at the College of Nursing are a calming factor as she looks forward to joining them in Procter Hall.
"When I was doing the interview for the presidential scholarship, they had current and former nursing students and people who had won the scholarship explain how the scholarship helped them. How the professors and the people in the College of Nursing have allowed them to grow and they would never have wanted any other college experience," Faqi says. "I was very nervous to do the interview, I'm always nervous when I talk to new people. But when I got on the Zoom call, I felt very welcomed. It wasn't too much pressure. It was more like a casual conversation just to get to know me and that calmed down my nerves." 
Next Lives Here
The University of Cincinnati is classified as a Research 1 institution by the Carnegie Commission and is ranked in the National Science Foundation's Top-35 public research universities. UC's graduate students and faculty investigate problems and innovate solutions with real-world impact. Next Lives Here.