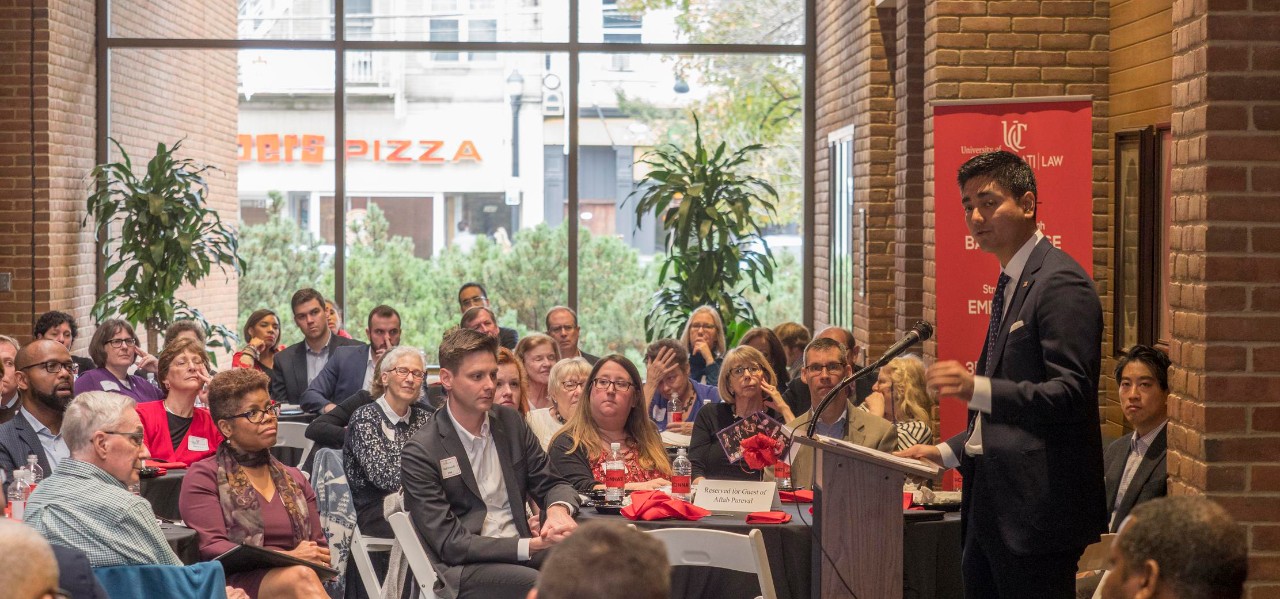 Mayor Aftab Pureval: Making a difference through public service
Elected in November 2021 as Cincinnati's 70th mayor, Aftab Pureval wasted no time in making a positive impact on people's lives. The city was setting records for COVID infection rates when he was sworn in. Hospitals and health clinics were strained with performing thousands of COVID tests. On his second day in office, Mayor Aftab announced expanded COVID testing sites specifically aimed at communities of color and impoverished neighborhoods which had been underserved at the time.
"Our campaign focused on racial equity and justice, along with affordable housing, the environment, the economy and public safety," Pureval says. "We recently added the most money ever to our Affordable Housing Trust Fund, bringing it up to $57 million. And going forward, we've committed to purchasing only electric vehicles for our city fleet."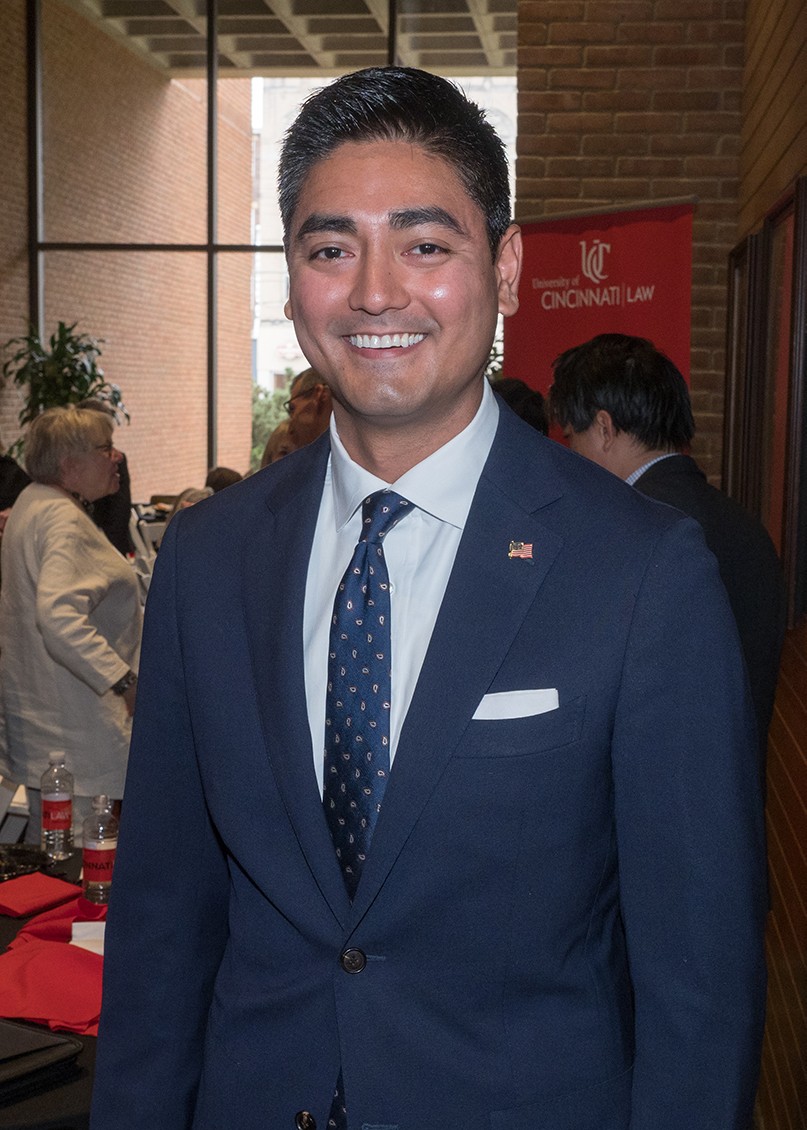 Growing up, Pureval always had an interest in current events and politics. He graduated from Ohio State in 2005 with a degree in political science and admits that, at first, the decision to go to law school was simply through a process of elimination. But soon after starting classes at UC, he developed a real passion for the law.
"I fell in love with the idea that, much like our country, the law is never finished. We're always struggling and progressing. And that opportunity to have an impact on the laws that govern our society, I found very empowering and exciting."
While at UC, Pureval served as editor of the school's law review journal and also worked at the Warren County Domestic Relations Court.
"UC does an excellent job of providing practical experience for students. Mine was working at the Domestic Violence Clinic where we were able to represent survivors of abuse who couldn't afford an attorney. That experience showed me the power that courts have in protecting our most vulnerable communities. In many ways, that set me up for a career in public service."
After graduating from UC in 2008, Pureval worked at a firm in Washington D.C. focused on anti-trust litigation. He returned to Cincinnati in 2012 to work for the DOJ and then Proctor & Gamble.
In 2015, Pureval began his political career by running for the Hamilton County Clerk of Courts.
I fell in love with the idea that, much like our country, the law is never finished. We're always struggling and progressing. And that opportunity to have an impact on the laws that govern our society, I found very empowering and exciting.
Aftab Pureval '08 Mayor of the City of Cincinnati
"I wanted to do a job that would make a positive difference in my community," he says about his decision to get into public service. "I believe politics is a noble pursuit, but I never thought that, given my name and ethnicity, I would ever be in public service. But President Obama inspired me that it doesn't matter what you look like or what your name is, if you have a passion to serve and you work hard, you can."
Pureval won the election and quickly initiated positive reforms as Clerk of Courts. He updated and re-launched the website. He also re-evaluated staffing needs, eliminating some positions and filling others with people from both parties and the private sector. In his first year, he was able to increase overall wages and benefits for staff, and still reduce expenses by more than $200,000.
"But the thing I'm most proud of would not have been possible without the help of UC Law," Pureval says. "I saw in our court system that what you look like or how much money you have often dictates the kind of justice you have access to. So to level the playing field, we created the Help Center in collaboration with UC."
Today, the Hamilton County Municipal Court Help Center is located inside the courthouse and is staffed by volunteer paralegals, lawyers and UC law students. Since its creation, the Help Center has assisted thousands of people by offering legal advice on a wide range of civil and municipal issues. It also provides invaluable real-world experience for UC students.
"It's been so successful that other courts around the country are modeling their own help centers after ours."

Now Pureval is bringing that same optimism and problem-solving mind-set to the mayor's office. "I'm not focused on the next two, four or eight years, but on the next generation. We're at a paradigm shift in our country right now. The pandemic has completely changed the way we live, work and play. And the cities that are innovative and flexible and nimble during this time will be the cities that grow and succeed. I hope that my time in office will put Cincinnati in a position to be a destination and to lead the country into the next decade."
And to UC students, Mayor Aftab offers some words of wisdom and encouragement. "I have found that 90% of success is just showing up. In public service we are desperate for young, diverse talent. And I'm an example of that. I didn't run for office until 2016 and five years later, I'm mayor. And that was entirely because someone told me to show up and I did."
1
WLWT: How one of Ohio's newest lawyers went from federal prison...
May 30, 2023
UC Law alum Damon Davis spoke with WLWT-TV about his journey from former federal prison inmate to accomplished attorney. Davis spent four-and-a-half years behind bars after being convicted of federal drug and gun charges in 2017. This month he took the Ohio Bar Admissions and is now a public defender in Hamilton County.
2
Newsweek: Conservative justices deal a blow to Ivermectin in...
May 29, 2023
The Wisconsin Supreme Court ruled earlier this month that hospitals can't be forced to issue Ivermectin to patients. It backed an earlier appeals court decision. Jennifer Bard, PhD, professor at the University of Cincinnati College of Law, weighed in on the decision during an interview with Newsweek.
3
WCPO: Asian American and Pacific Islander Heritage Month series
May 28, 2023
Two faculty members and one student have been profiled by WCPO-TV as part of a series celebrating May as Asian American and Pacific Islander Heritage Month (AAPI). These segments feature the stories of UC Law's Dr. Jenn Dye, CCM's Dr. Thomas Gamboa and fourth-year student Aashka Raval.
Debug
Query for this