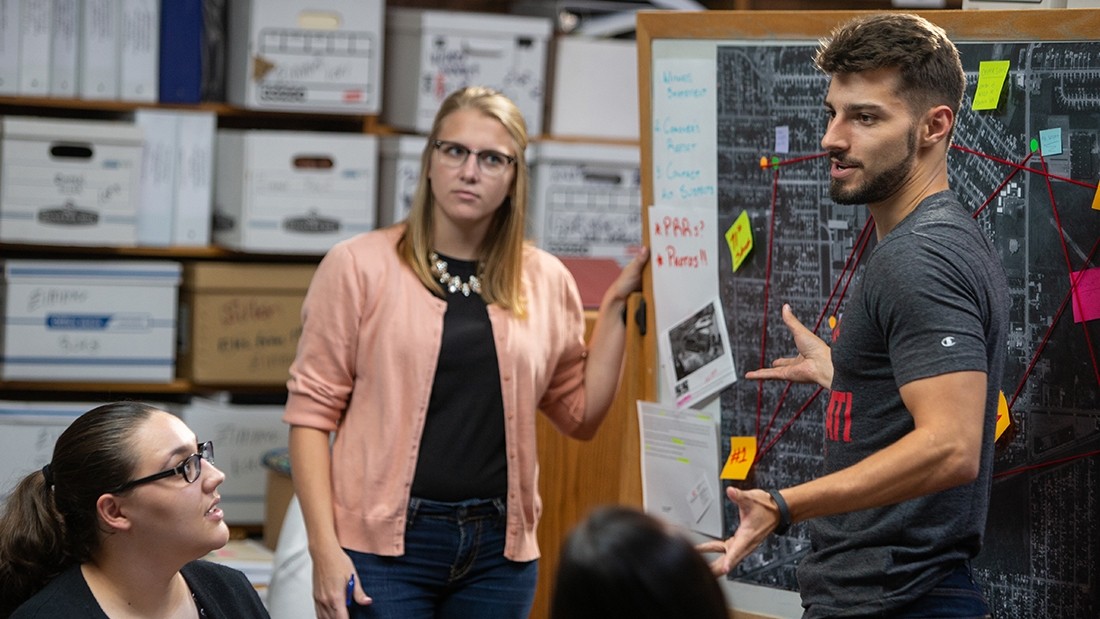 Turning heartbreak into justice
A family tragedy leads to the creation of a fellowship to help exonerate innocent people in prison
Two wrongs don't make a right, it's long been said.
But in the case of an inspiring set of circumstances at the UC College of Law, two tragedies have shown that they can be melded into an uplifting outcome, one that takes pain and loss and turns it back into hope.
That outcome has a name: the Thayer Fellowships within the Ohio Innocence Project. It's a sponsored learning opportunity within UC Law that brings second-year students into a key real-world learning environment. The students take much of what they have been exposed to in the classroom and apply it by digging into actual cases of potential wrongful conviction that are being looked at by OIP.
"The Thayer Fellows we've met have been such committed advocates for justice," says Richard Thayer. "What we love about the program is that, in addition to making meaningful contributions to OIP's work, the program helps train future leaders who know and care deeply about these overlooked problems."
The program started with a gift from the Thayer family, in memory of Will Thayer, Richard's brother. Richard and his sister Abby Esselen have been instrumental in implementing the program, while their father, Abbot Thayer, is a 1980 graduate of the UC College of Law.
Will Thayer died unexpectedly in 2015 at just 28 years old. He was not a UC Law graduate, but he did have friends from the College and was a lifelong Bearcats fan. A good friend of Will's, John Hill, had also previously been an OIP Fellow.
After losing Will, the family began to think in terms of a proper way to honor his memory. Supporting OIP was a natural fit.
"One thing that was true of Will was that he was very bothered by the abuse of power, especially when there was racism involved," Abby says. "Will always fought for the underdog. When he saw things that were clearly a wrong, they really bugged him and stuck with him. He wasn't able to just brush it aside and move on with his day."
The phrase "brushed aside" relates well to the tragedies suffered by the clients that OIP has been able to help.
Since the project's co-founding in 2003 by current director and Daniel P. and Judith L. Carmichael Professor of Law Mark Godsey and former Cincinnati Mayor John Cranley, OIP has helped 34 wrongfully convicted clients regain their freedom in just 19 years of work. With a small staff of faculty members guiding the way, much of the hard work that has gone into digging out the facts that help successfully get those cases revisited has been done by UC law students working as OIP Fellows.
Will always fought for the underdog. When he saw things that were clearly a wrong, they really bugged him and stuck with him. He wasn't able to just brush it aside and move on with his day.
Abby Esselen Will Thayer's sister
Will Thayer's friend who was a previous OIP Fellow, John Hill, is now a criminal defense attorney in Cincinnati, primarily doing appellate work on cases. He credits his experience working as part of OIP during the 2011-12 academic year for preparing him for the kind of challenging work he now does. "The thing that really stuck with me was really client interaction," he says. "They are in a bad spot, and there aren't a lot of victories."
John and Will grew up in close proximity to each other in Cincinnati, but didn't become friends until another member of their mutual friend group introduced them during their time as undergrads at Indiana University.
"Will and I just kind of hit it off," John says. "I think we had relatively similar worldviews. He was always a joy to be around, with this great irreverent sense of humor. He was a really good guy and I know he would have been pleased to have his name associated with the work OIP does."
Each year, upwards of 20 students working in pairs serve as OIP Fellows within the program's home, the Lois and Richard Rosenthal Institute for Justice. The Thayer Fellowship supports the work of two of those Fellows each year.
UC Law Dean Verna Williams described the importance of that learning opportunity in the development of those students in her remarks to supporters at the spring annual donor luncheon for OIP.
"OIP students witness the dire consequences of failing to advocate zealously for one's client, for not being fully prepared or for taking shortcuts," she said. "They learn the creativity and perseverance that are necessary to succeed in this profession, and those are lessons that they will take with them, no matter where they land."
For many, it becomes the first real chance to take the concepts they have learned in the College's classrooms and begin to actively apply them to real-life case work. The experience of being an OIP Fellow is intense. Fellows spend long hours digging deep into records and transcripts, looking for discrepancies or key legal points that support a client's argument for innocence. It carries with it a personal level of involvement, often including visiting clients in prison for interviews and face-to-face consultation.
"When we've chatted with the (Thayer) fellows over the years, it seems like they really get to know the clients they're supporting, and they've all spoken about how meaningful that is," says Abby. "The most recent pair of fellows, Caroline Henneman and Madeline Abanto, spoke about how hard it was going to be for them to move on," after their year in the program ends.
One recent Thayer Fellow was fortunate enough to see one of the cases she worked on result in the release of her client, Al Cleveland. The work she had done with him was so meaningful that when she got married after graduating UC Law, Cleveland was able to serve as the officiant for the ceremony.
"We've so loved meeting some of the exonerees, too," says Richard. "We sat with Raymond Towler (an OIP client who was exonerated after 29 years of wrongful imprisonment) at the first OIP event we went to, and I remember being struck by how friendly and cheerful he was. I'm just amazed by their grace."
Richard and Abby have become strong advocates for OIP, and the family has gone on to support other facets of OIP's work, like its public policy advocacy. They hope others join in supporting the project's efforts.
"We've been able to invite friends (to come to OIP events) and learn more about the topic," says Abby. "I would say nearly every person has come away telling us how grateful they were for the experience. Most of them never realized the problem of wrongful incarceration is as bad as it is, or what OIP and UC is doing to address that here in our hometown."
Those kind of moments of clarity for others very well summarizes why the Thayer family feels that supporting OIP is the best way to celebrate their brother. "Will had a really big heart," says Abby. "He was a really good guy and he had a very clear, unwavering sense of right and wrong."
1
WLWT: How one of Ohio's newest lawyers went from federal prison...
May 30, 2023
UC Law alum Damon Davis spoke with WLWT-TV about his journey from former federal prison inmate to accomplished attorney. Davis spent four-and-a-half years behind bars after being convicted of federal drug and gun charges in 2017. This month he took the Ohio Bar Admissions and is now a public defender in Hamilton County.
2
Newsweek: Conservative justices deal a blow to Ivermectin in...
May 29, 2023
The Wisconsin Supreme Court ruled earlier this month that hospitals can't be forced to issue Ivermectin to patients. It backed an earlier appeals court decision. Jennifer Bard, PhD, professor at the University of Cincinnati College of Law, weighed in on the decision during an interview with Newsweek.
3
WCPO: Asian American and Pacific Islander Heritage Month series
May 28, 2023
Two faculty members and one student have been profiled by WCPO-TV as part of a series celebrating May as Asian American and Pacific Islander Heritage Month (AAPI). These segments feature the stories of UC Law's Dr. Jenn Dye, CCM's Dr. Thomas Gamboa and fourth-year student Aashka Raval.
Debug
Query for this