Hoxworth Blood Center to halt blood collections September 14 and 15 to launch new innovative donor software program
ABO QuickPass goes live September 16 to expedite registration and enhance the donor experience.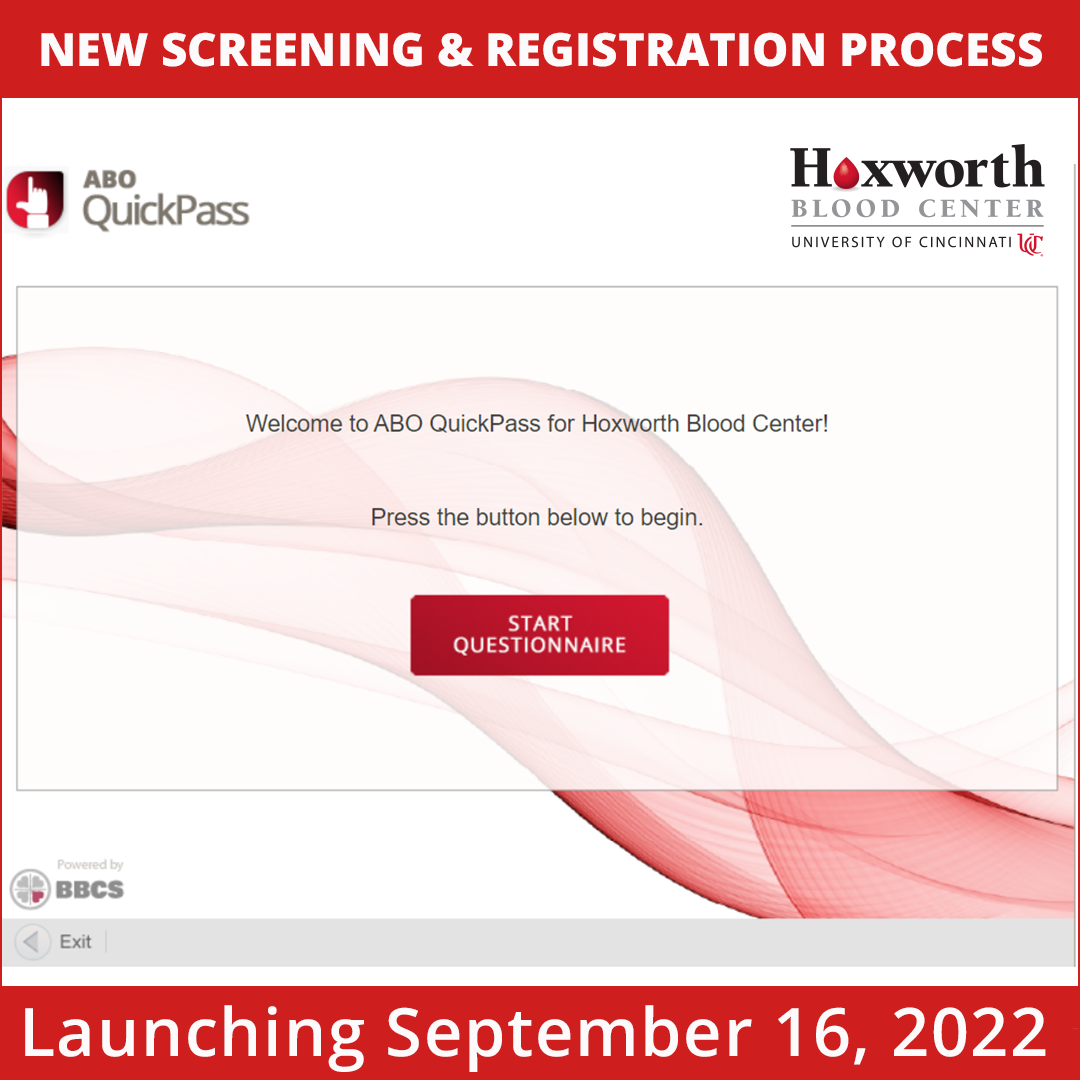 Hoxworth Blood Center, University of Cincinnati, will not be collecting blood Wednesday, September 14 and Thursday, September 15 as the blood center transitions its data to a new computer system on September 16 to better serve blood donors and hospital partners.
Hoxworth's seven Neighborhood Donor Centers, as well as its mobile blood drive operations, will cease blood collections on those two days as a team of IT specialists from BBCS move Hoxworth's donor data to a new computer system called ABO Suite. 
BBCS, Blood Bank Computer Systems, Inc., is a dedicated partner with more than 30 years' experience in the blood banking industry. The team of IT specialists will work to ensure a seamless transition from the previous system to the new ABO SuiteTM .

"The new ABO SuiteTM contains new features that we're excited to introduce to our donors and hospital partners," said Jose Cancelas, MD, PhD, Hoxworth Director and CEO. "We're always looking for ways to enhance the donation experience and better serve hospitals and patients."
Among the new software features is a program called ABO QuickPass, an innovative screening and registration processing platform that will allow donors to answer history and screening questions online prior to a scheduled blood donation. 

Donors will be able to access the new feature from the Hoxworth website when QuickPass launches on September 16. Alternatively, donors can quickly complete the QuickPass process on site at the donation location using a tablet or workstation kiosk.
Important tips to keep in mind:

QuickPass does not replace the task of scheduling an appointment. Donors must continue to schedule and secure an available time slot.


The QuickPass can only be completed on the day of blood donation.


Review all educational material presented.


Answer the questions honestly and complete them in one timed session. If the system times out, you will need to begin anew.


QuickPass does not determine eligibility. Eligibility will be determined at the time of donation.


After completing the questionnaire, an option will be given to print or email a donor's encrypted QuickPass QR code. 


Donors must bring the QuickPass QR code that contains the answers to screening questions to the Hoxworth donor center or mobile blood drive. Hoxworth personnel will be unable to access the QR code if this critical step is forgotten.
Protect Our Community Blood Supply

Meanwhile, because Hoxworth will not be collecting blood on September 14 and 15, donors are needed to help boost blood and platelet donations prior to and after the temporary closure to ensure we have a healthy supply for local patients in need. Please consider donating during these upcoming promotions.

Upcoming Promotions
August 29 - 30: Cooler Tote at Donor Centers. Just in time for those Labor Day picnics!

September 1: WEBN Fireworks T-shirt at Donor Centers

September 2 - 24: Cincy Faves T-shirt at Donor Centers

September 8 - 9: Cincy Faves T-shirt and E-card at Donor Centers. $10 whole blood, $15 red cell, $25 platelets

September 10 - 12: Cincy Faves T-shirt and two Cincinnati Zoo tickets at Donor Centers.

September 16: Last chance to donate blood or platelets to be eligible to win a custom MINI Cooper.

September 16 - 24: Last chance to get the 2022 Cincy Faves Tye Dye T-Shirt at Donor Centers.