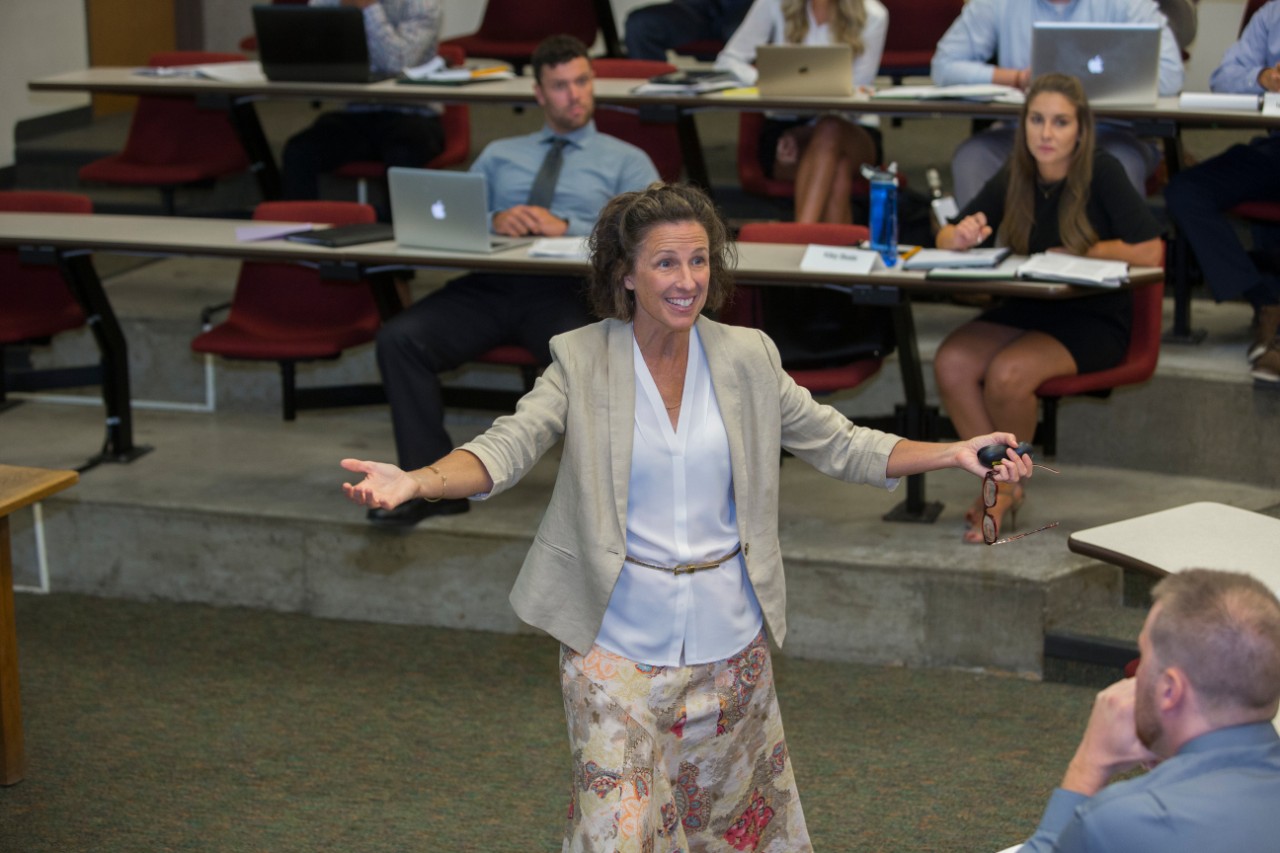 Retirement, new adventures await Professor Janet Moore
It's easy for Professor Janet Moore to recount "Aha!" moments and other memories from ten years of teaching. Her semesters of lecturing, engaging students and grading exams have spanned several courses and institutions, including Criminal Law, Criminal Procedure, Evidence, Capital Punishment Seminar, and Civil Rights Litigation.
Today, as she retires from teaching to focus on research, Professor Moore celebrates the successes, lessons, and downright funny experiences that come with teaching. These are some moments that led Moore to treasure working with students.
Co-learning, "Stupid" Questions, and Chocolate Milkshakes
Many of her teaching practices come from her own interdisciplinary education, having earned a JD from Duke University School of Law, a MA in Philosophy from Duke University, and a MA from the University of Chicago Divinity School. Moore describes her teaching style as highly interactive, one that engages and challenges students but also invites them to "find the joy" in learning and practicing law. In fact, she has been known to supplement her pedagogy with music—ranging from nursery rhymes to opera to the Dixie Chicks—plus vintage film clips, current news stories, and weeds from her garden!
"I emphasize and strive to model the mutual respect, courtesy, and intellectual rigor that I expect my students to display as professionals in class and in their working lives. I teach students that the study and practice of law are not 'from-the-neck-up' activities and that EQ (emotional intelligence quotient) is a critical component of IQ," she said. For Moore, it has always been important to promote critical inquiry and clear, effective communication regarding the systemic operation of law and the impact of law in the lives of real people.
But Moore also encouraged students to have fun. Her fondest memories involve co-learning with students. When a student asked an especially insightful question that forced Moore to think about doctrine from new perspectives, the student received a "Chocolate Milkshake Question" award for a free treat at a local eatery such as Potbelly's, which served "the best milkshakes with those cute little cookies on the straw!"
It has been among my greatest joys—and so much fun—to meet students where they are…to find new and more effective ways to confront, coach, cajole, and collaborate through the life-changing exercise … that is legal education.
Prof. Janet Moore
Another popular teaching tool was the "Unlimited 'Stupid' Questions" coupon. Every student received a coupon on the first day of class. Moore encourage students to use the coupons, explaining that, in fact, there was no such thing as a "stupid" question in her classroom. "I told students that if they had a question, other people had the same question and would be glad to have it asked." Moore also told students that if they couldn't formulate their question in the moment, "they should just wave the coupon in the air and I would treat it as a blinking caution light—slow down, repeat, or clarify as needed."
"Students cashed in the coupons frequently. Those exchanges were incredibly helpful in revealing how what I thought was clear wasn't. They revealed opportunities to communicate more effectively, in more vivid ways that make information 'stick' in students' memories and 'sticky,' or applicable in the real world." Moore noted that every semester brought new, not-stupid questions and co-learning opportunities. "What's clear and easy for some classes in some years will confound other classes in other years. Those changes keep one on one's toes."
In her 2017 Reflections on Teaching, Moore described the deep satisfaction that accompanied the hard work of helping students to master the law and grow into their professional identities. She said, "It has been among my greatest joys—and so much fun—to meet students where they are, to suss out and celebrate their individual and collective strengths, to find new and more effective ways to confront, coach, cajole, and collaborate through the life-changing exercise in intellectual, moral, and professional development that is legal education."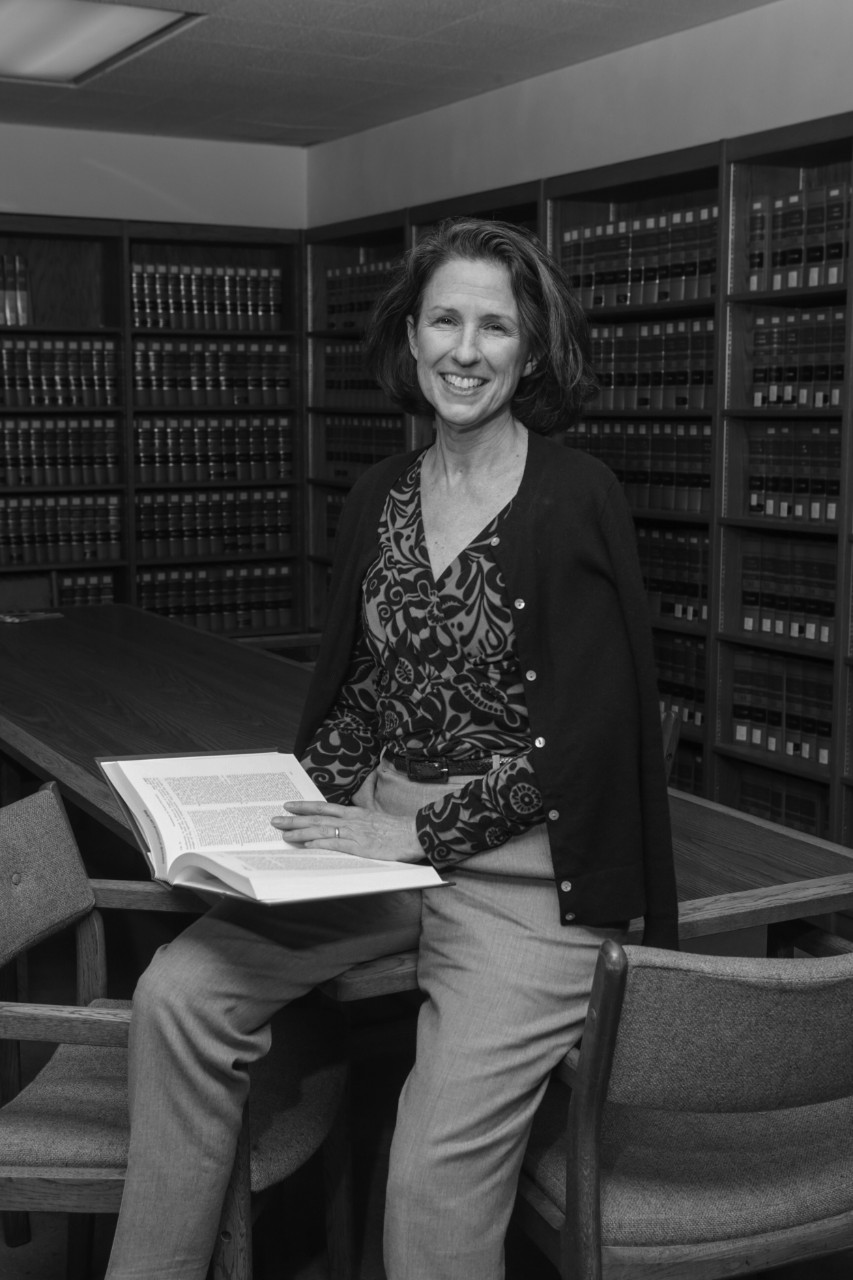 Professor Moore's impact at the College extends beyond the classroom. Her research has always focused on empowering low-income people to reduce the scope and harmful impacts of the carceral state. Over the years, this passion has been fueled by her work on critical theory, interdisciplinary community-based research partnerships, and extensive experience in both capital defense and justice reform advocacy. Her legal scholarship has been published in law reviews and journals such as Stanford Journal of Civil Rights & Civil Liberties and Washington Law Review as well as in peer-reviewed social science publications such as Behavioral Sciences & the Law and Criminal Justice Policy Review.
Her contributions in teaching, research, and service have earned her numerous awards, including a 2020 University of Cincinnati Faculty Excellence Award, a 2018 University of Cincinnati Cohen Award for Excellence in Teaching, and a College of Law Goldman Prize for Excellence in Teaching in 2012 and 2015. Research grants include University of Cincinnati Research Council awards to support two projects, one focused on quality communication in the public defense setting and another on collaborative research to address root causes of crime, and an Ohio Transformation Fund award to undertake community-based participatory research on redefining public safety and making it equally accessible to all.  The latter project received a 2018 Academic-Community Research Partnership Award from the University of Cincinnati Center for Clinical and Translational Science and Training.
While Moore is retiring from teaching, she will continue engaging with students and colleagues through research. One new project recently received the Provost's stamp of approval: the new Justice, Law & Information Technology Institute (JLIT), which has been established as a network among UC's School of Information Technology, the School of Criminal Justice, and the College of Law.
Moore will be one of three co-directors for the Institute along with Dr. Hazem Said, Director of the School of Information Technology, and Dr. J.C. Barnes, Interim Director of the School of Criminal Justice. The Institute will utilize scientific and evidence-based approaches to understand systematic challenges in criminal justice systems and to develop guidelines and recommendations for the advancement of just processes and effective outcomes. While the Institute will focus on the State of Ohio, its vision is national and global. Through research and education, the Institute seeks to ensure "that criminal justice resources are used as sparingly and effectively as possible to prevent and address harm through fair, equitable processes that respect human dignity, and through effective outcomes that promote community health and safety."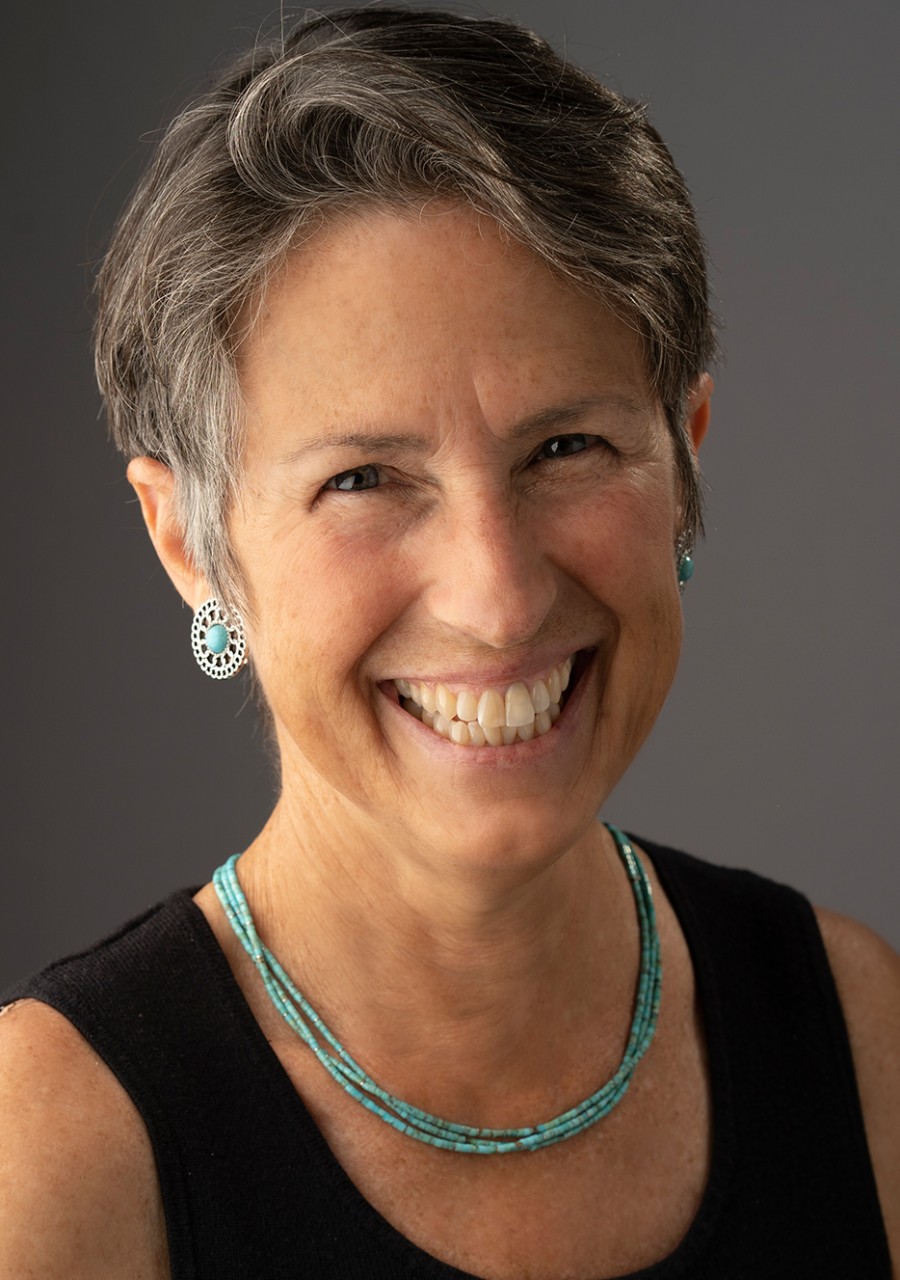 Moore believes the Institute will provide excellent opportunities for College of Law students while building on existing partnerships. "The students will be able to intervene in the ongoing criminal justice crisis through interdisciplinary and community-engaged collaborative research and policy analysis. The co-directors are meeting regularly, and have already begun planning for events, publications, and new research projects. This new work will build on the Institute's strong foundation of partnerships with Chief Justice O'Connor of the Supreme Court of Ohio and the Ohio Sentencing Commission," she said.
Professor Moore sees her work with the JLIT Institute as a fitting new beginning that harkens back to a particularly moving lesson from an Evidence class. The class was divided into prosecution and defense teams. They were arguing a real-life issue: a motion to admit evidence that UC police officer Ray Tensing was wearing a Confederate flag T-shirt under his uniform when he shot and killed Samuel DuBose. A local judge presided over this "hearing." Students argued over the relevance of the evidence to key questions in the case: did Tensing reasonably believe in the need to use deadly force? Did race play a role in the formation of that belief and, in combination with other evidence, render it so unreasonable as to rebut the self-defense claim? The arguments grew passionate, and the atmosphere was tense as the judge ruled—denying the motion to admit the evidence. Moore observes that "like many moments in teaching courses in the criminal pathway, this one required debriefing with the class to process the intellectual, emotional, spiritual, and professional implications of the learning opportunity." Paraphrasing Dr. King, she adds, "Like many of those moments, this one required clear articulation of two important facts: the arc of justice bends slowly, and it is critical to care for yourself and keep your community close if you are to survive and thrive while bending it."
The arc of justice bends slowly, and it is critical to care for yourself and keep your community close if you are to survive and thrive while bending it.
Prof. Janet Moore
Writer: Kathleen Cardwell
Photos: University of Cincinnati
1
WLWT: How one of Ohio's newest lawyers went from federal prison...
May 30, 2023
UC Law alum Damon Davis spoke with WLWT-TV about his journey from former federal prison inmate to accomplished attorney. Davis spent four-and-a-half years behind bars after being convicted of federal drug and gun charges in 2017. This month he took the Ohio Bar Admissions and is now a public defender in Hamilton County.
2
Newsweek: Conservative justices deal a blow to Ivermectin in...
May 29, 2023
The Wisconsin Supreme Court ruled earlier this month that hospitals can't be forced to issue Ivermectin to patients. It backed an earlier appeals court decision. Jennifer Bard, PhD, professor at the University of Cincinnati College of Law, weighed in on the decision during an interview with Newsweek.
3
WCPO: Asian American and Pacific Islander Heritage Month series
May 28, 2023
Two faculty members and one student have been profiled by WCPO-TV as part of a series celebrating May as Asian American and Pacific Islander Heritage Month (AAPI). These segments feature the stories of UC Law's Dr. Jenn Dye, CCM's Dr. Thomas Gamboa and fourth-year student Aashka Raval.
Debug
Query for this