UC announces new head of Department of Computer Science
Justin Zhan, a data science expert, will lead the newly split-off department
The University of Cincinnati's College of Engineering and Applied Science (CEAS) named Justin Zhan, Ph.D., as professor and head of the newly established Department of Computer Science, effective August 16, 2022.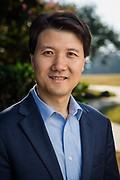 Zhan comes to UC from the University of Arkansas, where he was Arkansas Research Alliance scholar and professor of data science, director of data science core in the Arkansas Integrative Metabolic Research Center, and adjunct professor in the Department of Biomedical Informatics in the College of Medicine, University of Arkansas for Medical Sciences.  
"I am very excited to welcome Justin Zhan to UC as our new department head in computer science," said John Weidner, Ph.D., dean of the College of Engineering and Applied Science.
"His multidisciplinary approach to big data analytics, artificial intelligence, health and medicine, and cybersecurity aligns very well with key research and educational initiatives at UC. His vision for the new computer science department is exactly what we need as we grow computing across the University of Cincinnati," Weidner said.
The creation of a separate department for computer science reflects the aim of the College of Engineering and Applied Science to become a leader in the rapidly growing field. A dedicated department offers more effective resource allocation and facilitates integration of computing concepts such as artificial intelligence, machine learning and big data across all CEAS majors. 
With support from a generous gift to the University of Cincinnati by alumnus and entrepreneur Jim Goetz and the JobsOhio initiative to develop in-demand talent, the department plans to double the size of computer science in both faculty and enrollment within the next 10 years. Computer science was previously housed in the Department of Electrical Engineering and Computer Science, which is being renamed the Department of Electrical and Computer Engineering. 
"The new Department of Computer Science aims to provide leading educational experiences in computer science for both undergraduate and graduate students and maximize its impacts to our society," Zhan said.
Zhan has published 250 articles in peer-reviewed journals and conferences and delivered 30 keynote speeches. He has been principal investigator or co-PI for 60 projects, with funding from the Department of Defense, National Science Foundation, and National Institutes of Health. Recently, Zhan received a $1.25 million DoD grant to develop novel algorithms to enhance the efficiency of multimodal sensing and multilevel fusion data analytics. 
"Professor Zhan's commitment to diversity, equity and inclusion is critical in the field of computer science, where the representation of women and underrepresented minority groups among faculty and students is unacceptably low," Weidner said. "Dr. Zhan has been a valuable mentor to many junior faculty pursuing grants from the National Institutes of Health." 
He has extensive experiences mentoring and promoting diverse student populations. He taught at North Carolina A&T State University, a historically Black university, and University of Nevada Las Vegas, a minority-serving institution.  
Zhan has a doctoral degree in computer science from University of Ottawa in Canada.